News
USA Wrestling
International
USAW
Lewis wins U23 World championship, McKenna and Walz claim bronze
by Taylor Miller, USA Wrestling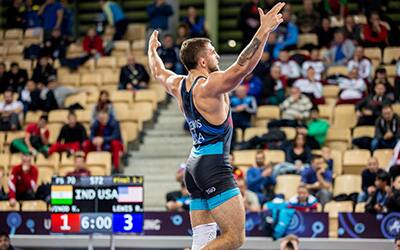 Photo: Richie Lewis celebrates a World title at the 2017 U23 World Championships. Photo provided by United World Wrestling.
VIDEO: U23 World Championships interviews
BYDGOSZCZ, Poland – USA Wrestling's men's freestyle team snagged three medals on the final day of the U23 World Championships in Bydgoszcz, Poland, including a World gold from Richie Lewis and World bronzes from Joey McKenna and Ty Walz.
"Today was exciting and fun,"U23 World Team coach Teague Moore said. "When we came out and wrestled to our abilities, really good things started happening. The four guys that competed today stepped up to the challenge. All four of them, at some point today, had to dig deep to continue moving forward. I'm just really proud of them."
Lewis (Toms River, N.J./Scarlett Knight WC) entered the tournament without any international experience and walked out with a gold medal around his neck, shocking the world with his performance at 70 kg/154 lbs.
In the title bout, the Rutgers senior took on Kumar Vinod of India. Vinod was first on the board with a passivity point, leading 1-0 after the first.
Lewis was put back on the activity clock in the second period and responded, scoring a takedown on a single. The two-time NJCAA All-American went on to win the match 3-1, giving the USA its first world champion at the U23 level.
"I feel great. This feels great. I'm just thankful," Lewis said. "I wanted to choose my spot because these foreigners are scrappy and loose, so I just chose my opportunity. I would have like to beat by more, but that didn't happen. It's time to get back to work and time to get back to folkstyle season."
McKenna (Towaco, N.J./Titan Mercury/Lehigh Valley WC) wrapped his U23 World Championships with a 4-1 record, adding another World medal to his resume.
A 2014 Junior World silver medalist, McKenna battled Heorhi Kaliyeu of Belarus for 65 kg/143 lbs. bronze.
The Ohio State junior held a 1-0 advantage at the break, scoring on a passivity point. With less than a minute left in the bout, McKenna was put on the passivity clock, threatening his lead. He picked up a step out with two seconds left on the shot clock and held on for a 2-0 win.
"It's been a long day," McKenna said. "I lost a tough one earlier in the day but battled back for bronze, so I'm excited about that. Another medal is awesome. It's not gold, but it's another step in the right direction."
In his international debut, Walz (Cleveland, Ohio/Titan Mercury/Southeast RTC) finished up USA's successful day, claiming bronze at 97 kg/213 lbs.
He faced Chaoqiang Yang of China in a quest for his first World medal. Walz picked up points in each period, including a passivity point and a second-period takedown for the 3-0 shutout.
"That was the most boring of all my matches. It was hard to get him to open up, but as Coach (Bill) Zadick said, I wrestled a very disciplined match,"Walz said. "Discipline is good, but I like to be as offensive as possible and score a lot of points. But hey, I'll take a bronze medal. It was the first step in my international career, and it was a great opportunity."
At 74 kg/163 lbs., Isaiah Martinez finished fifth in the world, falling to 2017 U23 European champion and Golden Grand Prix runner-up Avtandil Kentchadze of Georgia in the bronze-medal bout, 11-0.
Martinez went 2-2 at his first World tournament.
"It was a good experience," Martinez said. "There is a lot to take back and unpack. I'm excited analyze where I am and what happened. I look forward to more opportunities to wrestle at the international level."
The night's gold medalists included Nachyn Kuular of Russia at 65 kg, Gadzhi Nabiev of Russia at 74 kg, Mojtaba Gloeij of Iran at 97 kg and Lewis at 70 kg.
Russia won the team race with 55 team points, claiming three gold medals, one silver and one bronze medal over the weekend. Kazakhstan was second with 41 points, followed by Georgia with 36 points. The USA came in fourth place, picking up 33 points.
2017 U23 WORLD CHAMPIONSHIPS

at Bydgoszcz, Poland (Six hours ahead of ET)
Finals results
65 kg

Gold - Nachyn Sergeevitch KUULAR (RUS) tech. fall Bajrang BAJRANG (IND), 16-6

Bronze - Joseph Christopher MC KENNA (USA) dec. Heorhi KALIYEU (BLR), 2-0

Bronze - Yones Aliakbar EMAMICHOGHAEI (IRI) dec. Haydar YAVUZ (TUR), 6-4
70 kg

Gold - Richard Anthony LEWIS (USA) dec. Kumar Omprakash VINOD (IND), 3-1

Bronze - Muhammet AKDENIZ (TUR) dec. Zulfikar MAKHAMATOV (KAZ), 4-2

Bronze - Mirza SKHULUKHIA (GEO) dec. Nobuyoshi TAKOJIMA (JPN), 3-0
74 kg

Gold - Gadzhi NABIEV (RUS) dec. Akhsarbek GULAEV (SVK), 7-2

Bronze - Avtandil KENTCHADZE (GEO) tech. fall Isaiah Alexander MARTINEZ (USA), 11-0

Bronze - Vasyl MYKHAILOV (UKR) tech. fall Engin Rashid ISMAIL (BUL), 12-2
97 kg

Gold - Mojtaba Mohammadshafie GOLEIJ (IRI) tech. fall Dzianis KHRAMIANKOU (BLR), 10-0

Bronze - Ty Ryan Jack WALZ (USA) dec. Chaoqiang YANG (CHN), 3-0

Bronze - Murazi MCHEDLIDZE (UKR) dec. Rasul MAGOMEDOV (RUS), 7-2
U.S. men's freestyle results
57 kg/125 lbs. – Daton Fix (Sand Springs, Okla./Titan Mercury/Cowboy RTC)

LOSS Parviz Ibrahimov (Azerbaijan), 5-2
61 kg/134 lbs. – Mitchell McKee (Hanover, Minn./Minnesota Storm)
LOSS Sedat Ozdemir (Turkey), 8-5
65 kg/143 lbs. – Joey McKenna (Towaco, N.J./Titan Mercury/Lehigh Valley WC), BRONZE

WIN Patryk Olenczyn (Poland), 11-0

LOSS Nachyin Kuular (Russia), 10-0

WIN Maxim Sacultan (Moldova), 9-6

WIN Tulga Tumur-ochir (Mongolia), 6-1

WIN Heorhi Kaliyeu (Belarus), 2-0
70 kg/154 lbs. – Richie Lewis (Toms River, N.J./Scarlett Knight WC), GOLD

WIN Caleb Rutner (Canada), 10-0

WIN Surkoh Rashytkahanau (Belarus), 11-1

WIN Muhammet Akdeniz (Turkey), 14-7

WIN Zulfikar Makhamatov (Kazakhstan), 7-2

WIN Kumar Vindo (IND), 3-1
74 kg/163 lbs. – Isaiah Martinez (Lemoore, Calif./Titan Mercury), fifth

LOSS Gadzhi Nabiev (Russia), 6-5

WIN Andrius Mazeika (Lithuania), 13-2

WIN Yerkebulan Tileu (Kazakhstan), 11-0

LOSS Avtandil Kentchadze (Georgia), 11-0
86 kg/189 lbs. – Sam Brooks (Oak Park, Ill./New York AC/Hawkeye WC)
LOSS Uri Kalashnikov (Israel), fall
97 kg/213 lbs. – Ty Walz (Cleveland, Ohio/Titan Mercury/Southeast RTC), BRONZE

WIN Erik Thiele (Germany), 8-1

LOSS Dziani Khramiankou (Belarus), 7-6

WIN Aleksander Wojtachnio (Poland), 10-3

WIN Chaoqiang Yang (China), 3-0
125 kg/275 lbs. – Michael Kroells (Belle Plaine, Minn./Minnesota Storm)

LOSS Yusup Batirmurzaev (Kazakhstan), 11-0