Spencer Lee named USA Wrestling Athlete of the Week
by Gary Abbott, USA Wrestling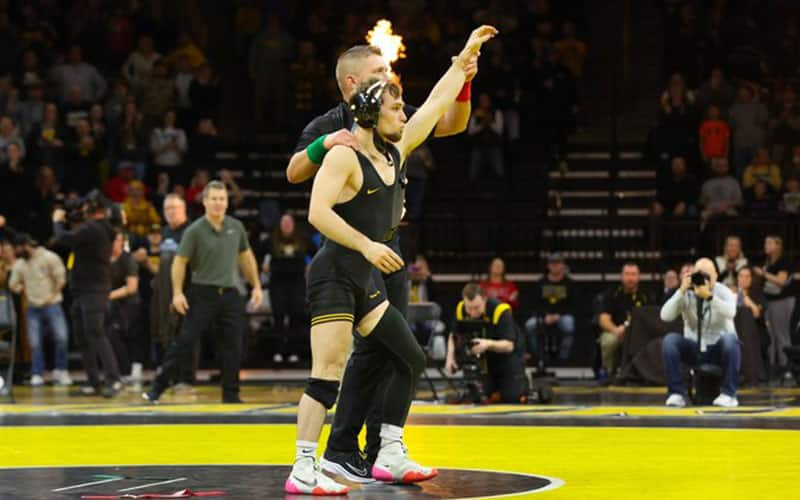 Spencer Lee (Iowa) has arm raised after win. Photo courtesy of Iowa Athletics.
Spencer Lee
(Murrysville, Pa./University of Iowa) has been selected as USA Wrestling Athlete of the Week on January 25, 2023.
Lee, ranked No. 1 in the nation, scored two pins during a pair of major Big Ten Dual Meets last week, helping No. 2 Iowa to win those dual meets.
On Friday, January 20, Lee opened the dual meet against No. 11 Nebraska in Iowa City, with pin in 38 seconds over No. 7 Liam Cronin. Iowa went on to win the dual meet, 34-6.
On Sunday, January 22, Lee opened the dual meet against No. 16 Wisconsin in Madison, Wis., scoring a pin over No. 6 Eric Barnett in 4:38. It was Lee's sixth consecutive fall, a new career long streak. Iowa went on to defeat Wisconsin in a tight 19-18 victory which was decided by criteria.
Lee is a three-time NCAA champion, and two-time Dan Hodge Trophy winner. He has won three age-group World titles, with one U17 World title and two U20 World title. He was also a three-time Pennsylvania state high school champion.
Each week USA Wrestling will select an Athlete of the Week based upon performance within wrestling for that week. The selection committee will consider any level of wrestling from youth programs through the senior level.
To nominate a wrestler for this honor please send the athlete's name, wrestling program, weekly accomplishments and career accolades to USA Wrestling Director of Communications Gary Abbott at gabbott@usawrestling.org.