LaDarion Lockett named USA Wrestling Athlete of the Week
by Savannah Asmann, USA Wrestling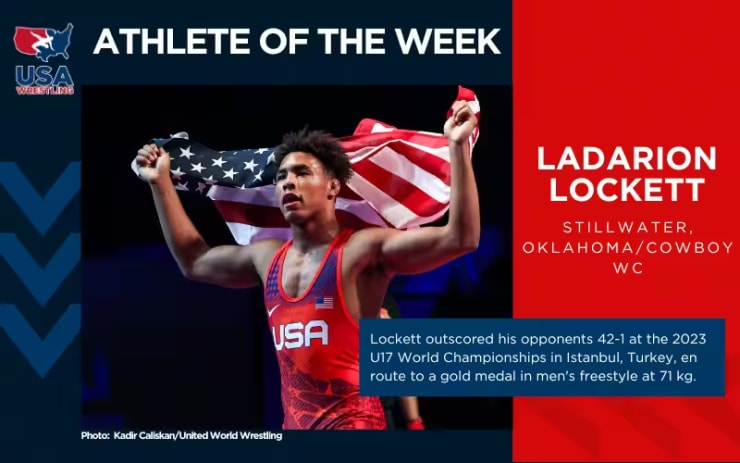 LaDarion Lockett (Stillwater, Oklahoma/Cowboy WC) was named the USA Wrestling Athlete of the Week on August 8.
Lockett became the third U.S. men's freestyle wrestler to claim a gold medal at the U17 World Championships in Istanbul, Turkey. In the 71 kg finals, Lockett defeated 2023 Asian champion Seyedabolfazl Hosseini of Iran, 4-1.
In the match, Hosseini led 1-0 at the break after Lockett was put on the shot clock and did not score in 30 seconds. In the second period, Lockett scored a takedown on the edge to lead 2-1. Later in the period, Lockett used his speed to spin behind Hosseini for another takedown for the victory.
Lockett navigated the tournament with three technical falls and two decisions, as he outscored his opponents 42-1, only allowing a single point in the final match after being put on the shot clock.
In the semifinals, Lockett defeated 2021 Asian U17 Championships runner-up Narender of India in a 10-0 technical fall. He finished the match in the first period after he got a spin behind takedown then locked up a trapped arm gut wrench, turning Narender four times.
He was the third U.S. men's freestyle champion, joining Paul Kenny (48 kg) and Marcus Blaze (55 kg) who were champions on Saturday night, and helped the U.S. to a second place team finish at the event.
To nominate a wrestler for this honor please email the athlete's name, wrestling program, weekly accomplishments, and career accolades to communications@usawrestling.org.