News
USA Wrestling
High School & Youth
Women
USAW
Manville, Scott among double champions at USA Wrestling Central Regional
by Richard Immel, USA Wrestling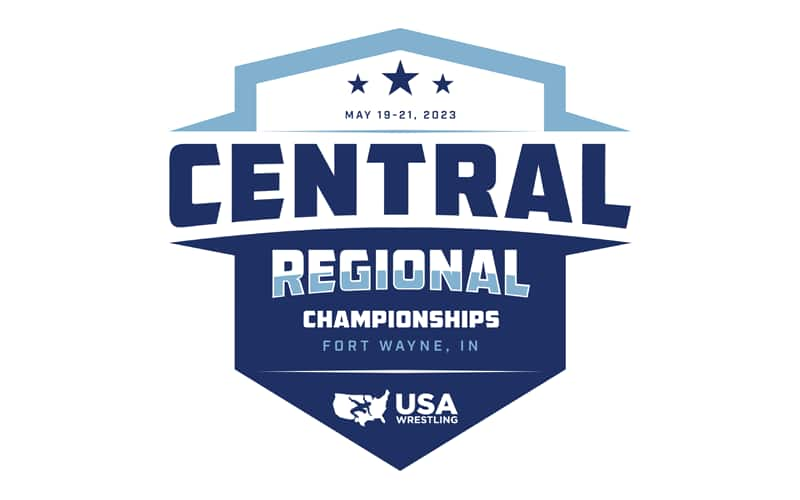 FORT WAYNE, Ind. – The USA Wrestling Regionals series continued with the Central Regional Championships being held at Allen County War Memorial Coliseum in Fort Wayne, Ind.
There were two double champions in the Junior boys division, athletes who won both the freestyle and Greco-Roman styles: Nathan Rioux of Indiana (106) and Pierson Manville of Pennsylvania (145).
Eight competitors in the 16U boys division doubled up on gold medals: Loc Webber of Ohio (88), Jarrett Smith of Michigan (94), Caleb Noble of Illinois (100), Jayden Raney of Kentucky (126), Jordyn Raney of Kentucky (132), Danny Zmorowski of Ohio (195), Alex Taylor of Ohio (220) and Jonathan Rulo of Illinois (285).
Joelle Scott of Pennsylvania (132) was the lone Junior girl to win first place in both freestyle and Greco-Roman.
Three competitors brought home double titles in the 16U girls division: Mia Vazquez of Illinois (94), Sierra Chiesa of Pennsylvania (117) and Maddie Hayden of Michigan (164).
The top six boys and top six girls in each weight class in the Junior and 16U divisions have qualified for their state teams for the 2023 USMC Junior and 16U Nationals in Fargo, N.D.
There were also tournaments held in both freestyle and Greco-Roman at the 14U, 12U, 10U and 8U divisions for both boys and girls. Results for each weight class can be found below, with complete brackets available at Trackwrestling.com.
USA Wrestling Central Regional Championships
At Allen County War Memorial Coliseum, Fort Wayne, Ind., May 19-21
Junior Boys Freestyle Results
100 pounds
1st Place - Aidan Butler of OH
2nd Place - Justin Winter of OH
3rd Place - Ignacio Rodriguez of IL
Round 1
Aidan Butler (OH) won by tech fall over Ignacio Rodriguez (IL) (TF 10-0)
Justin Winter (OH) received a bye () (Bye)
Round 2
Justin Winter (OH) won by tech fall over Ignacio Rodriguez (IL) (TF 10-0)
Aidan Butler (OH) received a bye () (Bye)
Round 3
Ignacio Rodriguez (IL) received a bye () (Bye)
Aidan Butler (OH) won by tech fall over Justin Winter (OH) (TF 14-3)
106 pounds
1st Place - Nathan Rioux of IN
2nd Place - Luke Green of OH
3rd Place - William Jakeway of Northern Boyz
4th Place - Nicholas Lawrensen of OH
5th Place - Warren Taylor of OH
6th Place - Jerimiah Argbah of IN
1st Place Match
Nathan Rioux (IN) won by injury default over Luke Green (OH) (Inj. 0:47)
3rd Place Match
William Jakeway (Northern Boyz) won by decision over Nicholas Lawrensen (OH) (Dec 7-3)
5th Place Match
Warren Taylor (OH) won by tech fall over Jerimiah Argbah (IN) (TF 16-5)
113 pounds
1st Place - Neal Krysty of OH
2nd Place - Santana Ramon of MI
3rd Place - Kurt Mokros of OH
4th Place - Talan Parsons of MI
5th Place - Ethan Cantrell of OH
6th Place - Maddox Garbis of IL
1st Place Match
Neal Krysty (OH) won by tech fall over Santana Ramon (MI) (TF 20-10)
3rd Place Match
Kurt Mokros (OH) won by tech fall over Talan Parsons (MI) (TF 12-1)
5th Place Match
Ethan Cantrell (OH) won by injury default over Maddox Garbis (IL) (Inj. 0:00)
120 pounds
1st Place - Louis Gill of PA
2nd Place - Johnny Green of OH
3rd Place - Colyn Limbert of OH
4th Place - Jacob Campbell of MI
5th Place - Javaan Yarbrough of OH
6th Place - Joseph Curry of OH
1st Place Match
Louis Gill (PA) won by tech fall over Johnny Green (OH) (TF 12-2)
3rd Place Match
Colyn Limbert (OH) won by fall over Jacob Campbell (MI) (Fall 3:43)
5th Place Match
Javaan Yarbrough (OH) won by injury default over Joseph Curry (OH) (Inj. 0:00)
126 pounds
1st Place - Theodore Flores of IL
2nd Place - Adam Butler of OH
3rd Place - Aaron Lucio of MI
4th Place - Tanner Tishner of IN
5th Place - Gavin Jendreas of IN
6th Place - Phoenix Contos of OH
1st Place Match
Theodore Flores (IL) won by decision over Adam Butler (OH) (Dec 10-2)
3rd Place Match
Aaron Lucio (MI) won by tech fall over Tanner Tishner (IN) (TF 18-8)
5th Place Match
Gavin Jendreas (IN) won by injury default over Phoenix Contos (OH) (Inj. 0:00)
132 pounds
1st Place - Jarvis Little of TN
2nd Place - Carter Nogle of MD
3rd Place - Hunter Gould of PA
4th Place - Carson Bissey of IL
5th Place - Diego Stropko of OH
6th Place - William Schmitt of WI
1st Place Match
Jarvis Little (TN) won by decision over Carter Nogle (MD) (Dec 10-7)
3rd Place Match
Hunter Gould (PA) won by decision over Carson Bissey (IL) (Dec 17-8)
5th Place Match
Diego Stropko (OH) won by tech fall over William Schmitt (WI) (TF 10-0)
138 pounds
1st Place - Omar Ayoub of OH
2nd Place - Kyrel Leavell of IN
3rd Place - Charles Curtis of OH
4th Place - Nicholas Blackburn of OH
5th Place - Mason Kernan of PA
6th Place - Kade Brown of OH
1st Place Match
Omar Ayoub (OH) won by tech fall over Kyrel Leavell (IN) (TF 13-2)
3rd Place Match
Charles Curtis (OH) won by decision over Nicholas Blackburn (OH) (Dec 12-11)
5th Place Match
Mason Kernan (PA) won by injury default over Kade Brown (OH) (Inj. 0:00)
145 pounds
1st Place - Pierson Manville of PA
2nd Place - Bas Diaz of IA
3rd Place - Aidan Torres of IN
4th Place - Silas Foster of IN
5th Place - Brayden Brown of OH
6th Place - Christopher Coates of IN
1st Place Match
Pierson Manville (PA) won by decision over Bas Diaz (IA) (Dec 5-0)
3rd Place Match
Aidan Torres (IN) won by injury default over Silas Foster (IN) (Inj. 0:00)
5th Place Match
Brayden Brown (OH) won by injury default over Christopher Coates (IN) (Inj. 0:00)
152 pounds
1st Place - Ty Wilson of OH
2nd Place - Cael Andrews of IL
3rd Place - Daxton Chase of OH
4th Place - Lucan O`Brien of OH
5th Place - Forfeit Forfeit of Unattached
6th Place - David Mayora of IL
6th Place - Jaydon Robinson of IL
1st Place Match
Ty Wilson (OH) won by tech fall over Cael Andrews (IL) (TF 10-0)
3rd Place Match
Daxton Chase (OH) won by injury default over Lucan O`Brien (OH) (Inj. 0:00)
5th Place Match
David Mayora (IL) and Jaydon Robinson (IL) (DFF)
160 pounds
1st Place - Ethan Birden of OH
2nd Place - Cory Thomas of MI
3rd Place - Edmund Enright of IL
4th Place - Joshua Greenwood of OH
5th Place - Jack Conley of MI
6th Place - Logan Swaw of IL
1st Place Match
Ethan Birden (OH) won by decision over Cory Thomas (MI) (Dec 8-3)
3rd Place Match
Edmund Enright (IL) won by tech fall over Joshua Greenwood (OH) (TF 15-5)
5th Place Match
Jack Conley (MI) won by forfeit over Logan Swaw (IL) (FF)
170 pounds
1st Place - Matthew Jens of IL
2nd Place - Cameron Adams of MI
3rd Place - Conner Owens of MI
4th Place - Jake Wood of OH
5th Place - Maxwell Corral of IL
6th Place - Tyrel Miller of OH
1st Place Match
Matthew Jens (IL) won by tech fall over Cameron Adams (MI) (TF 17-7)
3rd Place Match
Conner Owens (MI) won by tech fall over Jake Wood (OH) (TF 10-0)
5th Place Match
Maxwell Corral (IL) won by injury default over Tyrel Miller (OH) (Inj. 0:00)
182 pounds
1st Place - Hoke Poe of GA
2nd Place - Jarrel Miller Jr of OH
3rd Place - Gavin Ricketts of KY
4th Place - Hunter Hutcheson of OH
1st Place Match
Hoke Poe (GA) won by injury default over Jarrel Miller Jr (OH) (Inj. 0:00)
3rd Place Match
Gavin Ricketts (KY) won by fall over Hunter Hutcheson (OH) (Fall 2:14)
195 pounds
1st Place - Gunner Henry of IN
2nd Place - Orlando Cruz of IN
3rd Place - Luke Penola of IN
4th Place - Gage Yackee of OH
5th Place - Matthew Kowalski of OH
6th Place - Ben Bomberger of CA
1st Place Match
Gunner Henry (IN) won by decision over Orlando Cruz (IN) (Dec 4-4)
3rd Place Match
Luke Penola (IN) won by tech fall over Gage Yackee (OH) (TF 12-2)
5th Place Match
Matthew Kowalski (OH) won by fall over Ben Bomberger (CA) (Fall 0:14)
220 pounds
1st Place - Connor Bercume of MI
2nd Place - Leonardo Tovar of IL
3rd Place - Brandon Johnson of IN
4th Place - Nicolas Jenkins of TN
5th Place - Joel Simon of MI
6th Place - Samuel Costello of IL
1st Place Match
Connor Bercume (MI) won by decision over Leonardo Tovar (IL) (Dec 2-2)
3rd Place Match
Brandon Johnson (IN) won by tech fall over Nicolas Jenkins (TN) (TF 10-0)
5th Place Match
Joel Simon (MI) won by decision over Samuel Costello (IL) (Dec 8-4)
285 pounds
1st Place - Marko Ivanisevic of IL
2nd Place - Mustafa Woodi of OH
3rd Place - Brandon Caesar of OH
4th Place - Caden Wetherell of IA
5th Place - Cal Chapman of MI
6th Place - Alexander Griffith of OH
1st Place Match
Marko Ivanisevic (IL) won by decision over Mustafa Woodi (OH) (Dec 4-1)
3rd Place Match
Brandon Caesar (OH) won by tech fall over Caden Wetherell (IA) (TF 12-0)
5th Place Match
Cal Chapman (MI) won by injury default over Alexander Griffith (OH) (Inj. 0:00)
Junior Boys Greco-Roman Results
100 pounds
1st Place - Ignacio Rodriguez of IL
106 pounds
1st Place - Nathan Rioux of IN
2nd Place - Nicholas Lawrensen of OH
3rd Place - William Jakeway of SC
4th Place - John Sheehy of IL
5th Place - Matthew Nguyen of IL
6th Place - Gary Moss of IL
1st Place Match
Nathan Rioux (IN) won by tech fall over Nicholas Lawrensen (OH) (TF 8-0)
3rd Place Match
William Jakeway (SC) won by tech fall over John Sheehy (IL) (TF 9-1)
5th Place Match
Matthew Nguyen (IL) won by fall over Gary Moss (IL) (Fall 1:41)
113 pounds
1st Place - Talan Parsons of MI
2nd Place - Santana Ramon of MI
3rd Place - Neal Krysty of OH
4th Place - Kurt Mokros of OH
5th Place - Aidan Smalley of IN
6th Place - Keegan Dresslar of IN
1st Place Match
Talan Parsons (MI) won by tech fall over Santana Ramon (MI) (TF 8-0)
3rd Place Match
Neal Krysty (OH) won by tech fall over Kurt Mokros (OH) (TF 21-9)
5th Place Match
Aidan Smalley (IN) won by tech fall over Keegan Dresslar (IN) (TF 12-4)
120 pounds
1st Place - Javaan Yarbrough of OH
2nd Place - Jacob Campbell of MI
3rd Place - Hruai Lian of IN
4th Place - Anthony Alanis of IL
5th Place - Isreal Walker of NY
6th Place - Brennan O`Donnell of IL
1st Place Match
Javaan Yarbrough (OH) won by tech fall over Jacob Campbell (MI) (TF 8-0)
3rd Place Match
Hruai Lian (IN) won by fall over Anthony Alanis (IL) (Fall 4:15)
5th Place Match
Isreal Walker (NY) won by tech fall over Brennan O`Donnell (IL) (TF 8-0)
126 pounds
1st Place - Aaron Lucio of MI
2nd Place - Phoenix Contos of OH
3rd Place - Adam Butler of OH
4th Place - Garrison Weisner of OH
5th Place - Jack Palzet of IL
6th Place - Kolten Barker of OH
1st Place Match
Aaron Lucio (MI) won by decision over Phoenix Contos (OH) (Dec 8-6)
3rd Place Match
Adam Butler (OH) won by fall over Garrison Weisner (OH) (Fall 0:49)
5th Place Match
Jack Palzet (IL) won by injury default over Kolten Barker (OH) (Inj. 0:00)
132 pounds
1st Place - Carter Nogle of MD
2nd Place - Jarvis Little of TN
3rd Place - Hunter Gould of PA
4th Place - Jordan Rasof of IL
5th Place - Holden Brazelton of IL
6th Place - Koen Eberhard of MI
1st Place Match
Carter Nogle (MD) won by tech fall over Jarvis Little (TN) (TF 9-0)
3rd Place Match
Hunter Gould (PA) won by tech fall over Jordan Rasof (IL) (TF 12-4)
5th Place Match
Holden Brazelton (IL) won by tech fall over Koen Eberhard (MI) (TF 10-2)
138 pounds
1st Place - Charles Curtis of OH
2nd Place - Braden Kelly of IL
3rd Place - Sean Larkin of IL
4th Place - Justin Boone of IN
5th Place - Landon Beasley of TN
6th Place - Jared Johnston of OH
1st Place Match
Charles Curtis (OH) won by tech fall over Braden Kelly (IL) (TF 9-0)
3rd Place Match
Sean Larkin (IL) won by tech fall over Justin Boone (IN) (TF 8-0)
5th Place Match
Landon Beasley (TN) won by injury default over Jared Johnston (OH) (Inj. 0:00)
145 pounds
1st Place - Pierson Manville of PA
2nd Place - Silas Foster of IN
3rd Place - Hunter Thomson of MI
4th Place - Jackson Collins of OH
5th Place - Finn Merrill of IL
6th Place - Kaden Inman of IL
1st Place Match
Pierson Manville (PA) won by tech fall over Silas Foster (IN) (TF 8-0)
3rd Place Match
Hunter Thomson (MI) won by tech fall over Jackson Collins (OH) (TF 15-4)
5th Place Match
Finn Merrill (IL) won by tech fall over Kaden Inman (IL) (TF 8-0)
152 pounds
1st Place - JayDen Williams of MI
2nd Place - Gunnar Garelli of IL
3rd Place - Wyatt Lazzar of PA
4th Place - Jared Goldberg of OH
5th Place - Marquis Deloach of IL
6th Place - Connor Cumbee of IL
1st Place Match
JayDen Williams (MI) won by tech fall over Gunnar Garelli (IL) (TF 9-0)
3rd Place Match
Wyatt Lazzar (PA) won by tech fall over Jared Goldberg (OH) (TF 9-1)
5th Place Match
Marquis Deloach (IL) won by injury default over Connor Cumbee (IL) (Inj. 0:00)
160 pounds
1st Place - Jack Willen of OH
2nd Place - Owen Foster of MI
3rd Place - Tyson Clear of OH
4th Place - Charles McKune of KY
5th Place - Jack Conley of MI
6th Place - Shane Saito of OH
1st Place Match
Jack Willen (OH) won by tech fall over Owen Foster (MI) (TF 14-2)
3rd Place Match
Tyson Clear (OH) won by tech fall over Charles McKune (KY) (TF 14-6)
5th Place Match
Jack Conley (MI) won by tech fall over Shane Saito (OH) (TF 17-6)
170 pounds
1st Place - Evan Roudebush of IN
2nd Place - Conner Owens of MI
3rd Place - Anthony Cashman of IN
4th Place - Matthew Jens of IL
5th Place - Micah Roper of MI
6th Place - Brenton Russell of IN
1st Place Match
Evan Roudebush (IN) won by decision over Conner Owens (MI) (Dec 5-0)
3rd Place Match
Anthony Cashman (IN) won by decision over Matthew Jens (IL) (Dec 2-1)
5th Place Match
Micah Roper (MI) won by fall over Brenton Russell (IN) (Fall 1:57)
182 pounds
1st Place - Gavin Ricketts of KY
2nd Place - Carson Mize of OH
3rd Place - Rj Samuels of IL
4th Place - Brock Trevino of MI
5th Place - Patrick Moore of WI
6th Place - Logan Morehouse of OH
1st Place Match
Gavin Ricketts (KY) won by tech fall over Carson Mize (OH) (TF 9-0)
3rd Place Match
Rj Samuels (IL) won by fall over Brock Trevino (MI) (Fall 1:24)
5th Place Match
Patrick Moore (WI) won by forfeit over Logan Morehouse (OH) (FF)
195 pounds
1st Place - Ben Bomberger of CA
2nd Place - Brayden McFetridge of PA
3rd Place - Fabian Chavez of IN
4th Place - Gary Reno of OH
5th Place - Jensen Schreiber of TN
6th Place - Gage Yackee of OH
1st Place Match
Ben Bomberger (CA) won by fall over Brayden McFetridge (PA) (Fall 0:52)
3rd Place Match
Fabian Chavez (IN) won by tech fall over Gary Reno (OH) (TF 8-0)
5th Place Match
Jensen Schreiber (TN) won by injury default over Gage Yackee (OH) (Inj. 0:00)
220 pounds
1st Place - Alihan Bereket of IL
2nd Place - Leonardo Tovar of IL
3rd Place - Brandon Johnson of IN
4th Place - Nicolas Jenkins of TN
5th Place - Samuel Costello of IL
6th Place - Martel Brown of OH
1st Place Match
Alihan Bereket (IL) won by tech fall over Leonardo Tovar (IL) (TF 9-0)
3rd Place Match
Brandon Johnson (IN) won by tech fall over Nicolas Jenkins (TN) (TF 12-4)
5th Place Match
Samuel Costello (IL) won by tech fall over Martel Brown (OH) (TF 17-8)
285 pounds
1st Place - Mustafa Woodi of OH
2nd Place - Grant Stromberg of WI
3rd Place - Cooper Caraway of IL
4th Place - Leo Meyer of IL
5th Place - Dominic Kroninger of OH
6th Place - Roy Phelps Jr. of IL
1st Place Match
Mustafa Woodi (OH) won by tech fall over Grant Stromberg (WI) (TF 8-0)
3rd Place Match
Cooper Caraway (IL) won by forfeit over Leo Meyer (IL) (FF)
5th Place Match
Dominic Kroninger (OH) won by fall over Roy Phelps Jr. (IL) (Fall 0:27)
Junior Girls Freestyle Results
100 pounds
1st Place - Madison Nieuwenhuis of MI
2nd Place - Zoey Haney of MO
3rd Place - Genesis Ramirez of IN
4th Place - Vita Rose Savage of OH
5th Place - Alycia Perez of IL
6th Place - Emily Leeseberg of OH
1st Place Match
Madison Nieuwenhuis (MI) won by decision over Zoey Haney (MO) (Dec 10-4)
3rd Place Match
Genesis Ramirez (IN) won by tech fall over Vita Rose Savage (OH) (TF 11-1)
5th Place Match
Alycia Perez (IL) won by tech fall over Emily Leeseberg (OH) (TF 10-0)
106 pounds
1st Place - Brianne Graves of OH
2nd Place - Valarie Solorio of PA
3rd Place - Cheyenne Frank of MI
4th Place - Mackenzie Burger of MI
5th Place - Ava Miller of OH
6th Place - Grace Von Loh of TN
1st Place Match
Brianne Graves (OH) won by fall over Valarie Solorio (PA) (Fall 1:47)
3rd Place Match
Cheyenne Frank (MI) won by tech fall over Mackenzie Burger (MI) (TF 10-0)
5th Place Match
Ava Miller (OH) won by fall over Grace Von Loh (TN) (Fall 0:32)
112 pounds
1st Place - Heather Crull of IN
2nd Place - Omotola Aluko of IN
3rd Place - Mackenzie Carder of OH
4th Place - Aroma Marrufo of MO
5th Place - Daylee Watson of PA
6th Place - Julia Snyder of MI
1st Place Match
Heather Crull (IN) won by fall over Omotola Aluko (IN) (Fall 2:12)
3rd Place Match
Mackenzie Carder (OH) won by fall over Aroma Marrufo (MO) (Fall 1:10)
5th Place Match
Daylee Watson (PA) won by tech fall over Julia Snyder (MI) (TF 10-0)
117 pounds
1st Place - Sierra Chiesa of PA
2nd Place - Alexis Lazar of MI
3rd Place - Raegan Briggs of OH
4th Place - Sky Langewicz of MI
5th Place - Lexi Beadle of OH
6th Place - Gigi Bragg of MI
1st Place Match
Sierra Chiesa (PA) won by tech fall over Alexis Lazar (MI) (TF 10-0)
3rd Place Match
Raegan Briggs (OH) won by tech fall over Sky Langewicz (MI) (TF 10-0)
5th Place Match
Lexi Beadle (OH) won by injury default over Gigi Bragg (MI) (Inj. 0:00)
122 pounds
1st Place - Emily Anderson of IN
2nd Place - Audrey Scherer of MO
3rd Place - Gabrielle Gartin of OH
4th Place - Bailey Emery of WV
5th Place - Kylie Benoit of IN
6th Place - Addison Rudolph of OH
1st Place Match
Emily Anderson (IN) won by fall over Audrey Scherer (MO) (Fall 0:32)
3rd Place Match
Gabrielle Gartin (OH) won by fall over Bailey Emery (WV) (Fall 1:45)
5th Place Match
Kylie Benoit (IN) won by injury default over Addison Rudolph (OH) (Inj. 0:00)
127 pounds
1st Place - Hannah Seitzinger of IN
2nd Place - Cadence Wallace of OH
3rd Place - Monica Griffin of IL
4th Place - Allison Kraemer of MO
5th Place - Cambrie Lawrence of MI
6th Place - Sydney Delois of IN
1st Place Match
Hannah Seitzinger (IN) won by tech fall over Cadence Wallace (OH) (TF 10-0)
3rd Place Match
Monica Griffin (IL) won by fall over Allison Kraemer (MO) (Fall 0:27)
5th Place Match
Cambrie Lawrence (MI) won by injury default over Sydney Delois (IN) (Inj. 0:00)
132 pounds
1st Place - Joelle Scott of PA
2nd Place - Angelina Pena of MI
3rd Place - Sienna Sanborn of OH
4th Place - Tyler Swanigan of MI
5th Place - Caylynn Chandler of MI
6th Place - Janelle Donahue of OH
1st Place Match
Joelle Scott (PA) won by fall over Angelina Pena (MI) (Fall 5:20)
3rd Place Match
Sienna Sanborn (OH) won by tech fall over Tyler Swanigan (MI) (TF 14-1)
5th Place Match
Caylynn Chandler (MI) won by forfeit over Janelle Donahue (OH) (FF)
138 pounds
1st Place - Marissa Sanabria of MO
2nd Place - Margaret Buurma of MI
3rd Place - Alissa Caltagirone of MI
4th Place - Emily Medford of MI
5th Place - Danni Swihart of MI
6th Place - Sabrina Sifuentez of IL
1st Place Match
Marissa Sanabria (MO) won by decision over Margaret Buurma (MI) (Dec 8-1)
3rd Place Match
Alissa Caltagirone (MI) won by tech fall over Emily Medford (MI) (TF 14-2)
5th Place Match
Danni Swihart (MI) won by fall over Sabrina Sifuentez (IL) (Fall 4:39)
144 pounds
1st Place - Valerie Hamilton of IL
2nd Place - Maria Slaughter of MO
3rd Place - Ryen Allen of MI
4th Place - Alivia Ming of IL
5th Place - Kaylee Miles of IN
6th Place - Gennaveve Matt of OH
1st Place Match
Valerie Hamilton (IL) won by tech fall over Maria Slaughter (MO) (TF 10-0)
3rd Place Match
Ryen Allen (MI) won by tech fall over Alivia Ming (IL) (TF 13-2)
5th Place Match
Kaylee Miles (IN) won by injury default over Gennaveve Matt (OH) (Inj. 0:00)
152 pounds
1st Place - Kylee Tait of OH
2nd Place - Madison Ward of MI
3rd Place - Alexus Shaneyfelt of OH
4th Place - Madeline Meyers of OH
5th Place - Lily Zimmerlin of OH
6th Place - Maya Coreas Funes of IL
1st Place Match
Kylee Tait (OH) won by tech fall over Madison Ward (MI) (TF 10-0)
3rd Place Match
Alexus Shaneyfelt (OH) won by fall over Madeline Meyers (OH) (Fall 0:57)
5th Place Match
Lily Zimmerlin (OH) won by tech fall over Maya Coreas Funes (IL) (TF 14-3)
164 pounds
1st Place - Chloe Vining of OH
2nd Place - Carlea Grissom of TN
3rd Place - Naomi Santiago of KY
4th Place - Briar Hartleroad of IN
5th Place - Ryann Reeves of IL
Round 1
Briar Hartleroad (IN) won by fall over Ryann Reeves (IL) (Fall 1:56)
Chloe Vining (OH) won by fall over Naomi Santiago (KY) (Fall 1:32)
Round 2
Carlea Grissom (TN) won by fall over Chloe Vining (OH) (Fall 3:49)
Naomi Santiago (KY) won by fall over Briar Hartleroad (IN) (Fall 4:02)
Round 3
Naomi Santiago (KY) won by fall over Carlea Grissom (TN) (Fall 1:43)
Chloe Vining (OH) won by fall over Ryann Reeves (IL) (Fall 1:34)
Round 4
Carlea Grissom (TN) won by fall over Ryann Reeves (IL) (Fall 0:35)
Chloe Vining (OH) won by fall over Briar Hartleroad (IN) (Fall 1:32)
Round 5
Carlea Grissom (TN) won by fall over Briar Hartleroad (IN) (Fall 2:11)
Naomi Santiago (KY) won by fall over Ryann Reeves (IL) (Fall 2:57)
180 pounds
1st Place - Kami Ratcliff of IL
2nd Place - Heaven Cole of MI
3rd Place - Tristalyn Powers of IN
4th Place - Xsaria Puente of OH
5th Place - Gabriella Kennedy of OH
6th Place - Jd Quijano of IL
1st Place Match
Kami Ratcliff (IL) won by decision over Heaven Cole (MI) (Dec 10-6)
3rd Place Match
Tristalyn Powers (IN) won by fall over Xsaria Puente (OH) (Fall 2:15)
5th Place Match
Gabriella Kennedy (OH) won by fall over Jd Quijano (IL) (Fall 1:12)
200 pounds
1st Place - Desi Lee of OH
2nd Place - Emily Jirousek of OH
3rd Place - Michela Clifford of IN
4th Place - Kera Parke of IN
Round 1
Desi Lee (OH) won by fall over Kera Parke (IN) (Fall 1:40)
Emily Jirousek (OH) won by fall over Michela Clifford (IN) (Fall 1:41)
Round 2
Desi Lee (OH) won by fall over Michela Clifford (IN) (Fall 0:47)
Emily Jirousek (OH) won by fall over Kera Parke (IN) (Fall 3:35)
Round 3
Desi Lee (OH) won by fall over Emily Jirousek (OH) (Fall 5:04)
Michela Clifford (IN) won by fall over Kera Parke (IN) (Fall 0:42)
225 pounds
1st Place - Chloe Hoselton of IL
2nd Place - Lillianna Garcia of MI
3rd Place - Madasyn Frisbie of MI
4th Place - Deionna Borders of OH
5th Place - Jessica Komolafe of IL
6th Place - Kaylyn Lawson of KY
1st Place Match
Chloe Hoselton (IL) won by tech fall over Lillianna Garcia (MI) (TF 12-1)
3rd Place Match
Madasyn Frisbie (MI) won by decision over Deionna Borders (OH) (Dec 8-0)
5th Place Match
Jessica Komolafe (IL) won by fall over Kaylyn Lawson (KY) (Fall 0:41)
Junior Girls Greco-Roman Results
106 pounds
1st Place - Valarie Solorio of PA
2nd Place - Brianne Graves of OH
Round 1
Valarie Solorio (PA) won by tech fall over Brianne Graves (OH) (TF 10-0)
Round 2
Valarie Solorio (PA) won by tech fall over Brianne Graves (OH) (TF 10-0)
112-117 pounds
1st Place - Raegan Briggs of OH
2nd Place - Mackenzie Carder of OH
3rd Place - Heather Crull of IN
4th Place - Cecelia Reitter of OH
Round 1
Raegan Briggs (OH) won by fall over Heather Crull (IN) (Fall 3:34)
Mackenzie Carder (OH) won by fall over Cecelia Reitter (OH) (Fall 1:07)
Round 2
Heather Crull (IN) won by fall over Cecelia Reitter (OH) (Fall 1:09)
Raegan Briggs (OH) won by fall over Mackenzie Carder (OH) (Fall 0:59)
Round 3
Mackenzie Carder (OH) won by decision over Heather Crull (IN) (Dec 9-5)
Raegan Briggs (OH) won by fall over Cecelia Reitter (OH) (Fall 0:31)
127-132 pounds
1st Place - Joelle Scott of PA
2nd Place - Gwenivere Matt of Unattached
3rd Place - Aubrey Burns of IN
Round 1
Joelle Scott (PA) won by tech fall over Gwenivere Matt (Unattached) (TF 8-0)
Aubrey Burns (IN) received a bye () (Bye)
Round 2
Gwenivere Matt (Unattached) received a bye () (Bye)
Joelle Scott (PA) won by fall over Aubrey Burns (IN) (Fall 0:42)
Round 3
Gwenivere Matt (Unattached) won by fall over Aubrey Burns (IN) (Fall 3:44)
Joelle Scott (PA) received a bye () (Bye)
138 pounds
1st Place - Margaret Buurma of MI
152-164 pounds
1st Place - Madison Ward of MI
2nd Place - Naomi Santiago of KY
Round 1
Madison Ward (MI) won by decision over Naomi Santiago (KY) (Dec 2-0)
Round 2
Madison Ward (MI) won by decision over Naomi Santiago (KY) (Dec 10-6)
200 pounds
1st Place - Emily Jirousek of OH
2nd Place - Michela Clifford of IN
3rd Place - Desi Lee of OH
Round 1
Michela Clifford (IN) won by fall over Desi Lee (OH) (Fall 0:38)
Emily Jirousek (OH) received a bye () (Bye)
Round 2
Michela Clifford (IN) received a bye () (Bye)
Emily Jirousek (OH) won by fall over Desi Lee (OH) (Fall 1:01)
Round 3
Emily Jirousek (OH) won by fall over Michela Clifford (IN) (Fall 2:27)
Desi Lee (OH) received a bye () (Bye)
16U Boys Freestyle Results
88 pounds
1st Place - Loc Webber of OH
2nd Place - Pilot Swab of MI
Round 1
Loc Webber (OH) won by tech fall over Pilot Swab (MI) (TF 10-0)
Round 2
Loc Webber (OH) won by tech fall over Pilot Swab (MI) (TF 13-2)
94 pounds
1st Place - Jarrett Smith of MI
2nd Place - Layne Martin of MI
3rd Place - Mason Bauer of OH
4th Place - William Du Chemin of WI
5th Place - Michael Rusinko of OH
6th Place - Van Ward of PA
1st Place Match
Jarrett Smith (MI) won by tech fall over Layne Martin (MI) (TF 10-0)
3rd Place Match
Mason Bauer (OH) won by decision over William Du Chemin (WI) (Dec 2-1)
5th Place Match
Michael Rusinko (OH) won by injury default over Van Ward (PA) (Inj. 0:00)
100 pounds
1st Place - Caleb Noble of IL
2nd Place - Aiden Hahn of MO
3rd Place - Mason Katschor of MI
4th Place - Marius Garcia of OH
5th Place - Braedyn Tammarine of OH
6th Place - Joseph Hamilton of IN
1st Place Match
Caleb Noble (IL) won by tech fall over Aiden Hahn (MO) (TF 13-2)
3rd Place Match
Mason Katschor (MI) won by decision over Marius Garcia (OH) (Dec 6-2)
5th Place Match
Braedyn Tammarine (OH) won by tech fall over Joseph Hamilton (IN) (TF 10-0)
106 pounds
1st Place - Liston Seibert of OH
2nd Place - Ayden Dodd of OH
3rd Place - Mason Haines of MI
4th Place - Taegan Gilmore of OH
5th Place - Nathan Walkowiak of MI
6th Place - Mason Goelz of IN
1st Place Match
Liston Seibert (OH) won by decision over Ayden Dodd (OH) (Dec 8-7)
3rd Place Match
Mason Haines (MI) won by injury default over Taegan Gilmore (OH) (Inj. 0:00)
5th Place Match
Nathan Walkowiak (MI) won by tech fall over Mason Goelz (IN) (TF 12-2)
113 pounds
1st Place - Grey Burnett of OH
2nd Place - Ty Henderson of IN
3rd Place - Brady Baker of MI
4th Place - Max Gonzalez of WI
5th Place - Brayden Teunissen of IL
6th Place - Scotty Fuller of OH
1st Place Match
Grey Burnett (OH) won by decision over Ty Henderson (IN) (Dec 7-7)
3rd Place Match
Brady Baker (MI) won by fall over Max Gonzalez (WI) (Fall 0:37)
5th Place Match
Brayden Teunissen (IL) won by injury default over Scotty Fuller (OH) (Inj. 0:00)
120 pounds
1st Place - Karson Brown of OH
2nd Place - Khimari Manns of OH
3rd Place - Blaze Van Gundy of OH
4th Place - Joseph Uhorchuk of TN
5th Place - Ryan Kennedy of OH
6th Place - Liam Montgomery of OH
1st Place Match
Karson Brown (OH) won by tech fall over Khimari Manns (OH) (TF 10-0)
3rd Place Match
Blaze Van Gundy (OH) won by forfeit over Joseph Uhorchuk (TN) (FF)
5th Place Match
Ryan Kennedy (OH) won by injury default over Liam Montgomery (OH) (Inj. 0:00)
126 pounds
1st Place - Jayden Raney of KY
2nd Place - Braylon Reynolds of IN
3rd Place - Clinton Shepherd of IN
4th Place - Stephen Myers of WV
5th Place - Nathan Attisano of OH
6th Place - Harrison Haffner of OH
1st Place Match
Jayden Raney (KY) won by tech fall over Braylon Reynolds (IN) (TF 10-0)
3rd Place Match
Clinton Shepherd (IN) won by tech fall over Stephen Myers (WV) (TF 15-5)
5th Place Match
Nathan Attisano (OH) won by injury default over Harrison Haffner (OH) (Inj. 0:00)
132 pounds
1st Place - Jordyn Raney of KY
2nd Place - Nathaniel Carter of MI
3rd Place - Cole Evans of OH
4th Place - Meyer Murray of MI
5th Place - Michael Esteban of IL
6th Place - Jabari Hinson of IA
1st Place Match
Jordyn Raney (KY) won by tech fall over Nathaniel Carter (MI) (TF 14-4)
3rd Place Match
Cole Evans (OH) won by tech fall over Meyer Murray (MI) (TF 12-0)
5th Place Match
Michael Esteban (IL) won by injury default over Jabari Hinson (IA) (Inj. 0:00)
138 pounds
1st Place - Matthew Staples of IN
2nd Place - Brennan Warwick of OH
3rd Place - Chance Ruble of MO
4th Place - Harper Cheng of MI
5th Place - Cameron Plotts of OH
6th Place - Jack Dinwiddie of OH
1st Place Match
Matthew Staples (IN) won by tech fall over Brennan Warwick (OH) (TF 12-0)
3rd Place Match
Chance Ruble (MO) won by tech fall over Harper Cheng (MI) (TF 10-0)
5th Place Match
Cameron Plotts (OH) won by injury default over Jack Dinwiddie (OH) (Inj. 0:00)
145 pounds
1st Place - Blake Cosby of MI
2nd Place - Thomas Gibbs of IN
3rd Place - Grayson Woodcock of OH
4th Place - Cael Gilmore of OH
5th Place - Jackson Carroll of IL
6th Place - Londen Murphy of OH
1st Place Match
Blake Cosby (MI) won by tech fall over Thomas Gibbs (IN) (TF 12-2)
3rd Place Match
Grayson Woodcock (OH) won by injury default over Cael Gilmore (OH) (Inj. 0:00)
5th Place Match
Jackson Carroll (IL) won by injury default over Londen Murphy (OH) (Inj. 0:00)
152 pounds
1st Place - Dylan Granger of MI
2nd Place - Zack Aquila of OH
3rd Place - Rodrigo Salinas of IL
4th Place - Victor MarksJenkins of MD
5th Place - Liam Kelly of IL
6th Place - Gabriel Dorman of PA
1st Place Match
Dylan Granger (MI) won by tech fall over Zack Aquila (OH) (TF 10-0)
3rd Place Match
Rodrigo Salinas (IL) won by decision over Victor MarksJenkins (MD) (Dec 7-1)
5th Place Match
Liam Kelly (IL) won by injury default over Gabriel Dorman (PA) (Inj. 0:00)
160 pounds
1st Place - Sebastian Martinez of MI
2nd Place - Royce Lopez of IL
3rd Place - Silas Stits of IN
4th Place - Caige Horak of OH
5th Place - Eli Esguerra of OH
6th Place - Mavrik Gregory of OH
1st Place Match
Sebastian Martinez (MI) won by tech fall over Royce Lopez (IL) (TF 10-0)
3rd Place Match
Silas Stits (IN) won by injury default over Caige Horak (OH) (Inj. 0:00)
5th Place Match
Eli Esguerra (OH) won by injury default over Mavrik Gregory (OH) (Inj. 0:00)
170 pounds
1st Place - Carson Thomas of OH
2nd Place - Xavier Smith of IN
3rd Place - Gavin Craner of MI
4th Place - Luke Johnson of MI
5th Place - Sam Howard of IN
6th Place - Jonathan Sims of OH
1st Place Match
Carson Thomas (OH) won by tech fall over Xavier Smith (IN) (TF 11-0)
3rd Place Match
Gavin Craner (MI) won by decision over Luke Johnson (MI) (Dec 12-6)
5th Place Match
Sam Howard (IN) won by forfeit over Jonathan Sims (OH) (FF)
182 pounds
1st Place - Aiden Peterson of OH
2nd Place - Seer Godwise of IN
3rd Place - Anthony Kroninger of OH
4th Place - Tyler Ott of IL
5th Place - Noah Wazgar of OH
6th Place - Dayne Howey of OH
1st Place Match
Aiden Peterson (OH) won by decision over Seer Godwise (IN) (Dec 8-1)
3rd Place Match
Anthony Kroninger (OH) won by injury default over Tyler Ott (IL) (Inj. 0:00)
5th Place Match
Noah Wazgar (OH) won by fall over Dayne Howey (OH) (Fall 0:55)
195 pounds
1st Place - Danny Zmorowski of OH
2nd Place - Benjamin McWilliams of OH
3rd Place - Layne O`Neil of MI
4th Place - Simon Schulte of IL
5th Place - Rj Green of MI
6th Place - Wyatt Hochgraber of IL
1st Place Match
Danny Zmorowski (OH) won by tech fall over Benjamin McWilliams (OH) (TF 10-0)
3rd Place Match
Layne O`Neil (MI) won by fall over Simon Schulte (IL) (Fall 3:58)
5th Place Match
Rj Green (MI) won by fall over Wyatt Hochgraber (IL) (Fall 0:17)
220 pounds
1st Place - Alex Taylor of OH
2nd Place - James Bechter of OH
3rd Place - Brycen Arthur of WV
4th Place - Jackson Phillips of OH
5th Place - Logan Tollison of MI
6th Place - Henry Vander Heiden of WI
1st Place Match
Alex Taylor (OH) won by decision over James Bechter (OH) (Dec 9-5)
3rd Place Match
Brycen Arthur (WV) won by decision over Jackson Phillips (OH) (Dec 4-2)
5th Place Match
Logan Tollison (MI) won by injury default over Henry Vander Heiden (WI) (Inj. 0:00)
285 pounds
1st Place - Jonathan Rulo of IL
2nd Place - Edward German of OH
3rd Place - Jeffery Blair of OH
4th Place - Kai Calcutt of IL
5th Place - Tanner Craft of MI
6th Place - Hunter Vander Heiden of WI
1st Place Match
Jonathan Rulo (IL) won by fall over Edward German (OH) (Fall 1:06)
3rd Place Match
Jeffery Blair (OH) won by fall over Kai Calcutt (IL) (Fall 0:58)
5th Place Match
Tanner Craft (MI) won by injury default over Hunter Vander Heiden (WI) (Inj. 0:00)
16U Boys Greco-Roman Results
88 pounds
1st Place - Loc Webber of OH
2nd Place - Pilot Swab of MI
Round 1
Loc Webber (OH) won by tech fall over Pilot Swab (MI) (TF 12-3)
Round 2
Pilot Swab (MI) won by decision over Loc Webber (OH) (Dec 9-4)
Round 3
Loc Webber (OH) won by tech fall over Pilot Swab (MI) (TF 10-1)
94 pounds
1st Place - Jarrett Smith of MI
2nd Place - Layne Martin of MI
3rd Place - Michael Rusinko of OH
4th Place - Jonah Odum of IN
Round 1
Layne Martin (MI) won by tech fall over Jonah Odum (IN) (TF 11-2)
Jarrett Smith (MI) won by tech fall over Michael Rusinko (OH) (TF 9-0)
Round 2
Layne Martin (MI) won by fall over Michael Rusinko (OH) (Fall 3:20)
Jarrett Smith (MI) won by fall over Jonah Odum (IN) (Fall 0:35)
Round 3
Jarrett Smith (MI) won by tech fall over Layne Martin (MI) (TF 8-0)
Michael Rusinko (OH) won by tech fall over Jonah Odum (IN) (TF 14-6)
100 pounds
1st Place - Caleb Noble of IL
2nd Place - Symon Woods of IL
3rd Place - Ethan Powell of OH
4th Place - Braedyn Tammarine of OH
5th Place - Luke Mokros of OH
6th Place - Sawyer Wolfkiel of PA
1st Place Match
Caleb Noble (IL) won by fall over Symon Woods (IL) (Fall 2:51)
3rd Place Match
Ethan Powell (OH) won by decision over Braedyn Tammarine (OH) (Dec 6-6)
5th Place Match
Luke Mokros (OH) won by tech fall over Sawyer Wolfkiel (PA) (TF 8-0)
106 pounds
1st Place - Nathan Walkowiak of MI
2nd Place - James Penick of MO
3rd Place - Taegan Gilmore of OH
4th Place - Evan Litzsinger of MO
5th Place - Vince Jasinski of IL
6th Place - Cole Smith of WV
1st Place Match
Nathan Walkowiak (MI) won by fall over James Penick (MO) (Fall 0:14)
3rd Place Match
Taegan Gilmore (OH) won by tech fall over Evan Litzsinger (MO) (TF 11-0)
5th Place Match
Vince Jasinski (IL) won by fall over Cole Smith (WV) (Fall 0:59)
113 pounds
1st Place - Dominic Way of WV
2nd Place - Ty Henderson of IN
3rd Place - Cash Waymire of TN
4th Place - Brady Baker of MI
5th Place - Matthew Quigley of MI
6th Place - Elijah Scriven of PA
1st Place Match
Dominic Way (WV) won by tech fall over Ty Henderson (IN) (TF 8-0)
3rd Place Match
Cash Waymire (TN) won by fall over Brady Baker (MI) (Fall 1:17)
5th Place Match
Matthew Quigley (MI) won by fall over Elijah Scriven (PA) (Fall 0:34)
120 pounds
1st Place - Blaze Van Gundy of OH
2nd Place - Khimari Manns of OH
3rd Place - Nathan Randle of IL
4th Place - Brennen Clifford of KY
5th Place - Ben McComas of WV
6th Place - Brady Slicker of PA
1st Place Match
Blaze Van Gundy (OH) won by decision over Khimari Manns (OH) (Dec 7-3)
3rd Place Match
Nathan Randle (IL) won by fall over Brennen Clifford (KY) (Fall 3:05)
5th Place Match
Ben McComas (WV) won by forfeit over Brady Slicker (PA) (FF)
126 pounds
1st Place - Jayden Raney of KY
2nd Place - Elijah Brosius of PA
3rd Place - Nicholas Anderson of IN
4th Place - Musa Jalloh of OH
5th Place - Noah Woods of IL
6th Place - Daniel Blanke of IL
1st Place Match
Jayden Raney (KY) won by tech fall over Elijah Brosius (PA) (TF 8-0)
3rd Place Match
Nicholas Anderson (IN) won by decision over Musa Jalloh (OH) (Dec 12-11)
5th Place Match
Noah Woods (IL) won by fall over Daniel Blanke (IL) (Fall 3:56)
132 pounds
1st Place - Jordyn Raney of KY
2nd Place - Braylan Cosper of TN
3rd Place - Maksim Mukhamedaliyev of IL
4th Place - Cash Hatfield of IA
5th Place - Rodrigo Arceo of IL
6th Place - Isaiah Callahan of OH
1st Place Match
Jordyn Raney (KY) won by tech fall over Braylan Cosper (TN) (TF 12-4)
3rd Place Match
Maksim Mukhamedaliyev (IL) won by tech fall over Cash Hatfield (IA) (TF 8-0)
5th Place Match
Rodrigo Arceo (IL) won by decision over Isaiah Callahan (OH) (Dec 7-6)
138 pounds
1st Place - Quinten Cassiday of MI
2nd Place - Brandon Green of IL
3rd Place - Austin Gyorkos of MI
4th Place - Zachery Little of TN
5th Place - Eddie Kessen of OH
6th Place - Gavin Stacy of OH
1st Place Match
Quinten Cassiday (MI) won by tech fall over Brandon Green (IL) (TF 9-0)
3rd Place Match
Austin Gyorkos (MI) won by tech fall over Zachery Little (TN) (TF 10-1)
5th Place Match
Eddie Kessen (OH) won by injury default over Gavin Stacy (OH) (Inj. 0:00)
145 pounds
1st Place - Londen Murphy of OH
2nd Place - Blake Sloan of MI
3rd Place - Cael Gilmore of OH
4th Place - Keegan Sutfin of MI
5th Place - Eli Roe of MI
6th Place - Jack Davis of IN
1st Place Match
Londen Murphy (OH) won by tech fall over Blake Sloan (MI) (TF 11-0)
3rd Place Match
Cael Gilmore (OH) won by fall over Keegan Sutfin (MI) (Fall 0:07)
5th Place Match
Eli Roe (MI) won by decision over Jack Davis (IN) (Dec 11-4)
152 pounds
1st Place - Victor MarksJenkins of MD
2nd Place - Dylan Granger of MI
3rd Place - Rodrigo Salinas of IL
4th Place - Lyndon Thies of IL
5th Place - Gabriel Dorman of PA
6th Place - Brandon Byrd of PA
1st Place Match
Victor MarksJenkins (MD) won by tech fall over Dylan Granger (MI) (TF 8-0)
3rd Place Match
Rodrigo Salinas (IL) won by tech fall over Lyndon Thies (IL) (TF 14-5)
5th Place Match
Gabriel Dorman (PA) won by decision over Brandon Byrd (PA) (Dec 8-6)
160 pounds
1st Place - Eli Esguerra of OH
2nd Place - Finn Grauwels of WI
3rd Place - Mavrik Gregory of OH
4th Place - Michael Boyle of OH
5th Place - Joshua Heath of IL
6th Place - Abram Davidson of IL
1st Place Match
Eli Esguerra (OH) won by tech fall over Finn Grauwels (WI) (TF 8-0)
3rd Place Match
Mavrik Gregory (OH) won by tech fall over Michael Boyle (OH) (TF 10-0)
5th Place Match
Joshua Heath (IL) won by decision over Abram Davidson (IL) (Dec 2-1)
170 pounds
1st Place - Lucas Ricketts of KY
2nd Place - Xavier Smith of IN
3rd Place - Jonathan Sims of OH
4th Place - Gavin Craner of MI
5th Place - Henry Rydwelski of IL
6th Place - Jaylen Hill of IN
1st Place Match
Lucas Ricketts (KY) won by decision over Xavier Smith (IN) (Dec 5-1)
3rd Place Match
Jonathan Sims (OH) won by tech fall over Gavin Craner (MI) (TF 11-2)
5th Place Match
Henry Rydwelski (IL) won by decision over Jaylen Hill (IN) (Dec 8-4)
182 pounds
1st Place - Anthony Kroninger of OH
2nd Place - Seer Godwise of IN
3rd Place - Tyler Ott of IL
4th Place - Cameron Vinson of KY
5th Place - Landon Hicks of IN
6th Place - Logan Hammingh of MI
1st Place Match
Anthony Kroninger (OH) won by tech fall over Seer Godwise (IN) (TF 9-0)
3rd Place Match
Tyler Ott (IL) won by tech fall over Cameron Vinson (KY) (TF 9-0)
5th Place Match
Landon Hicks (IN) won by tech fall over Logan Hammingh (MI) (TF 8-0)
195 pounds
1st Place - Danny Zmorowski of OH
2nd Place - William Erbeck of IL
3rd Place - Layne O`Neil of MI
4th Place - Rj Green of MI
5th Place - Nicholas Ross of OH
6th Place - Cooper Frye of OH
1st Place Match
Danny Zmorowski (OH) won by fall over William Erbeck (IL) (Fall 0:49)
3rd Place Match
Layne O`Neil (MI) won by fall over Rj Green (MI) (Fall 0:52)
5th Place Match
Nicholas Ross (OH) won by injury default over Cooper Frye (OH) (Inj. 0:00)
220 pounds
1st Place - Alex Taylor of OH
2nd Place - James Bechter of OH
3rd Place - Jackson Phillips of OH
4th Place - Asher Sheldon of IL
5th Place - Brycen Arthur of WV
6th Place - Kaden Lambert of IN
1st Place Match
Alex Taylor (OH) won by tech fall over James Bechter (OH) (TF 8-0)
3rd Place Match
Jackson Phillips (OH) won by fall over Asher Sheldon (IL) (Fall 2:31)
5th Place Match
Brycen Arthur (WV) won by fall over Kaden Lambert (IN) (Fall 0:35)
285 pounds
1st Place - Jonathan Rulo of IL
2nd Place - Chase Brawley of MI
3rd Place - Tanner Craft of MI
4th Place - Enrique Guerrero of OH
5th Place - Jonathan Davis of TN
6th Place - Tj Knight of IN
6th Place - Sean Thornotn of IL
1st Place Match
Jonathan Rulo (IL) won by tech fall over Chase Brawley (MI) (TF 10-1)
3rd Place Match
Tanner Craft (MI) won by decision over Enrique Guerrero (OH) (Dec 7-6)
5th Place Match
Jonathan Davis (TN) won by no contest over Sean Thornotn (IL) (NC)
16U Girls Freestyle Results
94 pounds
1st Place - Mia Vazquez of IL
2nd Place - Gracie Pattison of IL
3rd Place - Anapaula Cerna Rivera of IL
Round 1
Gracie Pattison (IL) received a bye () (Bye)
Mia Vazquez (IL) won by tech fall over Anapaula Cerna Rivera (IL) (TF 10-0)
Round 2
Mia Vazquez (IL) received a bye () (Bye)
Gracie Pattison (IL) won by fall over Anapaula Cerna Rivera (IL) (Fall 1:23)
Round 3
Anapaula Cerna Rivera (IL) received a bye () (Bye)
Mia Vazquez (IL) won by tech fall over Gracie Pattison (IL) (TF 10-0)
100 pounds
1st Place - Madison Nieuwenhuis of MI
2nd Place - Camryn Gresham of OH
3rd Place - Katelyn Bell of IL
4th Place - Tanya Bacon of KY
Round 1
Madison Nieuwenhuis (MI) won by decision over Camryn Gresham (OH) (Dec 4-2)
Katelyn Bell (IL) won by tech fall over Tanya Bacon (KY) (TF 13-2)
Round 2
Camryn Gresham (OH) won by fall over Katelyn Bell (IL) (Fall 2:32)
Madison Nieuwenhuis (MI) won by tech fall over Tanya Bacon (KY) (TF 13-3)
Round 3
Camryn Gresham (OH) won by tech fall over Tanya Bacon (KY) (TF 10-0)
Madison Nieuwenhuis (MI) won by tech fall over Katelyn Bell (IL) (TF 10-0)
106 pounds
1st Place - Nakayla Dawson of MI
2nd Place - Alexandra Sebek of IL
3rd Place - Leah Willen of OH
4th Place - Danielle Turner of IL
Round 1
Leah Willen (OH) won by fall over Danielle Turner (IL) (Fall 1:24)
Nakayla Dawson (MI) won by tech fall over Alexandra Sebek (IL) (TF 10-0)
Round 2
Alexandra Sebek (IL) won by fall over Danielle Turner (IL) (Fall 0:23)
Nakayla Dawson (MI) won by fall over Leah Willen (OH) (Fall 0:22)
Round 3
Nakayla Dawson (MI) won by injury default over Danielle Turner (IL) (Inj. 0:13)
Alexandra Sebek (IL) won by tech fall over Leah Willen (OH) (TF 10-0)
112 pounds
1st Place - Mackenzie Carder of OH
2nd Place - Alyssa Campbell of MI
3rd Place - Daylee Watson of PA
4th Place - Caiden Baird of OH
5th Place - Kimani Glasper of IL
Round 1
Mackenzie Carder (OH) won by tech fall over Alyssa Campbell (MI) (TF 10-0)
Daylee Watson (PA) won by tech fall over Kimani Glasper (IL) (TF 10-0)
Round 2
Daylee Watson (PA) won by fall over Caiden Baird (OH) (Fall 1:20)
Alyssa Campbell (MI) won by fall over Kimani Glasper (IL) (Fall 1:01)
Round 3
Caiden Baird (OH) won by fall over Kimani Glasper (IL) (Fall 2:00)
Mackenzie Carder (OH) won by fall over Daylee Watson (PA) (Fall 2:22)
Round 4
Mackenzie Carder (OH) won by fall over Caiden Baird (OH) (Fall 1:24)
Alyssa Campbell (MI) won by fall over Daylee Watson (PA) (Fall 3:58)
Round 5
Alyssa Campbell (MI) won by decision over Caiden Baird (OH) (Dec 4-0)
Mackenzie Carder (OH) won by fall over Kimani Glasper (IL) (Fall 0:39)
117 pounds
1st Place - Sierra Chiesa of PA
2nd Place - Alexis Lazar of MI
3rd Place - Cori Young of OH
4th Place - Ella McGuire of PA
5th Place - Ella France of IN
Round 1
Alexis Lazar (MI) won by tech fall over Ella France (IN) (TF 11-0)
Cori Young (OH) won by fall over Ella McGuire (PA) (Fall 3:52)
Round 2
Sierra Chiesa (PA) won by tech fall over Ella McGuire (PA) (TF 10-0)
Alexis Lazar (MI) won by tech fall over Cori Young (OH) (TF 10-0)
Round 3
Sierra Chiesa (PA) won by tech fall over Cori Young (OH) (TF 12-1)
Ella McGuire (PA) won by fall over Ella France (IN) (Fall 3:48)
Round 4
Sierra Chiesa (PA) won by tech fall over Ella France (IN) (TF 11-0)
Alexis Lazar (MI) won by tech fall over Ella McGuire (PA) (TF 14-2)
Round 5
Sierra Chiesa (PA) won by decision over Alexis Lazar (MI) (Dec 4-3)
Cori Young (OH) won by fall over Ella France (IN) (Fall 1:55)
122 pounds
1st Place - Lacie Knick of OH
2nd Place - Justice Anthony of WV
3rd Place - Avery Lynch of MI
4th Place - Bailey Emery of WV
5th Place - Sydney Stifter of MO
6th Place - Madison Whitted of IN
1st Place Match
Lacie Knick (OH) won by tech fall over Justice Anthony (WV) (TF 14-2)
3rd Place Match
Avery Lynch (MI) won by decision over Bailey Emery (WV) (Dec 3-2)
5th Place Match
Sydney Stifter (MO) won by fall over Madison Whitted (IN) (Fall 1:34)
127 pounds
1st Place - Isabella Cepak of MI
2nd Place - Kyla Johnson of IN
3rd Place - Jena Gumahin of MO
4th Place - Anna Madi of OH
5th Place - Hannah Blyveis of MI
6th Place - Nevaeh Wilson of IN
1st Place Match
Isabella Cepak (MI) won by tech fall over Kyla Johnson (IN) (TF 10-0)
3rd Place Match
Jena Gumahin (MO) won by fall over Anna Madi (OH) (Fall 1:45)
5th Place Match
Hannah Blyveis (MI) won by fall over Nevaeh Wilson (IN) (Fall 3:55)
132 pounds
1st Place - Rylin Beatty of MO
2nd Place - Abigail Mozden of OH
3rd Place - Janelle Donahue of OH
4th Place - Briahna Klobnak of IL
5th Place - Claire Zorns of IL
6th Place - Margaret Zuber of IL
1st Place Match
Rylin Beatty (MO) won by decision over Abigail Mozden (OH) (Dec 10-10)
3rd Place Match
Janelle Donahue (OH) won by tech fall over Briahna Klobnak (IL) (TF 13-2)
5th Place Match
Claire Zorns (IL) won by injury default over Margaret Zuber (IL) (Inj. 0:00)
138 pounds
1st Place - Violette Lasure of WV
2nd Place - Margaret Buurma of MI
3rd Place - Mackenna Webster of MI
4th Place - Savanna Franklin of MO
5th Place - Sage O`Brien of OH
6th Place - Grace Spiess of MI
1st Place Match
Violette Lasure (WV) won by fall over Margaret Buurma (MI) (Fall 1:49)
3rd Place Match
Mackenna Webster (MI) won by decision over Savanna Franklin (MO) (Dec 13-9)
5th Place Match
Sage O`Brien (OH) won by tech fall over Grace Spiess (MI) (TF 12-2)
144 pounds
1st Place - Rihanna Venegas of MI
2nd Place - Aleksandra Bastaic of IN
3rd Place - Addison Lyon of OH
4th Place - Veronica Klobnak of IL
5th Place - Jade Chloe Johnson of IN
6th Place - Gianna Scheiblein of IL
1st Place Match
Rihanna Venegas (MI) won by decision over Aleksandra Bastaic (IN) (Dec 2-0)
3rd Place Match
Addison Lyon (OH) won by fall over Veronica Klobnak (IL) (Fall 0:32)
5th Place Match
Jade Chloe Johnson (IN) won by fall over Gianna Scheiblein (IL) (Fall 0:33)
152 pounds
1st Place - Lydia Heinrich of OH
2nd Place - Jada Weiss of OH
3rd Place - Evelyn Krauss of OH
4th Place - Mariah Gibson of OH
Round 1
Jada Weiss (OH) won by fall over Evelyn Krauss (OH) (Fall 0:40)
Lydia Heinrich (OH) won by fall over Mariah Gibson (OH) (Fall 1:47)
Round 2
Lydia Heinrich (OH) won by tech fall over Evelyn Krauss (OH) (TF 13-2)
Jada Weiss (OH) won by decision over Mariah Gibson (OH) (Dec 11-6)
Round 3
Evelyn Krauss (OH) won by injury default over Mariah Gibson (OH) (Inj. 0:00)
Lydia Heinrich (OH) won by decision over Jada Weiss (OH) (Dec 10-3)
164 pounds
1st Place - Maddie Hayden of MI
2nd Place - Aj Grant of IL
3rd Place - Isabella Adams of OH
4th Place - Adalia Del Real of MO
Round 1
Maddie Hayden (MI) won by tech fall over Adalia Del Real (MO) (TF 10-0)
Aj Grant (IL) won by fall over Isabella Adams (OH) (Fall 3:17)
Round 2
Maddie Hayden (MI) won by tech fall over Isabella Adams (OH) (TF 10-0)
Aj Grant (IL) won by tech fall over Adalia Del Real (MO) (TF 12-0)
Round 3
Maddie Hayden (MI) won by fall over Aj Grant (IL) (Fall 1:27)
Isabella Adams (OH) won by fall over Adalia Del Real (MO) (Fall 1:09)
180 pounds
1st Place - Heaven Cole of MI
2nd Place - Jannine Flores of IL
Round 1
Heaven Cole (MI) won by tech fall over Jannine Flores (IL) (TF 10-0)
Round 2
Heaven Cole (MI) won by tech fall over Jannine Flores (IL) (TF 10-0)
200 pounds
1st Place - Jayden Moehle of MO
2nd Place - Sydney Grissom of TN
3rd Place - Jennifer Huaracha-Arellanos of OH
4th Place - Margaux Osting of OH
5th Place - Liberty McBride of IL
Round 1
Sydney Grissom (TN) won by fall over Liberty McBride (IL) (Fall 0:13)
Jennifer Huaracha-Arellanos (OH) won by fall over Margaux Osting (OH) (Fall 0:23)
Round 2
Jayden Moehle (MO) won by fall over Jennifer Huaracha-Arellanos (OH) (Fall 3:46)
Sydney Grissom (TN) won by fall over Margaux Osting (OH) (Fall 1:49)
Round 3
Jayden Moehle (MO) won by decision over Margaux Osting (OH) (Dec 9-6)
Liberty McBride (IL) won by injury default over Jennifer Huaracha-Arellanos (OH) (Inj. 0:00)
Round 4
Jayden Moehle (MO) won by fall over Liberty McBride (IL) (Fall 1:10)
Sydney Grissom (TN) won by injury default over Jennifer Huaracha-Arellanos (OH) (Inj. 0:00)
Round 5
Jayden Moehle (MO) won by tech fall over Sydney Grissom (TN) (TF 10-0)
Margaux Osting (OH) won by fall over Liberty McBride (IL) (Fall 2:52)
16U Girls Greco-Roman Results
94 pounds
1st Place - Mia Vazquez of IL
112-117 pounds
1st Place - Sierra Chiesa of PA
2nd Place - Mackenzie Carder of OH
3rd Place - Daylee Watson of PA
4th Place - Kimani Glasper of IL
Round 1
Daylee Watson (PA) won by forfeit over Kimani Glasper (IL) (FF)
Sierra Chiesa (PA) won by fall over Mackenzie Carder (OH) (Fall 2:38)
Round 2
Sierra Chiesa (PA) won by tech fall over Daylee Watson (PA) (TF 9-1)
Mackenzie Carder (OH) won by forfeit over Kimani Glasper (IL) (FF)
Round 3
Mackenzie Carder (OH) won by fall over Daylee Watson (PA) (Fall 0:04)
Sierra Chiesa (PA) won by forfeit over Kimani Glasper (IL) (FF)
122-127 pounds
1st Place - Kyla Johnson of IN
2nd Place - Sydney Stifter of MO
Round 1
Kyla Johnson (IN) won by forfeit over Sydney Stifter (MO) (FF)
Round 2
Kyla Johnson (IN) won by forfeit over Sydney Stifter (MO) (FF)
138-144 pounds
1st Place - Margaret Buurma of MI
2nd Place - Sage O`Brien of OH
3rd Place - Katalina Thompson of MI
4th Place - Addison Lyon of OH
Round 1
Margaret Buurma (MI) won by tech fall over Sage O`Brien (OH) (TF 11-0)
Katalina Thompson (MI) won by fall over Addison Lyon (OH) (Fall 3:22)
Round 2
Sage O`Brien (OH) won by fall over Addison Lyon (OH) (Fall 1:22)
Margaret Buurma (MI) won by tech fall over Katalina Thompson (MI) (TF 9-0)
Round 3
Sage O`Brien (OH) won by tech fall over Katalina Thompson (MI) (TF 14-0)
Margaret Buurma (MI) won by tech fall over Addison Lyon (OH) (TF 8-0)
164 pounds
1st Place - Maddie Hayden of MI
200 pounds
1st Place - Margaux Osting of OH
14U Boys Freestyle Results
71 pounds
1st Place - Xander Webber of OH
2nd Place - Brody Compau of MI
3rd Place - Brayden Tanner of IN
4th Place - Seth Hollerman of PA
5th Place - Kevin Bisonaya of IL
Round 1
Brayden Tanner (IN) won by tech fall over Seth Hollerman (PA) (TF 14-1)
Xander Webber (OH) won by tech fall over Kevin Bisonaya (IL) (TF 10-0)
Round 2
Brody Compau (MI) won by tech fall over Kevin Bisonaya (IL) (TF 10-0)
Xander Webber (OH) won by tech fall over Brayden Tanner (IN) (TF 14-3)
Round 3
Xander Webber (OH) won by decision over Brody Compau (MI) (Dec 9-8)
Seth Hollerman (PA) won by tech fall over Kevin Bisonaya (IL) (TF 16-6)
Round 4
Brody Compau (MI) won by tech fall over Seth Hollerman (PA) (TF 10-0)
Brayden Tanner (IN) won by fall over Kevin Bisonaya (IL) (Fall 2:20)
Round 5
Brody Compau (MI) won by fall over Brayden Tanner (IN) (Fall 1:30)
Xander Webber (OH) won by tech fall over Seth Hollerman (PA) (TF 12-2)
77 pounds
1st Place - Cameron Schofield of IN
2nd Place - Gavin Boller of MI
3rd Place - Landon Sturgell of OH
4th Place - Eddie Tomlinson of IN
5th Place - Jayland Davis of IN
6th Place - Matthew Sheehan of OH
1st Place Match
Cameron Schofield (IN) won by decision over Gavin Boller (MI) (Dec 8-7)
3rd Place Match
Landon Sturgell (OH) won by tech fall over Eddie Tomlinson (IN) (TF 13-0)
5th Place Match
Jayland Davis (IN) won by tech fall over Matthew Sheehan (OH) (TF 12-1)
83 pounds
1st Place - Chase Karenbauer of PA
2nd Place - Jeremy Carver of IN
3rd Place - Michael Rundell of IL
4th Place - Connor Maddox of IN
5th Place - Peyton Fowler of KY
6th Place - Caden Steinbeck of OH
1st Place Match
Chase Karenbauer (PA) won by tech fall over Jeremy Carver (IN) (TF 10-0)
3rd Place Match
Michael Rundell (IL) won by tech fall over Connor Maddox (IN) (TF 14-4)
5th Place Match
Peyton Fowler (KY) won in overtime over Caden Steinbeck (OH) (OT 13-8)
87 pounds
1st Place - Tommy Wurster of OH
2nd Place - Kagan Painter of PA
3rd Place - Traevon Ducking of IN
4th Place - Obadiah Willis of IL
5th Place - Reed Wicker of IN
6th Place - Rayce Watson of OH
1st Place Match
Tommy Wurster (OH) won by fall over Kagan Painter (PA) (Fall 1:05)
3rd Place Match
Traevon Ducking (IN) won by fall over Obadiah Willis (IL) (Fall 2:13)
5th Place Match
Reed Wicker (IN) won by decision over Rayce Watson (OH) (Dec 6-6)
92 pounds
1st Place - William Schork of OH
2nd Place - Joseph Warner of IN
3rd Place - Colton Schultz of IL
4th Place - Donovan Quinn of MI
5th Place - Jude Pratt of IN
6th Place - Hayden Weiss of OH
1st Place Match
William Schork (OH) won by tech fall over Joseph Warner (IN) (TF 10-0)
3rd Place Match
Colton Schultz (IL) won by decision over Donovan Quinn (MI) (Dec 6-4)
5th Place Match
Jude Pratt (IN) won by fall over Hayden Weiss (OH) (Fall 2:00)
97 pounds
1st Place - Ian Stearns of PA
2nd Place - Robert Ruscitti of IL
3rd Place - Xavier Flores of IN
4th Place - Isaac Brown of OH
5th Place - Sawyer Stephenson of MI
6th Place - Bo Gibbs of OH
1st Place Match
Ian Stearns (PA) won by fall over Robert Ruscitti (IL) (Fall 1:11)
3rd Place Match
Xavier Flores (IN) won by decision over Isaac Brown (OH) (Dec 9-2)
5th Place Match
Sawyer Stephenson (MI) won by decision over Bo Gibbs (OH) (Dec 7-6)
102 pounds
1st Place - Conner Whitely of OH
2nd Place - Carson Blum of MI
3rd Place - Jaxsen Jean of IN
4th Place - Alex Briggs of OH
5th Place - Nicholas Freeze of IN
6th Place - Lyric Hetzer of OH
1st Place Match
Conner Whitely (OH) won by decision over Carson Blum (MI) (Dec 4-2)
3rd Place Match
Jaxsen Jean (IN) won by decision over Alex Briggs (OH) (Dec 9-9)
5th Place Match
Nicholas Freeze (IN) won by tech fall over Lyric Hetzer (OH) (TF 10-0)
106 pounds
1st Place - Weston Borgers of OH
2nd Place - Jayden Maillard of OH
3rd Place - Daniel Brown Jr. of IN
4th Place - Griffin Tibai of MI
5th Place - Kannon Judycki of IL
6th Place - Patrick Dowty of IN
1st Place Match
Weston Borgers (OH) won by tech fall over Jayden Maillard (OH) (TF 10-0)
3rd Place Match
Daniel Brown Jr. (IN) won by tech fall over Griffin Tibai (MI) (TF 10-0)
5th Place Match
Kannon Judycki (IL) won by tech fall over Patrick Dowty (IN) (TF 11-0)
110 pounds
1st Place - Urijah Lopez of OH
2nd Place - Beck Yurkunas of MI
3rd Place - Landon Rusnak of OH
4th Place - Devin Ehler of IL
5th Place - Mason Todd of MO
6th Place - Lyric Warner of MI
1st Place Match
Urijah Lopez (OH) won by tech fall over Beck Yurkunas (MI) (TF 12-2)
3rd Place Match
Landon Rusnak (OH) won by injury default over Devin Ehler (IL) (Inj. 0:00)
5th Place Match
Mason Todd (MO) won by tech fall over Lyric Warner (MI) (TF 10-0)
114 pounds
1st Place - Alexander Penzkover of WI
2nd Place - Jamison Gregory of MI
3rd Place - Landen Messer of OH
4th Place - Gavin Ryhal of PA
5th Place - Evan Cryderman of IN
6th Place - Wesley Honiss of MI
1st Place Match
Alexander Penzkover (WI) won by decision over Jamison Gregory (MI) (Dec 12-3)
3rd Place Match
Landen Messer (OH) won by decision over Gavin Ryhal (PA) (Dec 7-5)
5th Place Match
Evan Cryderman (IN) won by decision over Wesley Honiss (MI) (Dec 10-10)
119 pounds
1st Place - Harrison Murdock of GA
2nd Place - Kayson White of KY
3rd Place - Daniel Dennis of PA
4th Place - Bo Jackson of IN
5th Place - Kieran Beach of MI
6th Place - Jaxon Workman of MI
1st Place Match
Harrison Murdock (GA) won by decision over Kayson White (KY) (Dec 16-7)
3rd Place Match
Daniel Dennis (PA) won by decision over Bo Jackson (IN) (Dec 9-2)
5th Place Match
Kieran Beach (MI) won by decision over Jaxon Workman (MI) (Dec 10-8)
125 pounds
1st Place - Tommy Rowlands of OH
2nd Place - Thomas Banas of IL
3rd Place - Jackson Paulsen of MO
4th Place - Tatumn Jones of IN
5th Place - Tristan Holt of MI
6th Place - Landon Opatrny of OH
1st Place Match
Tommy Rowlands (OH) won by decision over Thomas Banas (IL) (Dec 4-4)
3rd Place Match
Jackson Paulsen (MO) won by tech fall over Tatumn Jones (IN) (TF 14-4)
5th Place Match
Tristan Holt (MI) won by decision over Landon Opatrny (OH) (Dec 5-3)
130 pounds
1st Place - Gavin Cantera of OH
2nd Place - Tyler Morales of MI
3rd Place - Donald Bowie of IN
4th Place - Anthony Lopshire of IN
5th Place - Blake De Stefano of MI
6th Place - Dominic Marengo of OH
1st Place Match
Gavin Cantera (OH) won by fall over Tyler Morales (MI) (Fall 3:21)
3rd Place Match
Donald Bowie (IN) won by tech fall over Anthony Lopshire (IN) (TF 12-1)
5th Place Match
Blake De Stefano (MI) won by tech fall over Dominic Marengo (OH) (TF 12-1)
136 pounds
1st Place - Deacon Dressler of IN
2nd Place - Sean Breedlove of IN
3rd Place - Andrew Moro of OH
4th Place - Braydon Hall of MI
5th Place - Asa Yost of WV
6th Place - Ethan White of MI
1st Place Match
Deacon Dressler (IN) won by tech fall over Sean Breedlove (IN) (TF 10-0)
3rd Place Match
Andrew Moro (OH) won by injury default over Braydon Hall (MI) (Inj. 0:43)
5th Place Match
Asa Yost (WV) won by injury default over Ethan White (MI) (Inj. 0:17)
149 pounds
1st Place - Peyton Hornsby of IN
2nd Place - Jakob Hoke of OH
3rd Place - Arkail Griffin Edwards of IL
4th Place - Tobias Pacheco of MI
5th Place - Sam Harrington of PA
6th Place - Benjamin Mullins of IL
1st Place Match
Peyton Hornsby (IN) won by tech fall over Jakob Hoke (OH) (TF 14-3)
3rd Place Match
Arkail Griffin Edwards (IL) won by tech fall over Tobias Pacheco (MI) (TF 13-1)
5th Place Match
Sam Harrington (PA) won by tech fall over Benjamin Mullins (IL) (TF 14-4)
165 pounds
1st Place - Eli Knight of WV
2nd Place - Kalel Williams of MI
3rd Place - Carter Lester of OH
4th Place - Nicholas Merced of PA
5th Place - Corey Robinson of IL
6th Place - Long Ngo of IL
1st Place Match
Eli Knight (WV) won by tech fall over Kalel Williams (MI) (TF 10-0)
3rd Place Match
Carter Lester (OH) won by fall over Nicholas Merced (PA) (Fall 1:28)
5th Place Match
Corey Robinson (IL) won by tech fall over Long Ngo (IL) (TF 17-4)
187 pounds
1st Place - Jacob Everett of MI
2nd Place - Isaac Westfall of MI
3rd Place - Braylen Meeuwsen of MI
Round 1
Jacob Everett (MI) won by decision over Isaac Westfall (MI) (Dec 3-3)
Braylen Meeuwsen (MI) received a bye () (Bye)
Round 2
Isaac Westfall (MI) received a bye () (Bye)
Jacob Everett (MI) won by fall over Braylen Meeuwsen (MI) (Fall 1:02)
Round 3
Isaac Westfall (MI) won by fall over Braylen Meeuwsen (MI) (Fall 2:45)
Jacob Everett (MI) received a bye () (Bye)
250 pounds
1st Place - Lucas Jirousek of OH
2nd Place - Jacob Purtee of OH
3rd Place - Nolan Lopez of IL
Round 1
Jacob Purtee (OH) received a bye () (Bye)
Lucas Jirousek (OH) won by decision over Nolan Lopez (IL) (Dec 11-6)
Round 2
Nolan Lopez (IL) received a bye () (Bye)
Lucas Jirousek (OH) won by fall over Jacob Purtee (OH) (Fall 1:25)
Round 3
Lucas Jirousek (OH) received a bye () (Bye)
Jacob Purtee (OH) won by tech fall over Nolan Lopez (IL) (TF 11-0)
14U Boys Greco-Roman Results
71 pounds
1st Place - Brody Compau of MI
2nd Place - Xander Webber of OH
3rd Place - Brayden Tanner of IN
4th Place - Kevin Bisonaya of IL
5th Place - Seth Hollerman of PA
Round 1
Brayden Tanner (IN) won by tech fall over Seth Hollerman (PA) (TF 8-0)
Xander Webber (OH) won by tech fall over Kevin Bisonaya (IL) (TF 8-0)
Round 2
Brody Compau (MI) won by tech fall over Kevin Bisonaya (IL) (TF 10-1)
Xander Webber (OH) won by tech fall over Brayden Tanner (IN) (TF 10-2)
Round 3
Brody Compau (MI) won by decision over Xander Webber (OH) (Dec 7-6)
Kevin Bisonaya (IL) won by tech fall over Seth Hollerman (PA) (TF 10-2)
Round 4
Brody Compau (MI) won by tech fall over Seth Hollerman (PA) (TF 8-0)
Brayden Tanner (IN) won by tech fall over Kevin Bisonaya (IL) (TF 8-0)
Round 5
Brody Compau (MI) won by decision over Brayden Tanner (IN) (Dec 14-8)
Xander Webber (OH) won by tech fall over Seth Hollerman (PA) (TF 8-0)
77 pounds
1st Place - Cameron Schofield of IN
2nd Place - Gavin Boller of MI
3rd Place - Landon Sturgell of OH
4th Place - Samuel Madsen of IN
5th Place - Matthew Sheehan of OH
Round 1
Samuel Madsen (IN) won by fall over Matthew Sheehan (OH) (Fall 0:57)
Cameron Schofield (IN) won by tech fall over Landon Sturgell (OH) (TF 8-0)
Round 2
Cameron Schofield (IN) won by decision over Gavin Boller (MI) (Dec 6-3)
Landon Sturgell (OH) won by fall over Samuel Madsen (IN) (Fall 2:32)
Round 3
Gavin Boller (MI) won by fall over Landon Sturgell (OH) (Fall 0:15)
Cameron Schofield (IN) won by tech fall over Matthew Sheehan (OH) (TF 12-3)
Round 4
Gavin Boller (MI) won by tech fall over Matthew Sheehan (OH) (TF 8-0)
Cameron Schofield (IN) won by tech fall over Samuel Madsen (IN) (TF 10-0)
Round 5
Gavin Boller (MI) won by tech fall over Samuel Madsen (IN) (TF 8-0)
Landon Sturgell (OH) won by fall over Matthew Sheehan (OH) (Fall 0:26)
83 pounds
1st Place - Chase Karenbauer of PA
2nd Place - Michael Rundell of IL
3rd Place - Jeremy Carver of IN
4th Place - Connor Maddox of IN
5th Place - Dakota Harmer of MI
6th Place - Hunter Sutfin of MI
1st Place Match
Chase Karenbauer (PA) won by tech fall over Michael Rundell (IL) (TF 10-2)
3rd Place Match
Jeremy Carver (IN) won by tech fall over Connor Maddox (IN) (TF 8-0)
5th Place Match
Dakota Harmer (MI) won by tech fall over Hunter Sutfin (MI) (TF 9-0)
87 pounds
1st Place - Traevon Ducking of IN
2nd Place - Tommy Wurster of OH
3rd Place - Camden Hook of IN
4th Place - Kagan Painter of PA
5th Place - Dylan Nieuwenhuis of MI
6th Place - Bryson Coyer of MI
1st Place Match
Traevon Ducking (IN) won by decision over Tommy Wurster (OH) (Dec 9-9)
3rd Place Match
Camden Hook (IN) won by tech fall over Kagan Painter (PA) (TF 15-4)
5th Place Match
Dylan Nieuwenhuis (MI) won by injury default over Bryson Coyer (MI) (Inj. 0:00)
92 pounds
1st Place - William Schork of OH
2nd Place - Vannak Khiev of IL
3rd Place - Jude Pratt of IN
4th Place - Chase Morrison of MI
5th Place - Joseph Warner of IN
6th Place - Camden Brucker of IL
1st Place Match
William Schork (OH) won by tech fall over Vannak Khiev (IL) (TF 10-0)
3rd Place Match
Jude Pratt (IN) won by decision over Chase Morrison (MI) (Dec 15-12)
5th Place Match
Joseph Warner (IN) won by tech fall over Camden Brucker (IL) (TF 8-0)
97 pounds
1st Place - Robert Ruscitti of IL
2nd Place - Xavier Flores of IN
3rd Place - Josiah Sims of OH
4th Place - Bo Gibbs of OH
5th Place - Ian Stearns of PA
6th Place - Sawyer Stephenson of MI
1st Place Match
Robert Ruscitti (IL) won by tech fall over Xavier Flores (IN) (TF 12-3)
3rd Place Match
Josiah Sims (OH) won by decision over Bo Gibbs (OH) (Dec 4-4)
5th Place Match
Ian Stearns (PA) won by injury default over Sawyer Stephenson (MI) (Inj. 0:00)
102 pounds
1st Place - Conner Whitely of OH
2nd Place - Carson Blum of MI
3rd Place - Alex Briggs of OH
4th Place - Tanner Williams of OH
5th Place - Landen Lage of IL
6th Place - Graham Hammons of OH
1st Place Match
Conner Whitely (OH) won by fall over Carson Blum (MI) (Fall 3:56)
3rd Place Match
Alex Briggs (OH) won by fall over Tanner Williams (OH) (Fall 1:23)
5th Place Match
Landen Lage (IL) won by tech fall over Graham Hammons (OH) (TF 8-0)
106 pounds
1st Place - Weston Borgers of OH
2nd Place - Griffin Tibai of MI
3rd Place - Patrick Dowty of IN
4th Place - Alexander Shvartsman of IL
5th Place - Xavier Pollard of OH
6th Place - Jayden Maillard of OH
1st Place Match
Weston Borgers (OH) won by tech fall over Griffin Tibai (MI) (TF 10-0)
3rd Place Match
Patrick Dowty (IN) won by decision over Alexander Shvartsman (IL) (Dec 11-8)
5th Place Match
Xavier Pollard (OH) won by decision over Jayden Maillard (OH) (Dec 6-4)
110 pounds
1st Place - Lyric Warner of MI
2nd Place - Beck Yurkunas of MI
3rd Place - Urijah Lopez of OH
4th Place - Joseph Paun of IN
Round 1
Beck Yurkunas (MI) won by tech fall over Lyric Warner (MI) (TF 8-0)
Joseph Paun (IN) received a bye () (Bye)
Round 2
Urijah Lopez (OH) received a bye () (Bye)
Lyric Warner (MI) won by fall over Joseph Paun (IN) (Fall 3:14)
Round 3
Urijah Lopez (OH) won by fall over Joseph Paun (IN) (Fall 0:34)
Beck Yurkunas (MI) received a bye () (Bye)
Round 4
Urijah Lopez (OH) won by decision over Beck Yurkunas (MI) (Dec 8-6)
Lyric Warner (MI) received a bye () (Bye)
Round 5
Lyric Warner (MI) won by disqualification over Urijah Lopez (OH) (DQ)
Beck Yurkunas (MI) won by tech fall over Joseph Paun (IN) (TF 9-0)
114 pounds
1st Place - Jamison Gregory of MI
2nd Place - Wesley Honiss of MI
3rd Place - Landen Messer of OH
4th Place - Gavin Ryhal of PA
5th Place - Omar Mendez of IL
6th Place - Timothy Giger of PA
1st Place Match
Jamison Gregory (MI) won by tech fall over Wesley Honiss (MI) (TF 16-6)
3rd Place Match
Landen Messer (OH) won by fall over Gavin Ryhal (PA) (Fall 3:14)
5th Place Match
Omar Mendez (IL) won by tech fall over Timothy Giger (PA) (TF 9-0)
119 pounds
1st Place - Jaxon Workman of MI
2nd Place - Daniel Dennis of PA
3rd Place - Bo Jackson of IN
4th Place - Kieran Beach of MI
5th Place - Landon Weidler of IL
6th Place - Joshua Mitcham of PA
1st Place Match
Jaxon Workman (MI) won by fall over Daniel Dennis (PA) (Fall 1:07)
3rd Place Match
Bo Jackson (IN) won by decision over Kieran Beach (MI) (Dec 8-5)
5th Place Match
Landon Weidler (IL) won by fall over Joshua Mitcham (PA) (Fall 1:08)
125 pounds
1st Place - Tommy Rowlands of OH
2nd Place - Peter Augustine of PA
Round 1
Tommy Rowlands (OH) won by fall over Peter Augustine (PA) (Fall 0:12)
Round 2
Tommy Rowlands (OH) won by tech fall over Peter Augustine (PA) (TF 8-0)
130 pounds
1st Place - Gavin Cantera of OH
2nd Place - Graeson Harris of PA
3rd Place - Donald Bowie of IN
4th Place - Jacob Lootans Jr. of WI
5th Place - Eathan Jimenez of IN
6th Place - Tyler Morales of MI
1st Place Match
Gavin Cantera (OH) won by fall over Graeson Harris (PA) (Fall 0:30)
3rd Place Match
Donald Bowie (IN) won by decision over Jacob Lootans Jr. (WI) (Dec 14-12)
5th Place Match
Eathan Jimenez (IN) won by injury default over Tyler Morales (MI) (Inj. 0:00)
136 pounds
1st Place - Deacon Dressler of IN
2nd Place - Andrew Moro of OH
3rd Place - Sean Breedlove of IN
4th Place - Trey Straquadine of OH
5th Place - Gabriel Harris of OH
Round 1
Andrew Moro (OH) won by tech fall over Trey Straquadine (OH) (TF 11-2)
Deacon Dressler (IN) won by tech fall over Gabriel Harris (OH) (TF 8-0)
Round 2
Sean Breedlove (IN) won by fall over Gabriel Harris (OH) (Fall 1:11)
Deacon Dressler (IN) won by tech fall over Andrew Moro (OH) (TF 12-2)
Round 3
Sean Breedlove (IN) won by decision over Deacon Dressler (IN) (Dec 7-4)
Trey Straquadine (OH) won by tech fall over Gabriel Harris (OH) (TF 11-0)
Round 4
Sean Breedlove (IN) won by fall over Trey Straquadine (OH) (Fall 0:56)
Andrew Moro (OH) won by tech fall over Gabriel Harris (OH) (TF 12-4)
Round 5
Andrew Moro (OH) won by tech fall over Sean Breedlove (IN) (TF 11-0)
Deacon Dressler (IN) won by tech fall over Trey Straquadine (OH) (TF 10-2)
149 pounds
1st Place - Jakob Hoke of OH
2nd Place - Arkail Griffin Edwards of IL
3rd Place - Benjamin Mullins of IL
4th Place - Sam Harrington of PA
Round 1
Jakob Hoke (OH) won by tech fall over Arkail Griffin Edwards (IL) (TF 8-0)
Benjamin Mullins (IL) won by tech fall over Sam Harrington (PA) (TF 8-0)
Round 2
Jakob Hoke (OH) won by fall over Sam Harrington (PA) (Fall 2:35)
Arkail Griffin Edwards (IL) won by tech fall over Benjamin Mullins (IL) (TF 8-0)
Round 3
Jakob Hoke (OH) won by tech fall over Benjamin Mullins (IL) (TF 8-0)
Arkail Griffin Edwards (IL) won by tech fall over Sam Harrington (PA) (TF 9-0)
165 pounds
1st Place - Corey Robinson of IL
2nd Place - Kalel Williams of MI
3rd Place - Nicholas Merced of PA
4th Place - Long Ngo of IL
5th Place - Drake Gibson of MI
Round 1
Corey Robinson (IL) won by tech fall over Drake Gibson (MI) (TF 8-0)
Kalel Williams (MI) won by tech fall over Long Ngo (IL) (TF 9-1)
Round 2
Nicholas Merced (PA) won by tech fall over Long Ngo (IL) (TF 14-4)
Corey Robinson (IL) won by tech fall over Kalel Williams (MI) (TF 12-0)
Round 3
Kalel Williams (MI) won by tech fall over Nicholas Merced (PA) (TF 8-0)
Long Ngo (IL) won by decision over Drake Gibson (MI) (Dec 9-4)
Round 4
Nicholas Merced (PA) won by tech fall over Drake Gibson (MI) (TF 10-0)
Corey Robinson (IL) won by tech fall over Long Ngo (IL) (TF 11-2)
Round 5
Corey Robinson (IL) won by fall over Nicholas Merced (PA) (Fall 2:52)
Kalel Williams (MI) won by fall over Drake Gibson (MI) (Fall 0:14)
187 pounds
1st Place - Jacob Everett of MI
2nd Place - Braylen Meeuwsen of MI
3rd Place - Isaac Westfall of MI
Round 1
Braylen Meeuwsen (MI) received a bye () (Bye)
Jacob Everett (MI) won by tech fall over Isaac Westfall (MI) (TF 12-4)
Round 2
Braylen Meeuwsen (MI) won by tech fall over Isaac Westfall (MI) (TF 12-4)
Jacob Everett (MI) received a bye () (Bye)
Round 3
Jacob Everett (MI) won by fall over Braylen Meeuwsen (MI) (Fall 1:47)
Isaac Westfall (MI) received a bye () (Bye)
250 pounds
Guaranteed Places
1st Place - Lucas Jirousek of OH
14U Girls Freestyle Results
101 pounds
1st Place - Tatianna Castillo of MI
110 pounds
1st Place - Alexis Lauta of PA
2nd Place - Anna Buurma of MI
3rd Place - Eva Zimnicki of MI
4th Place - Penelope Juarez of WI
5th Place - Celine Frank of MI
Round 1
Alexis Lauta (PA) won by tech fall over Eva Zimnicki (MI) (TF 11-0)
Anna Buurma (MI) won by fall over Penelope Juarez (WI) (Fall 3:17)
Round 2
Penelope Juarez (WI) won by tech fall over Celine Frank (MI) (TF 12-2)
Alexis Lauta (PA) won by fall over Anna Buurma (MI) (Fall 3:08)
Round 3
Anna Buurma (MI) won by fall over Celine Frank (MI) (Fall 0:46)
Eva Zimnicki (MI) won by decision over Penelope Juarez (WI) (Dec 5-4)
Round 4
Eva Zimnicki (MI) won by decision over Celine Frank (MI) (Dec 11-2)
Alexis Lauta (PA) won by tech fall over Penelope Juarez (WI) (TF 10-0)
Round 5
Alexis Lauta (PA) won by tech fall over Celine Frank (MI) (TF 10-0)
Anna Buurma (MI) won by fall over Eva Zimnicki (MI) (Fall 3:09)
119 pounds
1st Place - Analise Henry of MI
136-145 pounds
1st Place - Giancarla Garduno of IL
2nd Place - Stella Pettitt of WI
3rd Place - Kylee Malloy of MI
4th Place - Aaliyah Vazquez of IL
Round 1
Kylee Malloy (MI) won by fall over Aaliyah Vazquez (IL) (Fall 0:53)
Giancarla Garduno (IL) won by fall over Stella Pettitt (WI) (Fall 2:51)
Round 2
Giancarla Garduno (IL) won by fall over Kylee Malloy (MI) (Fall 0:46)
Stella Pettitt (WI) won by fall over Aaliyah Vazquez (IL) (Fall 0:25)
Round 3
Stella Pettitt (WI) won by tech fall over Kylee Malloy (MI) (TF 10-0)
Giancarla Garduno (IL) won by fall over Aaliyah Vazquez (IL) (Fall 1:23)
185 pounds
1st Place - Juliet Alt of WV
2nd Place - Ryann Miller of IL
Round 1
Juliet Alt (WV) won by tech fall over Ryann Miller (IL) (TF 10-0)
Round 2
Juliet Alt (WV) won by tech fall over Ryann Miller (IL) (TF 12-1)
14U Girls Greco-Roman Results
110-117 pounds
1st Place - Alexis Lauta of PA
2nd Place - Analise Henry of MI
3rd Place - Anna Buurma of MI
Round 1
Anna Buurma (MI) received a bye () (Bye)
Alexis Lauta (PA) won by tech fall over Analise Henry (MI) (TF 8-0)
Round 2
Analise Henry (MI) received a bye () (Bye)
Anna Buurma (MI) won by tech fall over Alexis Lauta (PA) (TF 11-2)
Round 3
Alexis Lauta (PA) received a bye () (Bye)
Analise Henry (MI) won by tech fall over Anna Buurma (MI) (TF 8-0)
12U Boys Freestyle Results
58 pounds
1st Place - Xavier Ruffin of MI
2nd Place - Colton Stephens of PA
3rd Place - Ryan Federico of OH
Round 1
Xavier Ruffin (MI) won by fall over Ryan Federico (OH) (Fall 2:33)
Colton Stephens (PA) received a bye () (Bye)
Round 2
Ryan Federico (OH) received a bye () (Bye)
Xavier Ruffin (MI) won by decision over Colton Stephens (PA) (Dec 10-8)
Round 3
Colton Stephens (PA) won by tech fall over Ryan Federico (OH) (TF 10-0)
Xavier Ruffin (MI) received a bye () (Bye)
63-67 pounds
1st Place - Rj Shay of PA
2nd Place - Brennan Hart of MI
3rd Place - Luke Rafferty of OH
4th Place - Kilian Paddock of WAA (Woodbury)
5th Place - Josh Schaub of TX
6th Place - Macoy Morency of OH
1st Place Match
Rj Shay (PA) won by decision over Brennan Hart (MI) (Dec 10-5)
3rd Place Match
Luke Rafferty (OH) won by fall over Kilian Paddock (WAA (Woodbury)) (Fall 0:17)
5th Place Match
Josh Schaub (TX) won by tech fall over Macoy Morency (OH) (TF 11-0)
70 pounds
1st Place - Cameron Ramp of IL
2nd Place - Jon Luke Austin of IN
3rd Place - Greyson Zoul of OH
4th Place - Mario Demarco of OH
5th Place - Ezra Cappa of IN
6th Place - Braylen Stewart of OH
1st Place Match
Cameron Ramp (IL) won by decision over Jon Luke Austin (IN) (Dec 16-14)
3rd Place Match
Greyson Zoul (OH) won by fall over Mario Demarco (OH) (Fall 2:22)
5th Place Match
Ezra Cappa (IN) won by fall over Braylen Stewart (OH) (Fall 3:34)
74 pounds
1st Place - Elias Faith of IN
2nd Place - Haedyn Cochran of IN
3rd Place - Thomas Blanke of IL
4th Place - Isaac Showalter of IL
5th Place - Parker Workman of OH
6th Place - Baran Stevens of MI
1st Place Match
Elias Faith (IN) won by decision over Haedyn Cochran (IN) (Dec 10-4)
3rd Place Match
Thomas Blanke (IL) won by tech fall over Isaac Showalter (IL) (TF 12-2)
5th Place Match
Parker Workman (OH) won by tech fall over Baran Stevens (MI) (TF 11-0)
78 pounds
1st Place - Chase VanPortfliet of MI
2nd Place - Edward Zeller of OH
3rd Place - Jacob Willaman of OH
4th Place - Joshua Sanders of IN
5th Place - Clint Kohlman of MI
6th Place - Cole Lemberg of IL
1st Place Match
Chase VanPortfliet (MI) won by decision over Edward Zeller (OH) (Dec 17-11)
3rd Place Match
Jacob Willaman (OH) won by decision over Joshua Sanders (IN) (Dec 11-7)
5th Place Match
Clint Kohlman (MI) won by injury default over Cole Lemberg (IL) (Inj. 0:00)
82 pounds
1st Place - Matt Harrington of PA
2nd Place - Logan Rowlands of OH
3rd Place - Joey Rowlands of OH
4th Place - Andrew Dorman of PA
5th Place - Wilhelm Dauenhauer of OH
6th Place - Jefferson Vondruska of OH
1st Place Match
Matt Harrington (PA) won by decision over Logan Rowlands (OH) (Dec 15-8)
3rd Place Match
Joey Rowlands (OH) won by tech fall over Andrew Dorman (PA) (TF 10-0)
5th Place Match
Wilhelm Dauenhauer (OH) won by fall over Jefferson Vondruska (OH) (Fall 0:19)
86 pounds
1st Place - Amari Jenkins of PA
2nd Place - Cash Dorazio of OH
3rd Place - Lincoln Whitcome of IA
4th Place - Davis Lenz of OH
5th Place - Kalel Winesburgh of TN
6th Place - Phoenix Peters of OH
1st Place Match
Amari Jenkins (PA) won by tech fall over Cash Dorazio (OH) (TF 10-0)
3rd Place Match
Lincoln Whitcome (IA) won by decision over Davis Lenz (OH) (Dec 1-1)
5th Place Match
Kalel Winesburgh (TN) won by tech fall over Phoenix Peters (OH) (TF 17-5)
92 pounds
1st Place - Jj Doty of IN
2nd Place - Tanner Mills of MI
3rd Place - Drew Nesity of OH
4th Place - Ethan Alvarez of IN
5th Place - Xavier Harker of OH
Round 1
Jj Doty (IN) won by tech fall over Tanner Mills (MI) (TF 10-0)
Drew Nesity (OH) won by tech fall over Xavier Harker (OH) (TF 11-0)
Round 2
Drew Nesity (OH) won by fall over Ethan Alvarez (IN) (Fall 2:00)
Tanner Mills (MI) won by tech fall over Xavier Harker (OH) (TF 10-0)
Round 3
Ethan Alvarez (IN) won by tech fall over Xavier Harker (OH) (TF 12-0)
Jj Doty (IN) won by fall over Drew Nesity (OH) (Fall 0:33)
Round 4
Jj Doty (IN) won by tech fall over Ethan Alvarez (IN) (TF 12-2)
Tanner Mills (MI) won by fall over Drew Nesity (OH) (Fall 1:44)
Round 5
Ethan Alvarez (IN) won by decision over Tanner Mills (MI) (Dec 15-13)
Jj Doty (IN) won by tech fall over Xavier Harker (OH) (TF 10-0)
98 pounds
1st Place - Jacob Penzkover of WI
2nd Place - Gabriel Beyer of WI
3rd Place - Rooney Olmedo of MI
4th Place - Isaac Opatrny of OH
5th Place - Yefraim Sadchikov of PA
6th Place - Seamus Connole of PA
1st Place Match
Jacob Penzkover (WI) won by fall over Gabriel Beyer (WI) (Fall 3:04)
3rd Place Match
Rooney Olmedo (MI) won by fall over Isaac Opatrny (OH) (Fall 1:02)
5th Place Match
Yefraim Sadchikov (PA) won by tech fall over Seamus Connole (PA) (TF 12-0)
108 pounds
1st Place - John Manning of OH
2nd Place - Joseph Stewart of OH
3rd Place - River Lilly of IN
4th Place - Brady Engalan of MI
Round 1
Joseph Stewart (OH) won by fall over River Lilly (IN) (Fall 1:12)
John Manning (OH) won by fall over Brady Engalan (MI) (Fall 2:20)
Round 2
John Manning (OH) won by decision over Joseph Stewart (OH) (Dec 3-1)
River Lilly (IN) won by fall over Brady Engalan (MI) (Fall 0:23)
Round 3
Joseph Stewart (OH) won by tech fall over Brady Engalan (MI) (TF 10-0)
John Manning (OH) won by decision over River Lilly (IN) (Dec 8-7)
117 pounds
1st Place - Brody Brewer of MI
2nd Place - Owen Floral of IL
3rd Place - Jaiden Lopez of IL
4th Place - Michael Alexander of MN
5th Place - Dylan Hattey of MI
Round 1
Jaiden Lopez (IL) won by fall over Dylan Hattey (MI) (Fall 0:00)
Owen Floral (IL) won by decision over Michael Alexander (MN) (Dec 18-15)
Round 2
Brody Brewer (MI) won by tech fall over Owen Floral (IL) (TF 10-0)
Michael Alexander (MN) won by fall over Dylan Hattey (MI) (Fall 0:57)
Round 3
Brody Brewer (MI) won by tech fall over Michael Alexander (MN) (TF 14-2)
Owen Floral (IL) won by tech fall over Jaiden Lopez (IL) (TF 12-1)
Round 4
Brody Brewer (MI) won by fall over Jaiden Lopez (IL) (Fall 0:19)
Owen Floral (IL) won by tech fall over Dylan Hattey (MI) (TF 14-2)
Round 5
Dylan Hattey (MI) won by fall over Brody Brewer (MI) (Fall 0:31)
Jaiden Lopez (IL) won by fall over Michael Alexander (MN) (Fall 2:35)
135 pounds
1st Place - Gavin Brown of IN
2nd Place - Grant Penney of OH
3rd Place - Joseph Buurma of MI
Round 1
Grant Penney (OH) received a bye () (Bye)
Gavin Brown (IN) won by fall over Joseph Buurma (MI) (Fall 0:46)
Round 2
Gavin Brown (IN) won by tech fall over Grant Penney (OH) (TF 12-2)
Joseph Buurma (MI) received a bye () (Bye)
Round 3
Grant Penney (OH) won by fall over Joseph Buurma (MI) (Fall 3:09)
Gavin Brown (IN) received a bye () (Bye)
160 pounds
1st Place - Thomas Brauer of KY
2nd Place - Brendan Kero of MI
3rd Place - Pablo Juarez of WI
Round 1
Pablo Juarez (WI) received a bye () (Bye)
Thomas Brauer (KY) won by tech fall over Brendan Kero (MI) (TF 10-0)
Round 2
Brendan Kero (MI) won by tech fall over Pablo Juarez (WI) (TF 13-2)
Thomas Brauer (KY) received a bye () (Bye)
Round 3
Thomas Brauer (KY) won by fall over Pablo Juarez (WI) (Fall 0:53)
Brendan Kero (MI) received a bye () (Bye)
12U Boys Greco-Roman Results
58 pounds
1st Place - Colton Stephens of PA
2nd Place - Xavier Ruffin of MI
Round 1
Colton Stephens (PA) won by decision over Xavier Ruffin (MI) (Dec 9-7)
Round 2
Colton Stephens (PA) won by decision over Xavier Ruffin (MI) (Dec 8-2)
67 pounds
1st Place - Brennan Hart of MI
2nd Place - Josh Schaub of TX
3rd Place - Rj Shay of PA
4th Place - Macoy Morency of OH
5th Place - Levi Phillips of MI
Round 1
Josh Schaub (TX) won by tech fall over Levi Phillips (MI) (TF 8-0)
Rj Shay (PA) won by tech fall over Macoy Morency (OH) (TF 8-0)
Round 2
Brennan Hart (MI) won by tech fall over Macoy Morency (OH) (TF 10-1)
Josh Schaub (TX) won by tech fall over Rj Shay (PA) (TF 8-0)
Round 3
Brennan Hart (MI) won by decision over Rj Shay (PA) (Dec 2-0)
Macoy Morency (OH) won by fall over Levi Phillips (MI) (Fall 0:26)
Round 4
Brennan Hart (MI) won by tech fall over Levi Phillips (MI) (TF 8-0)
Josh Schaub (TX) won by tech fall over Macoy Morency (OH) (TF 8-0)
Round 5
Brennan Hart (MI) won by decision over Josh Schaub (TX) (Dec 4-4)
Rj Shay (PA) won by tech fall over Levi Phillips (MI) (TF 8-0)
70 pounds
1st Place - Jon Luke Austin of IN
2nd Place - Braylen Stewart of OH
3rd Place - Ezra Cappa of IN
Round 1
Jon Luke Austin (IN) received a bye () (Bye)
Braylen Stewart (OH) won by fall over Ezra Cappa (IN) (Fall 1:23)
Round 2
Jon Luke Austin (IN) won by tech fall over Braylen Stewart (OH) (TF 16-8)
Ezra Cappa (IN) received a bye () (Bye)
Round 3
Jon Luke Austin (IN) won by fall over Ezra Cappa (IN) (Fall 0:36)
Braylen Stewart (OH) received a bye () (Bye)
74 pounds
1st Place - Elias Faith of IN
2nd Place - Haedyn Cochran of IN
3rd Place - Caleb Shipman of TN
4th Place - Jackson Carter of TN
Round 1
Haedyn Cochran (IN) won by tech fall over Caleb Shipman (TN) (TF 10-2)
Elias Faith (IN) won by tech fall over Jackson Carter (TN) (TF 9-0)
Round 2
Haedyn Cochran (IN) won by fall over Jackson Carter (TN) (Fall 0:54)
Elias Faith (IN) won by tech fall over Caleb Shipman (TN) (TF 8-0)
Round 3
Elias Faith (IN) won by tech fall over Haedyn Cochran (IN) (TF 9-1)
Caleb Shipman (TN) won by fall over Jackson Carter (TN) (Fall 2:55)
78 pounds
1st Place - Joshua Sanders of IN
2nd Place - Edward Zeller of OH
3rd Place - Gavin Brent of MI
4th Place - Chase Jacobs of MI
5th Place - Crosby Ploederl of WI
Round 1
Chase Jacobs (MI) won by fall over Crosby Ploederl (WI) (Fall 0:57)
Joshua Sanders (IN) won by decision over Edward Zeller (OH) (Dec 16-13)
Round 2
Joshua Sanders (IN) won by tech fall over Gavin Brent (MI) (TF 8-0)
Edward Zeller (OH) won by fall over Chase Jacobs (MI) (Fall 2:15)
Round 3
Edward Zeller (OH) won by tech fall over Gavin Brent (MI) (TF 10-0)
Joshua Sanders (IN) won by tech fall over Crosby Ploederl (WI) (TF 8-0)
Round 4
Gavin Brent (MI) won by tech fall over Crosby Ploederl (WI) (TF 8-0)
Joshua Sanders (IN) won by tech fall over Chase Jacobs (MI) (TF 8-0)
Round 5
Gavin Brent (MI) won by tech fall over Chase Jacobs (MI) (TF 12-2)
Edward Zeller (OH) won by tech fall over Crosby Ploederl (WI) (TF 8-0)
82 pounds
1st Place - Matt Harrington of PA
2nd Place - Andrew Dorman of PA
3rd Place - Henry Otto of OH
4th Place - Jefferson Vondruska of OH
Round 1
Andrew Dorman (PA) won by fall over Henry Otto (OH) (Fall 0:33)
Matt Harrington (PA) won by tech fall over Jefferson Vondruska (OH) (TF 8-0)
Round 2
Andrew Dorman (PA) won by fall over Jefferson Vondruska (OH) (Fall 0:34)
Matt Harrington (PA) won by tech fall over Henry Otto (OH) (TF 8-0)
Round 3
Matt Harrington (PA) won by decision over Andrew Dorman (PA) (Dec 13-6)
Henry Otto (OH) won by fall over Jefferson Vondruska (OH) (Fall 0:37)
86 pounds
1st Place - Amari Jenkins of PA
2nd Place - Lincoln Whitcome of IA
3rd Place - Kalel Winesburgh of TN
4th Place - Phoenix Peters of OH
5th Place - Scout Eby of IN
Round 1
Amari Jenkins (PA) won by tech fall over Scout Eby (IN) (TF 8-0)
Kalel Winesburgh (TN) won by tech fall over Phoenix Peters (OH) (TF 8-0)
Round 2
Lincoln Whitcome (IA) won by fall over Kalel Winesburgh (TN) (Fall 2:56)
Phoenix Peters (OH) won by tech fall over Scout Eby (IN) (TF 10-0)
Round 3
Lincoln Whitcome (IA) won by fall over Phoenix Peters (OH) (Fall 2:40)
Amari Jenkins (PA) won by tech fall over Kalel Winesburgh (TN) (TF 10-2)
Round 4
Amari Jenkins (PA) won by decision over Lincoln Whitcome (IA) (Dec 2-1)
Kalel Winesburgh (TN) won by tech fall over Scout Eby (IN) (TF 8-0)
Round 5
Lincoln Whitcome (IA) won by fall over Scout Eby (IN) (Fall 0:22)
Amari Jenkins (PA) won by tech fall over Phoenix Peters (OH) (TF 8-0)
92 pounds
1st Place - Jj Doty of IN
2nd Place - Ethan Alvarez of IN
3rd Place - Caleb Cushman of IL
4th Place - Xavier Harker of OH
Round 1
Ethan Alvarez (IN) won by tech fall over Caleb Cushman (IL) (TF 8-0)
Jj Doty (IN) won by fall over Xavier Harker (OH) (Fall 0:40)
Round 2
Ethan Alvarez (IN) won by tech fall over Xavier Harker (OH) (TF 8-0)
Jj Doty (IN) won by fall over Caleb Cushman (IL) (Fall 0:45)
Round 3
Jj Doty (IN) won by fall over Ethan Alvarez (IN) (Fall 1:00)
Caleb Cushman (IL) won by tech fall over Xavier Harker (OH) (TF 12-2)
98 pounds
1st Place - Gabriel Beyer of WI
2nd Place - Rooney Olmedo of MI
3rd Place - Seamus Connole of PA
4th Place - Michael Howell of MI
Round 1
Gabriel Beyer (WI) won by fall over Michael Howell (MI) (Fall 0:15)
Rooney Olmedo (MI) won by tech fall over Seamus Connole (PA) (TF 8-0)
Round 2
Gabriel Beyer (WI) won by fall over Seamus Connole (PA) (Fall 0:22)
Rooney Olmedo (MI) won by tech fall over Michael Howell (MI) (TF 8-0)
Round 3
Gabriel Beyer (WI) won by tech fall over Rooney Olmedo (MI) (TF 12-1)
Seamus Connole (PA) won by tech fall over Michael Howell (MI) (TF 11-2)
108 pounds
1st Place - John Manning of OH
2nd Place - Joseph Stewart of OH
3rd Place - River Lilly of IN
Round 1
Joseph Stewart (OH) received a bye () (Bye)
John Manning (OH) won by fall over River Lilly (IN) (Fall 1:30)
Round 2
Joseph Stewart (OH) won by tech fall over River Lilly (IN) (TF 10-2)
John Manning (OH) received a bye () (Bye)
Round 3
John Manning (OH) won by decision over Joseph Stewart (OH) (Dec 7-5)
River Lilly (IN) received a bye () (Bye)
117 pounds
1st Place - Brody Brewer of MI
2nd Place - Dylan Hattey of MI
Round 1
Brody Brewer (MI) won by fall over Dylan Hattey (MI) (Fall 2:24)
Round 2
Brody Brewer (MI) won by fall over Dylan Hattey (MI) (Fall 2:38)
135 pounds
1st Place - Gavin Brown of IN
2nd Place - Grant Penney of OH
3rd Place - Joseph Buurma of MI
Round 1
Gavin Brown (IN) received a bye () (Bye)
Grant Penney (OH) won by fall over Joseph Buurma (MI) (Fall 1:53)
Round 2
Gavin Brown (IN) won by fall over Grant Penney (OH) (Fall 0:25)
Joseph Buurma (MI) received a bye () (Bye)
Round 3
Gavin Brown (IN) won by tech fall over Joseph Buurma (MI) (TF 9-0)
Grant Penney (OH) received a bye () (Bye)
160 pounds
Guaranteed Places
1st Place - Thomas Brauer of KY
2nd Place - Brendan Kero of MI
Round 1
Thomas Brauer (KY) won by fall over Brendan Kero (MI) (Fall 0:53)
Round 2
Thomas Brauer (KY) won by tech fall over Brendan Kero (MI) (TF 9-1)
12U Girls Freestyle Results
80-85 pounds
1st Place - Harper Kalo of MI
2nd Place - Achaiah McCue of IN
3rd Place - Eliza Warner of IN
4th Place - Scout Eby of IN
Round 1
Achaiah McCue (IN) won by fall over Scout Eby (IN) (Fall 0:00)
Harper Kalo (MI) won by tech fall over Eliza Warner (IN) (TF 10-0)
Round 2
Eliza Warner (IN) won by decision over Scout Eby (IN) (Dec 14-13)
Harper Kalo (MI) won by decision over Achaiah McCue (IN) (Dec 6-4)
Round 3
Harper Kalo (MI) won by fall over Scout Eby (IN) (Fall 0:43)
Achaiah McCue (IN) won by fall over Eliza Warner (IN) (Fall 0:42)
95-101 pounds
1st Place - La`Raya Veazy of IN
2nd Place - Maya Hammond of IN
3rd Place - Marissa Mayfield of IL
4th Place - Kylee Portmess of IN
Round 1
La`Raya Veazy (IN) won by decision over Marissa Mayfield (IL) (Dec 11-3)
Maya Hammond (IN) won by decision over Kylee Portmess (IN) (Dec 4-2)
Round 2
Marissa Mayfield (IL) won by decision over Kylee Portmess (IN) (Dec 11-6)
La`Raya Veazy (IN) won by decision over Maya Hammond (IN) (Dec 11-2)
Round 3
Maya Hammond (IN) won by fall over Marissa Mayfield (IL) (Fall 3:29)
La`Raya Veazy (IN) won by fall over Kylee Portmess (IN) (Fall 3:08)
130 pounds
1st Place - Serenity Money of IL
12U Girls Greco-Roman Results
85 pounds
1st Place - Scout Eby of IN
100 pounds
1st Place - Marissa Mayfield of IL
10U Boys Freestyle Results
49-53 pounds
1st Place - Darek Flores of IL
2nd Place - Josiah Guzman of North Branch
Round 1
Darek Flores (IL) won by tech fall over Josiah Guzman (North Branch) (TF 10-0)
Round 2
Darek Flores (IL) won by tech fall over Josiah Guzman (North Branch) (TF 10-0)
56-59 pounds
1st Place - Cruz Urioste of MI
2nd Place - Liam Brent of MI
3rd Place - Brady Jacobs of MI
4th Place - Brooks Poupard of MI
Round 1
Cruz Urioste (MI) won by tech fall over Brooks Poupard (MI) (TF 10-0)
Liam Brent (MI) won by decision over Brady Jacobs (MI) (Dec 12-5)
Round 2
Cruz Urioste (MI) won by fall over Liam Brent (MI) (Fall 1:39)
Brady Jacobs (MI) won by tech fall over Brooks Poupard (MI) (TF 10-0)
Round 3
Cruz Urioste (MI) won by tech fall over Brady Jacobs (MI) (TF 11-0)
Liam Brent (MI) won by tech fall over Brooks Poupard (MI) (TF 10-0)
63 pounds
1st Place - Jaxton Coyer of MI
2nd Place - Zander Smith of IN
3rd Place - Joaquin Ascencio of MI
4th Place - Scott Kilmer of IL
5th Place - Byron Rice of PA
6th Place - Keegan Cumbee of IL
1st Place Match
Jaxton Coyer (MI) won by tech fall over Zander Smith (IN) (TF 10-0)
3rd Place Match
Joaquin Ascencio (MI) won by tech fall over Scott Kilmer (IL) (TF 10-0)
5th Place Match
Byron Rice (PA) won by decision over Keegan Cumbee (IL) (Dec 10-5)
67 pounds
1st Place - Holden Davis of OH
2nd Place - Malik Mayfield of IL
3rd Place - Khiry Williams of MI
4th Place - Ethan Rafferty of OH
5th Place - Brycen Hein of MI
6th Place - Carson Voorde of IN
1st Place Match
Holden Davis (OH) won by fall over Malik Mayfield (IL) (Fall 3:20)
3rd Place Match
Khiry Williams (MI) won by tech fall over Ethan Rafferty (OH) (TF 12-2)
5th Place Match
Brycen Hein (MI) won by fall over Carson Voorde (IN) (Fall 1:02)
71 pounds
1st Place - Levi Pike of MI
2nd Place - Edison Cryderman of IN
3rd Place - Ezekiel Banda of IL
Round 1
Levi Pike (MI) received a bye () (Bye)
Edison Cryderman (IN) won by decision over Ezekiel Banda (IL) (Dec 11-8)
Round 2
Levi Pike (MI) won by tech fall over Ezekiel Banda (IL) (TF 10-0)
Edison Cryderman (IN) received a bye () (Bye)
Round 3
Levi Pike (MI) won by tech fall over Edison Cryderman (IN) (TF 10-0)
Ezekiel Banda (IL) received a bye () (Bye)
77 pounds
1st Place - Anze Williams of MI
2nd Place - Mark Wurster of OH
3rd Place - Lewis Otto of OH
4th Place - Logan Raef of IN
5th Place - Tucker Werner of IL
Round 1
Anze Williams (MI) won by fall over Mark Wurster (OH) (Fall 1:34)
Lewis Otto (OH) won by tech fall over Tucker Werner (IL) (TF 10-0)
Round 2
Logan Raef (IN) won by fall over Tucker Werner (IL) (Fall 0:20)
Anze Williams (MI) won by tech fall over Lewis Otto (OH) (TF 10-0)
Round 3
Lewis Otto (OH) won by fall over Logan Raef (IN) (Fall 2:28)
Mark Wurster (OH) won by fall over Tucker Werner (IL) (Fall 0:15)
Round 4
Mark Wurster (OH) won by tech fall over Logan Raef (IN) (TF 14-4)
Anze Williams (MI) won by tech fall over Tucker Werner (IL) (TF 10-0)
Round 5
Anze Williams (MI) won by tech fall over Logan Raef (IN) (TF 10-0)
Mark Wurster (OH) won by tech fall over Lewis Otto (OH) (TF 14-4)
84-93 pounds
1st Place - Benton Alt of MI
2nd Place - Haily Malloy of MI
3rd Place - Kameron Robertson of IN
Round 1
Kameron Robertson (IN) received a bye () (Bye)
Benton Alt (MI) won by fall over Haily Malloy (MI) (Fall 0:18)
Round 2
Benton Alt (MI) won by tech fall over Kameron Robertson (IN) (TF 10-0)
Haily Malloy (MI) received a bye () (Bye)
Round 3
Haily Malloy (MI) won by fall over Kameron Robertson (IN) (Fall 1:39)
Benton Alt (MI) received a bye () (Bye)
105 pounds
1st Place - David Harrell of IN
2nd Place - Henry Begg of MI
Round 1
David Harrell (IN) won by tech fall over Henry Begg (MI) (TF 16-5)
Round 2
David Harrell (IN) won by fall over Henry Begg (MI) (Fall 0:55)
120 pounds
1st Place - Ellis Jones of IN
2nd Place - Gino Freeman of IN
3rd Place - Myles Vlaeminck of IN
Round 1
Gino Freeman (IN) received a bye () (Bye)
Ellis Jones (IN) won by tech fall over Myles Vlaeminck (IN) (TF 10-0)
Round 2
Myles Vlaeminck (IN) received a bye () (Bye)
Ellis Jones (IN) won by fall over Gino Freeman (IN) (Fall 0:56)
Round 3
Ellis Jones (IN) received a bye () (Bye)
Gino Freeman (IN) won by tech fall over Myles Vlaeminck (IN) (TF 10-0)
10U Boys Greco-Roman Results
49-53 pounds
1st Place - Darek Flores of IL
2nd Place - Josiah Guzman of OH
Round 1
Darek Flores (IL) won by tech fall over Josiah Guzman (OH) (TF 10-0)
Round 2
Darek Flores (IL) won by fall over Josiah Guzman (OH) (Fall 0:22)
56-59 pounds
1st Place - Liam Brent of MI
2nd Place - Brady Jacobs of MI
3rd Place - Juliana Matteo of OH
Round 1
Liam Brent (MI) won by tech fall over Juliana Matteo (OH) (TF 8-0)
Brady Jacobs (MI) received a bye () (Bye)
Round 2
Liam Brent (MI) received a bye () (Bye)
Brady Jacobs (MI) won by tech fall over Juliana Matteo (OH) (TF 11-0)
Round 3
Liam Brent (MI) won by decision over Brady Jacobs (MI) (Dec 8-6)
Juliana Matteo (OH) received a bye () (Bye)
63 pounds
1st Place - Jaxton Coyer of MI
2nd Place - Joaquin Ascencio of MI
3rd Place - Zander Smith of IN
4th Place - Byron Rice of PA
5th Place - Scott Kilmer of IL
Round 1
Jaxton Coyer (MI) won by tech fall over Joaquin Ascencio (MI) (TF 8-0)
Byron Rice (PA) won by tech fall over Scott Kilmer (IL) (TF 14-6)
Round 2
Zander Smith (IN) won by fall over Byron Rice (PA) (Fall 0:31)
Joaquin Ascencio (MI) won by injury default over Scott Kilmer (IL) (Inj. 0:00)
Round 3
Zander Smith (IN) won by injury default over Scott Kilmer (IL) (Inj. 0:00)
Jaxton Coyer (MI) won by tech fall over Byron Rice (PA) (TF 8-0)
Round 4
Jaxton Coyer (MI) won by tech fall over Zander Smith (IN) (TF 10-1)
Joaquin Ascencio (MI) won by tech fall over Byron Rice (PA) (TF 8-0)
Round 5
Joaquin Ascencio (MI) won by fall over Zander Smith (IN) (Fall 1:44)
Jaxton Coyer (MI) won by injury default over Scott Kilmer (IL) (Inj. 0:00)
67 pounds
1st Place - Brycen Hein of MI
2nd Place - Khiry Williams of MI
3rd Place - Malik Mayfield of IL
Round 1
Khiry Williams (MI) won by tech fall over Malik Mayfield (IL) (TF 10-0)
Brycen Hein (MI) received a bye () (Bye)
Round 2
Khiry Williams (MI) received a bye () (Bye)
Brycen Hein (MI) won by tech fall over Malik Mayfield (IL) (TF 17-8)
Round 3
Brycen Hein (MI) won by disqualification over Khiry Williams (MI) (DQ)
Malik Mayfield (IL) received a bye () (Bye)
71 pounds
1st Place - Levi Pike of MI
2nd Place - Ezekiel Banda of IL
Round 1
Levi Pike (MI) won by tech fall over Ezekiel Banda (IL) (TF 8-0)
Round 2
Levi Pike (MI) won by tech fall over Ezekiel Banda (IL) (TF 8-0)
77 pounds
1st Place - Mark Wurster of OH
2nd Place - Anze Williams of MI
3rd Place - Logan Raef of IN
4th Place - Tucker Werner of IL
Round 1
Logan Raef (IN) won by fall over Tucker Werner (IL) (Fall 0:16)
Mark Wurster (OH) won by fall over Anze Williams (MI) (Fall 1:02)
Round 2
Mark Wurster (OH) won by tech fall over Logan Raef (IN) (TF 8-0)
Anze Williams (MI) won by fall over Tucker Werner (IL) (Fall 0:25)
Round 3
Anze Williams (MI) won by tech fall over Logan Raef (IN) (TF 8-0)
Mark Wurster (OH) won by tech fall over Tucker Werner (IL) (TF 10-0)
105-111 pounds
1st Place - Henry Begg of MI
2nd Place - David Harrell of IN
3rd Place - Myles Vlaeminck of IN
Round 1
David Harrell (IN) received a bye () (Bye)
Henry Begg (MI) won by fall over Myles Vlaeminck (IN) (Fall 0:45)
Round 2
Myles Vlaeminck (IN) received a bye () (Bye)
Henry Begg (MI) won by fall over David Harrell (IN) (Fall 1:00)
Round 3
Henry Begg (MI) received a bye () (Bye)
David Harrell (IN) won by fall over Myles Vlaeminck (IN) (Fall 0:59)
10U Girls Freestyle Results
55-60 pounds
1st Place - Juliana Matteo of OH
2nd Place - Claire Hammond of IN
3rd Place - Jessica Buurma of MI
4th Place - Adalynn Anthony of OH
Round 1
Juliana Matteo (OH) won by tech fall over Claire Hammond (IN) (TF 19-7)
Jessica Buurma (MI) won by decision over Adalynn Anthony (OH) (Dec 10-1)
Round 2
Claire Hammond (IN) won by fall over Jessica Buurma (MI) (Fall 3:38)
Juliana Matteo (OH) won by tech fall over Adalynn Anthony (OH) (TF 10-0)
Round 3
Claire Hammond (IN) won by fall over Adalynn Anthony (OH) (Fall 3:07)
Juliana Matteo (OH) won by tech fall over Jessica Buurma (MI) (TF 12-2)
70-75 pounds
1st Place - Ayla Knight of WV
2nd Place - Maxine Kremski of MI
3rd Place - Juliette Ollom of OH
Round 1
Ayla Knight (WV) received a bye () (Bye)
Maxine Kremski (MI) won by tech fall over Juliette Ollom (OH) (TF 10-0)
Round 2
Ayla Knight (WV) won by tech fall over Juliette Ollom (OH) (TF 10-0)
Maxine Kremski (MI) received a bye () (Bye)
Round 3
Ayla Knight (WV) won by tech fall over Maxine Kremski (MI) (TF 14-3)
Juliette Ollom (OH) received a bye () (Bye)
10U Girls Greco-Roman Results
60 pounds
1st Place - Juliana Matteo of OH
2nd Place - Jessica Buurma of MI
Round 1
Juliana Matteo (OH) won by tech fall over Jessica Buurma (MI) (TF 10-0)
Round 2
Juliana Matteo (OH) won by fall over Jessica Buurma (MI) (Fall 1:45)
8U Boys Freestyle Results
43-45 pounds
1st Place - Ataliah McCue of Unattached
2nd Place - Briggs Poupard of MI
3rd Place - Sammie Hammons of OH
Round 1
Sammie Hammons (OH) received a bye () (Bye)
Ataliah McCue (Unattached) won by tech fall over Briggs Poupard (MI) (TF 10-0)
Round 2
Ataliah McCue (Unattached) won by fall over Sammie Hammons (OH) (Fall 0:18)
Briggs Poupard (MI) received a bye () (Bye)
Round 3
Briggs Poupard (MI) won by fall over Sammie Hammons (OH) (Fall 0:10)
Ataliah McCue (Unattached) received a bye () (Bye)
49 pounds
1st Place - Ryan Rafferty of OH
2nd Place - Brantley Brooks of MI
3rd Place - Vincent Calo of OH
Round 1
Brantley Brooks (MI) won by fall over Vincent Calo (OH) (Fall 3:10)
Ryan Rafferty (OH) received a bye () (Bye)
Round 2
Ryan Rafferty (OH) won by decision over Brantley Brooks (MI) (Dec 16-14)
Vincent Calo (OH) received a bye () (Bye)
Round 3
Brantley Brooks (MI) received a bye () (Bye)
Ryan Rafferty (OH) won by decision over Vincent Calo (OH) (Dec 15-8)
53 pounds
1st Place - Chase Adams of MI
2nd Place - Beckett Pola of IN
Round 1
Chase Adams (MI) won by tech fall over Beckett Pola (IN) (TF 10-0)
Round 2
Chase Adams (MI) won by tech fall over Beckett Pola (IN) (TF 12-0)
56 pounds
1st Place - Bobby Miller of MI
2nd Place - Nico Freeman of IN
3rd Place - Justin-Carter Jones of IL
4th Place - Brooks Bialo of PA
Round 1
Bobby Miller (MI) won by fall over Brooks Bialo (PA) (Fall 0:19)
Nico Freeman (IN) won by tech fall over Justin-Carter Jones (IL) (TF 15-4)
Round 2
Bobby Miller (MI) won by fall over Justin-Carter Jones (IL) (Fall 0:35)
Nico Freeman (IN) won by tech fall over Brooks Bialo (PA) (TF 23-12)
Round 3
Bobby Miller (MI) won by tech fall over Nico Freeman (IN) (TF 14-4)
Justin-Carter Jones (IL) won by fall over Brooks Bialo (PA) (Fall 0:56)
62 pounds
1st Place - SirMichael Johnson of MI
2nd Place - Case Holbrook of MI
Round 1
SirMichael Johnson (MI) won by tech fall over Case Holbrook (MI) (TF 14-3)
Round 2
SirMichael Johnson (MI) won by decision over Case Holbrook (MI) (Dec 19-11)
85 pounds
1st Place - Tysen Robertson of IN
2nd Place - Seth Morris Jr. of IN
Round 1
Tysen Robertson (IN) won by tech fall over Seth Morris Jr. (IN) (TF 12-2)
Round 2
Seth Morris Jr. (IN) won by decision over Tysen Robertson (IN) (Dec 17-16)
Round 3
Tysen Robertson (IN) won by fall over Seth Morris Jr. (IN) (Fall 0:40)
8U Boys Greco-Roman Results
43-49 pounds
1st Place - Brantley Brooks of MI
2nd Place - Sammie Hammons of OH
Round 1
Brantley Brooks (MI) won by tech fall over Sammie Hammons (OH) (TF 8-0)
Round 2
Brantley Brooks (MI) won by fall over Sammie Hammons (OH) (Fall 0:13)
53 pounds
1st Place - Chase Adams of MI
2nd Place - Beckett Pola of MOUNT HOREB
Round 1
Chase Adams (MI) won by fall over Beckett Pola (MOUNT HOREB) (Fall 1:26)
Round 2
Chase Adams (MI) won by tech fall over Beckett Pola (MOUNT HOREB) (TF 10-0)
56 pounds
1st Place - Bobby Miller of MI
2nd Place - Brooks Bialo of PA
Round 1
Bobby Miller (MI) won by fall over Brooks Bialo (PA) (Fall 1:31)
Round 2
Bobby Miller (MI) won by tech fall over Brooks Bialo (PA) (TF 17-8)
62 pounds
1st Place - SirMichael Johnson of MI
2nd Place - Case Holbrook of MI
Round 1
Case Holbrook (MI) won by tech fall over SirMichael Johnson (MI) (TF 12-4)
Round 2
SirMichael Johnson (MI) won by decision over Case Holbrook (MI) (Dec 14-11)
Round 3
SirMichael Johnson (MI) won by tech fall over Case Holbrook (MI) (TF 13-4)
85 pounds
1st Place - Tysen Robertson of IN
8U Girls Freestyle Results
45 pounds
1st Place - Ataliah McCue of IN
60 pounds
1st Place - Vayda Knight of WV
2nd Place - Brooklyn Stauffer of IN
Round 1
Vayda Knight (WV) won by tech fall over Brooklyn Stauffer (IN) (TF 10-0)
Round 2
Vayda Knight (WV) won by tech fall over Brooklyn Stauffer (IN) (TF 10-0)
70 pounds
1st Place - Kendall Benoit of IN
2nd Place - Cecilia Michael of OH
Round 1
Kendall Benoit (IN) won by fall over Cecilia Michael (OH) (Fall 1:12)
Round 2
Kendall Benoit (IN) won by decision over Cecilia Michael (OH) (Dec 9-4)
8U Girls Greco-Roman Results
60-70 pounds
1st Place - Brooklyn Stauffer of IN
2nd Place - Cecilia Michael of OH
Round 1
Brooklyn Stauffer (IN) won by decision over Cecilia Michael (OH) (Dec 4-2)
Round 2
Cecilia Michael (OH) won by decision over Brooklyn Stauffer (IN) (Dec 7-2)
Round 3
Brooklyn Stauffer (IN) won by decision over Cecilia Michael (OH) (Dec 5-1)