News
USA Wrestling
Beach
Women
High School & Youth
USAW
U17 and U20 champions crowned for first time in expanded age-group divisions at USMC Beach Nationals
by Joe Wedra, Special to TheMat.com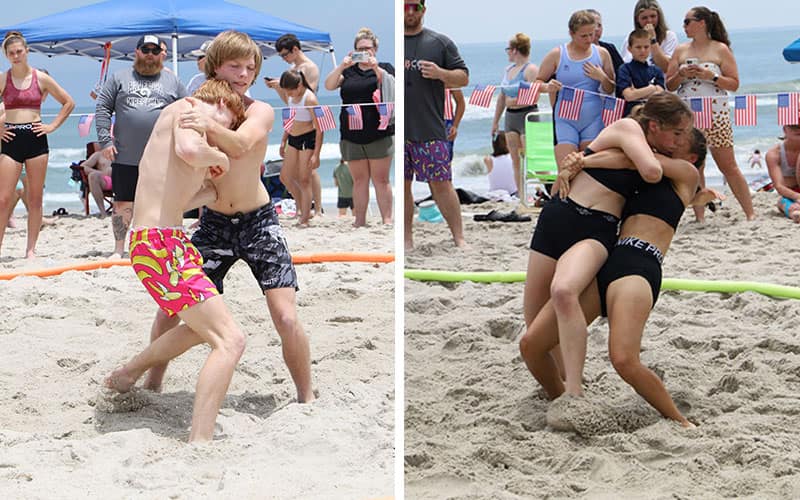 Action in the boys and girls divisions at the 2023 USMC Beach Nationals in Carolina Beach. Photos by Joe Wedra.

CAROLINA BEACH, N.C. — Plenty of wrestling action took place on Saturday at the 2023 U.S. Marine Corps Beach Wrestling National Championships near the popular Carolina Beach Boardwalk.
The event hosted a Senior competition as well as age-group wrestling, crowning champions and recognizing medalists. The results from the Senior level competition was posted in another story.
There were two new age divisions, the U17 and the U20 Nationals, which served as qualifying events for the 2023 U17 and U20 Beach World Championships in Romania.
The U17 champions in the men's division this year were Layne Armstrong of North Carolina (60 kg), Jacob Ed of North Carolina (70 kg) and Connor Reese (Baynard Trained WC (80 kg). In the wmen's division, the champions were Kennedie Snow of Havelock (60 kg) and Joslynn Cook of North Carolina (70 kg)
The U20 women's champions this year were Halley Wheeler of Western Carolina WC (50 kg), Sofia Macaluso of New York (60 kg), Samantha Hauff of Georgia (70 kg) and Katelyn Lewis of Wisconsin (Over 70 kg). In the men's division, the champions were Jake Piccirilli of Georgia (70 kg), Aidan Lenz of Lone Tree (80 kg), Conrad Ben Bumgarner of Tennessee (90 kg) and Christopher Dickey of North Carolina (Over 90 kg).
There were many athletes who were eligible to compete in more than one division this year.
Below, you can find results from the age-group division for boys and girls, plus the Masters division.
2023 U.S. MARINE CORPS BEACH WRESTLING NATIONAL CHAMPIONSHIPS
At Carolina Beach, N.C., May 20

8U Boys
44
1 Nolan Hawes (EP Rattlers)
2 Chloe Cullen (North Carolina)
53-55
1 Dominick Huitron (Backyard Bullies)
2 Deacon Markijohn (North Carolina)
3 Easton Lewis (Lagrange Wrestling)
64-69
1 Dylan Conger (North Carolina)
2 Aidan Rabczak
3 Zeke Martin (Defiant Wrestling)
4 Finnley Morris (North Carolina)
74-80
1 Treson Denning (Iowa City)
2 Lawson Edge (North Carolina)
10U Boys
57
1 Ryder Yezarski (North Carolina)
2 Payton Cullen (North Carolina)
66-70
1 Tj Markijohn (North Carolina)
2 Jayko Erwin (Western Carolina)
3 Camden Doss (North Carolina)
78-85
1 Timothy Little (Lumberton High School)
2 Isaac Bowen (North Carolina)
131
1 Johnnie Barber IV (YNTO)
12U Boys
77-81
1 Elias Taylor (Raleigh Area Wrestling)
2 Brandon Doss (North Carolina)
3 Alexander Mangold (West Virginia)
81-88
1 Thomas Ross Davis (Maryland)
2 Daniel Aparicio (North Carolina)
3 Landen Hawes (EP Rattlers)
4 Derek Cullen (North Carolina)
91-93
1 Becks Kelly (North Carolina)
2 Bentley Weaver (North Carolina)
3 Magnus Dubowsky (Bentonville Wrestling)
133-157
1 JayceeMae Erwin (Western Carolina)
2 Damarion Roberts (YNTO)
3 Tyler Tangredi (North Carolina)
14U Boys
80-88
1 Marcus Rodriguez (North Carolina)
2 Charlie Pierce (West Burlington)
3 Levi Vogelsong (Lawson)
91-100
1 Reese Davis (Maryland)
2 Daniel Martin (Virginia)
101-102
1 Lucas Angell (Defiant Wrestling)
2 Ian Winchell (North Carolina)
3 Michael Martz (Big Cats Wrestling)
103-112
1 Jake Amiott (North Carolina)
2 Ryder Cohen (North Carolina)
3 Jake Klotz (Wolfpack Wrestling)
4 Ayden Little (Lumberton)
5 Calvin Clark (North Carolina)
115-120
1 Jaycob Perez (North Carolina)
2 Brayden Waniorek (Buchanan County)
3 Beau Josue (Defiant Wrestling)
4 Andrew Guendner (North Carolina)
121-132
1 Miller Menteer (Defiant Wrestling)
2 Jaxon Martin (Defiant Wrestling)
3 Elijah Allinen (North Carolina
135-136
1 John Bane (North Carolina)
2 Adram Stoebig (Mid Prairie)
143-157
1 Easten Binckley (Defiant Wrestling)
2 Amanuel Kahsai (North Carolina)
180-187
1 Jamyis Davis (North Carolina)
2 Caleb Heaton (North Carolina)
16U Boys
98-106
1 Ayden Arrington (Laney)
2 Marshall Marilla (North Carolina)
3 Carson Giannotti (North Carolina)
108-118
1 Roy Nelson (North Carolina)
2 Davis Foxworth (Team North Star)
3 Fisher Piper (North Carolina)
4 Rory Gallagher (North Carolina)
120-123
1 Griffin Crisher (Defiant Wrestling)
2 Cameron Sanchez (Croatan)
3 Connor Elliot (Capital City Wrestling)
4 Cedric Ferguson (North Carolina)
124-129
1 Rainer Schlosser (Forge Wrestling)
2 Bryson Mcfalls (Western Carolina)
3 Jack Holt (North Carolina)
4 Aidyn Forman (Defiant Wrestling)
130-132
1 Lah Htoo (North Carolina)
2 Dalton Barbee (North Carolina)
3 Parker Rogers (Defiant Wrestling)
4 Lathan Hunt (Lumberton)
131-137
1 Josiah Boyden (Backyard Bullies)
2 Jaylen Bethea (North Carolina)
3 Matthew Meyer (Capital City Wrestling Club)
4 Austin Hunt (North Carolina)
137-140
1 Samuel McQueen (Bettendorf Wrestling Club)
2 Ethan Morgan (Capital City Wrestling Club)
3 Joshua Connick (North Carolina)
4 Mason Clarke (North Carolina)
145-157
1 Christopher Aparicio (North Carolina)
2 Eli Thomas (Port City Pirates)
3 Aiden Jackson (North Scott Lancers)
4 Michael Leaf (Capital City Wrestling Club)
154-159
1 Tanner Wagoner (North Carolina)
2 Mac Kopelman (L-m)
3 Brayden Hibbitts (Young Guns Wrestling Club)
4 Noah Brinchek (Capital City Wrestling Club)
161-175
1 Jack Harty (North Carolina)
2 Lucas Conger (North Carolina)
3 Joshua Rubio (Capital City Wrestling Club)
4 Jaysin Erwin (Western Carolina Wrestling Club)
188-192
1 Harrison Compton (North Carolina)
2 Chase Weddington (North Carolina
Junior Boys
114-126
1 Antonio Martinez (New Mexico)
2 Jonny Binanay (North Carolina)
3 Gunnar Schlosser (North Carolina)
4 Kylen Beheler (North Carolina)
126-137
1 Jaylen Bethea (North Carolina)
2 William Gilmore (Community Youth Center - Concord Campus Wrestling)
3 Bryson Perkins (North Carolina)
4 Mason Winchell (North Carolina)
5 Noah Piper (North Carolina)
138-143
1 Luke Connick (North Carolina)
2 Cael Bergquist (North Carolina)
3 Luke Hatala
4 Alexander Schweitzer (Cary Devil Dogs Wrestling Club)
141-144
1 Jackson Haga (Cary Devil Dogs Wrestling Club)
2 Kanon Harrington (Team Atlas Wrestling Club)
3 James Heppner (Catpac)
4 Kaiser Perkins (North Carolina)
145-148
1 Fisher McPherson (North Carolina)
2 Alejandro Alston (Capital City Wrestling Club)
3 Gavin Cohen (Croatan High School Wrestling)
4 Chris Heppner (Sly Fox Wrestling Club)
150-157
1 Tyler Tracy (Raleigh Area Wrestling Club)
2 Avery Buonocore (North Carolina)
3 Donovan Ammons (Laney High School Wrestling)
4 Aiden Middleton (Capital City Wrestling Club)
156-159
1 Noah Thomas
2 Adrian Driver (Backyard Bullies)
3 Cole Duchene (North Carolina)
161-165
1 Tristan Rodriguez (Lumberton)
2 Kadin Atwater (Athens Drive)
3 Joaquin Freeman (North Carolina)
4 Kodi Marshall
167-172
1 Seth Davis (Capital City WC)
2 Chase Bisel (Backyard Bullies)
3 Everett Rouse (Lagrange Wrestling)
4 Thomas Goembel (Lone Tree WC)
174-179
1 Nazareth Bates (Backyard Bullies)
2 Wilson Perez (North Carolina)
3 Evan Johnson (Capital City WC)
190-206
1 Pierce White (North Carolina)
2 Aspen Talbot (Winnetonka)
3 Hallston McKenzie (Cavalier FCA)
4 Pesamino Brock (Lost Boyz WC)
198-206
1 Nathaniel Dahlstrom (North Carolina)
2 Zaid Marjan (Raleigh Area Wrestling Club)
3 Nathanael Ayers (North Carolina)
4 Pesamino Brock (Lost Boyz WC)
220-243
1 Christian Guevara (Lumberton)
2 Hunter Lewallen (North Carolina)
U17 Men
60 kg
1 Layne Armstrong (North Carolina)
2 Bryson McFalls (Western Carolina WC)
3 Jonny Binanay (North Carolina)
70 kg
1 Jacob Ed (North Carolina)
2 Kanon Harrington (Team Atlas WC)
3 Ryan Rector (Backyard Bullies WC)
4 Akira Wolfe (Athens Drive)
80 kg
1 Connor Reese (Baynard Trained WC)
2 Kane Foley (North Carolina)
3 Nick Chirco (North Carolina)
U20 Men
70 kg
1 Jake Piccirilli (Georgia)
2 Luke Kunath (Raleigh Area Wrestling Club)
3 Kelvin Rodriguez (Pennsylvania)
4 Ruben Calderon (Cy-Select Wrestling Inc.)
80 kg
1 Aidan Lenz (Lone Tree)
2 Jakeem Littles
3 Jaccob Gonzalez (New York)
4 Aiden Noonan (North Carolina
5 Landon Emch (North Carolina)
90 kg
1 Conrad Ben Bumgarner (Tennessee)
2 Joshua Mojica (Backyard Bullies WC)
Over 90 kg
1 Christopher Dickey (North Carolina)
2 Daniel Karmanov (North Carolina)
3 Devin Dudley (Indiana)
4 Mark Bonilla
12U Girls

72-74
1 Leticia Huitron (Backyard Bullies WC)
2 Drisha Upadhyog (North Carolina)
3 Maddie Yezarski (North Carolina
16U Girls
98-110
1 June Treser-Pyles (MVKWA Patriot WC)
2 Kashlyn Locklear (Lawson Youth WC)
3 Evelyn Huang (Laney)
4 Amariah Lamar (New Mexico)
115-126
1 Anabel Rodriguez (North Carolina)
2 Katie Simmons (Laney)
3 Noah Hippe (Mitchell)
4 Jaid Morris (North Carolina)
126-134
1 Kennedie Snow (Havelock WC)
2 Iyanna Crawford
3 Bailey Nimer (North Carolina)
135-148
1 Esperanza Huitron (Backyard Bullies)
2 Joslynn Cook (North Carolina)
Junior Girls
109-119
1 Halley Wheeler (Western Carolina WC)
2 Kylie Brigman (Lumberton)
3 Isabella Crandall (Raleigh Area WC)
4 Ashlyn Brooks (North Carolina)
125-130
1 Teresa Canady (Lumberton)
2 Taylor Colangelo
141-144
1 Becca Williams
2 Maura White (New Jersey)
3 Jocelyn Rubio (North Carolina)
147-152
1 Jessica Flowers (North Carolina)
2 Faith Bane (North Carolina)
216-253
1 Wyntergale Oxendine (Lumberton)
2 Kaley Hunt (Team Central)
3 Leilani Clark (North Carolina)
U17 Women
60 kg
1 Kennedie Snow (Havelock)
2 Helena Underbakke (Ohio)
3 June Treser-Pyles (MVKWA Patriot WC)
70 kg
1 Joslynn Cook (North Carolina)
2 Lilly Reese (Baynard Trained)
U20 Women
50 kg
1 Halley Wheeler (Western Carolina WC)
60 kg
1 Sofia Macaluso (New York)
2 Josephine Wearmouth (Iowa)
3 Taylor Colangelo (MEPO)
70 kg
1 Samantha Hauff (Georgia)
2 Kaylee Anderson (Virginia)
3 Maura White (Bethany)
4 Savannah Pitts (Florida)
Over 70 kg
1 Katelyn Lewis (Wisconsin)
2 Maren Anderson (Natural Athlete WC)
Masters A
70
1 Jonathan Cress (North Carolina)
2 Mike Clark
3 Matthew Gibbon (North Carolina)
4 Korey Pitts (Liberty Wrestling Club)
78
1 Bryan Caldwell (North Carolina)
2 Justin Polkowske (Virginia)
3 Blake Mangold (West Virginia)
130
1 Teague Little (Lumberton High School Wrestling)
2 John Sturrock (Harrisonville Youth Wrestling)
3 Eric Dubowsky (Bentonville Wrestling Club)
Masters B
78
1 Othello Johnson (Braves Tough WC)
2 James Yezarski (North Carolina)
3 Jeremy Beheler (North Carolina)
4 James White II (Bruin Brawlers Wrestling Club)
Masters B-E
100
1 Justin Hawes
2 Jeffrey Yourdon (Lagrange Wrestling)
3 Robert Heaton (North Carolina)
130
1 Bryan Yonish (Big Cats Wrestling Club)
2 Alex Yntriago (New York)
Masters E
100
1 Van Alston (North Carolina)
Masters F
Madison
1 Peter Wirs (Smithville Youth Wrestling)