News
USA Wrestling
International
College
High School & Youth
Women
Beach
Grappling
Elite Athlete Program
USAW
2022-23 USA Wrestling membership season underway; join now to become eligible for $100 Nike Wrestling gift card
by Gary Abbott, USA Wrestling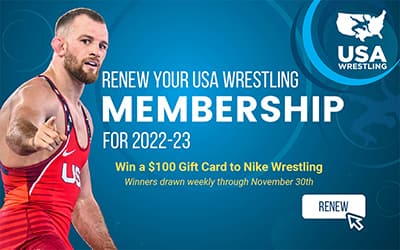 Today marks the first day of USA Wrestling's 2022-23 membership season, so anyone interested in joining the largest and most effective wrestling organization in the nation can do so at www.usawmembership.com.
Memberships, club charters and event sanctions have been available for purchase since August 22, and over 8,500 individuals have already renewed their USA Wrestling membership to ensure a full year of benefits. The current membership season runs through August 31, 2023.
Former members of USA Wrestling are encouraged to sign up right away in order to receive their member benefits for a full year.
Click here to join USA Wrestling
All USA Wrestling members become eligible for a weekly drawing for a $100 Nike Wrestling Gift Card. Weekly drawings will run through November 30, 2022.
The 2021-22 membership season saw the extraordinary rebound of wrestling across the nation. USA Wrestling had its second highest membership season of all time with 247,124 total members (athletes and Wrestling Leader members), behind only the pre-pandemic 2018-2019 membership year.
During the 2021-22 membership season, performance at the world level for American wrestlers continued to be exceptional, led by the 2021 Senior World Championships which featured 15 medals. The 2022 age-group World Championships have also been a big success for USA Wrestling on the mat. This is a direct result of USA Wrestling's strong membership base and state association structure.
USA Wrestling continues to expand and improve its membership system with new and enhanced features added regularly.
For those who have any questions about the USA Wrestling membership system and seek tips on how to navigate through its many features, a Help/FAQ section can be found at
www.usawmembership.com/help
.
We encourage you to renew your USA Wrestling membership or join our organization now, and enjoy another season of USA Wrestling events, programs and benefits.
Click here to join USA Wrestling
If you have any questions, please contact USA Wrestling at 719.598.8181 or info@usawrestling.org.