News
USA Wrestling
International
USAW
Seven Americans up for men's freestyle gold, one for bronze at Pan-American Championships
by Richard Immel, USA Wrestling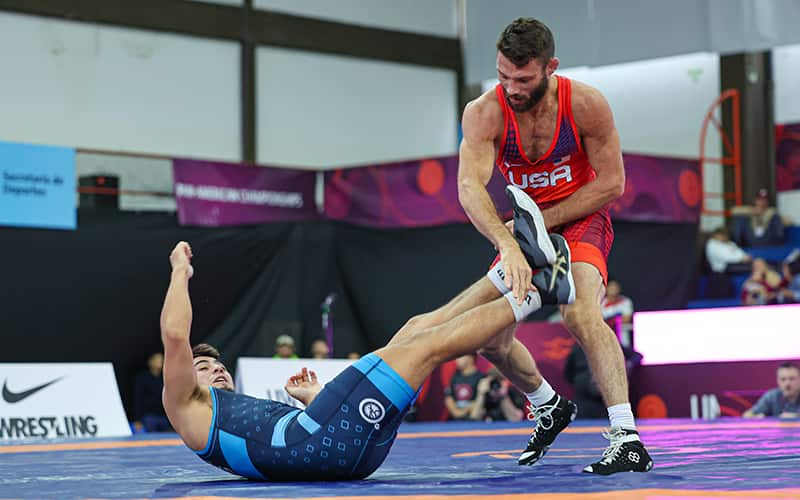 Photo: Thomas Gilman finishes a leg lace at the 2023 Pan-American Championships in Buenos Aires, Argentina. (Kadir Caliskan/United World Wrestling)

BUENOS AIRES, Argentina – The U.S. men's freestyle contingent racked up 16 technical falls and three pins in the morning session of the 2023 Pan-American Championships on Saturday, with seven athletes one win away from gold and another in the hunt for bronze.
The trio of Olympic medalists in action,
Thomas Gilman
(57 kg),
Kyle Dake
(74 kg) and
Kyle Snyder
(97 kg), were dominant as they each navigated to the finals of their respective brackets.
Gilman, a 2021 World champion and three-time World medalist, put forth a bruising effort in his semifinal against Santiago Hernandez Chaveco of Cuba. He picked up four tilts from the top position to end things in just over one minute, 11-0. Gilman will face two-time Pan-American medalist and 2017 NCAA champion for Lehigh
Darian Cruz
of Puerto Rico in the gold medal match.
Four-time World champion Dake made it look effortless in his 10-0 semifinal win over 2018 World bronze medalist Franklin Maren Castillo of Cuba. He will seek his third Pan-American gold against three-time Olympian
Franklin Gomez Matos
of Puerto Rico, who was a NCAA champion for Michigan State in 2009.
After giving up a surprising four-point move to four-time Pan-American medalist Luis Miguel Perez Sosa of Dominican Republic in his semifinal, Snyder flipped the script with a near-side cradle attempt that eventually resulted in a pin at the two-minute mark. The three-time World champion and two-time Olympic medalist will battle Arturo Silot Torres of Cuba in a rematch of last year's Pan-American final later today.
The hottest match of the day came in the 65 kg semifinal between 2022 World silver medalist
Yianni Diakomihalis
and hometown hero Agustin Destribats of Argentina, who was a 2020 Olympian. Trailing near the end of a back-and-forth shootout, Diakomihalis secured a double leg and lifted Destribats out of bounds with six seconds left to take the lead. He held on for a 9-8 decision. To claim his second Pan-American title, Diakomihalis will need to oust two-time World bronze medalist Alejandro Valdes Tobier of Cuba in the finals.
2022 World silver medalist
Zain Retherford
(70 kg) and two-time Pan-American champion
Dominique Bradley
(125 kg) also made the finals for Team USA, scoring bonus point wins in every bout along the way. Retherford is set to face Connor Quinton of Canada for gold, while Bradley will take on two-time Olympian Jose Diaz Robertti of Venezuela in his final.
2021 Pan-American champion
Vitali Arujau
, who is fresh off U.S. Open and NCAA title runs, went 3-0 in the morning session and is one win away from claiming 61 kg gold. Arujau will take on Juan De Andrade Queiroz of Brazil this evening in the last round of his five-man round robin bracket. De Andrade Queiroz went 1-2 in the morning session.
The lone American to fall today was two-time U20 World champion
Mark Hall
, who couldn't figure out the puzzle presented by veteran Yurieski Torreblanca Queralta of Cuba in the 86 kg semifinals. Torreblanca Queralta found repeated success with quick shrugs from the neutral position, eventually earning a 14-4 technical fall over the 2018 Pan-American champion. Hall dropped down to the bronze medal match where he will face Bruno Nicoletti of Brazil.
The competition in Buenos Aires will resume at 5 p.m. (ET) tonight with the men's freestyle medal matches. The event is being broadcast live on
FloWrestling.com
.
PAN AMERICAN SENIOR CHAMPIONSHIPS
At Buenos Aires, Argentina, May 6
Men's Freestyle Medal Match Pairings

57 kg

Gold – Thomas Gilman (United States) vs. Darian Cruz (Puerto Rico)
Bronze – Santiago Hernandez Chaveco (Cuba) vs. Hernan Almendra (Argentina)
Bronze – Darthe Capellan (Canada) vs. Pedro Mejias Rodriguez (Venezuela)
61 kg

Round 5 – Vitali Arujau (United States), 3-0 vs. Juan De Andrade Queiroz (Brazil), 1-2
Round 5 – Jason Luneau (Canada), 1-2 vs. Wilson Ojeda (Argentina), 0-3
Round 5 – Joseph Silva (Puerto Rico), 3-1 vs. Bye
65 kg

Gold – Alejandro Valdes Tobier (Cuba) vs. Yianni Diakomihalis (United States)
Bronze – Sebastian Rivera (Puerto Rico) vs. Albaro Rudecindo Camacho (Dominican Republic)
Bronze – Agustin Destribats (Argentina) vs. Sixto Auccapina Pedragas (Peru)
70 kg

Gold – Zain Retherford (United States) vs. Connor Quinton (Canada)
Bronze – Mauricio Lovera (Argentina) vs. Vinicius Da Silva Joaquim (Brazil)
74 kg

Gold – Kyle Dake (United States) vs. Franklin Gomez Matos (Puerto Rico)
Bronze – Franklin Maren Castillo (Cuba) vs. Adam Thomson (Canada)
Bronze – Anthony Montero Chirinos (Venezuela) vs. Cesar Bordeaux Rego Alvan (Brazil)
86 kg

Gold – Yurieski Torreblanca Queralta (Cuba) vs. Alexander Moore (Canada)
Bronze – Mark Hall (United States) vs. Bruno Nicoletti (Brazil)
Bronze – Pedro Ceballos Fuentes (Venezuela) vs. Carlos Izquierdo Mendez (Colombia)
97 kg

Gold – Kyle Snyder (United States) vs. Arturo Silot Torres (Cuba)
Bronze – Luis Miguel Perez Sosa (Dominican Republic) vs. Maxwell Lacey (Costa Rica)
Bronze – Nishan Randhawa (Canada) vs. Ricardo Baez (Argentina)
125 kg

Gold – Dominique Bradley (United States) vs. Jose Diaz Robertti (Venezuela)
Bronze – Catriel Muriel (Argentina) vs. Elison Adames Garcia (Dominican Republic)
Bronze – Reineris Salas Perez (Cuba) vs. Aaron Johnson (Jamaica)
U.S. Men's Freestyle Results

57 kg – Thomas Gilman (Titan Mercury WC/Nittany Lion WC)
WIN Hernan Almendra (Argentina), tech. fall, 11-0
WIN Santiago Hernandez Chaveco (Cuba), tech. fall, 11-0
GOLD Darian Cruz (Puerto Rico)
61 kg – Vito Arujau (Titan Mercury WC/Spartan Combat RTC)
WIN Wilson Ojeda (Argentina), tech. fall, 10-0
WIN Jason Luneau (Canada), tech. fall, 14-4
WIN Joseph Silva (Puerto Rico), tech. fall, 11-0
VS Juan De Andrade Queiroz (Brazil)
65 kg – Yianni Diakomihalis (Titan Mercury WC/Spartan Combat RTC)
WIN Sixto Auccapina Pedragas (Peru), tech. fall, 10-0
WIN Wilfredo Lopez (Panama), tech. fall, 11-0
WIN Agustin Destribats (Argentina), 9-8
GOLD Alejandro Valdes Tobier (Cuba)
70 kg – Zain Retherford (Titan Mercury WC/Nittany Lion WC)
WIN Francisco Guzman Velazquez (Puerto Rico), tech. fall, 10-0
WIN Mauricio Lovera (Argentina), fall, 1:28
WIN Vinicius Da Silva Joaquim (Brazil), tech. fall, 12-2
GOLD Connor Quinton (Canada)
74 kg – Kyle Dake (Titan Mercury WC/Nittany Lion WC)
WIN Mauricio Sanchez Salto (Ecuador), tech. fall, 10-0
WIN Adam Thomson (Canada), tech. fall, 10-0
WIN Franklin Maren Castillo (Cuba), tech. fall, 10-0
GOLD Franklin Gomez Matos (Puerto Rico)
86 kg – Mark Hall (Titan Mercury WC/Pennsylvania RTC)
WIN Jorge Llano (Argentina), tech. fall, 10-0
WIN Cesar Ubico Estrada (Guatemala), tech. fall, 12-2
LOSS Yurieski Torreblanca Queralta (Cuba), tech. fall, 14-4
BRONZE Bruno Nicoletti (Brazil)
97 kg – Kyle Snyder (Titan Mercury WC/Nittany Lion WC)
WIN Maxwell Lacey (Costa Rica), tech. fall, 10-0
WIN Luis Miguel Perez Sosa (Dominican Republic), fall, 2:00
GOLD Arturo Silot Torres (Cuba)
125 kg – Dominique Bradley (Sunkist Kids)
WIN Elison Adames Garcia (Dominican Republic), tech. fall 11-1
WIN Catriel Muriel (Argentina), fall, 2:13
GOLD Jose Diaz Robertti (Venezuela)