News
USA Wrestling
International
Women
USAW
Burroughs, Hildebrandt, Molinari reach Pan American finals, Macchiavello needs one win for gold, Miracle & Parrish to go for bronze
by Gary Abbott, USA Wrestling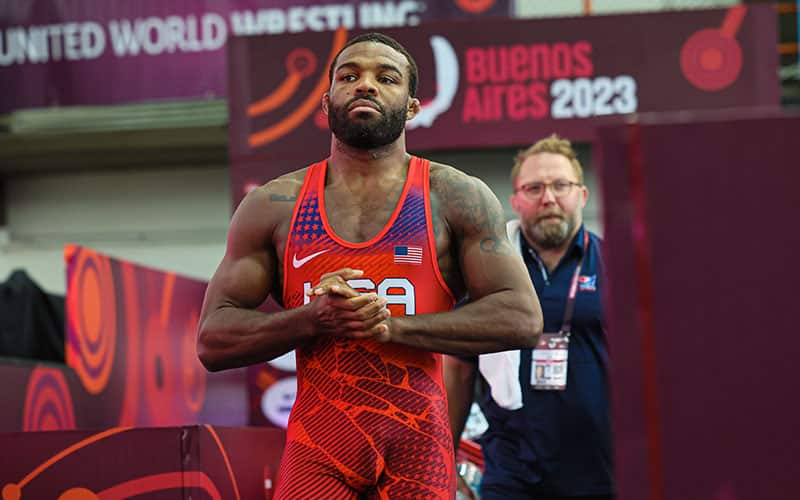 Jordan Burroughs (USA), with coach Brandon Slay, entering the field of play at the 2023 Pan American Championships. Photo by Kadir Caliskan, United World Wrestling
BUENOS AIRES, Argentina – Three more U.S. wrestlers have earned a spot in the finals at the
Pan American Championships
during Friday's first session, while another is just one win away from a gold medal.
2012 Olympic champion and six-time World champion
Jordan Burroughs
has reached the men's freestyle finals at 79 kg. Two U.S. women's freestyle stars, Olympic medalist
Sarah Hildebrandt
(50 kg) and World medalist
Forrest Molinari
(68 kg) also powered into the championship finals.
Burroughs opened with a pair of 10-0 technical falls, beating Alexander Cusinga Gomez of Peru and Nestor Tafur Barrios of Colombia. Tafur competed for Boston University. In the championship finals, Burroughs will battle Jasmit Singh Phulka of Canada.
Hildebrandt, a 2020 Olympic bronze medalist and three-time World medalist, will face Jacqueline Mollacana Eleno of Ecuador in the finals. She opened with a 10-0 technical fall over Thailia Oliveira de Freitas of Brazil, then put away Yusneylis Guzman Lopez of Cuba with another 10-0 technical fall.
Molinari, a 2021 World bronze medalist, has drawn Ambar Garinca Flores of Mexico in the finals. Molinari won her opener by technical fall, 11-0 over Hangelen Llanes Echevarria of Cuba then defeated Soleymi Caraballo Hernandez of Venezuela, 12-5 in the semifinals.
Burroughs, Hildebrandt and Molinari all won Pan American Championships gold medals in 2022 in Acapulco, Mexico.
The USA had not qualified for the 2023 Pan American Games at 68 kg in women's freestyle coming into Buenos Aires. The top four placewinners at the 2023 Pan American Championships in each weight class, whose nation had not yet qualified for the Pan American Games, earn their nation a berth in the Pan American Games. By reaching the finals, Molinari has clinched the USA a berth at the Pan American Games at 68 kg.
The United States will bring a team of 17 athletes to the Pan American Games in the 18 weight classes contested, six in men's freestyle, six in women's freestyle and five in Greco-Roman.
In men's freestyle,
Michael Macchiavello
won his first three matches in a five-athlete round robin at 92 kg. He scored technical falls over Luis Villagomez Paredes of Ecuador and Luis Rivera Santiago of Puerto Rico, then won his next match by forfeit. If Macchiavello wins his next match in the next session over Jeremy Poirier of Canada, he will win a gold medal.
Two U.S. women's wrestlers will go for bronze medals, 2022 World champion
Dominique Parrish
at 53 kg and two-time World silver medalist
Kayla Miracle
at 62 kg.
Parrish was edged in her opening match by Betzabeth Aguello Villegas of Venezuela, 8-6, who scored late in the match to claim the win. When Aguello pinned her opponent in the 53 kg semifinals, Parrish was drawn back into repechage. Parrish won a 10-0 technical fall in repechage over Sabrina Gama Tapajos of Brazil. Her bronze-medal match opponent will be Javiera Roco Pardo of Chile.
Miracle opened with a 12-2 technical fall over Leonela Ayovi Parraga of Ecuador. In the semifinals, she was tossed to her back and pinned by Nathali Griman Herrera of Venezuela in 2:42. Miracle will battle Javiera Roco Pardo of Chile in her bronze-medal match.
2016 Olympic champion and three-time World champion Helen Maroulis was defeated in her opening bout at 57 kg, losing Angela Alvarez Martinez of Cuba, 8-5. Alvarez scored in the final moments of the match to secure the win. After Alvarez was pinned in the 57 kg semifinals by Luisa Valeverde Melendrez of Ecuador, Maroulis was eliminated.
Also eliminated at 76 kg was 2022 U20 World bronze medalist Tristan Kelly, who lost to 2016 Olympian Maria Acosta Acosta of Venezuela, 4-3. Kelly was knocked out when Acosta lost her next bout.
The second session of the Pan American Championships today will be held at 6:00 p.m. local time. Buenos Aires is one hour ahead of U.S. Eastern time zone. The event is being broadcast live on FloWrestling
SENIOR PAN AMERICAN CHAMPIONSHIPS

At Buenos, Aires, Argentina, May 5


U.S. Women's freestyle performances
50 kg: Sarah Hildebrandt (New York AC/USOPTC)
WIN Thailia Oliveira de Freitas (Brazil), tech fall, 10-0
WIN Yusneylis Guzman Lopez (Cuba), tech fall 10-0
Gold-Medal Finals – Jacqueline Mollacana Eleno (Ecuador)
53 kg: Dominique Parrish (Sunkist Kids)
LOSS Betzabeth Aguello Villegas (Venezuela), 8-6
WIN Sabrina Gama Tapajos (Brazil), tech fall, 10-0
Bronze Medal Bout – Karla Acosta Martinez (Mexico)
57 kg: Helen Maroulis (Sunkist Kids). eliminated
LOSS Angela Alvarez Martinez (Cuba), 8-5
62 kg: Kayla Miracle (Sunkist Kids)
WIN Leonela Ayovi Parraga (Ecuador), tech fall, 12-2
LOSS Nathali Griman Herrera (Venezuela), pin 2:42
Bronze Medal Bout – Javiera Roco Pardo (Chile)
68 kg: Forrest Molinari (Sunkist Kids)
WIN Hangelen Llanes Echevarria (Cuba), 11-0
WIN Soleymi Caraballo Hernandez (Venezuela), 12-5
Gold Medal Finals – Ambar Garinca Flores (Mexico)
76 kg: Tristan Kelly (Army WCAP), eliminated
LOSS Maria Acosta Acosta (Venezuela), 4-3
U.S. Men's freestyle performances
79 kg: Jordan Burroughs (Sunkist Kids/Pennsylvania RTC)
WIN Alexander Cusinga Gomez (Peru), tech fall, 10-0, 0:23
WIN Nestor Tafur Barrios (Colombia), tech fall, 10-0
Gold Medal Finals - Jasmit Singh Phulka (Canada)
92 kg: Michael Macchiavello (Titan Mercury WC/Wolfpack RTC)
WIN Luis Villagomez Paredes (Ecuador), tech. fall, 10-0
WIN Luis Rivera Santiago (Puerto Rico), tech fall, 11-0
WIN Sebastian Reiss (Argentina), forfeit
Vs. Jeremy Poirier (Canada)