News
USA Wrestling
International
Women
USAW
Hildebrandt wins gold, McKenna takes silver, Arujau, Marsteller, Molinari get bronze at Budapest Ranking Series event
by Joe Wedra, Special to TheMat.com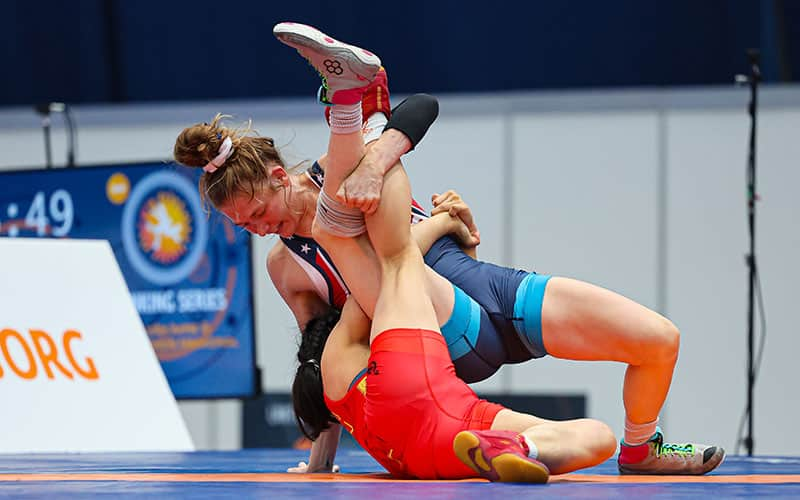 Sarah Hildebrandt (USA) turns Ziqi Feng (China) in the finals of the UWW Ranking Event in Budapest. Photo by Kadir Caliskan, United World Wrestling
BUDAPEST, Hungary —
Sarah Hildebrandt
(50kg) led the U.S. in Friday's medal match session at the
Polyák Imre & Varga János Memorial
, winning a women's freestyle gold medal. Four other American wrestlers won medals in the evening session at the fourth and final UWW Senior Ranking Series event of the season, including
Joey McKenna'
s runner-up finish at 70kg in men's freestyle.
Other U.S. wrestlers winning medals on Friday were men's freestylers
Chance Marsteller
(bronze at 79kg) and
Vitali Arujau
(bronze at 61kg), plus women's freestyle wrestler
Forrest Molinari
(bronze at 68kg).
In men's freestyle, the U.S. finished
first in team points
with 170. Kazakhstan finished second with 120 points, while Georgia took third with 85 points.
Hildebrandt, the 2020 Olympic bronze medalist at 50kg, was almost untouchable all day, outscoring her opponents 39-1 going into the finals. In the championship bout, she used a pair of first-period scores and tough late defense to notch a win over China's Ziqi Feng, 4-2.
McKenna dropped a tight finals match to Ihor Nykyforuk of Ukraine, a 4-2 bout. Nykyforuk was able to score a takedown on the edge just before the break and then again in the second period. McKenna gave a late charge, but his opponent from Ukraine held off the push to secure the first-place finish at 70kg.
Marsteller mounted a late comeback against Georgia's Avtandil Kentchadze to secure his bronze medal. After trailing 3-0 at the break, he was able to score two exposure points in a scramble and stand tall against a late push from Kentchadze to wrap up his tournament with a win. He defeated Turkey's Ramazan Sari and Austria's Simon Marchl earlier in the day.
Arujau took bronze after his opponent, Vladimir Kudrin of Kazakhstan, was unable to compete due to injury.
Molinari delivered a comeback win against Olivia Di Bacco of Canada in her bronze medal bout to take third at 68kg. After trailing 5-0 at the break, Molinari out-paced Di Bacco in the second period with multiple takedowns to post an 8-7 win and secure the third-place finish.
At 53kg, Dominique Parrish finished fifth. She dropped her bronze medal bout to Canada's Diana Weicker. Earlier in the day, Parrish, the 2022 World champion, won three-straight matches to begin her tournament.
Day three will continue with the remaining women's freestyle weights at 10:30 a.m. local time (4:30 a.m. ET). Those weights for women's freestyle are 55kg, 59kg, 65kg, 72kg and 76kg. Greco-Roman action begins tomorrow with 55kg, 60kg and 63kg action.
For Team USA, it will be Jacarra Winchester (55kg), Alisha Howk (55kg), Areana Villaescusa (55kg), Jennifer Page (59kg), Brenda Reyna (59kg), Yelena Makoyed (76kg) and Dymond Guilford (76kg) competing.
In Greco-Roman, Brady Koontz (55kg), Ildar Hafizov (60kg), Dalton Roberts (60kg) and Xavier Johnson (63kg) will wrestle.
Archived matches and a live stream for the Polyák Imre & Varga János Memorial can be found at FloWrestling.com for the U.S. audience. Complete brackets and mat assignments can be found at uww.org.
UWW Senior Ranking Series: Polyák Imre & Varga János Memorial
At Budapest, Hungary, July 14, 2023

Men's freestyle day two results
Final men's freestyle team standings
1 - United States, 170 points
2 - Kazakhstan, 120 points
3 - Georgia, 85 points
4 - Ukraine, 71 points
5 - Hungary, 64 points
6 - Iran, 57 points
7 - China, 55 points
8 - Kyrgyzstan, 51 points
9 - Germany, 48 points
10 - Albania, 40 points
11 - Israel, 36 points
12 - Mongolia, 33 points
13 - San Marino and France, 25 points
15 - Azerbaijan, 22 points
61kg
Gold: Zelimkhan Abakarov (Albania)
Silver: Ossimzhan Dastanbek (Kazakhstan)
Bronze: Vitali Arujau (USA)
Bronze: Assylzhan Yessengeldi (Kazakhstan)
5th: Vladimir Kudrin (Kazakhstan)
5th: Shota Phartenadze (Georgia)
7th: Narankhuu Narmandakh (Mongolia)
8th: Daniel Popov (Israel)
9th: Andrii Dzhelep (Ukraine)
10th: Ulukbek Zholdoshbekov (Kyrgyzstan)
Gold — Zelimkhan Abakarov (Albania) dec. Ossimzhan Dastanbek (Kazakhstan), 4-1
Bronze — Vitali Arujau (USA) over Vladimir Kudrin (Kazakhstan), injury
Bronze — Assylzhan Yessengeldi (Kazakhstan) tech Shota Phartenadze (Georgia), 19-9
70 kg
Gold: Ihor Nykyforuk (Ukraine)
Silver: Joseph McKenna (USA)
Bronze: Amr Hussen (Egypt)
Bronze: Sanzhar Doszhanov (Kazakhstan)
5th: Ernazar Akmataliev (Kyrgyzstan)
5th: Amir Mohammad Babak Yazdanicherati (Iran)
7th: Orozobek Toktomambetov (Kyrgyzstan)
8th: Mohammad Ramezanali Bakhshishirkolaei (Iran)
9th: Syrbaz Talgat (Kazakhstan)
10th: Ivan Kusyak (Ukraine)
Gold — Ihor Nykyforuk (Ukraine) dec. Joseph McKenna (USA), 4-2
Bronze — Sanzhar Doszhanov (Khazakhstan) dec. Amir Mohammad Babak Yazdanicherati (Iran), 5-0
Bronze — Amr Hussen (Egypt) dec. Ernazar Akmataliev (Kyrgyzstan), 9-8
79 kg
Gold: Mohammad Ashghar Nokhodilarimi (Iran)
Silver: Vladimeri Gamkrelidze (Georgia)
Bronze: Chance Marsteller (USA)
Bronze: Daniyar Kaisanov (Kazakhstan)
5th: Avtandil Kentchadze (Georgia)
5th: Nurdaulet Kuanyshbay (Kazakhstan)
7th: Ali Bakhtiar Savadkouhi (Iran)
8th: Saifedine Alekma (France)
9th: Isa Demir (Turkey)
10: Muhammed Akdeniz (Turkey)
Gold — Mohammad Ashghar Nokhodilarimi (Iran) dec. Vladimeri Gamkrelidze (Georgia), 3-0
Bronze — Chance Marsteller (USA) dec. Avtandil Kentchadze (Georgia), 4-3
Bronze — Daniyar Kaisanov (Kazakhstan) dec. Nurdaulet Kuanyshbay (Kazakhstan), 7-4
U.S. men's freestyle day two results
61 kg – Vitali Arujau (Ithaca, N.Y./Spartan Combat RTC/Titan Mercury WC) — bronze medal
LOSS Zelimkhan Abakarov (Albania), 2-0
WIN Narankhuu Narmandakh (Mongolia), 10-0
WIN Vladimir Kudrin (Kazakhstan), injury default
70 kg – Joseph McKenna (Towaco, N.J./Pennsylvania RTC/Titan Mercury WC) — silver medal
WIN Sanzhar Doszhanov (Kazakhstan), 8-4
WIN Syrbaz Talgat (Kazakhstan), 10-6
WIN Amir Mohammad Babak Yazdanicherati (Iran), 9-8
LOSS Ihor Nykyforuk (Ukraine), 4-2
79 kg – Chance Marsteller (Hoboken, N.J./New York City RTC/Titan Mercury WC) — bronze medal
WIN Ramazan Sari (Turkey), 4-0
LOSS Mohammad Ashghar Nokhodilarimi (IRI), 10-0
WIN Simon Marchl (AUT), 11-0
WIN Avtandil Kentchadze (Georgia), 4-3
Women's freestyle day one results

Women's freestyle team scores after day one
1 - China, 95 points
2 - USA, 50 points
3 - Mongolia, 48 points
4 - Canada, 40 points
5 - Nigeria, 35 points
6 - Ecuador, 26 points
7 - Kyrgyzstan and Moldova, 25 points
9 - Romania, 23 points
10 - Germany, 22 points
50kg
Gold: Sarah Hildebrandt (USA)
Silver: Ziqi Feng (China)
Bronze: Miesinnei Mercy Genesis (Nigeria)
Bronze: Otgonjargal Dolgorjav (Mongolia)
5th: Jiang Zhu (China)
5th: Nadezhda Sokolova (AIN)
7th: Evin Demirhan (Turkey)
8th: Agata Marta Walerzak (Poland)
9th: Polina Lukina (AIN)
10th: Jacqueline Del Rocio Mollocana Eleno (Ecuador)
Gold — Sarah Hildebrandt (USA) dec. Ziqi Feng (China), 4-2
Bronze — Otgonjargal Dolgorjav (Mongolia) tech Nadezhda Sokolova (AIN), 16-5
Bronze — Miesinnei Mercy Genesis (Nigeria) over Jiang Zhu (China), injury
53kg
Gold: Bolortuya Bat Ochir (Mongolia)
Silver: Lucia Yamileth Yepez Guzman (Ecuador)
Bronze: Pang Qianyu (China)
Bronze: Diana Mary Helen Weicker (Canada)
5th: Min Zhang (China)
5th: Dominique Parrish (USA)
7th: Annika Wendle (Germany)
8th: Roksana Marta Zasina (Poland)
9th: Katarzyna Krawzczyk (Poland)
10th: Emma Malmgren (Sweden)
Gold — Bolortuya Bat Ochir (Mongolia) over Lucia Yamileth Yepez Guzman (Ecuador), injury
Bronze — Diana Mary Helen Weicker (Canada) tech Dominique Parrish (USA), 10-0
Bronze — Pang Qianyu (China) tech Min Zhang (China), 10-0
57kg
Gold: Anastasia Nichita (Moldova)
Silver: Kexin Hong (China)
Bronze: Qi Zhang (China)
Bronze: Hannah Taylor (Canada)
5th: Guillia Oliveira (Brazil)
5th: Sandra Paruszewski (Germany)
7th: Davaachimeg Erkhembayar (Mongolia)
8th: Olga Khoroshavtseva (AIN)
9th: Luisa Valverde Melendres (Ecuador)
10th: Joengae Bark (Korea)
Gold — Anastasia Nichita (Moldova) dec. Kexin Hong (China), 8-2
Bronze — Hannah Taylor (Canada) dec. Sandra Paruszewski (Germany), 11-2
Bronze — Qi Zhang (China) tech Guillia Oliveira (Brazil), 11-0
62kg
Gold: Aisuluu Tynybekova (Kyrgyzstan)
Silver: Bilyana Dudova (Bulgaria)
Bronze: Xiaojuan Luo (China)
Bronze: Alina Kasabieva (AIN)
5th: Viktoria Vesso (Estonia)
5th: Lais Nunes (Brazil)
7th: Kriszta Incze (Romania)
8th: Eniko Elekes (Hungary)
9th: Luisa Niemesch (Germany)
10th: Natalia Kubaty (Poland)
Gold — Aisuluu Tynybekova (Kyrgyzstan) dec. Bilyana Dudova (Bulgaria), 2-1
Bronze — Xiaojuan Luo (China) pinned Viktoria Vesso (Estonia)
Bronze — Alina Kasabieva (AIN) dec. Lais Nunes (Brazil), 7-0
68kg
Gold: Feng Zhou (China)
Silver: Blessing Oborududu (Nigeria)
Bronze: Alexandra Anghel (Romania)
Bronze: Forrest Molinari (USA)
5th: Xinru Zhou (China)
5th: Olivia Di Bacco (Canada)
7th: Koumba Larroque (France)
8th: Alexandria Glaude (USA)
9th: Wiktoria Choluj (Poland)
10th: Kendra Dacher (France)
Gold — Feng Zhou (China) dec. Blessing Oborududu (Nigeria), 2-1
Bronze — Alexandra Anghel (Romania) pinned Xinru Zhou (China), 5:03
Bronze — Forrest Molinari (USA) dec. Olivia Di Bacco (Canada), 8-7
U.S. women's freestyle day one results
50 kg – Sarah Hildebrandt (Colorado Springs, Colo./USOPTC/New York AC) — gold medal
WIN Otgonjargal Dolgorjav (Mongolia), 10-0
WIN Agata Marta Walerzak (Poland), 10-0
WIN Julie Sabatie (France), 11-0
WIN Nadezhda Sokolova (AIN), 8-1
WIN Ziqi Feng (China), 4-2
50 kg – Erin Golston (Lake In The Hills, Ill./New York AC)
WIN Gabija Dilyte (Lithuania), 5-1
LOSS Jiang Zhu (China), 10-0
53 kg – Dominique Parrish (Tempe, Ariz./Sunkist Kids WC) — fifth place
WIN Thalia Mallqui Peche (Peru), 10-0
WIN Meiying Jiang (China), 11-4
WIN Annika Wendle (Germany), 5-1
LOSS Bolortuya Bat Ochir (Mongolia), 13-2
LOSS Diana Weicker (Canada), 10-0
57 kg – Xochitl Mota-Pettis (Humble, Texas/Rise RTC)
WIN Ramona Galambos (Hungary), 10-0
LOSS Davaachimeg Erkhembayar (Mongolia), fall 2:51
57 kg – Alex Hedrick (Fair Oaks, Calif./USOPTC/Titan Mercury WC)
WIN Betzabeth Sarco Colmenarez (Venezuela), 4-2
LOSS Hannah Taylor (Canada), 4-3
57 kg – Amanda Martinez (Riverside, Ill./Cardinal WC/Titan Mercury WC)
WIN Elena Brugger (Germany), 8-5
LOSS Giullia Oliveira (Brazil), fall 3:47
62 kg – Kayla Miracle (Tempe, Ariz./Sunkist Kids WC)
WIN Selvi Ilyasoglu (Turkey), 7-2
LOSS Viktoria Vesso (Estonia), fall 1:47
62 kg – Bridgette Duty (Needville, Texas/Army WCAP)
LOSS Alina Kasabieva (AIN), fall 1:30
68 kg – Forrest Molinari (Mesa, Ariz./Sunkist Kids WC) — bronze medal
WIN Buse Cavusoglu Tosun (Turkey), 5-4
WIN Adela Hanzlickova (CZE), 6-0
WIN Koumba Larroque (France), 8-4
LOSS Blessing Oborududu (Nigeria), 7-2
WIN Olivia Di Bacco (Canada), 8-7
68 kg – Alexandria Glaude (Philomath/Ore./Beaver Dam RTC/Titan Mercury WC) — eighth place
WIN Nesrin Bas (Turkey), 3-0
WIN Hyeonyeong Park (Korea), 8-5
LOSS Xinru Zhao (China), 14-1