News
USA Wrestling
High School & Youth
Women
USAW
Girls High School Roundup: No. 6 Harrison wins Ohio States; Canon-McMillan takes Pennsylvania team title
by Gary Abbott, USA Wrestling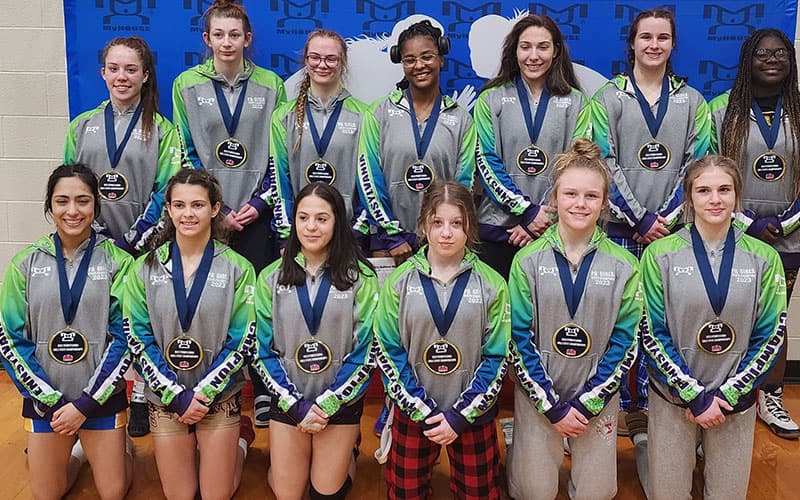 The 2023 Pennsylvania individual girls state high school champions. Image courtesy of Pennsylvania Girls Wrestling Twitter.
No. 6 Harrison wins Ohio States, ahead of No. 17 Olentangy Orange; Eight ranked wrestlers claim titles
National No. 6 Harrison won the team title at the Ohio State Championships, scoring 97 points, ahead of national No. 17 Olentangy Orange with 69 points and third-place Warren with 65 points. Harrison was led by two champions, national No. 8 Chloe Dearwester (105) and national No. 20 Raegan Briggs (125), and two other placewinners. Olentangy Orange put five wrestlers on the podium, without an individual champion. Eight nationally ranked stars claimed individual titles, Dearwester, Briggs, No. 5 Makennah Craft of Jackson (100), No. 20 Hayley Snyder of Warren (110), No. 11 Kira Cole of Miami East (115), No. 13 Cali Leng of Marysville (120), No. 1 Savannah Isaac of Whitmer (190) and No. 4 Alaina Jackson of Minerva (235). Isaac defeated No. 24 Laney Oliver of Findlay in the finals. Repeat champions were Craft, Dearwester, Snyder, Briggs, Isaac, Jackson, Cassia Zammit of Miamisburg (130), Jaydyn McKinney of Manchester (135). Finishing with undefeated seasons were Craft, Dearwester, Cole, Zammit, McKinney, Isaac, Jackson and Elizabeth Madison of Loveland (170).
Canon-McMillan wins Pennsylvania states, ahead of HM Bishop McCort & No. 20 Cumberland Valley
The Pennsylvania Girls State Championships, run by Pennsylvania USA Wrestling, was large and competitive, with nationally ranked individuals and teams. Canon-McMillan won the team title with 137 points, ahead of national Honorable Mention Bishop McCort with 92.5 points and No. 20 Cumberland Valley with 82 points. National No. 3 Valarie Solorio (100) won a team title for Canon-McMillan, which had a runner-up and six placewinners. Bishop McCort had a pair of champions, national No. 10 Jordyn Fouse (130) and No. 29 Alyssa Favara (170) and a runner-up. Nationally ranked individual champions included Solorio, Fouse, Favara, plus No. 29 Journie Rodriguez (112), No. 6 Sierra Chiesa of Northwestern (118), No. 7 Aubre Krazer of Easton (124) and No. 15 Haylie Jaffe of Kennett (136). Chiesa defeated national No. 10 Savannah Witt of Palisades (118) in the finals. Krazer stopped national No. 22 Emily Murphy of Montgomery Area in the finals. Favara defeated No. 13 Jael Miller of Punxsutawney Area in the finals by fall. Champions who defeated nationally ranked opponents included Jayleah Pletz of Governor Mifflin (106), who stopped No. 17 Julia Horger of Bensalem in the finals, Zoey Haimes of Gettysburg (142) stopped No. 11 Marissa Rumsey of Williamsport and Gabby Reid of East Stroudsburg South (155) defeated No. 24 Raegan Snider of Bishop Snider. The Pennsylvania wrestling community has reached the 100 girls wrestling teams that the PIAA required for sanctioning consideration, and the leadership of the Sanction PA group will continue the push until the sport is officially sanctioned.