News
USA Wrestling
College
Women
USAW
Southern Oregon with four finalists leads NAIA Women's Nationals, with second-place Life with three finalists
by Gary Abbott, USA Wrestling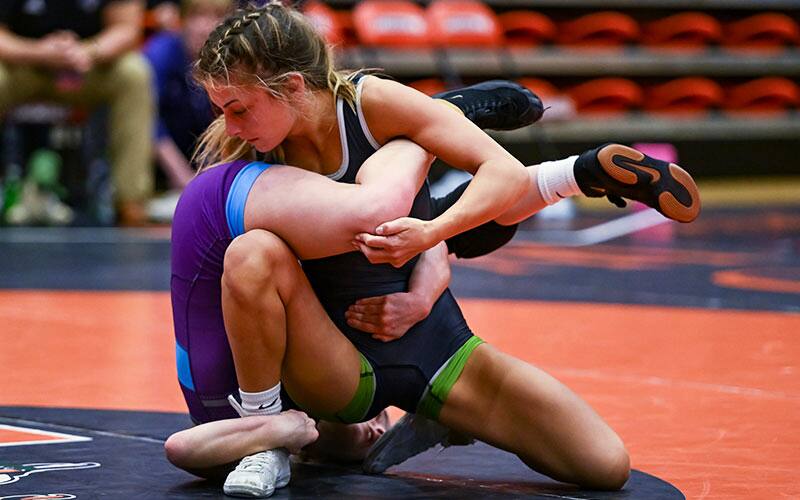 Two-time NAIA champion Peyton Prussin (Life) has reached the NAIA finals again. Photo by Jim Thrall, Mat Focus.
JAMESTOWN, N.D. –
Southern Oregon
powered four wrestlers into the NAIA Women's National finals, maintaining its lead over
Life
, which has three finalists, during the semifinals on Saturday morning.
Southern Oregon finalists are
Carolina Moreno
(123),
Emily Se
(143),
Joye Levendusky
(170) and
Grace Kristoff
(Southern Oregon).
Life's three finalists are
Peyton Prussin
(109),
Sarah Savidge
(130) and
Latifah McBryde
(155).
Among the finalists are a pair of two-time NAIA champions, Peyton Prussin of Life (109) and
Dymond Guilford
of the Cumberlands (170).
Three other past NAIA champions are in the finals. This includes 2022 NAIA champions Carolina Moreno of Southern Oregon (123),
Lexie Basham
of Texas Wesleyan (130) and
Aduago Nwachukwu
of Iowa Wesleyan (136).
Two past NAIA champions were defeated in the semifinals. Life's Savidge scored a technical fall over 2021 NAIA champion Waipuilani Estrella-Beauchamp of Providence at 130.
Jaycee Foeller
of Central Methodist defeated 2022 NAIA champion Kelani Corbett of Missouri Valley, 9-1.
Foeller, who is a transfer from NCAA McKendree, will face a former McKendree teammate in the finals. Southern Oregon's Grace Kristoff, also a McKendree transfer, edged Tavia Heidelberg-Tillotson of Menlo, 2-1 in the other 191-pound semifinal.
Basham and Guilford are members of the U.S. Senior Women's National Team.
The rest of the consolation rounds are ongoing. The finals are set for 7 p.m. MT, live on FloWrestling.
NAIA WOMEN'S NATIONAL CHAMPIONSHIPS

At Jamestown, N.D., March 10, 2023


Finalist pairings
101 - Ira Navarro (University of Providence) vs. Erin Hikiji (University of Providence)
109 - Peyton Prussin (Life) vs. Mia Palumbo (Iowa Wesleyan)
116 - Camille Fournier (Texas Wesleyan) vs. Caitlyn Thorne (Central Methodist
123 - Carolina Moreno (Southern Oregon) vs. Alana Vivas (Menlo College)
130 - Lexie Basham (Texas Wesleyan) vs. Sarah Savidge (Life)
136 - Adaugo Nwachukwu (Iowa Wesleyan) vs. Mea Mohler (Texas Wesleyan)
143 - Alexis Gomez (Grand View) vs. Emily Se (Southern Oregon)
155 - Latifah Mcbryde (Life) vs. Kaylynn Albrecht (Baker)
170 - Dymond Guilford (Cumberlands) vs. Joye Levendusky (Southern Oregon)
191 - Jaycee Foeller (Central Methodist) vs. Grace Kristoff (Southern Oregon)
Team Standings immediately after the semifinals
1 Southern Oregon 138
2 Life 122.5
3 Grand View 108.5
4 Menlo College 104.5
5 Cumberlands 88
6 Iowa Wesleyan 87
7 University of Providence 82.5
8 Central Methodist 78
9 Texas Wesleyan 68.5
10 Campbellsville 52.5
Semifinal results
101
Ira Navarro (University of Providence) dec. Elizabeth Dosado (Cumberlands), 4-3
Erin Hikiji (University of Providence) pin Esthela Trevino (Southern Oregon), 5:51
109
Peyton Prussin (Life) dec. Jasmine Howard (Texas Wesleyan), 4-3
Mia Palumbo (Iowa Wesleyan) dec. Natalie Reyna-Rodriguez (Southern Oregon), 7-2
116
Camille Fournier (Texas Wesleyan) pin Ashley Gooman (University of Providence), 6:00
Caitlyn Thorne (Central Methodist) dec. Juliana Diaz (Missouri Baptist), 4-0
123
Carolina Moreno (Southern Oregon) tech fall Haley Narahara (Menlo College), 10-0, 3:50
Alana Vivas (Menlo College) pin Catharine Campbell (Grand View), 5:34
130
Lexie Basham (Texas Wesleyan) dec. Cristelle Rodriguez (Doane), 6-2
Sarah Savidge (Life) tech. fall Waipuilani Estrella-Beauchamp (University of Providence), 12-2 3:53
136
Adaugo Nwachukwu (Iowa Wesleyan) pin Leidaly Rivera (Brewton Parker), 12-4, 4:14
Mea Mohler (Texas Wesleyan) dec. Bella Amaro (Southern Oregon), 2-1
143
Alexis Gomez (Grand View) dec. Jamilah Mcbryde (Life), 8-1
Emily Se (Southern Oregon) pin Emma Walker (Campbellsville), 1:15
155
Latifah Mcbryde (Life) pin India Page (Brewton Parker), 2:20
Kaylynn Albrecht (Baker) tech fall Caitlyn Davis (Central Methodist), 11-0, 1:32
170
Dymond Guilford (Cumberlands) dec. Liliana Vergara (Campbellsville), 5-2
Joye Levendusky (Southern Oregon) dec. Abby Mcintyre (Grand View), 2-1
191
Jaycee Foeller (Central Methodist) dec. Kelani Corbett (Missouri Valley), 9-1
Grace Kristoff (Southern Oregon) dec. Tavia Heidelberg-Tillotson (Menlo College), 2-1