News
USA Wrestling
College
USAW
Augsburg leads Baldwin-Wallace and Wartburg after first day of the NCAA Div. III Nationals
by Jon Gremmels, Special to TheMat.com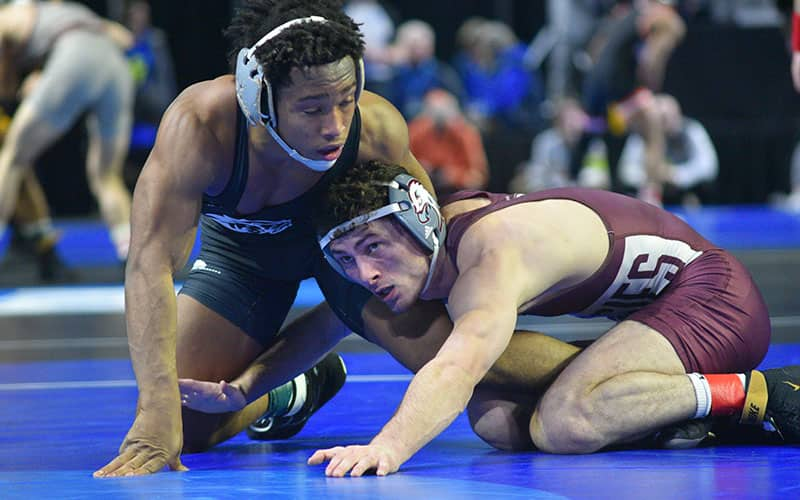 Sam Stuhl (Augsburg) secures leg attack on Josh Wilson (Greensboro College) at 141 pounds. Photo by Jon Gremmels.
ROANOKE, Va. -- For a team that won the National Duals, had the most national qualifiers, won four tournaments and lost just once in duals, there wasn't a lot of fanfare for Augsburg entering the NCAA Division III Wrestling Championships.
Sure, the Upper Midwest Regional champions were considered one of the teams in contention for the title, but aren't they always? Only six of their eight qualifiers were seeded, and just two of those were seeded in the top four – both fourth.
Perhaps under the radar, the Auggies provided all the noise they needed to put the rest of Division III on notice that they are serious about winning the 14th team title in school history.
Back at the Berglund Center – where it won the 2019 championship -- Augsburg stormed to the front of the pack, advancing four wrestlers into Saturday's semifinals while piling up 62.5 points and building a 22.5-point lead over Wartburg and Baldwin Wallace, who are tied for second with 40 points.
"We have plans here," Augsburg's Sam Stuhl said. "We don't look to have just one or two All-Americans. We want eight-for-eight, we want to win the team titles."
Therefore, it doesn't really matter how others view the Auggies.
"We don't always get the best seeds … but I think that helps," Stuhl said Friday night after reaching Saturday's semifinal round as an unseeded wrestler at 141 pounds. "They might underestimate us because of that … but we wrestle a tough schedule. Our tough season gets us ready for this tournament. Whether we win all of them or lose all of them, nobody on our team is undefeated. We love to compete. We love to get the hard matches in that will prepare for the end of the season like this."
Stuhl will join teammates Tyler Shilson (157 pounds) and Tyler Kim (heavyweight) – both fourth seeds – in today's semifinals, along with sixth-seeded Bentley Schwanebeck-Ostermann at 184 pounds. The Auggies also have three wrestlers alive on the back side of the bracket.
Stuhl did his part by dispatching sixth-seeded Xavier Pena of Centenary 7-2 in the first round and then beating third-seeded Josh Wilson of Greensboro 4-1 in the quarterfinals.
"We're always told it doesn't matter where our seeds are," Stuhl said. "Everybody earned their spot; they all worked hard to get here, but it doesn't matter if you're the one seed, undefeated; once you get here everybody is 0-0."
A comfortable Friday lead doesn't mean you can coast on Saturday – just look at Wartburg's two-day breakdown last year when it won it 15th team title, by a single point – but it does mean everybody is chasing you and all you have to do is take care of business.
Baldwin Wallace moved ahead of the Auggies early Friday night after returning national champion Jacob Decatur (125 pounds), Jaden Hinton (133) and 2022 runner-up Michael Petrella (149) all won quarterfinals matches. North Central also was right there when Christian Guzman (125), defending national champion Robbie Precin (133) and
Javen Estrada (149) advanced into the quarterfinals.
Wartburg also has a trio of semifinalists – top seed David Hollingsworth at 147 and second seeds Zane Mulder (174) and Mo Endene (197), which allowed the Knights to claw their way back into a tie for second place.
But Augsburg was best in the long run and has the numbers advantage with four in the semifinals and three in the wrestlebacks.
Rounding out the top 10 teams in the standings were North Central (38 points), Wisconsin-La Crosse (35.5), Stevens Institute of Technology (34), U.S. Coast Guard Academy (27), Johnson & Wales (26), Coe (23) and University of Dubuque (23).
NCAA DIV. III NATIONALS
At Roanoke, Va., March 10, 2023

Semifinals pairings
125
No. 1 Joziah Fry (Johnson & Wales University (Rhode Island)) vs. No. 4 Christian Guzman (North Central College)
No. 6 Jake Craig (University Of Southern Maine) vs. No. 2 Jacob Decatur (Baldwin Wallace University)
133
No. 1 Robbie Precin (North Central College) vs. unseeded Tyler Fleetwood (University Of Wisconsin-Eau Claire)
No. 6 Dalton Rohrbaugh (York College (Pennsylvania)) vs. No. 2 Jaden Hinton (Baldwin Wallace University)
141
Unseeded Ethan Harsted (Wheaton College (Illinois)) vs. No. 5 Domenic Difrancescantonio (The College Of New Jersey)
Unseeded Sam Stuhl (Augsburg University) vs. No. 2 Jacob Reed (Ohio Northern University)
149
No. 1 Michael Petrella (Baldwin Wallace University) vs. No. 4 Hunter Gutierrez (Stevens Institute Of Technology)
No. 6 Javen Estrada (North Central College) vs. No. 2 Hayden Brown (Johnson & Wales University (Rhode Island)
157
No. 1 David Hollingsworth (Wartburg College) vs. No. 4 Tyler Shilson (Augsburg University)
No. 3 Zeke Smith (Loras College) vs. No. 2 Nolan Hertel (University Of Wisconsin-La Crosse)
165
No. 1 Nathan Lackman (Rhode Island College) vs. No. 5 Nicholas Sacco (The College Of New Jersey)
No. 3 Noah Leisgang (University Of Wisconsin-La Crosse) vs. No. 2 Matt Lackman (Alvernia University)
174
Unseeded LJ Richardson (Coe College) vs. No. 4 Jared Stricker (University Of Wisconsin-Eau Claire)
No. 6 Charlie Grygas (Oswego State) vs. No. 2 Zane Mulder (Wartburg College)
184
No. 1 Jaritt Shinhoster (University Of Wisconsin-Whitewater) vs. No. 5 Donovan Corn (Luther College)
No. 6 Bentley Schwanebeck-Ostermann (Augsburg University) vs. No. 2 Shane Liegel (Loras College)
197
No. 1 Coy Spooner (U.S. Coast Guard Academy) vs. No. 4 Chibueze Chukwuezi (Ithaca College)
No. 6 Tyler Hannah (University Of Wisconsin-Platteville) vs. No. 2 Massoma Endene (Wartburg College)
285
No. 1 Jack Heldt (Wabash College) vs. No. 4 Tyler Kim (Augsburg University)
No. 3 Kaleb Reeves (Coe College) vs. No. 2 Donovan King (Olivet College)
Team standings after day one
1 Augsburg University 62.5
2 Baldwin Wallace University 40.0
2 Wartburg College 40.0
4 North Central College 38.0
5 University Of Wisconsin-La Crosse 35.5
6 Stevens Institute Of Technology 34.0
7 U.S. Coast Guard Academy 27.0
8 Johnson & Wales University (Rhode Island) 26.0
9 Coe College 23.0
10 University Of Dubuque 21.5
Quarterfinals results
125
Joziah Fry (Johnson & Wales University (Rhode Island)) 41-0 won by decision over Brady Koontz (University Of Dubuque) 15-2 (Dec 3-2)
Christian Guzman (North Central College) 30-4 won by decision over Zac Blasioli (Millikin University) 5-2 (Dec 3-2)
Jake Craig (University Of Southern Maine) 5-1 won by decision over Luca Paladino (University Of Wisconsin-Stevens Point) 25-8 (Dec 10-4)
Jacob Decatur (Baldwin Wallace University) 6-0 won by decision over Mason Barrett (Averett University) 26-5 (Dec 3-2)
133
Robbie Precin (North Central College) 33-0 won by fall over Jayden Cardenas (State University Of New York At Cortland) 31-3 (Fall 1:07)
Tyler Fleetwood (University Of Wisconsin-Eau Claire) 33-5 won by decision over Dylan Koontz (University Of Dubuque) 12-3 (Dec 5-3)
Dalton Rohrbaugh (York College (Pennsylvania)) 24-3 won by decision over Ty Bisek (Concordia-Moorhead) 31-3 (Dec 16-11)
Jaden Hinton (Baldwin Wallace University) 5-1 won by decision over Joe Pins (Wartburg College) 17-3 (Dec 13-6)
141
Ethan Harsted (Wheaton College (Illinois)) 6-1 won by decision over James Rodriguez (Castleton University) 42-4 (Dec 3-1)
Domenic Difrancescantonio (The College Of New Jersey) 16-3 won by decision over Kyle Slendorn (Stevens Institute Of Technology) 29-4 (Dec 9-6)
Sam Stuhl (Augsburg University) 35-5 won by decision over Josh Wilson (Greensboro College) 41-4 (Dec 4-1)
Jacob Reed (Ohio Northern University) 6-0 won by decision over Cameron Johnson (Aurora Universtiy) 14-3 (Dec 5-4)
149
Michael Petrella (Baldwin Wallace University) 6-0 won by tech fall over Chase Sumner (Ohio Northern University) 4-2 (TF-1.5 6:32 (19-3))
Hunter Gutierrez (Stevens Institute Of Technology) 25-5 won by fall over Kristian Rumph (Wartburg College) 8-4 (Fall 2:33)
Javen Estrada (North Central College) 24-4 won by major decision over Thomas Monn (McDaniel College) 5-1 (MD 16-5)
Hayden Brown (Johnson & Wales University (Rhode Island)) 28-1 won by decision over Charlie Stuhl (Augsburg University) 30-5 (Dec 6-1)
157
David Hollingsworth (Wartburg College) 15-3 won by decision over Thomas West (Baldwin Wallace University) 4-2 (Dec 8-6)
Tyler Shilson (Augsburg University) 29-4 won by major decision over Ryan Luth (Washington And Lee University) 15-2 (MD 8-0)
Zeke Smith (Loras College) 16-1 won by decision over Jason Rezac (Alvernia University) 5-2 (Dec 9-7)
Nolan Hertel (University Of Wisconsin-La Crosse) 34-2 won by decision over Peter Kane (Williams College) 35-5 (Dec 3-2)
165
Nathan Lackman (Rhode Island College) 6-0 won by decision over Luke Reicosky (John Carroll University) 27-3 (Dec 5-2)
Nicholas Sacco (The College Of New Jersey) 25-3 won by decision over Cooper Pontelandolfo (New York University) 31-6 (Dec 2-0)
Noah Leisgang (University Of Wisconsin-La Crosse) 25-2 won by decision over Austin Lamb (Rochester Institute Of Technology) 18-3 (Dec 2-1)
Matt Lackman (Alvernia University) 6-0 won by decision over Cooper Willis (Augsburg University) 29-8 (Dec 5-0)
174
LJ Richardson (Coe College) 20-6 won by decision over Anson Dewar (Muhlenberg College) 31-3 (Dec 6-0)
Jared Stricker (University Of Wisconsin-Eau Claire) 40-2 won by fall over Stefan Major (Stevens Institute Of Technology) 23-6 (Fall 5:19)
Charlie Grygas (Oswego State) 31-1 won by decision over Seth Brossard (University Of Wisconsin-La Crosse) 26-4 (Dec 5-3)
Zane Mulder (Wartburg College) 24-1 won by decision over Seth Goetzinger (Augsburg University) 26-8 (Dec 8-2)
184
Jaritt Shinhoster (University Of Wisconsin-Whitewater) 31-2 won by major decision over Mahlic Sallah (Roanoke College) 28-3 (MD 12-0)
Donovan Corn (Luther College) 31-7 won by decision over Sampson Wilkins (Castleton University) 35-13 (Dec 5-0)
- Bentley Schwanebeck-Ostermann (Augsburg University) 30-6 won by decision over Tristin Westphal (Coe College) 22-6 (Dec 5-2)
Shane Liegel (Loras College) 33-1 won by decision over Colby Giroux (Rochester Institute Of Technology) 32-5 (Dec 9-7)
197
Coy Spooner (U.S. Coast Guard Academy) 6-0 won in sudden victory - 1 over Demitreus Henry (State University Of New York At Cortland) 19-4 (SV-1 6-4)
Chibueze Chukwuezi (Ithaca College) 7-0 won by decision over Beau Yineman (University Of Wisconsin-Oshkosh) 28-4 (Dec 7-3)
Tyler Hannah (University Of Wisconsin-Platteville) 30-5 won by fall over Doug Byrne (Baldwin Wallace University) 5-1 (Fall 6:12)
Massoma Endene (Wartburg College) 25-1 won by decision over Camden Farrow (York College (Pennsylvania)) 35-6 (Dec 9-7)
285
Jack Heldt (Wabash College) 38-0 won by major decision over Carl DiGiorgio (U.S. Coast Guard Academy) 5-2 (MD 11-0)
Tyler Kim (Augsburg University) 36-1 won by major decision over Daniel Skold (Augustana College (Illinois)) 6-2 (MD 9-1)
Kaleb Reeves (Coe College) 18-1 won by fall over Rayshawn Dixon (Ferrum College) 6-2 (Fall 0:23)
Donovan King (Olivet College) 28-3 won by fall over Evan Anderson (New York University) 16-4 (Fall 1:38)