News
USA Wrestling
College
Women
USAW
North Central women claim first NCWWC national team title; Shilson and Kimber become four-time champions
by Gary Abbott, USA Wrestling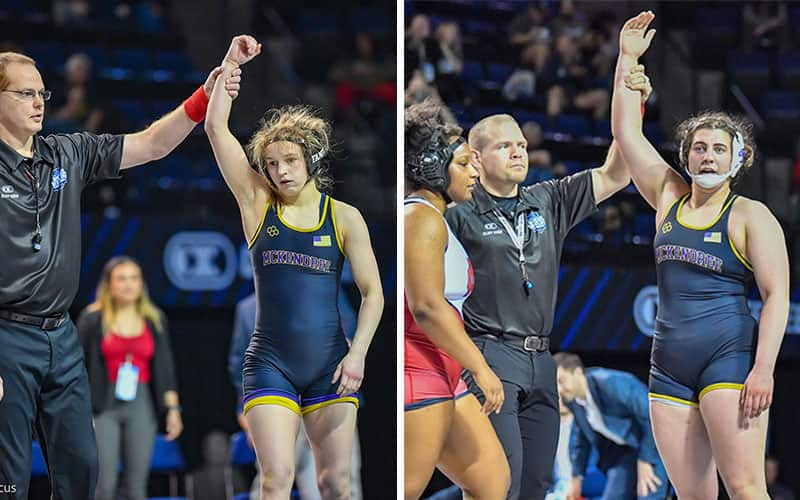 Emily Shilson (109) and Sydnee Kimber (191) of McKendree, four-time NCWWC champions. Photo by Andy Cook, Mat Focus.
CEDAR RAPIDS, Iowa - Led by three individual champions and 15 All-Americans, North Central, a Div. III school in Illinois, won its first National Collegiate Women's Wrestling Championships with an amazing team effort at the Alliant Energy Powerhouse.
North Central, ranked No. 2 coming in, scored 198 points, ahead of No. 1 King with 163 points. Rounding out the top five were McKendree with 147.5, Colorado Mesa with 108 and Augsburg with 87.5.
North Central becomes only the second school to ever win this event, which features only NCAA varsity programs. McKendree was the team champion for the first three years of the competition.
Two stars from McKendree became the first four-time NCWWC champions,
Emily Shilson
(109) and
Sydnee Kimber
(191).
No. 1 seed Shilson, who won her first three NCWWC titles for Augsburg before transferring this semester, fell behind early in her match against No. 2 Sage Mortimer of King, after Mortimer tossed her for four points in the first period. Shilson battled back to close the gap, and when the athletes got into a seatbelt position, Shilson threw Mortimer to her back to secure a fall at 3:46.
Kimber also won by fall, but it was a stunning end to a match in which she trailed most of the way to Traeh Haynes of North Central. With Haynes winning in the second period, Kimber powered into a headlock position, and planted Haynes back to the mat at 5:27. Haynes had upset Kimber in the Regional finals, winning when Kimber had been cautioned out.
North Central came out strong in the light weights, with exciting victories from No. 4 seed
Madison Avila
(101) and No. 3 seed
Jaslynn Gallegos
(116). Avila battled back in a close match to put No. 3 seed Jenavi Alejandro of Tiffin on her back late in the match, not scoring the fall but finishing off a 5-3 decision. Gallegos was trailing 8-1 to No. 4 seed Samara Chavez of King, but scored a slick counter throw to put Chavez on her back and get the fall at 3:35.
North Central's third title went to
Yelena Makoyed,
who pinned Cheyenne Bowman of King in 3:49 at 170 pounds, for her third NCWWC national title. Makoyed, who is No. 2 on the USA Wrestling Senior National Team, won the most falls award, as well as the Most Outstanding Wrestler of the tournament. North Central coach
Joe Norton
was named Outstanding Coach of the tournament.
Top seed
Marissa Gallegos
of Colorado Mesa scored a takedown with 30 seconds left opened up a close match to secure a 7-2 victory over No. 2 seed Amani Jones of North Central at 123 pound title. Gallegos led 4-2 at the break and found the opening to get a national title which had eluded her after a runner-up finish and two third places.
Securing a third NCWWC title was McKendree's
Cam Guerin
, who secured a 9-0 victory over top seed Alexis Janiak of Aurora in the finals at 130 pounds. There was a key point in the bout when referees awarded four points to Janiak, but McKendree challenged and the score was changed to 6-0 for Guerin, who closed it out with three more points. Janiak had upset Guerin in the Regional qualifier.
King's only individual champion was
Ana Luciano,
who led most of the way but came out with a tight 8-8 decision over Yele Aycock of North Central. It was her first title, after having placed as high as second in the past.
Augsburg won two titles in a row, with
Katie Lange
(143) and
Marlynne Deede
(155). Lange scored a takedown with 15 seconds left to edge 2022 NCWWC champion Ashlynn Ortega, 8-6. Ortega almost scored at the end, but time ran out. Deede, the top seed, was in command in her 6-2 win over Dalia Garibay of Colorado Mesa.
The national coalition of wrestling organizations announced on Thursday that NCAA women's wrestling had reached the 40-team level meeting NCAA requirements to be considered for an official national championships. This event is scheduled to return to Cedar Rapids for the next two years, when hopefully the NCAA takes it over for good.
NATIONAL COLLEGIATE WOMEN'S WRESTLING CHAMPIONSHIPS
At Cedar Rapids, Iowa,

101
1st Place Match - Madison Avila (North Central (IL)) won by decision over Jenavi Alejandro (Tiffin University) (Dec 5-3)
3rd Place Match - Lizette Rodriguez (McKendree University ) won by tech fall over Jennesis Martinez (Colorado Mesa University) (TF 11-1)
5th Place Match - Samantha Miller (Presbyterian) won by decision over Jessica Corredor (King University) (Dec 10-8)
7th Place Match - Isabella Morales (Colorado Mesa University) won by tech fall over Aaliyah Payne-Parris (Sacred Heart) (TF 11-0)
109
1st Place Match - Emily Shilson (McKendree University ) won by fall over Sage Mortimer (King University) (Fall 3:46)
3rd Place Match - Dianna Holmes (King University) won by decision over Sydney Petzinger (North Central (IL)) (Dec 19-12)
5th Place Match - Kendra Ryan (North Central (IL)) won by tech fall over Kaelani Shufeldt (Lock Haven University) (TF 15-4)
7th Place Match - Cassy Lopez (Presbyterian) won by fall over Pauline Granados (McKendree University ) (Fall 1:53)
116
1st Place Match - Jaslynn Gallegos (North Central (IL)) won by fall over Samara Chavez (King University) (Fall 3:35)
3rd Place Match - Victoria Seal (Simon Fraser University) won by tech fall over Danielle Garcia (King University) (TF 11-0)
5th Place Match - Payton Stroud (McKendree University ) won by tech fall over Emily Klein (East Stroudsburg University) (TF 10-0)
7th Place Match - Rose Ann Marshall (Wisconsin Stevens Point) won by tech fall over Samantha Larsen (Gannon University) (TF 12-0)
123
1st Place Match - Marissa Gallegos (Colorado Mesa University) won by decision over Amani Jones (North Central (IL)) (Dec 7-2)
3rd Place Match - Mia Macaluso (East Stroudsburg University) won by fall over Jennifer Soto (McKendree University ) (Fall 2:05)
5th Place Match - Vayle-rae Baker (King University) won by decision over Sofia Macaluso (East Stroudsburg University) (Dec 11-11)
7th Place Match - Naomi Henry (New Jersey City University) won by decision over Gabby Skidmore (Augsburg University) (Dec 3-2)
130
1st Place Match ¬ Cameron Guerin (McKendree University ) won by decision over Alexis Janiak (Aurora ) (Dec 9-0)
3rd Place Match - Marquesis Haintz (Simon Fraser University) won by tech fall over Montana Delawder (King University) (TF 12-2)
5th Place Match - Sara Sterner (North Central (IL)) won by decision over Hailey Chapman (Colorado Mesa University) (Dec 6-0)
7th Place Match - Alexandra Fitzgerald (Sacred Heart) won by fall over Lillian Sherer (Lock Haven University) (Fall 5:41)
136
1st Place Match - Ana Luciano (King University) won by decision over Yele Aycock (North Central (IL)) (Dec 8-8)
3rd Place Match - Paige Wehrmeister (Presbyterian) won by decision over Diana Dzasezeva (Northern Michigan University) (Dec 7-0)
5th Place Match - Nina Makem (Augsburg University) won by tech fall over Holly Beaudoin (Colorado Mesa University) (TF 13-2)
7th Place Match - Viktorya Torres (King University) won by fall over Salome Walker (North Central (IL)) (Fall 5:52)
143
1st Place Match - Katie Lange (Augsburg University) won by decision over Ashlynn Ortega (King University) (Dec 8-6)
3rd Place Match - London Houston (North Central (IL)) won by tech fall over Grace Stem (Lock Haven University) (TF 10-0)
5th Place Match - Lili Ujfalvi (Gannon University) won by fall over Kendall Bostelman (North Central (IL)) (Fall 4:02)
7th Place Match - Zoe Gress (East Stroudsburg University) won by fall over Clarissa Agostini (Adrian College) (Fall 1:49)
155
1st Place Match - Marlynne Deede (Augsburg University) won by decision over Dalia Garibay (Colorado Mesa University) (Dec 6-2)
3rd Place Match - Tiffani Baublitz (King University) won by fall over Malea Palahniuk (North Central (IL)) (Fall 1:23)
5th Place Match - Lydia Krauss (Northern Michigan University) won by tech fall over Nyla Burgess (Adrian College) (TF 10-0)
7th Place Match - Tiera Jimerson (North Central (IL)) won by decision over Madison Sandquist (Sacred Heart) (Dec 9-4)
170
1st Place Match - Yelena Makoyed (North Central (IL)) won by fall over Cheyenne Bowman (King University) (Fall 3:49)
3rd Place Match - Emily Cue (Simon Fraser University) won by fall over Cara Broadus (Sacred Heart) (Fall 0:48)
5th Place Match - Alexandra Castillo (McKendree University ) won by injury default over Brooklyn Hays (Augsburg University) (Inj. 0:00)
7th Place Match - Jewel Gonzalez (Gannon University) won by decision over Annabelle Helm (Gannon University) (Dec 2-1)
191
1st Place Match - Sydnee Kimber (McKendree University ) won by fall over Traeh Haynes (North Central (IL)) (Fall 5:27)
3rd Place Match - Brittyn Corbishley (North Central (IL)) won by fall over Sara Lake (Lindenwood University) (Fall 0:00)
5th Place Match - Jayleen Sekona (Colorado Mesa University) won by injury default over Katja Osteen (Simon Fraser University) (Inj. 0:00)
7th Place Match - Jacklyn Smith (Sacred Heart) won by fall over Jada Arnold (Mount Olive) (Fall 0:00)
Team Standings
1 North Central 198.0
2 King University 163.0
3 McKendree University 147.5
4 Colorado Mesa University 108.0
5 Augsburg University 87.5
6 Simon Fraser University 86.5
7 Sacred Heart 57.0
8 East Stroudsburg University 50.0
9 Presbyterian 44.5
10 Gannon University 39.0
11 Lock Haven University 38.5
12 Northern Michigan University 35.0
13 Adrian College 31.5
14 Emmanuel College 24.5
15 Elmira College 23.5
16 Aurora 21.0
17 Tiffin University 17.5
18 New Jersey City University 17.0
19 Wisconsin Stevens Point 17.0
20 Lindenwood University 16.0
(of 37 teams)