News
USA Wrestling
College
USAW
Grand View pushes 11 into semifinals to lead NAIA Nationals, with Life in second with eight semifinalists
by NAIA and Grand View Athletics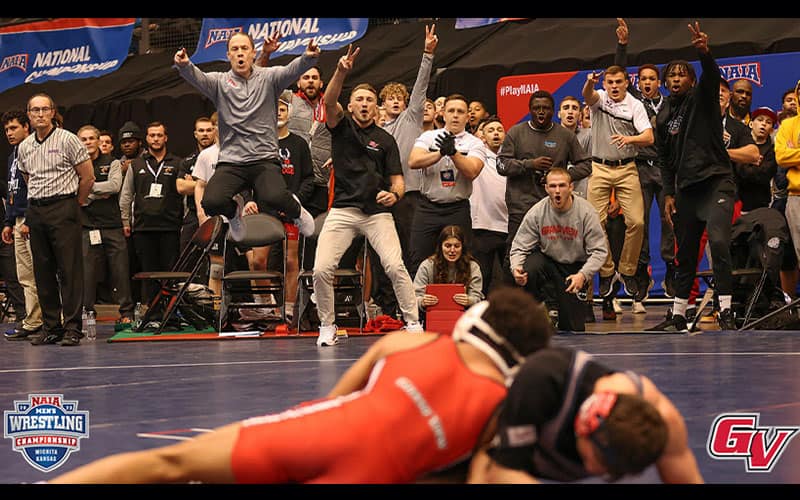 Image courtesy of Grand View Athletics
PARK CITY, Kansas – Defending champion Grand View pushed 11 athletes into the semifinals, to take a 29-point lead over second place Life, 127 points to 98. Southeastern is in third place with 60 points.
NAIA release
2023 NAIA Men's Wrestling National Championship - Day One Recap
Action at the 66th Annual NAIA Men's Wrestling Championship began on March 3rd at Hartman Arena. After Sessions I and II, Grand View (Iowa) leads all teams with a 29 point lead over Life (Ga.). Southeastern (Fla.) sits in third place with 60 points, followed by Indiana Tech with 51, and Menlo (Calif.) with 49.
Four institutions, Central Methodist (Mo.), Cornerstone (Mich.), Keiser (Fla.) and St. Thomas (Fla.), earned their program's first All-Americans with the Seahawks securing two in a span of a couple minutes
* A total of 57 intuitions were represented with the 280 man field
* The Cascade Collegiate Conference led all conferences with 57 individual qualifiers
* Three teams - Grand View, Indiana Tech, and Southeastern – suited up the maximum of 12 wrestlers
* Menlo's Gulomjon Abdullaev and Jovan Garcia met in the second round for a spot in the semifinals
* The 40 wrestlers still in the hunt for the National Championships hail from 17 programs highlighted by Grand View with a tournament high 11
* Life has eight still remaining, which is the second most, whole Menlo and Southeastern are tied with three each.
* Indiana Tech and Marian (Ind.) are the only other schools with multiple grapplers still in the chase
* Riley Saison of Menlo and Coleman Bryant of Southeastern are the lowest seeded wrestlers to reach the semifinal round; no unseeded wrestlers reached the Top Four in this year's tournament
* All 10 top seeds are still alive in the bracket as well as eight who were seeded second and six who were No. 3's.
Grand View Release
Quarterfinals sees the Vikings advancing 11 out of 11 wrestlers to the semifinals
Wichita, KS - No. 1 Grand View Vikings dominated on the first day of the NAIA Wrestling National Championship and sends 11 wrestlers to the semifinal session tomorrow morning, March 4th.
Grand View went 30-1 on the Championship side of the bracket, and 32-2 on the day overall.
The second session of the evening would start with a thriller, No. 1 Esco Walker (SR/Charolette, NC ) would trail Cumberland's wrestler early, and would tie things up to go overtime. Walker ended with a SV win in the nailbiter, 6-4. The evening would continue on with thrilling matches, as Carson Taylor (SO) would come down to the wire winning by decision 5-3. Marty Margolis (SR/LaPlata, MD) would pull off the gutsy win, as he would trail by four points late, fighting to defeat the deficit and sealing the semi-final advancement. No. 2 Ben Lee (SR/Cambridge, IA) and No. 3 Owen Braungardt (JR/Rock, KS ) would both provide a huge point boost for the Vikings as they went 3-3 on wins by fall.
The semifinals will begin tomorrow, March 4th, at 10:00 AM.
NAIA NATIONALS
At Park City, Kansas, March 3

Semifinal pairings
125
1 Esco Walker (Grand View) vs. 4 Hunter Sparks (Eastern Oregon)
14 Riley Siason (Menlo) vs. 2 Brandon Orum (Life)
133
1 Carson Taylor (Grand View) vs. 4 Blake Mulkey (Marian)
3 Gulomjon Abdullaev (Menlo) vs. 7 Evan Potter (Southern Oregon)
141
1 Baterdene Boldmaa (Doane) vs. 5 Shea Ruffridge (Grand View)
6 Patrick Gould (Keiser) vs. 2 Julian Hernandez (Life)
149
1 Ryan Moore (Thomas More) vs. 5 Keegan Luton (Oklahoma City)
3 Brevin Balmeceda (Life) vs. 2 Blake Gonzalez (Grand View)
157
1 Giovanni Bonilla (Grand View) vs. 5 Sal Silva (Southeastern)
3 Nate Wheeler (Indiana Tech) vs. 2 Israel Casarez (Grand View)
165
1 Jack Bass (Life) vs. 4 David Rubio (Corban)
6 Rysan Leong (Menlo) vs. 2 Marty Margolis (Grand View)
174
1 Isaiah Luellen (Grand View) vs 4 Nakoda Siegel (Montana State - Northern)
3 Gerardo Hernandez (Vanguard) vs. 2 Riley Smucker (Life)
184
1 Eric Vermillion (Indiana Tech) vs. 5 Asher Eichert (Life)
14 Coleman Bryant (Southeastern) vs. 2 Ben Lee (Grand View)
197
1 Zane Lanham (Life) vs. 4 Malachi Karibo (Baker)
3 Owen Braungardt (Grand View) vs. 7 Jack Servies (Marian)
285
1 Greg Hagen (Grand View) vs. 5 Gabe Jacobs (Southeastern)
3 Austin Harris (Life) vs 2 KC Buday (Providence)
Team Standings
1 Grand View 127.0
2 Life 98.0
3 Southeastern 60.0
4 Indiana Tech 51.0
5 Menlo 49.0
6 Marian 45.5
7 Doane 34.0
8 Providence 34.0
9 Ottawa 33.0
10 Reinhardt 33.0
Quarterfinal results
125
1 Esco Walker (Grand View) won in sudden victory - 1 over 8 Austin Franco (Cumberlands) SV-1 6-4
4 Hunter Sparks (Eastern Oregon) won by decision over 5 Isaac Crowell (Southeastern) Dec 8-3
14 Riley Siason (Menlo) won by decision over 11 Conner Diamond (Lindsey Wilson) Dec 6-4
2 Brandon Orum (Life) won by major decision over 7 Trevor Marsman (Cornerstone) Maj 10-1
133
1 Carson Taylor (Grand View) won by decision over 8 Joe Lupton (Graceland) Dec 5-3
4 Blake Mulkey (Marian) won in sudden victory - 1 over 5 Matt Gimson (Indiana Tech) SV-1 3-1
3 Gulomjon Abdullaev (Menlo) won by tech fall over 6 Jovan Garcia (Menlo) TF 17-1
7 Evan Potter (Southern Oregon) won by decision over 15 Sammy Shires (Cumberland) Dec 5-2
141
1 Baterdene Boldmaa (Doane) won by decision over 8 Asa Garcia (Marian) Dec 7-3
5 Shea Ruffridge (Grand View) won by decision over 13 Chasen Brown (Cumberlands) Dec 5-0
6 Patrick Gould (Keiser) won by fall over 3 Parker Dobrocky (Southeastern) Fall 4:58
2 Julian Hernandez (Life) won in sudden victory - 1 over 7 Cade Manion (Oklahoma City) SV-1 3-1
149
1 Ryan Moore (Thomas More) won by fall over 9 Nathan Lendt (Doane) Fall 4:17
5 Keegan Luton (Oklahoma City) won by decision over 13 Trent Johnson (Lindsey Wilson) Dec 3-2
3 Brevin Balmeceda (Life) won by major decision over 11 Nick Gates (Indiana Tech) Maj 9-1
2 Blake Gonzalez (Grand View) won by decision over 10 Jace Luchau (Cumberlands) Dec 2-1
157
1 Giovanni Bonilla (Grand View) won by decision over 9 Trevor Burdick (Reinhardt) Dec 7-3
5 Sal Silva (Southeastern) won by major decision over 13 Noah Styskal (Morningside) Maj 15-3
3 Nate Wheeler (Indiana Tech) won by decision over 6 Steven Villalobos (Life) Dec 3-1
2 Israel Casarez (Grand View) won by decision over 7 Abraham Del Toro (Menlo) Dec 8-1
165
1 Jack Bass (Life) won by decision over 8 Jordan Komac (Providence) Dec 5-2
4 David Rubio (Corban) won by decision over 12 Matt Jenkins (Reinhardt) Dec 7-4
6 Rysan Leong (Menlo) won by decision over 3 Cole Smith (Cumberland) Dec 4-1
2 Marty Margolis (Grand View) won by decision over 10 Shadrick Slone (Campbellsville) Dec 10-8
174
1 Isaiah Luellen (Grand View) won by decision over 8 Cole Tenety (Reinhardt) Dec 9-3
4 Nakoda Siegel (Montana State - Northern) won by decision over 5 Stephen Kelle (Southeastern) Dec 6-1
3 Gerardo Hernandez (Vanguard) won in sudden victory - 1 over 6 Chinges Tsermaa (Doane) SV-1 2-1
2 Riley Smucker (Life) won by major decision over 10 Douglas Peppers (Southeastern) Maj 10-0
184
1 Eric Vermillion (Indiana Tech) won by decision over 8 William Speight (Lourdes) Dec 6-0
5 Asher Eichert (Life) won by decision over 4 Sam Osho (Marian) Dec 2-1
14 Coleman Bryant (Southeastern) won by decision over 6 Hayden Wempen (Morningside) Dec 10-5
2 Ben Lee (Grand View) won by fall over 7 Sawyer Hobbs (Providence) Fall 0:53
197
1 Zane Lanham (Life) won by decision over 9 Tucker Tomlinson (Ottawa) Dec 1-0
4 Malachi Karibo (Baker) won by major decision over Andrew Herrera (Southern Oregon) Maj 10-0
3 Owen Braungardt (Grand View) won by fall over 11 Carl Hansen (Montana State - Northern) Fall 2:04
7 Jack Servies (Marian) won by decision over 15 Nathan Critchfield (Indiana Tech) Dec 6-2
285
1 Greg Hagen (Grand View) won by decision over 8 Hunter Dejong (Morningside) Dec 4-1
5 Gabe Jacobs (Southeastern) won by decision over 13 Antonio Dacosta (Menlo) Dec 9-5
3 Austin Harris (Life) won by major decision over 6 Joshua Isaac (Missouri Valley) Maj 15-5
2 KC Buday (Providence) won in sudden victory - 1 over 7 Daulton Mayer (Thomas More) SV-1 6-4