News
USA Wrestling
College
Women
USAW
King, North Central and McKendree to battle for NCWWC title as 2023 NCAA women's team champions
by Gary Abbott, USA Wrestling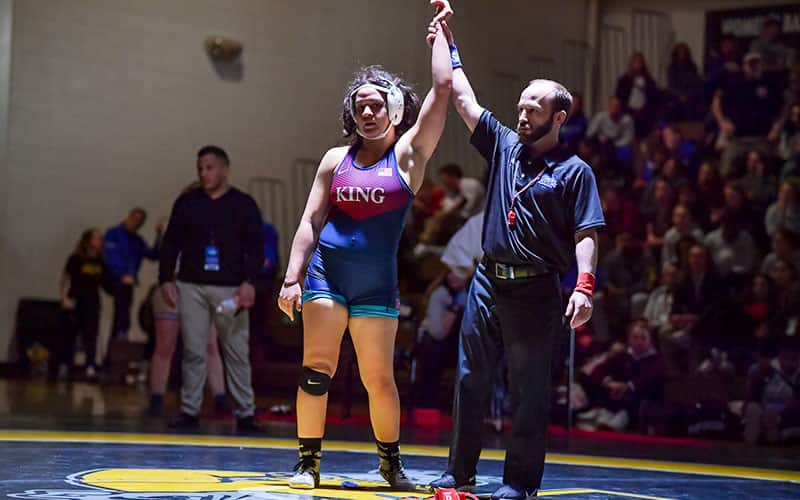 2022 NCWWC national champion Ashlynn Ortega of King. Photo by Jim Thrall, Mat Focus.
CEDAR RAPIDS, Iowa – The National Collegiate Women's Wrestling Championships, the annual national event for NCAA women, goes into its fourth year, and its first time off campus, at the Alliant Energy Powerhouse in Cedar Rapids, Iowa, March 3-4.
Only one team has ever won this tournament, McKendree University, which is aiming for a four-peat. However, all season long, either North Central College or King University have been ranked No. 1 as a team. After the five Regionals were held in late February, the rankings are No. 1 King, No. 2 North Central and McKendree at No. 3.
King powered through Region 2 by claiming all 10 individual titles and qualifying a full 15-athlete team for the national championships. All but one of the King wrestlers reached the finals. King has all of its qualifiers in the national rankings, including returning NCWWC champion Ashlynn Ortega at 143. Currently, King athletes who hold No. 1 rankings include Ortega, Jessica Corredor (101) and Ana Luciano (136).
North Central was also very good in a strong Region 4, claiming four individual champions and qualifying a full 15-athlete team. The Cardinal is led by two-time NCWWC national champion Yelena Makoyed (170), who is the only North Central athlete ranked No. 1 coming in. Regional champions Amani Jones (123) and Traeh Haynes (191) are ranked No. 2 nationally along with Regional runner-up Tiera Jimerson (155) with Regional champion Yele Aycock (136), and Regional third place Sydney Petzinger (109) ranked No. 3 nationally.
McKendree comes into the NCWWC Nationals with some momentum, placing second behind North Central in Region 4 with three individual regional champions, , Lizette Rodriguez (101), Emily Shilson (109) and Payton Stroud (116). Shilson, a three-time NCWWC champion for Augsburg, transferred in for second semester and made her debut for McKendree at the Regionals. She will seek to make history by winning a fourth NCWWC national title, as will her teammate Sydnee Kimber (191). Kimber was upset in the Regional finals, but still comes into nationals with a No. 1 ranking. McKendree also features another two-time NCWWC champion Cameron Guerin (130), who was also beaten in the Regional finals. McKendree also has a 2020 NCWWC champion on the team in Pauline Granados at 109. If McKendree's big hammers come through in Cedar Falls, they have the capability of outscoring any team in the field.
People need to be careful not to overlook No. 4 Colorado Mesa, which won Region 5 with five individual champions and 12 qualifiers. Ranked No. 1 coming into the nationals is Marissa Gallegos (123). Other Regional champions in the national rankings for Colorado Mesa are Jennesis Martinez (101) at No. 3, Hailey Chapman (130) is at No. 5, Holly Beaudoin (136) is at No. 6 and Dalia Garibay (155) is at No. 3. In order to challenge for the title, Colorado Mesa will need their stars to beat their seeds, and need the rest of the team to score points where possible.
Rounding out the team rankings coming into the NCWWC Nationals are No. 5 Augsburg, No. 6 Simon Fraser, No. 7 Lock Haven, No. 8 Gannon, No. 9 Sacred Heart and No. 19 Aurora.
Simon Fraser has a No. 1 ranked wrestler in Victoria Seal (116), while Aurora's No. 1 ranked wrestler is Alexis Janiak (130) and Augsburg's No. 1 is Marlynne Deede (155). Janiak beat Guerin in the Regional finals, while Seal moved to the top after winning the Region 5 title.
Two teams which hope to continue their strong efforts are Region 1 team champion Sacred Heart and Region 3 champion UW-Stevens Point.
Sacred Heart had three regional champions in Aaliyah Payne-Parris (101), Madison Sandquist (155), Jacklyn Smith (191) and qualified nine for the nationals. UW-Stevens Point had five regional champions in Alexis Winecke (109), Rose Ann Marshall (116), Abby Nelson (123), Amor Tuttle (130) and Tabitha Breitrick (170) and pushed 11 into the national tournament.
Lock Haven has five qualifiers, but all are tough, including Regional champions Kaelani Shufeldt (109), Lillian Sherer (130) and Grace Stem (143).
Session times on Friday are 11:00 a.m. and 4:00 p.m., and on Saturday at 11:00 a.m. and 7:00 p.m. All of the action is live on FloWrestling.