News
USA Wrestling
International
Women
USAW
Beck, Garcia and Skatzka reach gold-medal finals at Dan Kolov/Nikola Petrov; Nutter and Hedrick to go for bronze
by Gary Abbott, USA Wrestling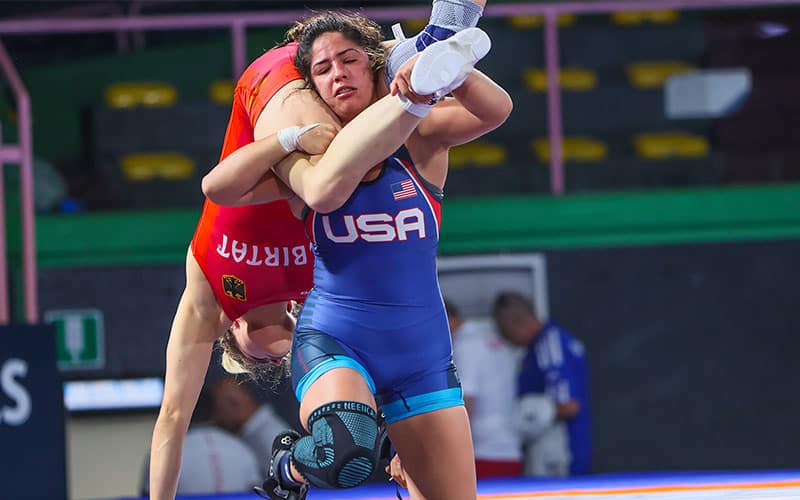 Marilyn Garcia (USA) goes for a takedown. Photo by Martin Gabor, United World Wrestling
SOFIA, Bulgaria – Five U.S. wrestlers will go for medals on Friday at the Dan Kolov/Nikola Petrov International after the opening day of action today.
In the gold-medal finals are women's freestylers
Michaela Beck
(59 kg) and
Marilyn Garcia
(72 kg) and men's freestyler
Devin Skatzka
(79 kg).
Beck won bouts against opponents from Bulgaria and Kazakhstan and will battle Sara Natami of Japan in the finals.
Garcia placed second in Pool A with a 1-1 record, advancing to the semifinals, where she pinned Anastasia Panassovich of Kazakhstan in 4:33. She will get a rematch with Maria Nitu of Romania, who she defeated in their Group B match 10-4.
Skatzka ran off four straight wins, defeating Eugeniu Mihalcean of Moldova, 10-2 in the semifinals. He will face Mostafa Ghiyasicheka of Iran in the finals.
Going for bronze medals will be U.S. Greco-Roman wrestler
Aidan Nutter
(63 kg) and women's freestyler
Alex Hedrick
(55 kg).
Nutter opened with a strong 7-1 win over Koki Yoshinaga of Japan, then was beaten in the semifinals by Hrachya Poghosyan of Armenia, 9-0. He draws Komei Sawada of Japan in the bronze-medal bout.
Hedrick went 2-1 in Group A, with wins over opponents from Kazakhstan and Bulgaria. She was edged in the semifinals by Ainur Ashimova of Kazakhstan, 9-8. She draws Elena Ionescu of Romania in the bronze-medal bout.
The seven other U.S. athletes competing on Thursday were eliminated and not eligible for repechage.
Seven more U.S. wrestlers begin competition on Friday, three in men's freestyle, three in women's freestyle and one in Greco-Roman. Their draws are listed below.
Brackets for day two
Results from day one
Live Stream on Bulgarian Federation YouTube
DAN KOLOV/NIKOLA PETROV INTERNATIONAL
At Sofia, Bulgaria

U.S. men's freestyle results
61kg: Devan Turner (BDRTC), eliminated
LOSS Stilyan Iliev (Bulgaria), 4-0
61kg: Thomas Gilman (TMWC/NLWC), eliminated
WIN Yaroslav Hurskyy (Ukraine), 6-1
LOSS Kaisei Tanabe (Japan), tech. fall 11-1
61kg: Nathan Tomasello (TMWC/CKWC), eliminated
LOSS Nika Zakashvili (Georgia), 9-6
79kg: Isaiah White (IRTC), eliminated
WIN Mihail Georgiev (Bulgaria),8-1
LOSS Michael Kemerer (USA), 3-1
79kg: Michael Kemerer (Spartan Combat), eliminated
WIN Isaiah White (USA), 3-1
LOSS Eugeniu Mihalcean (Moldova), 11-6
79kg: Devin Skatzka (TMWC/Spartan Combat), in gold-medal bout
WIN Otari Adeishvili (Georgia), 5-3
WIN Iakub Shikhdzhamalov (Romania), inj. dft.
WIN Yerkhan Abdazov (Kazakhstan), tech. fall 10-0
WIN Eugeniu Mihalcean (Moldova), 10-2
Gold Medal bout – Vs. Mostafa Ghiyasicheka (Iran)
U.S. Greco-Roman results
63kg: Aidan Nutter (NYAC/NMU NTS), in bronze-medal bout
WIN Koki Yoshinaga (Japan), 7-1
LOSS Hrachya Poghosyan (Armenia), tech. fall 9-0
Bronze-Medal Bout – Vs. Komei Sawada (Japan)
82kg: Michael Altomer (NMU NTS), eliminated
WIN Yoshinosuke Aoyama (Japan), pin 2:16
LOSS Rosian Dermanski (Bulgaria), tech fall 8-0
82kg: DM Hallet (NMU NTS), eliminated
WIN Roslan Dermanski (Bulgaria), tech fall 9-0
U.S. Women's Freestyle results
55kg: Alex Hedrick (TMWC), in bronze bout
Group A Round robin against:
WIN Aisha Ualishan (Kazakhstan), 2-1
LOSS Akari Fujinami (Japan), tech fall 10-0
WIN Nazife Mustafa Tair (Bulgaria), tech fall 10-0
LOSS Ainur Ashimova (Kazakhstan), 9-8
Bronze Medal Bout – Vs. Elena Ionescu (Romania)
59kg: Michaela Beck (Sunkist), in gold-medal finals
WIN Fatime Shaban (Bulgaria), tech fall 14-4
WIN Emma Tissina (Kazakhstan), 11-0
Gold Medal Bout – Sara Natami (Japan)
72kg: Marilyn Garcia (California), in gold-medal finals
Group B round robin against:
WIN Maria Nitu (Romania), 10-4
LOSS Ilana Kratysh (Israel), 4-4
WIN Anastasia Panassovich (Kazakhstan), pin, 4:33
Gold Medal Finals – Maria Nitu (Romania)
U.S. Day two draws

U.S. Men's Freestyle first round pairings
57kg: Gabe Townsell (NYAC/CARTC)
Vs. Taketo Ninomiya (Japan)
65kg: Joey McKenna (TMWC/PRTC)
Vs. Changsu Kim (Korea)
74kg: Mitchell Mesenbrink (Askren WA)
Vs. Presiyan Mihov (Bulgaria)
U.S. Women's first round pairings
62kg: Janida Garcia (Colorado/EAP)
Group A Round robin
Vs. Jennifer Page (USA)
Vs. Elis Manolova (Azerbaijan)
62kg: Jennifer Page (TMWC/NLWC)
Group A Round robin
Vs. Elis Manolova (Azerbaijan)
Vs. Janida Garcia (USA)
68kg: Solin Piearcy (Menlo WC)
Group A Round robin
Vs. Saidy Chavez Figueroa (Honduras)
Vs. Daniela Brasnarova (Bulgaria)
U.S. Greco-Roman first round pairings
87kg: George Sikes (NYAC/NMU NTS)
Vs. K. Miyamoto (Japan)