News
USA Wrestling
International
Beach
USAW
Cook, Box, Garvin, Stemmet win a bout on first day of Beach World Series in France
by Gary Abbott, USA Wrestling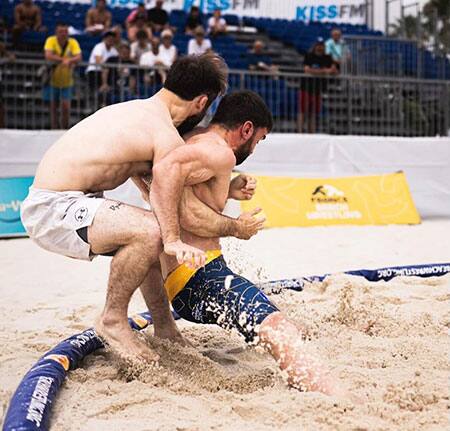 Timothy Box (USA) battles in the Beach World Series event in Saint-Laurent-Du-Var, France. United World Wrestling photo
SAINT-LAURENT-DU-VAR, France – Four of the five U.S. men wrestlers competing in the
UWW Beach World Series
in France on Thursday won a match and will advance to competition on Friday.
Thursday's action featured a round of knockout matches, followed by the first two rounds of Group competition. Friday morning will have the conclusion of Group competition, then the elimination brackets and finals.
Winning one match each at 70 kg are
Mitchell Cook
of Illinois and
Timothy Box
of California. Both were drawn into Group B and finished the day with 1-1 records. Both Box and Cook scored victories over Clement Gonzalez of France, and both Box and Cook were defeated by Ramiz Hasanov of Azerbaijan, who is ranked No. 2 in the current Beach World Series rankings at 70 kg.
On Friday, Cook and Box will compete against each other in their final Group B match. Both have a chance to advance to the four-athlete elimination bracket if they are able to place first or second in their Group..
Two U.S. wrestlers who are teammates at Stanford were randomly drawn into a knockout match at 80 kg, where the winner was able to advance into Group A, while the loser was eliminated from the tournament.
Hunter Garvin
of Iowa defeated
Daniel Cardenas
of Colorado, 3-0, and moved on into Group competition
In Group A, Garvin dropped a pair of matches to Moldovan opponents, falling to Vasile Diacon and Traian Capatina. Garvin has one more Group A match Friday against Nika Kentchadze of Georgia, who is currently ranked No. 1 in the Beach World Series rankings at 80 kg.
Another Stanford wrestler,
Nikolas Stemmet
, won a knockout match to advance to Group A, stopping Kostiantyn Zadoainchuk of Ukraine, 1-1. Stemmet split his first two Group A matches, beating Mathis Mayrand of France, then losing to Mahmut Ozkaya of Turkey, who is ranked No.4 in the Beach World Series . His final Group A match Friday is against Ibrahim Yusubov of Azerbaijan, the No. 1 ranked wrestler at this weight class. Stemmet is still in the hunt to advance to the four-athlete elimination bracket.
Cook and Box have considerable Beach World Series experience, while Garvin, Stemmet and Cardenas are competing in their first Beach World Series event. Friday's action is scheduled for 10:00 a.m. local time, which is six hours ahead of U.S. Eastern time zone.
All of the action is live on
FloWrestling
.
BEACH WORLD SERIES SAINT LAURENT DU VAR

At Saint-Laurent-Du-Var, France, June 30U.S. Senior Men's Results
70 kg: Mitchell Cook, Orland Park, Ill.
Group B
LOSS Ramiz Hasanov (Azerbaijan), 3-1, 1:16
WIN Clement Gonzalez (France), pin 1:35
Vs. Timothy Box (USA)
70 kg: Timothy Box, Oceanside, Calif.
Group B
WIN Clement Gonzalez (France), 3-2 1:19
LOSS Ramiz Hasanov (Azerbaijan), 3-1, 1:12
Vs. Mitchell Cook (USA)
80 kg: Daniel Cardenas, Arvada, Colo.
Knockout Round
LOSS Hunter Garvin (USA), 3-0, 2:36
80 kg: Hunter Garvin, Iowa City, Iowa
Knockout Round
WIN Daniel Cardenas (USA), 3-0, 2:36
Group A
LOSS Vasile Diacon (Moldova), 3-1, 2:26
LOSS Traian Capatina (Moldova), 4-1, 2:23
Vs. Nika Kentchadze (Georgia)
90 kg: Nikolas Stemmet, Yorkville, Ill.
Knockout Round
WIN Kostiantyn Zadoainchuk (Ukraine), 1-1, 3:00
Group A
WIN Mathis Mayrand (France), 3-0, 1:43
LOSS Mahmut Ozkaya (Turkey), pin 3:42
Vs. Ibrahim Yusubov (Azerbaijan),