News
USA Wrestling
International
Beach
Women
USAW
Beach World Series Blog: Third leg of 2023 World Series in France was a Voyage of Discovery
by Rusty Davidson, Special to TheMat.com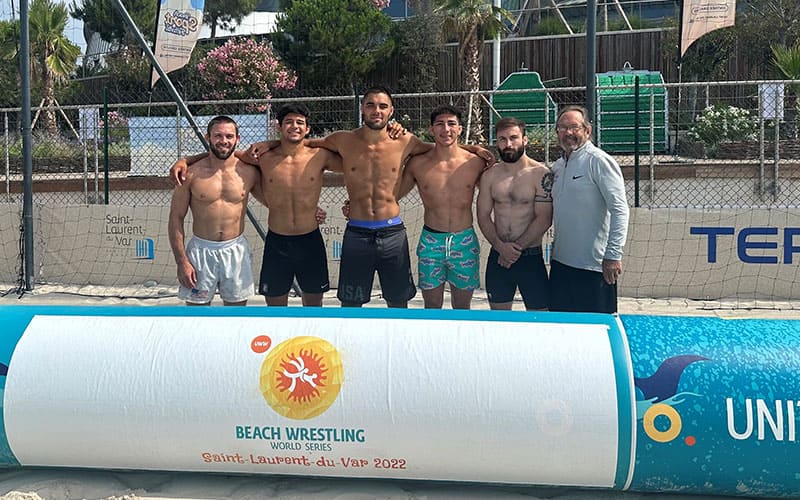 PHOTO: U.S. Beach World Series Team in St. Laurent du Var, France pose together in the beach venue
.
FRIDAY, JUNE 30… On the bus ride here from Slovenia we are traveling through Genoa, Christopher Columbus' home town. The history teacher in me engaged.
This third leg of the Beach Wrestling World Series has been a 'Voyage of Discovery'. Our three college studs go home having discovered that there are other studs on the planet. Our college coach discovered that Beach-Specific technique and tactic is evolving at a rapid pace. Our club / high school coach discovered that his own training strategies are paying off as he continues to close the gap on great opponents.
Rick Schwab, our referee discovered Beach Wrestling. His discovery included the intense comradery among this relatively small, but growing niche of international referees. His discovery included the legitimacy the beach discipline enjoys in other countries.
Rick is certainly one of this generation of superstars in the Olympic Styles. Watching him apply his mechanical ability and pure wrestling savvy to the specific demands of Beach Wrestling makes Rick shine. Rick's from the Kansas City area, so I'm entitled to a little Southern Plains bias !
I discovered, for the umpteenth time, why I love Wrestling and the humans within. Seeing these bright collegiate talents allow wrestling to help them explore the world renews my hope. Watching our guys from all parts of the U.S. scheme and plan ways to get together for training opportunities demonstrates the traction Beach Wrestling is gaining.
Watching our guys get together with their Azerbaijani counterparts to trade shorts and T-shirts and flags reminds me how wrestling nurtures the excited child in all of us. Watching the Champions Champagne Ceremony and the hugs that go with it displays the absolute best of the human condition.
In terms of results, Gary has already told you, we wrestled well and didn't put anyone in the medals. The experience we gained will put Americans on the podium for generations to come. I am so proud of the way these Americans represent all of us !
I can't finish without offering Thanx and Congratulations to Rob Koll and Stanford University for their forward thinking in athlete / scholar / citizen development. Thanx to Palomar College for loaning us Coach Timmy Box. Thanx to Mitch Cook for sticking to the plan and being a role model. Thanx to Rick Schwab for saying 'Yes' to opportunity.
I'm feeling pretty lucky !
Ciao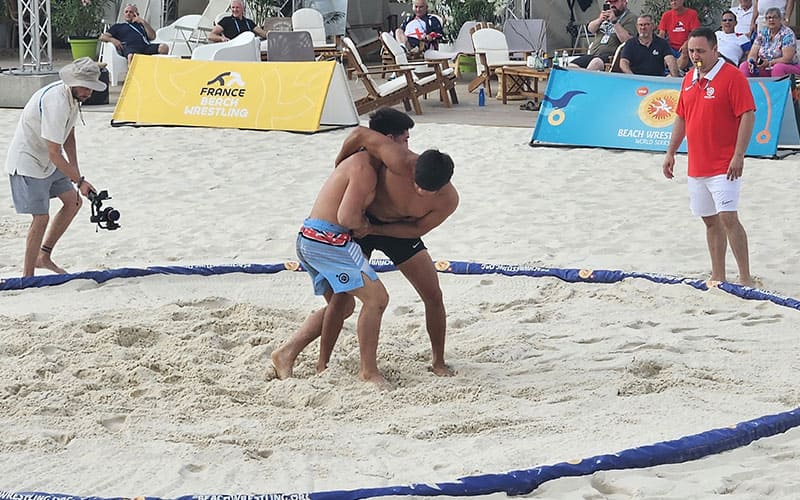 PHOTO: Stanford's Hunter Garvin (Black) and Daniel Cardenas (Blue) compete in the knockout round of Beach Wrestling World Series, Stage III (Photo courtesy Rusty Davidson)
THURSDAY, JUNE 29: Knockout Round Blues, and a look at Team USA on day one in France


I have often reminded my coaching peers that being a coach in the corner is much like being a dad in the delivery room. This morning I got to be that dad.
The analogy works. You feel like all the pain and struggle is somehow your fault. You should fix it… but you can't.
When all was said and done, our five-man Team USA had a decent day, basically breaking even. But, from 8:30 until about 11:00 we went through a heavy dose of 'Suck'.
Teammates Daniel Cardenas and Hunter Garvin, both from Stanford, were paired to wrestle each other in the second match of the day… the 'Knockout' Round. Garvin won hard-fought match 3-1. Cardenas spent $3,000 and travelled halfway around the world to wrestle his own teammate and be done. Did I mention Suck ?
Here's the deal: UWW Beach Wrestling's World Series uses what're called Nordic System brackets. The first order of business is to create a 'Perfect Number', divisible by four. Next, athlete fall into four-person pools and compete round-robin.
In St Laurent du Var the Men's 80kg class had nine entries. One has to go. A digitized program has the computer place one or two athletes be seed, based on prior performance. Everyone else faces the risk of being random-cast into this Knockout Round… Win or go home !
The end of the story is that this "Knockout" mentality has to be replaced with some more athlete-friendly bracketing design. Building acceptance of Beach Wrestling as a discipline cannot send athletes home after three minutes !
What's so hard to explain to a twenty-year-old is that the computerized random draw is such a drastic improvement over the flat-out cheating we watched dictate tournament draws through the early 20-teens. With only nine countries represented in France, every nation had two of their own face off early.
Following all pertinent protocols, I exhausted every question, every alternative, every hope, to separate our guys this morning. I knew, when I started, it was an extreme uphill battle. As that dad in the delivery room, I kept hoping I could just doing something to ease the pain. Daniel Cardenas ended up one-and-done.
The rest of our day… and then I'll close with some more Old-Guy perspective. Gary Abbott will get a streamlined summary of individual bout outcomes to you, far more efficiently than I can.
70kg, Mitch Cook finished the day one and one with a really sweet blast double on the edge. Mitch is still in the hunt, entering Round III tomorrow morning.
Timmy BOx finished one and one' losing a close second bout, at 70kg, to a brilliant young Azerbaijani. Timmy is still alive and in the chase.
At 80kg Hunter Garvin sat Cardinal teammate Daniel Cardenas down. Hunter went on to lose to two Moldovians. He will wrestle tomorrow morning, but getting on the podium doesn't look good.
Nick Stemmet survived the knockout round, then dispatched a Frenchman. This afternoon, Nick lost a close one to the Turk to end up splitting the day… still hopeful.
Here's what's important. Our five Americans are seeing the world, developing global friendships they'll take to their graves. They're doing what wrestling demands: Taking personal risk for the opportunity to advance.
I remind a lot of athletes, parents, coaches, quite often of this wrestling simplicity. Every single one of us had some entry level conversation with a Wrestling Coach. During the first five minutes of that initial contact, every single Wrestling Coach made parents and athlete aware, "Wrestling will help your kid cope with adversity as a true champion".
Today wrestling honored that promise to two great athletes from Stanford University, USA. They are coping. They are Life-Champions. We win !
We'll get up tomorrow, weigh in, and fight our butts off.
Ciao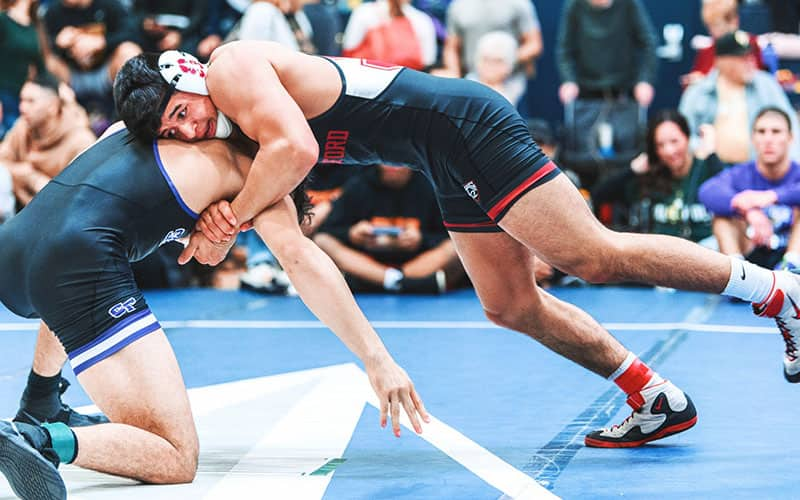 PHOTO: Hunter Garvin of Stanford will represent Team USA on the beach in St Laurent du Var. (Photo courtesy Stanford Athletics)
WEDNESDAY, JUNE 28: Three Stanford wrestlers arrive to test themselves on the beach


Stanford University's "Three Amigos" arrived in St Laurent du Var today. The three weigh in Thursday for this third stage of UWW's World Series of Beach Wrestling.
Sophomores Daniel Cardenas and Hunter Garvin will both compete in the 80kg category. Senior Nick Stemmet is entered at 90kg.
The trio join two Americans in the 70 kg category. Timmy Box and Mitch Cook bring solid experience and background to the team.
I enjoyed lunch with the group today. Just listening to the excitement these talented athletes express about the opportunities in Beach Wrestling is all the validation I need.
I get asked often about why I choose to dedicate my time and money to this developing style. It's really not rocket surgery… I'm simply repaying a debt. Wrestling has been really good to me and my gut tells me the Beach discipline is going to be really good to wrestling.
Forty years ago I put chips on the table for a new wrestling discipline… Women's Wrestling. That gamble seems to have paid off. Our women gave mankind's oldest sport an opportunity to make itself new again, ensuring our Olympic presence.
Following the volleyball model in offering both indoor and outdoor versions of our beloved sport has the potential to ensure our presence into the next century. Beach Wrestling is fast-paced and easy to watch. Folks just walking by on the beach are quickly attracted to this form of "Elegant Violence".
Wrestling also boasts about how we build life experience, cultural appreciation, and depth of character. Seeing successful D-1 athletes here… listening to their stories about the travel experience… brings a smile to my soul.
Today (Wednesday), we watched the first two rounds of both the U17 and U20 European Championship. Those groups will finish up tomorrow, as the Seniors get started. I know Gary keeps his finger on the results pulse, so I'll keep an eye out for more story-telling fuel.
Ciao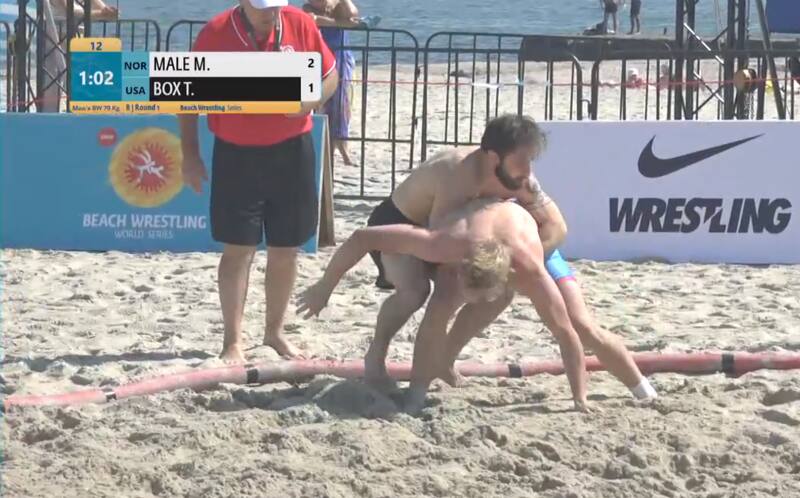 Tim Box file photo
.
TUESDAY, JUNE 27: Tim Box is back competing in the sand this week


I'm not gonna' pretend like every day's not a treat being around Beach Wresting. But this week's a little special. Timmy Box is back on the sand.
Tim had a really great run during the 2019 Beach Wrestling World Series, ending up a World Series Silver Medalist. The 'rona and its insanity robbed us all of a 2020 season. During that year off and since, Tim took his coaching career to a successful next level.
Tim is Head Coach at Palomar College in Southern California. He comes from good stock, as his dad is a successful high school coach in the Bakersfield area. Tim competed for Cal State Bakersfield for two years before transferring to Northern Colorado. Troy Nickerson added strong elements of philosophy and tactic to Coach Box's arsenal.
Over the last couple of years, California has set a strong pace in the growth and development of domestic Beach Wrestling… rightfully so, based on the state's population and geographic resources. Coach Box has taken an active role in that growth.
It's validating to see collegiate coaches, like Timmy, appreciate and employ beach tactic and technique in their overall instructional menus. As the discipline continues to gain traction, it's fun to imagine the possibilities Beach Wrestling offers on college campuses.
So Coach Timmy Box will be back in the sand this week on the Mediterranean Cote D'Azur. He will compete in the World Series event at 70kg, alongside three collegians from Stanford. Mitch Cook, a successful club coach from the Chicago area rounds out Team USA.
I'll share highlights for each as the week progresses. But, today I want to celebrate Timmy Box. His athletic gift will be obvious. I'm celebrating his leadership.
Look for big contributions from this talented young Coach /Mentor. Look in the short run and look over the long haul. Wrestling is lucky to have Coach Timmy Box.
Ciao
PHOTO: Stage Three of the 2023 Beach World Series visits France (Photo courtesy United World Wrestling)
MONDAY, JUNE 26: Five U.S. men to compete in France this week


It's kinda' like watching your kids grow up. Gary Abbott and I babysat this thing called Beach Wrestling in its infancy. We watched the sport go to elementary school in upstate New York. Beach Wrestling attended high school in Carolina Beach.
This dynamic discipline has decided to further its education by dedicating itself to the health of mankind's oldest sport. The last month suggests Beach Wrestling has chosen a fruitful path.
After a strong performance in Buenos Aires (early May), we saw our annual Beach Nationals reach record entries. Five dedicated souls competed in Singapore to lock in USA Wrestling's slots in the upcoming second ANOC World Beach Games.
On Saturday, June 24, USA Wrestling managed the first Wrestle Offs ever contested in the Beach discipline. Like any 'Trials', hands were raised and hearts broken. We now know our five athletes who will compete at the World Beach Games in Bali, Indonesia in August
We have five really exciting men on their way to St Laurent du Var… the gorgeous Mediterranean beach, just outside Nice, France… for the next chapter. I'll be icing Gary's results cake with some insights about these five wrestlers, Rick Schwab (officiating) and what to look forward to through July.
Right now, I'm closing up the laptop and getting in the car for our 45 minute drive to Maribor. There, I'll get on the overnight bus and wake up in Nice.
I'll get settled in and discover the WiFi connection Tuesday afternoon (European time). Once that happens, I'll begin sharing some pretty cool history about our five American competitors in France.
Ciao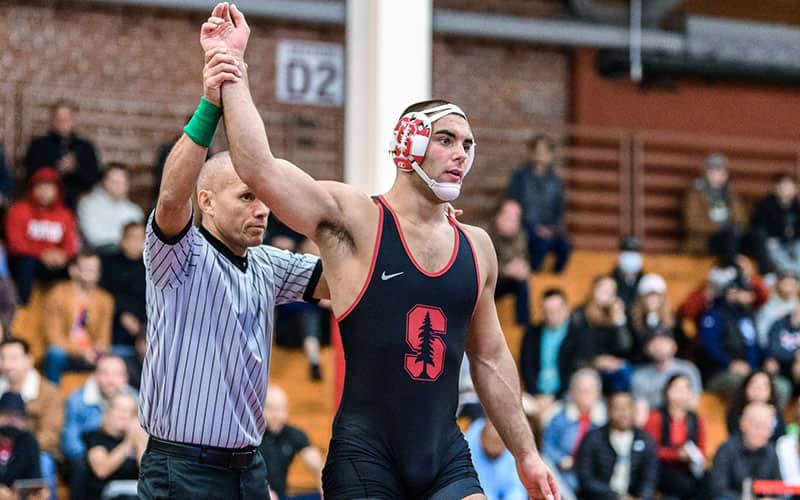 PHOTO: U23 World Team Member Nick Stemmet will compete on French Sand (Photo by Tony Rotundo, Wrestlers Are Warriors)
MONDAY, JUNE 12: Coming home from Singapore, and looking ahead to France


Oh, those 'Friendly Skies'! We've got wrestlers, trainer and referee delayed. Yeah, me too.
Tim (Condit) ended up a day late getting home, after being hung up in San Francisco. Trainer Jenna and Isabeau are overnighting in Denver. I know Mia had at least a minor delay. Not sure about Mitch.
I can't get home until Wednesday. I'm overnighting in Istanbul, as are the entire teams of Romania, Georgia and Azerbaijan. Our midnight flight from Singapore was delayed almost two hours and we all had connections under an hour, in Istanbul.
The new airport in Istanbul is huge. Everything is a hike. Not exaggerating, my departure gate for Zagreb was right at a mile and a half from our arrival gate. I finished my sprint Two Minutes after the gate had closed. Then, no joke, the plane sat at the gate for 55 minutes before pushing back ! Wow !
OK… looking to the short-term future. ANOC and UWW will make official the qualifying nations for the Beach Word Games, early next week. We believe we have five weights qualified: Men 70kg and 80kg; Women 50kg; 60kg; and +70kg.
As per USOPC and USAW regulation, athletes who qualify their weight class are subject to challenge by the most recent US National Champion. Unofficially, I expect two to three weight classes to be challenged.
Those best two of three series will take place alongside USA Beach Wrestling Tour of America's The Kraken June 24th. The Kraken takes place on the beach of Rathbun Swim Lake in south central Iowa, not far from Des Moines.
The next week (June 27 – 30) the third event in the World Series is scheduled in San Laurent du Var (near Nice), France. The World Series event will compliment the European age group championship.
Here's where I get fired up. Nick Stemmet and a couple of his Stanford teammates will lead the American roster in France. Stemmet most recently earned the spot at 97kg, to represent Team USA at the U23 World Championship in Freestyle.
I met Nick at the first northern California beach event in 2022. He made it clear that Beach Wrestling was a positive addition to his resume. Seems like it's working.
So, what does it say when we see successful D-1 wrestlers, not to mention age group World Team Members, migrating to Beach Wrestling ? Just a guess, but at least some of our future superstars are seeing the beach as solid reinforcement of their Basic Skills tool-set.
Speaking of Basic Skills, consider the value of Variety in the overall training paradigm. And… do I dare mention the 'F' word ? Can a serious D-1 collegian and/or Freestyle World Team member profit from having FUN ?
I don't mean to beat you over the head with it (Well, maybe I do). But, every notable coach and athlete I see give Beach Wrestling a try walk away with a fresh perspective on position and technical prowess. This beach thing might just be something.
OK, I'll stop.
I will be in San Laurent du Var, after working our Slovenian Beach National Championship this weekend. Expect, as usual, that Gary Abbott will get you immediate results as UWW posts them. I'll enjoy throwing some color on Gary's black and white. 'Till then…
Ciao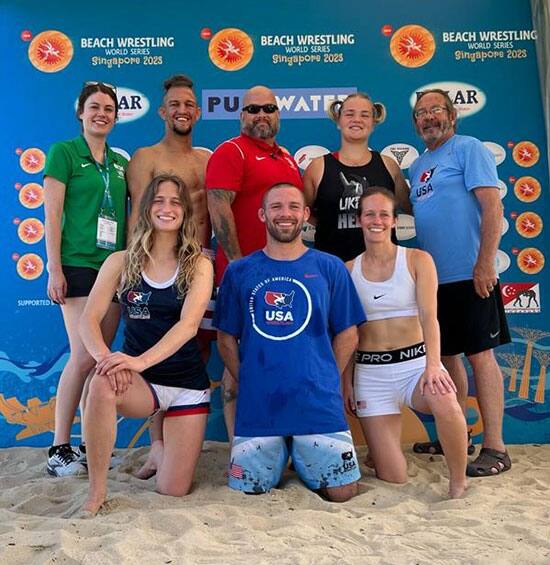 PHOTO: Complete American Delegation in Singapore: Standing L to R, Trainer Jenna Jackson, Ty Loethen, Referee Tim Condit, Isabeau Shalack, Rusty Davidson. Kneeling L to R, Mia Macaluso, Mitch Cook, Laura White. (Photo courtesy Singaporian Staff Member )
SUNDAY, 11 JUNE 11: Some thank yous, and a Team USA update on final day
I need to start with my Thank You list. First has to be Jenna Jackson, our USA Wrestling assigned Athletic Trainer. Jenna comes from a rich wrestling background, so she's one that "Gets It". She goes out of her way to use relationship value as wellness mechanism. Thanx, Jenna ! You are a blessing.
Jamie McNab is the person at the controls. As Senior Manager for USA Wrestling's Emerging and Women's Programs, she does all the logistical groundwork and preparation… which can often be like trying to piece together jigsaw puzzle in a hurricane. Quiet and purpose driven, Jamie gets things done… at the right time… in the right way. Thanx !
I've mentioned Gary Abbott and his unyielding commitment to building Beach Wrestling in our overall program menu. Beyond thanking Gary again, I need to add Richard Immel. What a treat to have Richard back at USAW, using the power of the pen (OK, keyboard) to inform and promote.
Ed Duncan, Thanks for your tireless efforts in building and legitimizing an American Beach Wrestling development pipeline. Your Beach Wrestling Tour of America events not only introduce U.S. athletes to the style and its inherent opportunities. They are fueling American excellence on the world stage. In September we will see our largest U.S. delegation ever at the age group World Championship in Romania.
Tim Condit refereed his first Beach tournament in Singapore and made us proud. As a Board Member and leader in USWOA, Tim let himself get curious about "This Beach Wrestling Thing". What's important is that he acted on that curiosity. Now, having a taste… and at the World Series level… you can see it Tim's eyes. We have one more believer in what Beach Wrestling has to offer. Thanx, Tim for starting with an open mind.
So, I caught myself. I start visualizing people who deserve to be thanked, then realize how long that list really is. To all those who know you deserve a quick Thank You, here it is. Yes, I'm really thinking of YOU.
My greatest gratitude, as always, goes to the five remarkable humans that represented the United States in the ring. Watching these athletes "Flip the Switch" is awe inspiring !
What I mean by that is that in the ring, between hand-shakes, all five are the fierce competitors the sport expects and demands. When necessary, they can all get downright nasty. I love it !
Before, between and after sessions though, these are gentle, caring young people… reminders of the Good Things in American culture. They build relationships across the planet, openly, honestly and compassionately.
Thanks Team USA. You make us all proud.
Looking through results from this weekend, things look good for the Red, White and Blue. Of course, anything I say is purely unofficial until UWW and ANOC announce invitations. But, it looks to me we successfully defended all five positions we came here to defend.
Individually, Ty placed fifth and had a great two-day run. Isabeau made one slight miscalculation that took her out of a potential finals appearance. She ended up sixth.
Laura finished ninth, Mia 10th, and Mitch placed 11th in a stacked 70kg bracket. We did what we came here to do… we wrestled well. We continue to assess and develop. Mitch and Ty are in the initial steps of building a strength and conditioning program specific the demands of Beach Technique.
One great thrill was that Ty was considered for the Most Exciting Technique award of the event. Each event, six scoring efforts (three women, three men) are broadcast on the Beachwrestling.org website, then voted for via Instagram. There's a significant cash prize for the winner.
Ty came in a solid second. What's impressive is that the voting took place between midnight and four in the morning, in North America. We missed out on the beers Ty was gonna' buy with his winnings. It was a ton of fun though, watching everyone try to wake up voters back home.
In terms of broad, overall performance, this was a fascinating event. The traditional powers showed up. Georgia won three gold and one bronze in the men's four weights. Ukraine wrestled well in both men's and women's brackets, showing that resilience wins out during troubled times. Romania was impressive on both sides.
Perhaps the most pleasant surprise was in the prowess of newcomers to the Beach. We had athletes from China, Cambodia and Senegal in the medal matches. The big guy (+90kg) from Senegal, besides being a monstrous human, quickly became a crowd favorite.
Senegal's Folk Style of wrestling closely resembles Beach Wrestling. All three men's entries were very sound and technical. But the big guy was flashy, dancing to celebrate each victory. At first, some wondered is his celebration might not be a little too cocky. We soon realized, the guy just loved to be loved… not unlike a Steveson or a Lopez. Good fun !
I'll sum up tomorrow, after we get everybody on planes. Congrats, from 180 degrees away, to the victors in Final X. Looks like we are in for a quad and a half of some real excitement. Go USA !
Ciao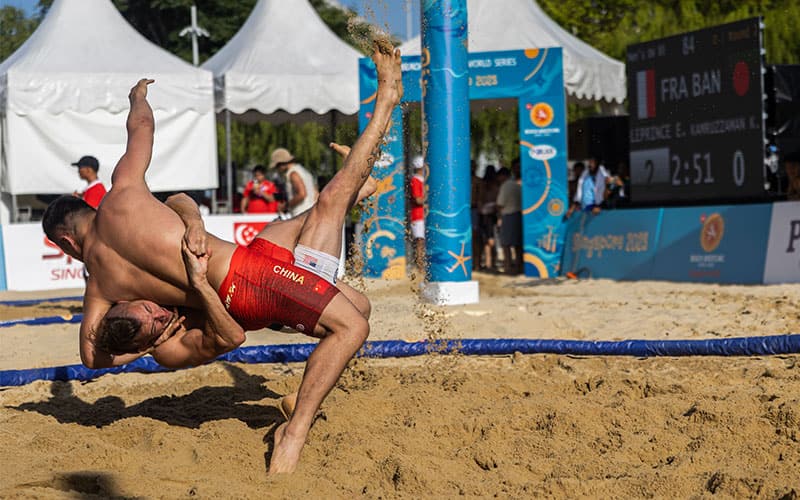 PHOTO: Mitch Cook lifts Kenya's Brian Oloo on the way to a second round victory. (Photo by Rusty Davidson )
SATURDAY, JUNE 10: Day One in Singapore and the USA had some highlights


I know it's Saturday and I hung you out for a Friday Chapter. Friday, we had a coupe of meetings and worked out.
Today we wrestled the "Knock Out", plus rounds one and two of the Singapore World Series of Beach Wrestling. Team USA got off to a rocky start but finished with some flash.
Gary has already published today's results… which I find amazing. Realize, I'm sitting in a hotel room at 10:00pm, having had a shower and dinner. I know Gary's in a New Jersey hotel room and posted our results at 20 past seven this morning.
Of course, I'm sure Gary doesn't have much else on his plate this morning… Oh, Wait ! It's Final X ! This is just me appreciating what Gary Abbott gives of himself to comer our sport. You should appreciate him, too.
Here's what stood out on day one. Isabeau split. She wrestled very tactical second match against her Romanian nemesis and lost 0-1. We'll take it. Beau's wrestling well.
Mitch lost to a really talented Japanese kid, 1-3. Bouncing back, Mitch put on a display of dominance against a powerful young guy from Kenya. More on that, in a minute.
Ty Loethen had a great day ! (I don't wanna' jinx it… Ty's gonna' have to have another great day tomorrow.) After shutting out his nemesis from France, Ty hit a magnificent throw against a big kid from China. Greco lovers, watch this throw… made me say, Wow !
With 140 total athletes from nearly 40 nations, the Singapore event is setting records. Organizers are fighting through the 'first time jitters' and making us all feel welcome. The venue is, arguably, the best we've seen.
Athletes from nations we haven't seen before are making some noise. It was fun watching the home crowd celebrate their first Singaporian victory.
Cambodia, Thailand, China and Japan have some pretty tough kids. Argentina is helping Team USA represent the Western Hemisphere.
But it's the African athletes that are getting all the camera time. South Africa has some talent, both male and female. Kenya has a couple of tough guys.
Senegal, though, oh my goodness ! They have two guys that are absolute Monsters. We learned today that a form of 'Wrestling in the Sand' is Senegal's national sport. It shows. Wow, these guys are fun to watch !
Enjoy Final X while we sleep. All our Americans have at least one bout tomorrow. Gary and Richard will get you results in their own extraordinary ways. I'll get you some more fine print after the closing ceremonies.
Ciao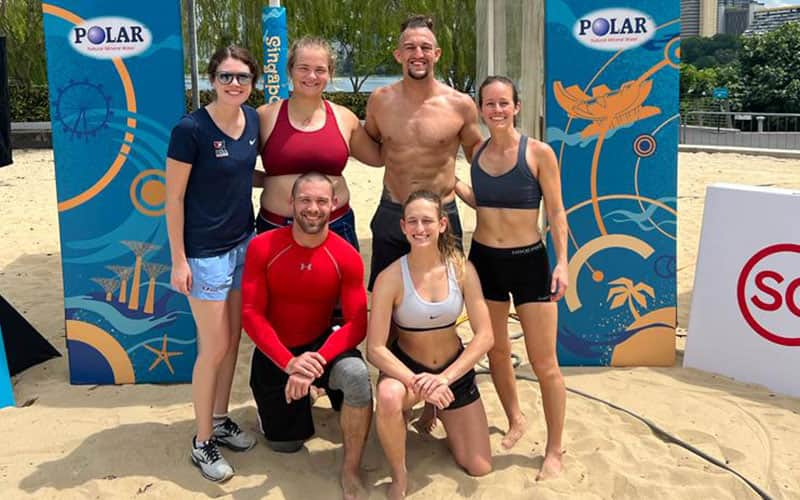 PHOTO: Team USA finishes a Friday workout in Singapore. Standing L to R, Trainer Jenna Jackson, Isabeau Shalack, Ty Loethen, Laura White. Kneeling, Mitch Cook, Mia Macaluso. (Photo courtesy Laura White
)
THURSDAY, JUNE 8: The World came to Singpore to wrestle on the beach


OK ! I'm the last American in. Coming in from Istanbul, I flew with teams from Georgia, Hungary, Moldova, and Spain, along with several of the UWW staff.
Singapore is a large metropolitan airport. Couple that with the fact that Singapore is new to hosting a UWW event. That equals some 'Interesting' logistical problems getting from airport to various hotels. But, thanks to the efforts of some dedicated young volunteers, we made it.
Yesterday, I mentioned some of the nations that have built strong reputations in Beach Wrestling. Here, in Southeast Asia, it's exciting to see lesser known nations entering the fray.
We have preliminary entries from the Indonesia home team. Thailand is back, after hosting a championship in 2013. Bangladesh and Cambodia have entries. Australia and South Africa are here. There's a big guy here from Palau (he lives in Dallas !).
Pakistan is back in the mix. We get to see the long awaited return of their great champion, Mohammed Inam (90kg).
So, we can see the lines being drawn in the sand (pun intended). Those powerhouse nations are doing what it takes to stay in command. Those just trickling in will need to put in some miles to demonstrate their legitimacy.
As Americans, we find ourselves somewhere in between. We have made it abundantly clear that our individual athletes can go with anyone on the planet. Consistency and longevity haunt us.
With so many World Series events hosted in Europe, those 'Powerhouse' countries ride the train or a bus. It's a long, expensive flight for each American to attend any single event.
Ironically, the Europeans keep asking when we're going to host a World Series event in the States. What they don't realize is that, too, is an expensive proposition. The countries that host (what seems like a lot of) international events for UWW get forms of government support that we, as Americans, don't see in amateur sport.
The third World Series '23 event is in France at the end of the month. Romania hosts event number four, along with age group World Championships, in September. The World Series Finale is in Sarigerme, Turkey in October.
It'll be interesting to see how the ANOC selection committee will distribute the 'Wild Card' invitations. The Bali Games will have exactly ten athletes per weight. Eight of those will fill spots qualified by their nation over five events. As host, Indonesia gets one entry per weight. The tenth spot will be an athlete who missed that top eight qualifying bar.
There are a ton of possible algorithms in that selection process. I believe it's safe to speculate that those selections will offer balance and breadth to the field, from a cultural / geographic view.
On a bright note… Standing in the hotel lobby this afternoon, I looked up to see a familiar face. Zach Errett walked in. Zach, from Indiana, serves United World Wrestling as Instructor for the Education department. He's been in Singapore a week, conducting a clinic for the southwest Pacific region. He'll be on hand for our beach competition tomorrow and Sunday.
Wrestling makes the world small !
Ciao
WEDNESDAY, JUNE 7: Singapore hosts finale for WBG Bali qualifying.


FINAL X is big ! As Olympic Style Wrestling 'Beats the Streets" of Newark this weekend it seems like most of us will be there. Eight of us won't.
The emerging sibling of the Olympic Styles… Beach Wrestling… will gather in Singapore for the biggest showdown of this quadrennium. The finale of five qualifying events will define the field for the ANOC Beach Games, later this summer in Bali, Indonesia.
Those nine include myself, Athletic Trainer Jenna Jackson, Referee Tim Condit, and five Athletes… all ranked in the top ten globally.
That "Top Ten" thing looms large. Singapore is the last of five qualifying events for the Beach Games… Three last summer, Buenos Aires in May, and this weekend. On Monday everyone will know which nations are represented by the Top Eight point earners.
Those eight nations will have the right to enter one athlete in the Games. Games is capitalized for just the reason you think. The Association of National Olympic Committees is a branch of the IOC. Being recognized as a core sport in the first two Beach Games (Bali '23 and Doha '19) bumps Beach Wrestling up, in the conversation about core menus for future Olympic Games.
Gary Abbott, USA Wrestling's Director of Communication, knows Beach Wrestling well. Gary's been with the idea since its inception in 2005. Gary and I have both been crunching the numbers and calculating the 'What If's' for our five Americans.
I have it in me to share my calculations, based on what Gary helped me learn about Singapore's tentative entries. But… I think I won't.
I just caught myself in one of those Coaching Conundrums we all get into… Overthinking outcomes and loosing focus on process. The real deal is simple. Our athletes have poured their hearts into preparation. They've all sacrificed significant time, travel, and finance to reach this point. They're all lodged in the middle of that Top Eight.
We need to wrestle well !
Mitchell Cook, Men's 70kg is ranked sixth. Ty Loethen sits seventh at Men's 80kg.
On the Women's side, both Laura White and Isabeau Shalack hold down sixth place rankings at 50kg and +70kg respectively. Mia Macaluso holds the highest current American spot, fifth at 60kg.
I anticipate at least 29 nations to compete, based on preliminary entries. Many are relative newcomers, many from the south Pacific region, just entering the Beach Wrestling arena.
Then there are the mainstays, the notables, the superpowers. Georgia only competes on the men's side, but they are dominant. They're fielding six men at four weights. Turkey also brought a strong men's team, while Azerbaijan only brought their studs.
Romania, Ukraine, and Greece bring more gender balance. All three typically put men in the medals. Romania and Ukraine have dominated the women's side over recent years.
The point system shows some really flashy Big Numbers for individual performance. Top ranked athletes show point totals in the tens of thousands, amassed over the long haul.
So, Team America needs to follow the pattern familiar to scholastic fans. Bonus points matter. Shut outs are key. We have to accrue our own points while denying our opponents.
We have to dominate our pools and get into the medal mix. Beach Wrestling only medals three, but pays point bonuses all the way down to 24th.
I'm just gonna' stay with simplicity. We need to wrestle well.
FloWrestling is covering the Singapore event live. Those of you at age group duals, those in Jersey, those watching it all from home… give Beach Wrestling a look. You can replay bouts, so you don't have to be up at dark-thirty.
You're gonna' like what you see !
Ciao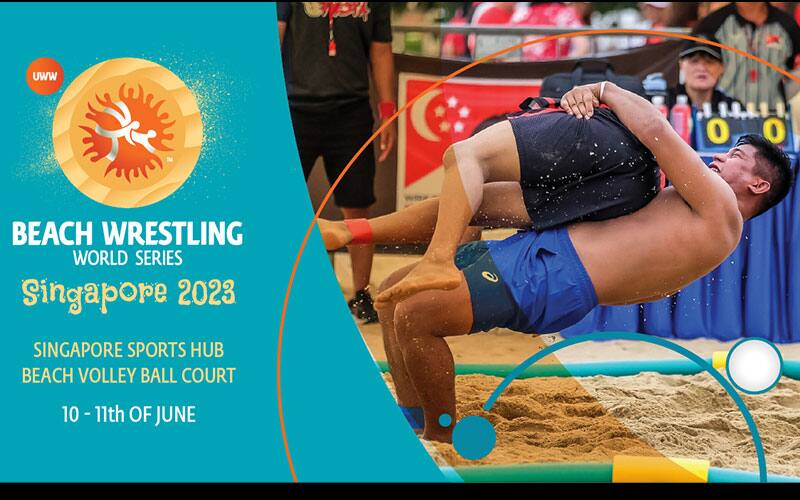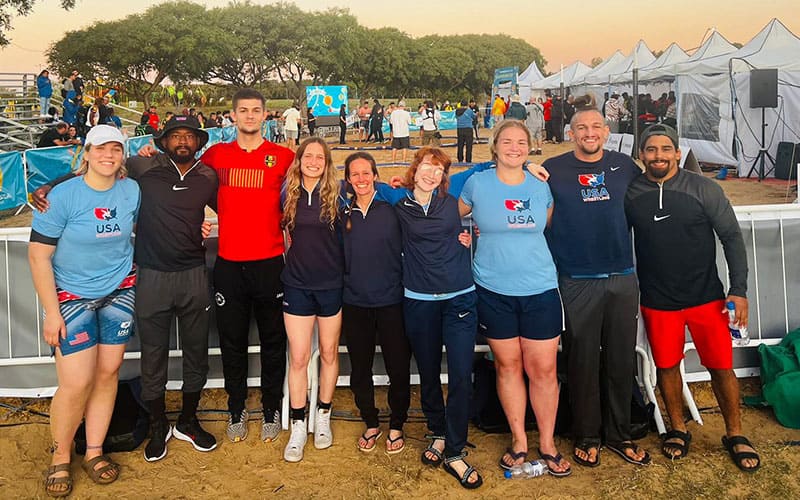 Members of the U.S. Beach Wrestling Delegation, Buenos Aires, Argentina (Photo by a kind observer)
TUESDAY, MAY 9… After an evening of decompression (Athletes experiencing Buenos Aires culture… Old Guy sleeping a full night), we all agreed there's only one question, "Where do we go from here?"
For our point leaders the answer is simple. We go to Carolina Beach in two weeks and Singapore in five. We feel like U.S. athletes held position… maybe gained a spot… as the qualifiers for the World Beach Games in Bali identify themselves.
The powerhouse Beach nations make themselves known. Georgia absolutely dominates the men's side. Romania and Greece hold ground with both their men and women. France has stepped up their game, which is a real positive with the Paris Games 14 months out.
Japan had a couple of entries here, and a medalist. I look to the possibility of young Mr. Abe earning a wild card spot. This would effectively entice more Japanese entries, along with other Asian powers exploring the sand.
I was surprised in two ways. First, Ukraine was not in Buenos Aires. I know… their country is at war. However, that fact did little to diminish their strong performance through the summer of '22. Ukraine has s few athletes ranked highly enough they may hold position without a Singapore appearance.
The second surprise was the impressive performance by our Latin American and Caribbean neighbors. On both women's and men's sides, we saw some fabulous individual performances. Having been absent last summer, I don't know if any can crack that top eight for Bali. But, I do see some wild card appearances happening which will lend credence to the notion of global representation.
While rather young in years, our American Beach Wrestlers come off as seasoned. These adventurer/competitors clearly understand the struggle necessary to legitimize a 'Developing' style. They do not shy away from paying the personal dues required of 'Pioneers'.
They also display an impressive sense of leadership. We began work, this weekend, in convening a couple of Athlete-Directed ad hoc committees that may help USA Wrestling pave a pathway to international prowess.
That's it for this chapter. Thanks for playing along! Thanks to Gary and Richard for allowing me the space to add some color to result.
Eva and I will re-settle for our summer in Slovenia at the beginning of June. So, I'll travel to Singapore from there. I look forward to thinking of you… and writing to prove it!
Ciao
MONDAY, MAY 8
… The athletes representing our country at this 2023 kick off to the Beach World Series are good… I mean Really Good ! We are still taking our lumps, but we're competitive.
This doesn't reap a bunch of medals… YET… but it's allowing us to see more of the problems and begin mapping a pathway to solutions. With the native talent these young heroes bring to the table, along with their individual and collective drive for excellence, the road signs in that mapping process are coming into focus.
We kicked around a few ideas during our mid-day break. I'll summarize those for you as I close out this blog over the next couple of days.
Right now, I'm going to shift my attention to helping Gary Abbott (USAW Director of Communication). Gary is trying feverishly to get you results. Some technical glitch in the UWW stream failed this afternoon, hence nobody can see results.
So, I've listed what I think are close to accurate below. That is a disclaimer, as I have no access either. I only wrote out American results, so I'm operating from an old guy's memory, clouded by fatigue.
Please, reader, verify my results against those in beachwrestling.org as soon as it comes back to life.
I know Gary will clean up my errors, too. He will get his full record up as quickly as the system allows.
Women's Medal Results:
50kg Gold Stefania PRICEPUTU, Romania; Silver Naiyelliz GUTIERREZ, Venezuela; Bronze Maia CABRERA, Argentina; U.S. Emma Lauter DNP; Laura White DNP
60kg Gold Karla ACOSTA MARTINEZ, Mexico; Silver Elena IONESCU, Romania; Venezuela; Bronze Betzabeth AGUELLO VILLEGAS, Venezuela; U.S. Mia Macaluso DNP
70kg Gold Paula MONTOYA GARCIA, Colombia Silver Viktoria FELHO, Hungary ; Bronze Astrid MONTERO CHIRINOS, Colombia; U.S. No Entry
+70kg Gold Tatiana RENTERIA, Colombia; Silver Linda MACHUCA, Argentina; Bronze Genesis REASCO VALDEZ, Ecuador; U.S. Eliana BOMMARITO 4th
Men's Medal Results:
70kg Gold Stefan COMAN, Romania; Silver Levan KELEKHSASHVILI, Georgia; Bronze Yunis COSKUN, Turkey; U.S. No Entry
80kg Gold Nika KENCHADZE, Georgia; Silver Hirotaka ABA, Japan; Bronze Steven RODRIGUEZ TORREYES, Venezuela; U.S. Jamal MORRIS 4th; Latrell Davis DNP; Ty LOETHEN DNP
90kg Gold Dato PIRUZASHVILI, Georgia; Silver Mahmut OZKAYA, Turkey; Bronze David KUTSISHVILI, Georgia; U.S. No Entry
+90kg Gold Mamuka KORDZAIA, Georgia; Silver Fahti YASARLI, Turkey; Bronze Jose DIAZ ROBERTI; U.S. No Entry
Once again, please double check these results when you can.
Ciao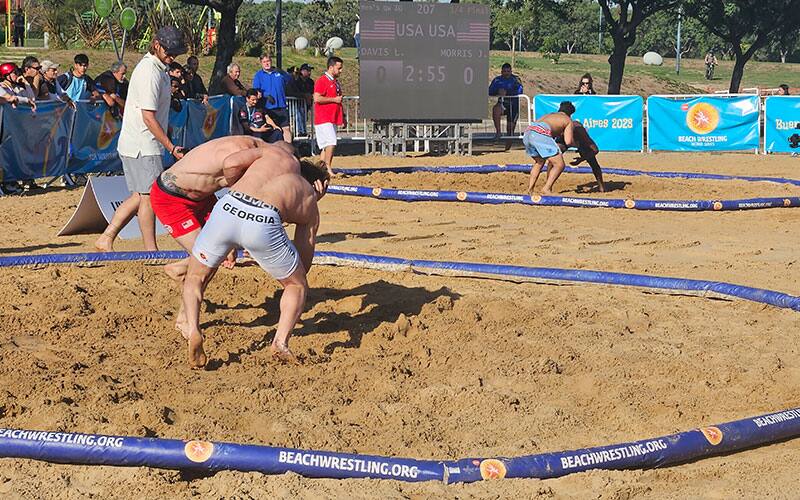 The U.S. Team fielded three entries at 80kg in the Buenos Aires World Series Beach event. All three appeared in Monday's quarter finals. Ty Loethen appears in the near ring vs the eventual champion, while Latrell Davis and Jamal Morris square of in the far ring. (Photo by Rusty Davidson)

SUNDAY, MAY 7: – U.S. Men have a great outing, Bommarito tops among women
Like most wrestling days, this one had its up and downs. Like most Beach Wrestling days, it all happened in a beautiful venue among many of the world's finest young people.
Our women had a tough go. Only Michigan's Eliana Bommarito was able to chalk up a win… and she had two of them. A newcomer to the Beach World Series, Bommarito was dominant in both rounds, defeating opponents from Venezuela and France.
Our men, though, had a great outing. The only blemish came in a hard-fought, one point loss. U.S. entries include Latrell Davis, Ty Loethen and Jamal Morris/ All three compete in the 80kg weight class.
I have plenty of editorial 'Comment', but they're simply gonna' have to wait. I have to get this to USA Wrestling and catch a bus.
We have plenty more opportunity in the pool system, as competition finishes tomorrow (Monday). Go USA!
Ciao
Sunday's U.S. Results from Buenos Aires:
AM SESSION Women, 50kg, Laura White lost to Bianka RESCI, Hungary 0-3
Emma Lauter lost to Patricia SOSA, Argentina 0-3
60kg Mia Macaluso lost to Aurore CABANNE, France 1-3
+70kg Isabeau Shalack lost to Catalina Axente, Romania 0-2
+70kg Eliana Bommarito def Soleymi CARABALLO, Venezuela 3-0
Men, 80kg Latrell Davis def Lautaro SEGHESSO, Argentina 3-0
Jamal Morris def Pablo GARCIA, Spain 3-1
Ty Loethen def Ewan LEPRINCE,
PM SESSION… Women, 50kg, Laura White lost to Yusneiry AGRAZAL WEST, Panama 0-3
Emma Lauter lost to Stefania PRICIPUTU, Romania 0-3
60kg Mia Macaluso lost to Nez Marie RODRIGUEZ TIRADO 1-3
+70kg Isabeau Shalack lost to Genesis REASO VALDEZ, Ecuador 0-4
+70kg Eliana Bommarito def Angeliqie GONZALES, France 3-0
Men, 80kg Latrell Davis lost to Maxim VASILIOGLO, Romania 0-1
Jamal Morris def Steven RODRIGUEZ TORREYES, Venezuela 0-0
Ty Loethen def Enrique PEREZ CASTELLANOS, Guatemala 3-0x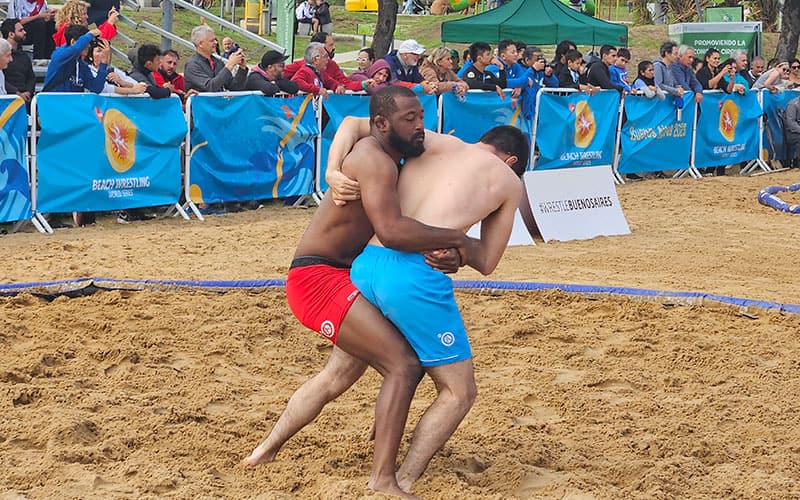 PHOTO: Jamal Morris, USA, loads up Spain's Pablo Garcia during first round action in Buenos Aires (Photo by Rusty Davidson)
SATURDAY, MAY 6: Buenos Aires is important qualifier for World Beach Games


Our flight SHOULD be landing in Buenos Aires in just a few minutes. Yet, here I sit in Houston. The skies were not so friendly. A mechanical delay postponed our 7:30 departure, last night, until 8:00 this morning.
I'm with Ty Loethen (80kg, Missouri) and Isabeau Shalack (+70kg, Colorado Mesa University). Best we can tell, everyone else is either in Argentina or getting close. That everyone includes Laura White (50 kg), Emma Lauter (50kg), Mia Macaluso (60kg), Eliana Bommarito (+70kg), Jamal Morris (80kg), and LaTrell Davis (80kg).
I mentioned our urgency in qualifying weight classes for the ANOC World Beach Games Games in Bali. It's a bit of a complicated algorithm, but the basics are these. The Games will include eight categories, four women, four men. They will feature 10 person brackets. Based on point accumulation from three events last summer, plus two this spring, there will be eight automatic qualifiers per weight. The host nation, Indonesia adds one and there will be one "Wild Card" per weight invited.
Of the Americans competing this weekend, five are ranked within striking distance. Morris (14) and Loethen (10) hope to improve their odds at 80kg. On the women's side, both White and Shalack are currently ranked seventh, at 50kg and +70kg respectively. Macaluso sits at fifth in the 60kg category. As I mentioned yesterday, we have a lot of chips on the table.
It'll be interesting to see which of the European 'Big Guns' show up in Buenos Aires. As the majority of Beach competition is hosted in European settings, they are used to us paying the price of intercontinental travel. Their airfares to Argentina are, at least, similar to ours. Except in rare circumstances, U.S. Beach athletes, coaches, referees, leaders are self-funded.
So… we're gonna' try this friendly skies thing one more time. If the next part works, we'll get into Buenos Aires tonight. We'll sleep fast, weigh in early tomorrow and commence rollin' those dice !
Ciao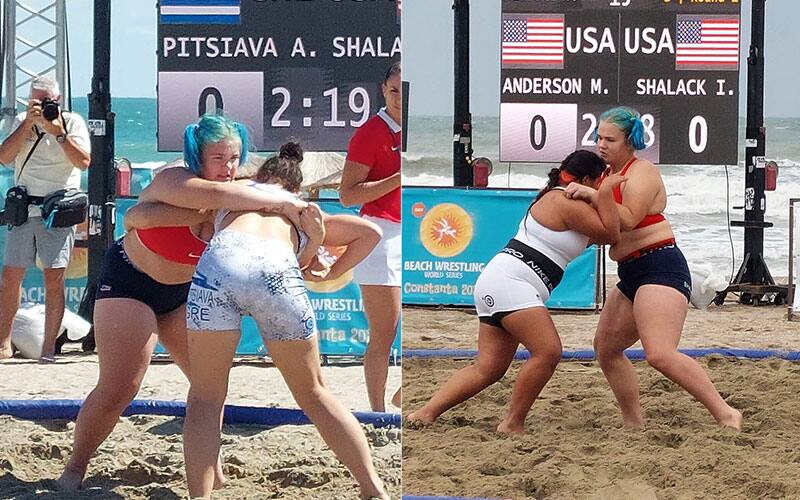 PHOTO: Isabeau Shalack is currently ranked 7th in the qualifying race for this summer's ANOC World Beach Games. (Cheryl Baynard photos, courtesy of Colorado Mesa Athletics)

FRIDAY, MAY 5… Heading to Argentina for first 2023 World Series event


I am born and bred New Mexican so I have to start with "Viva Cinco de Mayo!" That being said, victory at the Battle of Puebla is far from the biggest reason I'm celebrating today.
It's Beach Wrestling Season ! After a great winter of scholastic competition and some fabulous Olympic styles events this spring, we get to commence visiting some gorgeous seaside venues and scrap in the sand.
I'm on my way to Buenos Aires to kick off United World Wrestling's 2023 edition of the World Series of Beach Wrestling. I'll meet up in Houston with many of America's premier beach performers, then fly through the night.
Over the next month, USA Wrestling's Beach contingent will put some serious chips on the table. Qualifying for August's World Beach Games, sanctioned by the Association of National Olympic Committees (ANOC) finalizes mid-June. The Argentine event, followed by Singapore, are do or die for top ranked Senior competitors from the 2022 campaign.
I'll be introducing you to those key American contributors over the next couple of days. I will also walk you through the qualification process they are up against. Needless to say, the United States faces some fabulous athletes from other continents.
Another key component to American success is our upcoming Beach National Championship. Scheduled for May 19th and 20th in beautiful Carolina Beach, NC, our national championship produces World Teams in our 17U and 20U age groups.
Seniors competing in Carolina Beach stand a chance to challenge for our earned spots at the ANOC Games in Bali, Indonesia, early August. Those younger age groups represent our nation in UWW's World Championship, Constanta, Romania, early September.
Boarding… gotta' run. Before I go, let me congratulate our Greco guys for their Pan-American performance. Our early performances in Women's Freestyle speak for themselves. I wish the best for the back half of our female performers, along with the front half of our Men's Freestylers tonight.
GO USA !!!
Ciao.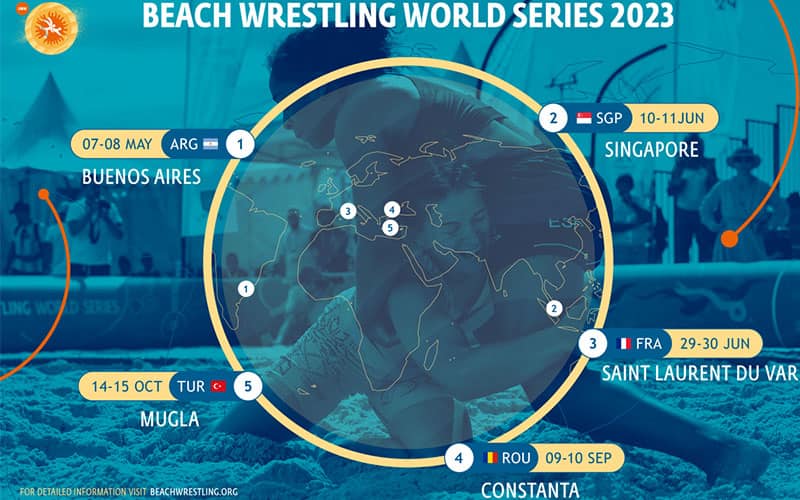 World Series Events Landscape 2023 (Courtesy United World Wrestling)