News
USA Wrestling
International
College
Women
Beach
USAW
USA Wrestling forming Senior men & women teams for Beach World Series in Argentina, May 7-8 & Singapore, June 10-11
by Gary Abbott, USA Wrestling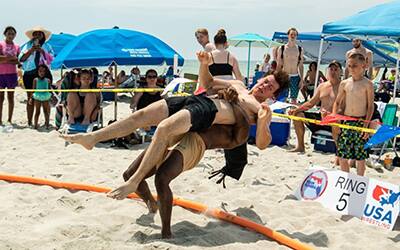 Jabari Irons tosses an opponent at the 2022 U.S. Beach Nationals. Photo by Robbert Wijtman
.
It's international Beach Wrestling season, and USA Wrestling is putting together
Senior man's and women's teams
to compete in
United World Wrestling's Beach World Series
.
Currently, the U.S. teams for the first two Beach World Series events are being formed, with competition in
Buenos Aires, Argentina, May 7-8 and Singapore, June 10-11
.
United World Wrestling has indicated that it is pursuing Beach Wrestling as a possible future discipline in the Olympic Games.
Athletes seeking to compete in these first two Beach World Series events must immediately contact Jaimie McNab of USA Wrestling at jmcnab@usawrestling.org.

Deadlines for U.S. participants are coming up fast.
The drop-dead deadline for the U.S. athletes to compete in Buenos Aires, Argentina is April 5.The deadline for the U.S. athletes to compete in Singapore is May 6
.
In order to compete, a wrestler needs a current United World Wrestling license, which takes between 3-7 business days to process. USA Wrestling will immediately need the following from Beach Wrestling athletes:
1. PDF of the picture page of your passport
2. JPG headshot – straight on, neutral background
3. Completed 2023 UWW medical formed signed by both a medical professional and the athlete
4. Payment – a Visa or Mastercard that has been cleared with the issuer for a 110CHF charge from UWW
Note: Once payment has been made it takes about a day for the license to get validated.
Competing in the Beach World Series is a self-funded tour, with expenses covered by the athlete or their club.
The weight classes are Men (70 kg, 80 kg, 90 kg, Over 90 kg) and Women (50 kg, 60 kg, 70 kg, Over 70 kg),
USA Wrestling will provide the approved Beach Wrestling uniform and will work with each athlete on this immediately upon their registration for a Beach World Series event.
The United States is allowed three athletes in each weight class at a Beach World Series event.
If more than three athletes request to compete at a specific weight class, the criteria for selection will include past medalist at a Beach World Series event, placement at the 2022 U.S. Beach Nationals, participation in past Beach World Series events, placement in the U.S. Beach Nationals in 2021 and before and success in USA Wrestling competitions in other wrestling disciplines.
The first two stops of the World Series are also qualifying events for the ANOC World Beach Games, which take place in Bali in August with Beach Wrestling being a core event at the Games.
UWW has put prize money of 1000CHF for the gold medalists, 500CHF for silver medalists and 250CHF for the bronze medalists as well as the 'Top Technique' award for the best move over the weekend, voted for by the fans via the World Series' official Instagram page, which sees the winners take home 1000CHF for each gender.
USA Wrestling is also accepting requests for athletes to compete in the final three Beach World Series events in France in late June, Romania in early September and Turkey in mid-October. Please let Jaimie McNab know if you have an interest in competing in one of the final three Beach World Series events.
Beach Wrestling World Series 2023
07-08 May - Buenos Aires (ARG) – Olympic Training Center **
10-11 June - Singapore (SGP) – Singapore Sports Hub **
29-30 June - Saint Laurent du Var (FRA) – Cousteau Beach
09-10 September - Constanta (ROU) – Neversea Beach
14-15 October - Mugla (TUR) – Sarigerme Beach
** - Final two qualifiers for the World Beach Games in Bali
Information on UWW Beach World Series