Tricia Saunders High School Excellence — Kira Pipkins
by National Wrestling Hall of Fame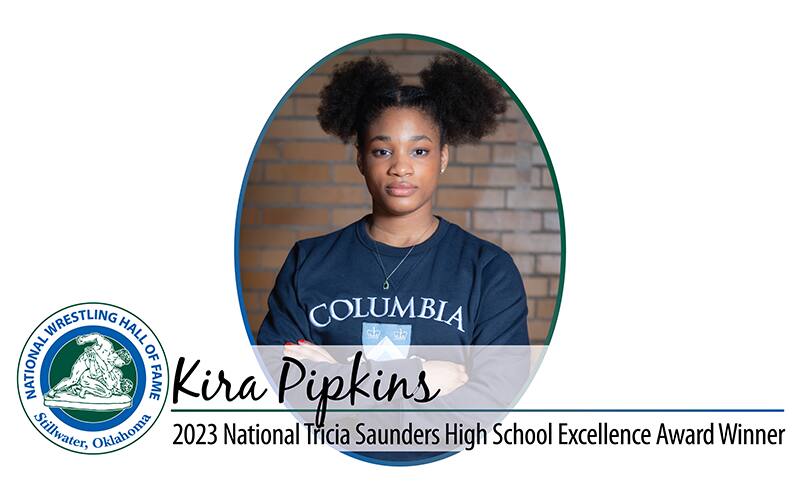 The daughter of Robert and Shantale Pipkins, Kira Pipkins will continue her wrestling career at Columbia University.
Pipkins became the first female wrestler, and the fifth wrestler overall, to be a four-time New Jersey state champion while also becoming the first female wrestler in New Jersey history to reach 100 career wins (106-9). She was named the NJ.com Girls Wrestler of the Year and the New Jersey State Interscholastic Athletic Association Most Outstanding Wrestler.
Pipkins was team captain of both the BHS boys team and the girls team from 2021-23, and received both the BHS Most Valuable Wrestler award and BHS Wrestling Scholar-Athlete award four years in a row.
Pipkins gave motivational speeches to youth groups, painted murals in BHS hallways, participated in park cleanups, and produced art for senior citizens through the BHS on the Corona Homefront. She also volunteered at Unitarian Universalist Congregation at Montclair and the Montclair Emergency Services for Hope while spending time with senior citizens at nursing homes and collecting and donating to canned food drives and food pantries.
An entrepreneur, she owns and operates art, personal training and babysitting businesses.
Pipkins is a member of the National Honor Society, Mu Alpha Theta Math National Honor Society, Science National Honor Society, and the World Language Honor Society. She received the College Board African-American Recognition Award in 2022 and is a multiple recipient of the Bengal Pride High Honor Roll Award.