Team USA celebrates one year to the 2024 Olympic Games by inviting fans to make their mark in support of America's Olympians
by United States Olympic & Paralympic Committee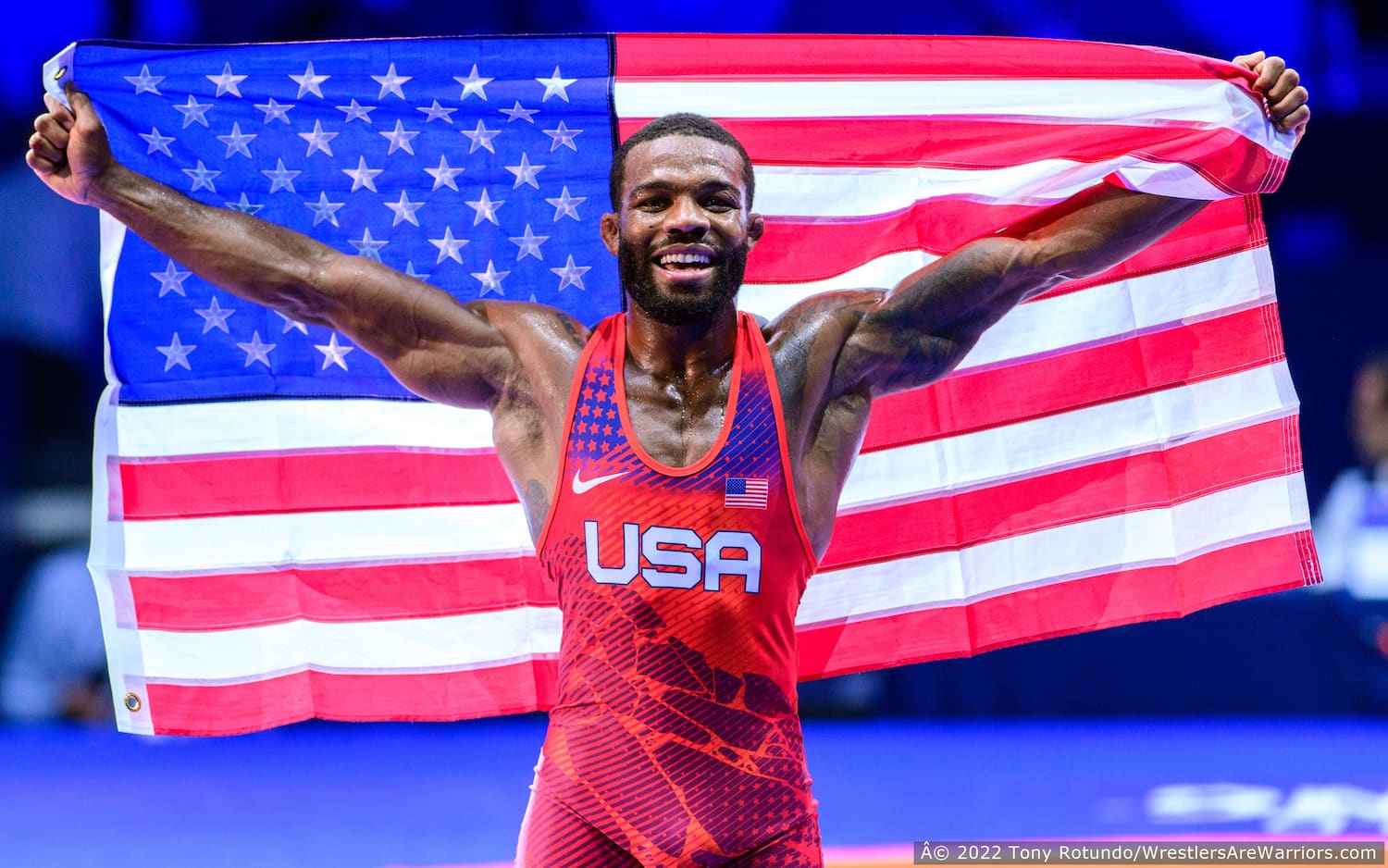 Photo: Jordan Burroughs holds the U.S. flag. (Tony Rotundo/WrestlersAreWarriors.com)
COLORADO SPRINGS, Colo. – The United States Olympic & Paralympic Committee today launched its one-year countdown to the Olympic and Paralympic Games Paris 2024 by inviting fans around the nation to make their mark for Team USA. Inspired by the tradition of many Olympians and Paralympians commemorating their Games experience with a tattoo, Team USA is giving fans the opportunity to take part in the ritual by giving away hundreds of custom, Team USA-inspired tattoos. Fans across the country can visit teamusa.com/roadtoparis to sign up for a chance to win their free Team USA tattoo from July 26 through Aug. 31.

Getting a tattoo of the Olympic Rings and the Paralympic Agitos at the conclusion of a Games cycle is a symbol of pride and a badge of honor for athletes who have represented their country on the world stage. To celebrate the one-year-out milestone to Paris 2024, Team USA is giving fans across the United States the opportunity to show their support for Olympic and Paralympic hopefuls looking to make the Team USA roster.

Hundreds of exclusive, made-to-fade Team USA tattoos have been created, and will be given away across the country, as a fun and powerful gesture to show unwavering support, boundless love and deep admiration for the sacrifices and commitment these remarkable individuals have made to proudly represent the U.S. in the highly anticipated Paris 2024 Games. However, just as the Olympic and Paralympic flame will fade at the Closing Ceremony, these special tattoos are specially designed to also fade as Paris 2024 draws to a close, just in time for the athletes of Team USA to don permanent ink to commemorate their journey.

To celebrate the start of the Road to Paris today in New York, Team USA is inviting fans to join the party at Ephemeral Tattoo in Brooklyn (89 Grand Street) from 4-11 p.m. ET. Fans in the New York-area can choose from 10 designs and be among the first to get inked on a "first-come, first-served" basis and meet Team USA athletes and tattoo enthusiasts such as:

· Jordan Burroughs, wrestling, Olympic gold medalist
· Sunny Choi, breaking, Olympic hopeful
· Kym Crosby, para track and field, three-time Paralympic bronze medalist
· Jagger Eaton, skateboarding, Olympic bronze medalist
· Carlin Isles, rugby, Olympian
· Trevon Jenifer, wheelchair basketball, two-time Paralympic gold medalist
· Steele Johnson, diving, Olympic silver medalist
· Steve Serio, wheelchair basketball, two-time Paralympic gold medalist

"Tattoos, much like sport, offer freedom of self-expression, and my tattoos not only hold significant meaning but also speak to my style as an artist as well as an athlete," said Burroughs. "This celebration is an incredible opportunity to engage Team USA fans in an authentic, fun way as we all make our mark on Team USA."

Team USA will also celebrate the official one-year countdown to the Paralympic Games on Monday, Aug. 28, with a special fan event at Ephemeral Tattoo in Los Angeles (131 N La Brea Avenue), where fans in the LA-area who didn't get a chance to claim their free Team USA-inspired tattoo will have another opportunity at the "first-come, first-served" event, featuring live music and special appearances by Team USA athletes and tattoo aficionados.

"To me and a lot of my fellow Team USA athletes, tattoos are a powerful form of self-expression and a marker of strength, individuality and artistry," said Crosby. "We're inviting fans to join Team USA on the Road to Paris by getting their own ink and following along as we prepare for Paris 2024."

The one-year countdown marks a major milestone to Paris 2024 as Team USA continues to secure qualification spots across disciplines and athletes kick their training into high gear in hopes of earning a spot on the Team USA roster over the course of the next year. Paris 2024 is the first Olympic and Paralympic Games that U.S. supporters will have the opportunity to attend since PyeongChang 2018.

The Games will also mark the 100th anniversary of Paris 1924 and the third time the famed city has hosted the Olympic Games (1900 and 1924), making it only the second city to host a summer Olympic Games three times. Additionally, Paris 2024 marks the debut of the new Olympic sport breaking, as well as the return of high-intensity, fast-paced Paralympic sports such as wheelchair rugby and wheelchair basketball.

About the USOPC
Founded in 1894 and headquartered in Colorado Springs, Colorado, the United States Olympic & Paralympic Committee serves as both the National Olympic Committee and National Paralympic Committee for the United States. The USOPC is focused on protecting, supporting and empowering America's athletes, and is responsible for fielding U.S. teams for the Olympic, Paralympic, Youth Olympic, Pan American and Parapan American Games, and serving as the steward of the Olympic and Paralympic movements in the U.S. For more information, visit TeamUSA.com.

Unlike most National Olympic and Paralympic Committees, the USOPC does not receive federal funding for its Olympic or Paralympic programs. Instead, the USOPC relies on the generosity of the American public to help U.S. athletes remain competitive with the rest of the world via the Team USA Fund.