News
USA Wrestling
International
USAW
Hafizov claims silver medal in Greco-Roman at German Grand Prix in Dortmund
by Gary Abbott, USA Wrestling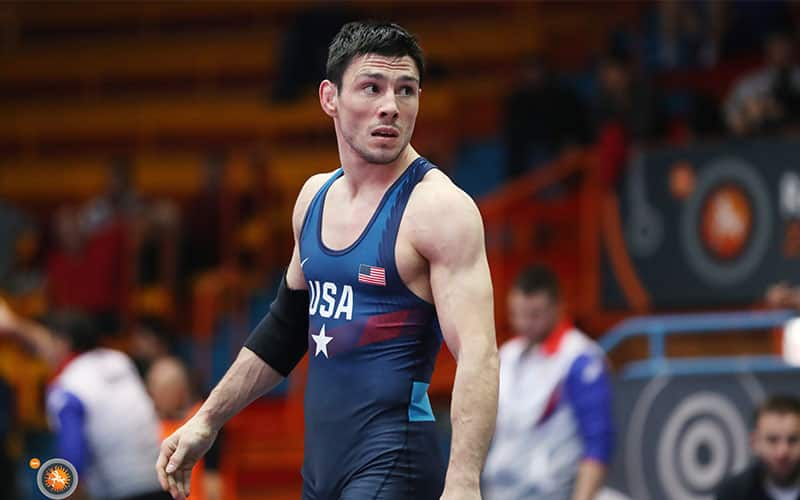 Ildar Hafizov (USA) looks back in this competition portrait. United World Wrestling photo.
DORTMUND, Germany –2020 U.S. Olympian and 2023 Senior World Team member
Ildar Hafizov
captured a silver medal at 60 kg in the respected
German Grand Prix
of Greco-Roman today.
In the championship finals, Hafizov was defeated by 2018 and 2022 World bronze medalist Aidos Sultangali of Kazakhstan, 9-0.
Hafizov won a pair of bouts on Saturday to qualify for today's finals. He opened his day with a 5-1 win over two-time French Senior World Team member Leo Tusezca in the quarterfinals.In the semifinals. Hafizov put away Nikolai Mohammadi of Denmark in a 9-0 technical fall.
Next up for Hafizov is the Senior World Championships in Belgrade, Serbia in September.
Three other U.S. athletes competed on Saturday and dropped their opening matches: Payton Jacobson (82 kg), Senior National Team member Cade Lautt (97 kg) and Courtney Freeman (130 kg). None qualified for repechage.
Jacobson and Freeman placed ninth in their weight class, while Lautt fell out of the top 10.
With just four entries, the
United States
placed in a tie for 16th place with five points.
Ukraine
won the team title, followed by
Kazakhstan
and host
Germany
.
GRAND PRIX OF GERMANY
at Dortmund, Germany, Aug 12-13

Greco-Roman medalists
55 kg
Gold – Nikita Dementiev (Ukraine)
Silver – Marlan Mukashev (Kazakhstan)
Bronze – Korium Sahradian (Ukraine)
60 kg
Gold – Aidos Sultangali (Kazakhstan)
Silver -Ildar Hafizov (United States)
Bronze – Christopher Krämer (Germany)
Bronze – Leo Tudezca (France)
63 kg
Gold – Stefan Clement (France)
Silver – Kenichiro Fumita (Japan)
Bronze - Enes Basar (Turkey)
Bronze – Mairbek Salimov (Poland)
67 kg
Gold -Kyotaro Sogabe (Japan)
Silver – Kristupas Sleiva (Lithuania)
Bronze – Havard Joergensen (Norway)
Bronze -Meiirzhan Shermakhanbet (Kazakhstan)
72 kg
Gold - Parviz Nasibov (Ukraine)
Silver – Vilius Savickas (Lithuania)
Bronze - Michael Portmann (Switzerland)
Bronze – Ibragim Magomadov (Kazakhstan)
77 kg
Gold - Viktor Nemes (Serbia)
Silver – Nao Kusaka (Japan)
Bronze – Demeu Zhadrayev (Kazakhstan)
Bronze – Demi Nakaev (Germany)
82 kg
Gold - Burhan Akbudak (Turkey)
Silver – Filip Sacic (Croatia)
Bronze – Zakarias Berg (Sweden)
Bronze – Michael Wagner (Austria)
87 kg
Gold - Alex Kessidis (Sweden)
Silver – Masato Sumi (Japan)
Bronze – Marcel Sterkenburg (Netherlands)
Bronze – Yaroslav Filchakov (Ukraine)
97 kg
Gold - Markus Ragginger (Austria)
Silver - Felix Baldauf (Norway)
Bronze – Peter Öhler (Germany)
Bronze – Serhii Omelin (Ukraine)
130 kg
Gold – Yasmani Acosta Fernandez (Chile)
Silver – Jello Krahmer (Germany)
Bronze – Delian Alishahi (Switzerland)
Bronze – Alimkhan Syzdykov (Kazakhstan)
U.S. Greco-Roman results
60 kg: Ildar Hafizov, Colorado Springs, Colo. (Army WCAP), Silver Medal
WIN Leo Tusezca (France), 5-1
WIN Nikolai Mohammadi (Denmark), tech fall 9-0
LOSS Aidos Sultangali (Kazakhstan), 7-0
82 kg: Payton Jacobson, Elkhorn, Wis. (Sunkist Kids), 9th place
LOSS Otto Ketonen (Finland), 3-1
97 kg: Cade Lautt, Olathe, Kansas (Tarheel WC), dnp/19th
LOSS Artiom Shumski (Poland), tech fall 8-0
130 kg: Courtney Freeman, Richlands, N.C. (U.S. Marine Corps), 9th place
LOSS Mykhailo Vyshnyvetski (Ukraine), tech fall 13-4
Top 10 teams
1. Ukraine, 27
2. Kazakhstan, 27
3. Germany, 26
4. Japan, 21
5. France, 14
6. Sweden, 12
7. Poland, 12
8. Turkey, 10
9. Austria, 10
10. Lithuania, 10
USA placed in tie for 16th, 5 points
(of 23 nations)