News
USA Wrestling
High School & Youth
USAW
Numerous returning champs roll in first day of USMC Junior men's freestyle national championships
by Jason Bryant, Special to TheMat.com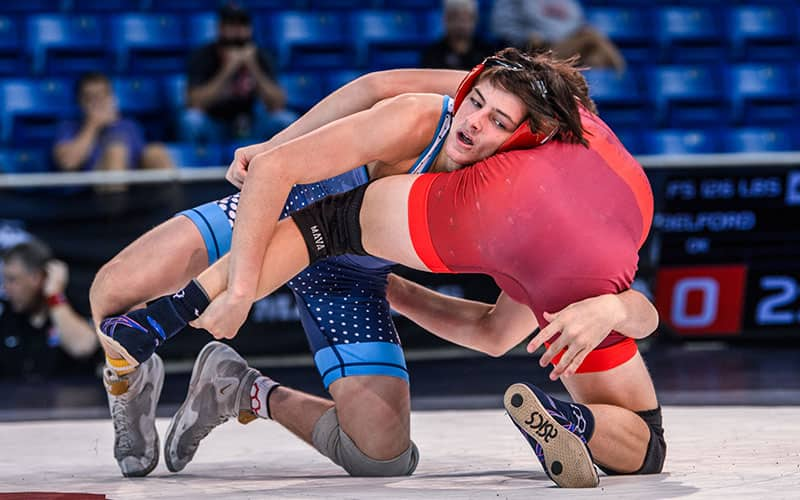 Jax Forrest of Pennsylvania scores a takedown at the 2023 USMC Junior Freestyle Nationals. Photo by Tony Rotundo, Wrestlers Are Warriors
.
Fargo, North Dakota – A record 1,596 entries started off Monday with a quest to win one of the 15 championships on the line at the
2023 USMC Junior Men's Freestyle National Championships
at the Fargodome in Fargo, North Dakota.
At the end of the first day of the Junior men's division, seven past freestyle champions remain looking for another title. From a numbers perspective, the record entries have created some gargantuan brackets. Ten of the 15 Junior weights have over 100 entries with the largest, 160 pounds, containing 141 entries.
Of the eight former Junior men's freestyle champions in the field, only 2021 champion
Zane Donley
was picked off in the first day of action. Donley, a champion at 100 pounds two years ago, fell in the Round of 64 to Florida's Elijah Lowe 8-7 at 120 pounds.
South Carolina's
Jermaine Peace
topped 2022 Junior Greco-Roman champion Anthony Ruzic of Illinois 15-4 in the Round of 128. Peace followed that win up with a fall over Ohio's Jadon Gyon.
Maryland's
Tyler Garvin,
last year's champion at 100 pounds, didn't compete on the first day at 106 pounds as he had a bye in the Round of 64. He will face Florida's Roderick Brown in the Round of 32. Brown opened with an 11-0 win over Arizona's Kyler Tellez.
Saxton Scott
of Idaho, who is in the mix for a Junior Triple Crown, had a first-round bye and will face Ohio's Nicholas Lawrensen to start Tuesday's action. Another Triple Crown threat,
Ezekiel Witt
of Kansas, also had a bye and will face Indiana's Tyler Tun in the Round of 32.
Haakon Peterson
, last year's 16U champion in both styles at 94 pounds, opened with a 10-0 tech over California's Ryan Garcia.
Mack Mauger
of Idaho opened up with two quick techs to end his first day of competition at 113 pounds. A four-time champion already in Fargo, Mauger won both styles last year at 106 pounds.
At 126 pounds, returning runner-up
Kolter Burton
won his first two bouts to reach the second day, but it wasn't completely unscathed. In Burton's opening-round bout against Oklahoma's Jayce Caviness, Burton fell behind early twice in the first period and ended up winning a wild 20-14 decision. Burton placed in three of four tournaments last year.
Pennsylvania's
Jax Forrest
, a double All-American last year while representing North Carolina, is also in the top half of the bracket with Burton.
At 138 pounds, Iowa's
Ryder Block
opened with a pin and a tech to reach the Round of 32. Block will face North Dakota's Koye Grebel to start action on Tuesday.
At 145 pounds, Illinois'
Kannon Webster
won a pair of matches by technical fall in a total combined time of 2:46. He'll face Indiana's Wyatt Krejsa to open Tuesday's action. At 152 pounds, Oklahoma's
Kody Routledge
picked up two techs to start his tournament. Routledge was last year's 16U champion at 145 pounds. North Dakota's
Leandro Araujo
will face Pennsylvania's Devon Magro in the Round of 32. Araujo is a Triple Crown possibility.
Thor Michaelson
of Washington won a pair of bouts to start his tournament at 160 pounds. The Triple Crown threat opened with a 9-1 decision over New Jersey's Austin Craft and followed with a technical fall over Michigan's Owen Foster.
Last year's 170-pound 16U champion,
Jarrel Miller Jr.
of Ohio, started strong in the Junior division at 182 pounds with a pair of technical falls. Miller will face Pennsylvania's Nathan Campbell to open competition on Tuesday.
Wyatt Ingham
of Wisconsin had two technical falls to reach the Round of 32. Ingham is another wrestler looking for a Triple Crown.
Wisconsin's
Connor Mirasola
had two sub-minute technical falls to start his tournament at 195 pounds. Mirasola will face Oklahoma's Liam Daniels on Tuesday. Texan
Karson Tompkins
started off 2-0 and will face Illinois' Justin Hoffer. Thompkins is another wrestler looking to continue the path towards the Triple Crown.
At 220 pounds, returning champion
Cody Merrill
of California spent just 29 seconds on the mat in his only match of the day. Last year's champion at 195 pounds, Merrill will face Illinois' Noah Wenzel in the Round of 32.
Jay Henderson
of Utah, last year's 220-pound 16U champion spent a bit more time on the mat in a 22-9 technical fall over Tayshaun Glover to start his tournament.
At 285 pounds, three past champions are in the mix with returning double Junior champion
Aden Attao
of Idaho leading the way. Attao picked up two quick techs to reach the Round of 32 where he'll face Florida's Cane Fernandez.
Navarro Schunke
of South Dakota, last year's 16U double champion at 285 is down in the bottom half of the bracket. He had a quick 10-0 tech over Pennsylvania's Benjamin Lloyd in his only bout of the day. Also in the bottom bracket is 220-pound 16U double champion from 2021,
Koy Hopke
of Wisconsin, who also won his only match of the day by technical fall.
Wrestlers by state competing in the Round of 32
Pennsylvania (37), Illinois (32), Iowa (32), Wisconsin (28), California (27), Minnesota (26), New Jersey (24), Ohio (23), Oklahoma (21), Indiana (17), Arizona (16), Idaho (15), Florida (14), Washington (12), Colorado (11).
Alabama (9), Georgia (9), Missouri (9), New York (9), Utah (9), Virginia (9), Kansas (8), Montana (8), Nebraska (7), Maryland (6), Massachusetts (6), Oregon (6), Texas (6), Michigan (5), North Dakota (5), South Dakota (5), Tennessee (5).
South Carolina (4), Nevada (3), Connecticut (2), New Mexico (2), North Carolina (2), Rhode Island (2), Puerto Rico (2), Wyoming (2), Alaska (1), Delaware (1), Kentucky (1), Louisiana (1), West Virginia (1).