News
USA Wrestling
International
Women
College
USAW
Parrish captures gold, Hildebrandt and Velte win bronze at World Championships in Belgrade
by Gary Abbott, USA Wrestling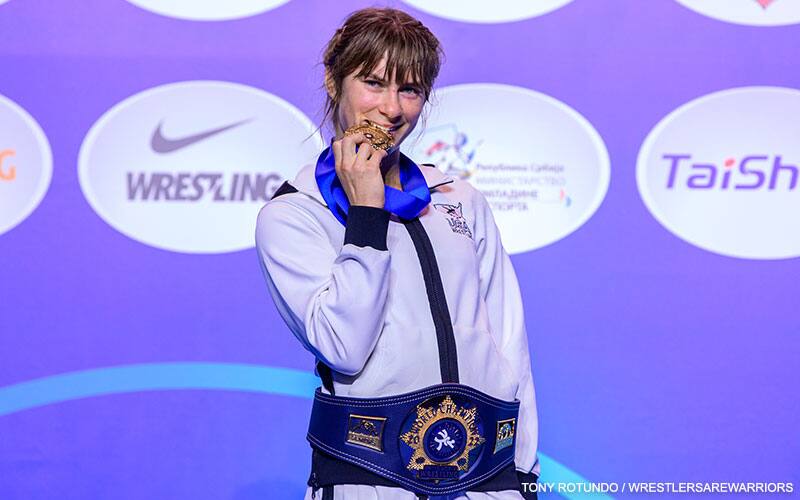 Dom Parrish photo by Tony Rotundo, Wrestlers Are Warriors
BELGRADE, Serbia – The United States has a new Senior World champion, as
Dominique Parrish
captured the gold medal at 53 kg in women's freestyle, parading the American flag around center mat in Stark Arena on Wednesday evening.
Parrish, competing in her first Senior World Championships, secured a crisp 4-2 victory over 2022 Asian runner-up Khulan Batkhuyag of Mongolia,
Parrish scored a first-period takedown to lead 2-0 at the break. Batkhuyag answered with a takedown in the second period to knot it at 2-2 and get the criteria edge. Parrish quickly answered with a leg attack of her own for the winning takedown, then held strong position as time ran out.
Parrish scored a pair of 10-0 technical falls on Tuesday morning, beating Mercedesz Denes of Hungary and Lucia Yepez Guzman of Ecuador. In the semifinals, she stopped Maria Prevolaraki of Greece, 3-1. She outscored her opponents 27-3 over the course of two days.
A native of Scotts Valley, Calif., Parrish won two WCWA national titles for Simon Fraser University. She currently trains in Tempe, Ariz. with the Sunkist Kids.
Claiming bronze medals for Team USA tonight were
Sarah Hildebrandt
at 50 kg and
Mallory Velte
at 65 kg.
Hildebrandt scored a convincing 10-0 technical fall over 2019 World silver medalist Emilia Vuc of Romania, although there was a scary part where Hildebrandt was choked out.
Hildebrandt scored a pair of takedowns to lead 4-0. Vuc got Hildebrandt in a front headlock/head pinch and was able to get behind Hildebrandt, who was unconscious on the mat. Medical assistance came to her aid, and she was able to get up and recover. Officials called it an illegal move and took the two points for Vuc off the scoreboard. Once recovered, Hildebrandt went back to her offense, and added three more takedown to secure the technical fall late in the second period.
Hildebrandt now owns four medals, a 202 Olympic bronze medal, two World silver medals (2018, 2021) and a brand new 2022 World bronze medal. She was a two-time WCWA national champion for King, and is a native of Granger, Ind.
Velte was dominant in her finals bout, blasting 2022 European champion Mimi Hristova of Bulgaria, 11-2. She started with a step out point, plus a caution and one-point penalty for fleeing, to lead 2-0. Another Velte takedown made it 4-0 at the break. In the second period, Velte continued the assault with three more takedowns and another stepout to win by nine points.
It was Velte's second career World bronze medal, to go with her 2018 bronze. She was a three-time WCWA national champion for Simon Fraser, and hails from Sacramento, Calif.
The USA now has won four women's freestyle medals, with tonight's medals added to
Kayla Miracle'
s silver medal at 62 kg on Tuesday night. Three U.S. wrestlers won their semifinal matches earlier this evening, clinching at least three more medals from Group 3 on Thursday night.
With seven medals secured at this point, the 2022 team ties the U.S. record for most women's freestyle World medals, held jointly by the 2003 and 2021 U.S. women's teams.
Dymond Guilford, who dropped her first match at 76 kg and did not qualify for repechage, placed 19th.
The team standings after the first six weight classes were completed. Japan leads with 115 points, with the United States in second with 85 points and China in third with 58 points. The USA has guaranteed at least 60 team more points on Thursday, with three more finalists.
Women's freestyle concludes on Thursday, with Group 3 repechage at 10:30 a.m., and finals at 6:00 p.m.The first four men's freestyle weight classes begin on Thursday morning, with preliminaries and quarterfinals during the 10:30 a.m. session and semifinals at 4:45 p.m. Belgrade is six hours ahead of U.S. Eastern time. All of the action is
live on FloWrestling
.
Follow along for live updates on Twitter
@USAWrestling
. For more information on the 2022 Senior World Championships, visit
USA Wrestling's Special Section
.
SENIOR WORLD CHAMPIONSHIPS
Sept. 10-18, 2022 | Belgrade, Serbia

Women's freestyle results (Group 2)
50 kg
Gold - Yui Susaki (Japan)
Silver - Otgonjargal Dolgorjav (Mongolia)
Bronze - Sarah Hildebrandt (USA)
Bronze - Anna Lukasiak (Poland)
5th - Emilia Vuc (Romania)
5th - Meisinnei Mercy Genesis (Nigeria)
7th - Patricia Alejandra Bermudez (Argentina)
8th - Jasmina Immaeva (Uzbekistan)
9th - Oksana Livach (Ukraine)
10th - Madison Parks (Canada)
Gold - Susaki pin Dolgorjav, 1:23
Bronze - Hildebrandt tech. fall Vuc, 10-0
Bronze - Lukasiak dec. Genesis, 3-2
53 kg
Gold - Dominique Parrish (USA)
Silver - Khulan Batkhuyag (Mongolia)
Bronze - Maria Prevolaraki (Greece)
Bronze - Vinesh Phogat (India)
5th - Lucia Yepez Guzman (Ecuador)
5th - Emma Jonna Malmgren (Sweden)
7th - Laura Herin Avila (Cuba)
8th - Mercedesz Denes (Hungary)
9th - Karla Acosta Martinez (Mexico)
10th - Marina Rueda Flores (Spain)
Gold - Parrish dec. Batkhuyag, 4-2
Bronze - Prevolaraki tech fall Yepez Guzman, 14-4
Bronze - Vinesh dec. Malmgren, 8-0
65 kg
Gold - Miwa Morikawa (Japan)
Silver - Jia Long (China),
Bronze - Mallory Velte (USA)
Bronze - Koumba Larroque (France)
5th - Mimi Hristova (Bulgaria)
5th - dec. Elis Manolova (Azerbaijan)
7th - Tetiana Sova Rizhko (Ukraine)
8th - Kriszta Tunde Incze (Romania)
9th - Asli Demir (Turkey)
10th - Purevsuren Ulziisaikhan (Mongolia)
Gold - Morikawa dec. Long, 2-0
Bronze - Velte dec. Hristova, 11-2
Bronze - Larroque dec. Manolova, 3-2
76 kg
Gold - Yasemin Adar (Turkey)
Silver - Samar Hamza (Egypt)
Bronze - Yuka Kagami (Japan)
Bronze - Epp Maee (Estonia)
5th - Genesis Reasco Valdez (Ecuador)
5th - Justina DiStasio (Canada)
7th - Juan Wang (China)
8th - Gulmaral Yerkebayeva (Kazakhstan)
9th - Martina Kuenz (Austria)
10th - Tatiana Renteria (Colombia)
Gold - Adar dec. Hamza, 6-0
Bronze - Kagami dec. Reasco Valdez, 4-0
Bronze - Maee dec. DiStasio, 2-1
U.S. Women's freestyle results (Group 2)
50 kg: Sarah Hildebrandt (Colorado Springs, Colo./USOPTC/New York AC), BRONZE MEDAL
WIN Kamila Barbosa Da Silva (Brazil), 10-0
WIN Oksana Livach (Ukraine), 11-0
LOSS Otgonjargal Dolgorjav (Mongolia), 6-2
Bronze Medal Bout: Vs. Emilia Vuc (Romania)
53 kg: Dominique Parrish (Tempe, Ariz./Sunkist Kids), GOLD MEDAL
WIN Mercedesz Denes (Hungary), 10-0
WIN Lucia Yepez Guzman (Ecuador), 10-0
WIN Maria Prevolaraki (Greece), 3-1
Gold Medal Bout: Vs. Khulan Batkhuyag (Mongolia)
65 kg: Mallory Velte (Corvallis, Ore./Beaver Dam RTC/Titan Mercury WC), BRONZE MEDAL
WIN Perevsuren Ulziisaikhan (Mongolia), 14-4
LOSS Miwa Morikawa (Japan), 2-0
Bronze Medal Bout: Mimi Hristova (Bulgaria)
76 kg: Dymond Guilford (Colorado Springs, Colo./USOPTC/Titan Mercury WC), 19th place
LOSS Yuka Kagami (Japan), 3-0
Team standings after six weight classes
1 Japan 115
2 United States 85
3 China 58
4 Ukraine 47
5 Mongolia 42
6 Canada 37
7 Turkey 29
8 Romania 24
9 India 21
10 Egypt 20