News
USA Wrestling
International
USAW
Lee, Valencia, Snyder, Parris go for gold, Richards in for bronze at Budapest Ranking Series event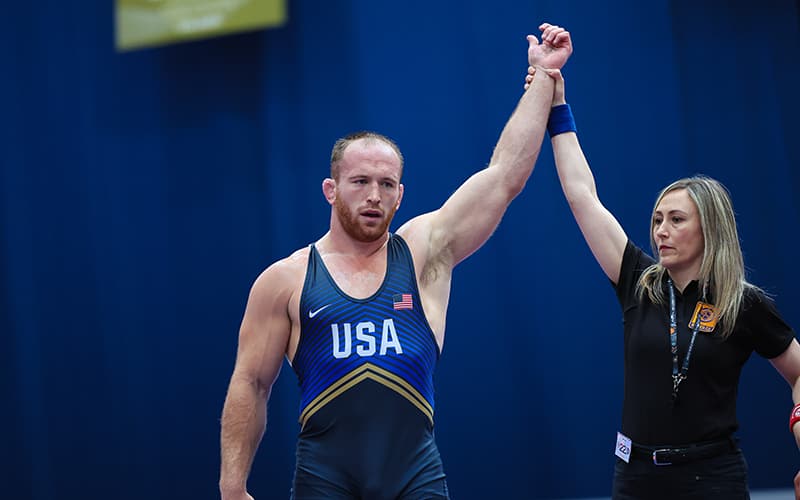 Photo: Kyle Snyder gets his hand raise following a match victory at the Polyák Imre & Varga János Memorial. (Kadir Caliskan, United World Wrestling)
BUDAPEST, Hungary — Seven U.S. men's freestyle athletes kicked off day one in the final UWW Ranking Series event, the Polyák Imre & Varga János Memorial. All but two are going for a medal.
2016 Olympic champion and three-time World champion Kyle Snyder, U.S. World Team members Nick Lee and Zahid Valencia, and U.S. National Team member Mason Parris have each advanced to the gold medal match.
Snyder had a close, 3-2, opening match against 2022 World bronze medalist and current European champion Givi Matcharashivili of Georgia where a heavy push-out strategy won the day. He picked up two perfect tech falls en route to the finals after that. Snyder will face 2022 World bronze medalist and 2023 European silver medalist Magomedkhan Magomedov of Azerbaijan in the 97 kg gold medal match.

Lacing his way to the semifinals, Lee opened with two quick, 10-0, technical falls, which included a win over 2021 World bronze medalist Alibek Osmonov of Kyrgyzstan. Two-time U23 World bronze medalist Islam Dudaev of Albania scored the first points of the tournament on Lee, but the American still claimed the 6-4 victory in the semis. Lee will face 2020 Olympian and 2021 World bronze medalist Tulga Tumur-Ochir of Mongolia for the 65 kg gold medal; Tumur-Ochir claimed silver at the 2023 Asian Championships and won the Zagreb Open, the first UWW Ranking Series event, earlier this year.

Valencia fell to two-time U23 World champion Amarali Azarpira of Iran in the first round of the 92 kg round robin. He fell to the Iranian 5-3 after being up in the first period but giving up two takedowns in the second. Valencia rebounded with two solid wins, including a two-point decision over 2022 World bronze medalist Miriani Maisuradze of Georgia, which moved him from his Group A round-robin to the semifinal round where he earned a 10-0 technical fall over Rizabek Aitmukhan of Kazakhstan. Valencia will face Matthew Finesilver of Israel in the finals match; Finesilver earned 5th at the European Championships.
Michigan's reigning NCAA heavyweight champion and Hodge Trophy winner, and Final X runner-up, Parris earned a first-period technical fall over Italy's Abraham Conyedo Ruano in the opening round at 125 kg. He then took out Egypt's Youssif Hemida, a past NCAA All-American for Maryland, via 11-1 technical fall, and earned a concrete 5-0 win over two-time World medalist and 2020 Olympian Zhiwei Deng of China. Parris will meet European bronze medalist Daniel Ligeti of Hungary.

U.S. World Team member Zane Richards put himself in position for a bronze medal at 57 kg after going 2-1 in the morning session. He came out of the gate with two technical falls, keeping the pace high and the pressure on throughout all his matches. However, the points on the scoreboard slowed down in his semifinal match and Richards lost a close 2-2 to Almaz Smankeov of Kyrgyzstan. The USA World Team representative will face Niklas Stechele of Germany in the bronze medal bout; Stechele is this year's U23 European champion.

At 74 kg U23 Nationals champion Julian Ramirez dropped a close 6-6 match against Byungmin Gong of Korea after giving up a last-second takedown. Gong lost his next match in the quarterfinals which eliminated Ramirez from the tournament.

Max Hale lost his 86 kg opening match after he faced would-be finalist Dauren Kurugliev of Greece, this year's European champion. In Hale's first repechage match, he claimed a win by pin. Hale kept pace with Tariel Gaphrindashvili of Georgia in his second repechage match but would up falling 14-10 due to a bout of leg laces.

Finals for the first batch of men's freestyle start at 5 p.m. local time (11 a.m. ET).

The finals will be streamed live from FloWrestling.com for the U.S. audience where match replays will be available. Complete brackets can be found at uww.org.

UWW Senior Ranking Series: Polyák Imre & Varga János Memorial

At Budapest, Hungary, July 13, 2023

U.S. men's freestyle results
57 kg – Zane Richards (Champaign, Ill./Illinois RTC/Titan Mercury WC)
WIN Beka Bujiashvili (Georgia), tech. fall, 10-0
WIN Milad Valizadeh (IRI), tech. fall, 17-6
LOSS Almaz Smanbekov (KGZ), 2-0
BRONZE Niklas Stechele (GER)

65 kg – Nick Lee (State College, Pa./Nittany Lion WC/Titan Mercury WC)
WIN Joshua Finesilver (Israel), tech. fall, 10-0
WIN Alibek Osmonov (KGZ), tech. fall, 10-0
WIN Islam Dudaev (Albania), 6-4
GOLD Tulga Tumur-Ochir (MGL)

74 kg – Julian Ramirez (Ithaca, N.Y./Spartan Combat RTC)
LOSS Byungmin Gong (Korea), 6-6

86 kg – Max Hale (West Chester, Pa./Pennsylvania RTC)
LOSS Dauren Kurguliev (Greece), 6-2
WIN Suhe Gang (CHN), fall, 1:52
LOSS Tariel Gaphrindashv (GEO), 14-10

92 kg – Zahid Valencia (Tempe, Ariz./Sunkist Kids WC)
LOSS Amarali Hamid Azarpira (Iran), 5-3
WIN Denis Sahaijuk (Ukraine), 8-1
WIN Miriani Maisuradze (Georgia), 5-3
WIN Rizabek Aitmukhan (KAZ), tech. fall, 10-0
GOLD Matthew Finesilver (ISR)

97 kg – Kyle Snyder (State College, Pa./Nittany Lion WC/Titan Mercury WC)
WIN Givi Matcharashivili (Georgia), 3-2
WIN Kanybek Abdulkhairov (Kyrgyzstan), tech. fall, 10-0
WIN Bekzat Urkimbay (Ukraine), tech. fall, 10-0
GOLD Magomedkhan Magomedov (Azerbaijan)

125 kg – Mason Parris (Ann Arbor, Mich./Cliff Keen WC/Titan Mercury WC)
WIN Abraham Conyedo Ruano (Italy), tech. fall, 10-0
WIN Youssif Himida (Egypt), tech. fall, 11-1
WIN Zhiwei Deng (CHN), 5-0
GOLD Daniel Ligeti (Hungary)