News
USA Wrestling
High School & Youth
USAW
Top 15 Performance Index (PIN) for each Junior and 16U Greco-Roman weight class in Fargo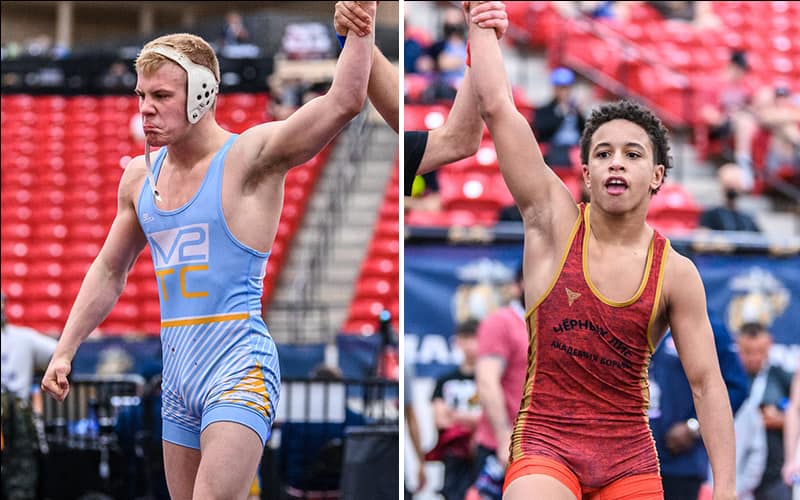 Photo: Pierson Manville of Pennsylvania (left) and Thomas Verrette of Colorado (right), photo by Tony Rotundo, WrestlersAreWarriors.com
USA Wrestling developed the Performance Index (PIN) April of 2023 as a new data-driven measurement for every athlete member of the organization who has results at USA Wrestling events, United World Wrestling events and other major competitions.

The PIN was used to separate athletes at a number of major USA Wrestling national events this spring and summer, with an excellent record of predicting what athletes might reach the finals or earn a spot on the podium.

The 2023 USMC Junior and 16U Nationals will not use the PIN for separation, instead using the existing system of separation as approved by the appropriate age-group committees.

However, heading into Fargo this year, USA Wrestling would like to publish the the top 15 PIN data for each weight class in all six national tournaments, as a way to help preview the top contenders. This was based upon registrations as of July 12, 2023.

The PIN has been revised to consider a specific style (freestyle, Greco-Roman, folkstyle). For this review, we are looking at the Greco-Roman PIN for the athletes competing in Fargo.

The top Junior men's PIN, regardless of weight class, was registered by Pierson Manville of Pennsylvania with 1,422 points. The top 16U men's PIN, regardless of weight class, was registered by Thomas Verrette of Colorado with 1,329 points.

The top PIN in each Junior Greco-Roman weight class went to Mason Brayfield of Missouri (100), Saxton Scott of Idaho (106), Mack Mauger of Idaho (113), Ryker Graff of Iowa (120), Layne Kleimann of Utah (126), Zan Fugitt of Missouri (132), Gunnar Hamre of Wisconsin (138), Pierson Manville of Pennsylvania (145), Joel Adams of Nebraska (152), Brett Back of Wisconsin (160), Hudson Rogers of Idaho (170), De'Alcapon Veazy of Indiana (182), Karson Tompkins of Texas (195), Sawyer Bartelt of Florida (220) and Koy Hopke of Wisconsin (285).

The top PIN in each 16U Greco-Roman weight class went to Hudson Chittum of Tennessee (88), Hayden Schwab of Iowa (94), Caleb Noble of Illinois (100), Lincoln Sledzianowski of Pennsylvania (106), Domenic Munaretto of Illinois (113), Ladd Holman of Utah (120), Declan Koch of Wisconsin (126), Thomas Verrette of Colorado (132), Mason Petersen of Nebraska (138), Brody Sendele of Illinois (145), Kyler Knaack of Iowa (152), Aaron Stewart of Illinois (160), Terrell McFarland of Pennsylvania (170), Jackson Rotterman of Missouri (182), Dreshaun Ross of Iowa (195), Alex Taylor of Ohio (220) and Hunter Vander Heiden of Wisconsin (285).

Junior Greco-Roman

100 pounds
1. Mason Brayfield, Missouri, 1099
2. Caden Smith, Virginia, 1097
3. Brady Byrd, Indiana, 1053
4. Cade Johnston, California, 1051

5. Kiyan Simon, Alabama, 1050
6. Alexander Diaz, Pennsylvania, 1047
7. Atlee DeWitt, Iowa, 1019
8. Gabriel Rosales, Idaho, 1007
9. Elijah Hyet, Iowa, 1002
10. Julian Canez, Arizona, 1000
11. Vincent Graulau, New York, 1000
12. Liam Adlfinger, Iowa, 999
13. Bobby Gulzow, Oregon, 998
14. Kendall Booker, Minnesota, 996
15. Chrystian Owens, Arizona, 994

106 pounds
1. Saxton Scott, Idaho, 1182
2. Haakon Peterson, Wisconsin, 1180
3. Lawson Eller, Minnesota, 1171
4. Ezekiel Witt, Kansas, 1144
5. Cadyn Coyle, Nebraska, 1132
6. Nathan Rioux, Indiana, 1104
7. Cole Welte, Nebraska, 1102
8. Hunter Sanchez, Utah, 1066
9. Aidan Gruenenfelder, Wisconsin, 1061
10. Grayson Kongkaeow, Illinois, 1060
11. Daniel Rosales, Idaho, 1040
12. Isaac Stewart, Montana, 1036
13. Malachi Ortiz, Florida, 1016
14. Erik Egstad, Missouri, 1007
15. Aiden Woods, Indiana, 1002

113 pounds
1. Mack Mauger, Idaho 1284
2. Kody Tanimoto, Texas 1239
3. Santana Ramon, Michigan, 1162
4. Logan Schwanz, Minnesota, 1160
5. Jason Goodin, Oklahoma, 1159
6. Revin Dickman, Indiana, 1125
7. Davis Motyka, Pennsylvania, 1119
8. Connor Fiser, Iowa, 1113
9. Brodie Christmas, Alabama, 1104
10. Talan Parsons, Michigan, 1103
11. Brayten Casey, Wisconsin, 1101
12. Zao Estrada, South Carolina, 1084
13. Carson Ota, Texas, 1080
14. Jace Hedeman , Iowa, 1078
15. Tyler Garvin, Maryland, 1074

120 pounds
1. Ryker Graff, Iowa, 1188
2. Anthony Ruzic, Illinois, 1181
3. Edwin Sierra, California, 1179
4. Isaac Hampton, Oregon, 1171
5. Elyle Francisco, Alaska, 1165
6. Sloan Johannsen, South Dakota, 1148
7. Gage Singleton, Oregon, 1122
8. Weston Pisarchick, Pennsylvania, 1118
9. Devin Bobzien, California, 1114
10. Jaxton Packer, Idaho, 1107
11. Jacob Campbell, Michigan, 1107
12. Easton Cooper, Wisconsin, 1107
13. Carson Dupill, Tennessee, 1100
14. Griffin Rial, Colorado, 1077
15. Colt Collett, Oklahoma, 1072

126 pounds
1. Layne Kleimann, Utah, 1226
2. Aaron Lucio, Michigan, 1180
3. Hoyt Hvass, Idaho, 1163
4. Kolter Burton, Idaho, 1154
5. Massey Odiotti, Illinois, 1152
6. Isaiah Cortez, California, 1147
7. Miles Anderson, Nebraska, 1144
8. Billy Townson, California, 1133
9. Nick Dardanes, Colorado, 1122
10. Rhett Peak, Oklahoma, 1122
11. Elijah Cater, Washington, 1111
12. Isaiah Schaefer, Indiana, 1096
13. Treygen Morin, Idaho, 1094
14. Jason Worthley, Utah, 1094
15. Caio Aron, Texas, 1093

132 pounds
1. Zan Fugitt, Missouri, 1287
2. Otto Black, Colorado, 1253
3. Landon Drury, Colorado, 1229
4. Gable Porter, Iowa, 1229
5. Logan Swensen, Minnesota, 1227
6. Amryn Nutter, Wisconsin, 1222
7. Teegan Vasquez, Montana, 1198
8. Carter Nogle, Maryland, 1196
9. Christian Fretwell, Florida, 1193
10. Matthew Beem, Iowa, 1185
11. Elias Navida, California, 1182
12. Colson Hoffman, Georgia, 1156
13. Collin Mullins, Georgia, 1154
14. Cooper Hilton, Tennessee, 1149
15. Dmitri Alarcon, Colorado, 1146

138 pounds
1. Gunnar Hamre, Wisconsin, 1258
2. Elvis Solis, Florida, 1175
3. Russell Evans, Utah, 1167
4. William Baysingar, Illinois, 1159
5. Tanner Frothinger, Idaho, 1158
6. Daniel Zepeda, California, 1147
7. Smokey McClure, Washington, 1137
8. Chase Van Hoven, Virginia, 1130
9. Evan Boblits, Maryland, 1125
10. Carlos Stanton Jr., Arizona, 1115
11. Tyson Sherlock, Maryland, 1115
12. Maddox Khalimsky, Illinois, 1106
13. Maksym Chubenko, Ohio, 1097
14. Braeden Moore, Kansas, 1096
15. Benjamin Hansen, Iowa, 1085

145 pounds
1. Pierson Manville, Pennsylvania, 1422
2. Kannon Webster, Illinois, 1289
3. Alex Braun, Minnesota, 1285
4. Ayson Rice, South Dakota, 1245
5. Corbin Ramos, Wisconsin, 1238
6. Garrett Reece, Colorado, 1213
7. Noah Manuel Tapia, Illinois, 1194
8. Paul Kelly, California, 1184
9. Avery Allen, Montana, 1182
10. Gabriel Bouyssou, Rhode Island, 1175
11. Emil Necula, Georgia, 1167
12. Logan W. Paradice, Georgia, 1164
13. Casper Stewart, New York, 1159
14. Anderson Heap, Florida, 1149
15. Jake Moon, Texas, 1134

152 pounds
1. Joel Adams, Nebraska, 1360
2. Jadon Skellenger, Idaho, 1330
3. Hunter Sturgill, Tennessee, 1219
4. Matthew Randolph, Minnesota, 1204
5. Vince Bouzakis, Pennsylvania, 1190
6. Laird Root, California, 1184
7. Gabriel Delgado, Nevada, 1174
8. TJ Schierl, Wisconsin, 1159
9. Aliaksandr Kikiniou, California, 1147
10. Elijah Paulson, Minnesota, 1105
11. EJ Parco, California, 1104
12. Mitchell Faglioni, Virginia, 1095
13. Owen Hicks, New York, 1093
14. Tucker Stangel, Iowa, 1091
15. Dayveon Rupert, Michigan, 1087

160 pounds
1. Brett Back, Wisconsin, 1260
2. Ashton Miess, Wisconsin, 1223
3. Thor Michaelson, Washington, 1222
4. Brent Slade, Iowa, 1206
5. Jude Randall, Oklahoma, 1202
6. Griffin Lundeen, Minnesota, 1175
7. Benjamin Smith, Maryland, 1167
8. Ernazar Baiyshbekov, Pennsylvania, 1136
9. Austin Craft, New Jersey, 1115
10. Collin Guffey, California, 1114
11. Noah Torgerson, Minnesota, 1104
12. Merrik Murray, Missouri, 1094
13. Macon Ayers, Virginia, 1091
14. Leister Bowling IV, Colorado, 1088
15. Jake Dailey, Pennsylvania, 1088

170 pounds
1. Hudson Rogers, Idaho, 1246
2. Nicholas Fox, Iowa, 1213
3. Bryce Burkett, Minnesota, 1196
4. Riggin Boger, Utah, 1193
5. Adam Waters, Pennsylvania, 1174
6. Caden Young, Wisconsin, 1165
7. Talon McCollom, Oklahoma, 1164
8. Jed Wester, Minnesota, 1158
9. Lars Michaelson, Washington, 1153
10. Angelo Posada, California, 1143
11. Dominic Bambinelli, Georgia, 1120
12. Derek Johnson, Kansas, 1108
13. Tyler Secoy, Georgia, 1104
14. Erik McCown, California, 1097
15. Artem Skyba, Pennsylvania, 1094

182 pounds
1. De'Alcapon Veazy, Indiana, 1219
2. Cole Han-Lindemyer, Minnesota, 1193
3. Noah Poe-Hatten, Montana, 1164
4. Justin Rademacher, Oregon, 1161
5. Brayden Gautreau, Michigan, 1159
6. Aidan Squier, New Jersey, 1147
7. Tate Naaktgeboren, Iowa, 1138
8. Marco Christiansen, Minnesota, 1128
9. Franklin Ordonez-Fernandez, Florida 1118
10. Hoke Poe, Georgia, 1118
11. David Malin, Wisconsin, 1117
12. Gavin Blondeaux, Nevada, 1094
13. Gavin Ricketts, Kentucky, 1090
14. Brock Trevino, Michigan, 1086
15. Riley Hucks, South Carolina, 1084

195 pounds
1. Karson Tompkins, Texas, 1207
2. Cittadino Tuttle, Minnesota, 1138
3. Kingsley Menifee, Virginia, 1104
4. Anders Thompson, Montana, 1100
5. Ryder Depies, Wisconsin, 1086
6. Carson Gooley, Idaho, 1085
7. Evan Franke, Iowa, 1078
8. Hunter Sonnenberg, Washington, 1070
9. Joshua Glendening, Iowa, 1068
10. Nathan Fury, Kansas, 1060
11. Evan Grazzini, Illinois, 1058
12. Espyn Sweers, Wisconsin, 1057
13. Aiden Hight, Pennsylvania, 1045
14. Payton Thomas, Oklahoma, 1042
15. Quinn Funk, Colorado, 1038

220 pounds
1. Sawyer Bartelt, Florida, 1322
2. Cody Merrill, California, 1227
3. Brennan Carey, Missouri, 1193
4. Oscar Williams, Oklahoma, 1150
5. Jared Thiry, Iowa, 1139
6. Coby Merrill, California, 1138
7. Nick Nosler, Illinois, 1128
8. Jarrett Stoner, Texas, 1121
9. Torin Forsyth, Kansas, 1106
10. Jayden Tadeo-Gosal, California, 1095
11. Kaiden Morris, Illinois, 1075
12. Justin Hoffer, Illinois, 1067
13. Joseph Lewis, Iowa, 1050
14. Zachary Evans, Pennsylvania, 1045
15. Melvin Whitehead, Nevada, 1040

285 pounds
1. Koy Hopke, Wisconsin, 1270
2. Aden Attao, Idaho, 1262
3. Richard Thomas, Oklahoma, 1117
4. Evan Gratz, Wisconsin, 1112
5. Navarro Schunke, South Dakota, 1104
6. Mustafa Woodi, Ohio, 1098
7. Wyatt Schmitt, Illinois, 1095
8. Wyatt Smith, Iowa, 1081
9. Caleb Rodriguez, Florida, 1076
10. Cameron Groncki, New York, 1058
11. Cameron Geuther, Iowa, 1049
12. Benjamin Land, Indiana, 1046
13. Shilo Jones, Idaho, 1042
14. Nathan Willoughby, Idaho, 1037
15. Clayton Frehn, Kansas, 1032

16U Greco-Roman

88 pounds
1. Hudson Chittum, Tennessee, 1196
2. Vincent DeMarco, Illinois, 1178
3. Landon Thoennes, Minnesota, 1147
4. Cooper Mcarthur, Georgia, 1133
5. Loc Webber, Ohio, 1130
6. Eli Herring, Pennsylvania, 1081
7. Charlie Boelman, Iowa, 1040
8. Jameson Thomas, Alabama, 1037
9. Urijah Courter, Iowa, 1036
10. Jackson Thorn, Minnesota, 1035
11. Cooper Sandoval, Nevada, 1030
12. Ethan Humphrey, Iowa, 1008
13. Bryson Busler, Wisconsin, 1008
14. Carson Miles, Arizona, 1005
15. Kaden Oldroyd, Utah, 1004

94 pounds
1. Hayden Schwab, Iowa, 1142
2. Kellen Downing, Montana, 1103
3. Cason Craft, Oklahoma, 1082
4. Jose Cordero, Tennessee, 1080
5. Kaison Schreier, Missouri, 1078
6. Jarrett Smith, Michigan, 1073
7. Daniel Goodwin, Illinois, 1045
8. Layne Martin, Michigan, 1041
9. Austin Hagevold, Illinois, 1034
10. Maxwell Bradley, Oklahoma, 1030
11. Chase Kastner, Connecticut, 1029
12. Peyton Van Hoven, Virginia, 1028
13. Noah Fenner, Pennsylvania, 1017
14. Derion Williams, Ohio, 1015
15. Gavin Pongsai, California, 1013

100 pounds
1. Caleb Noble, Illinois, 1249
2. Liam Collins, Minnesota, 1245
3. Gavin Landers, Iowa, 1204
4. Dylan Ota, Texas, 1178
5. Jensen Boyd, Indiana, 1170
6. Case Bell, Indiana, 1157
7. Carter Shin, Virginia, 1149
8. Cameron Sontz, New Jersey, 1110
9. Everett Stephens, Florida, 1106
10. Dylan Frothinger, Idaho, 1103
11. Ethan Powell, Ohio, 1101
12. Christopher Swann, Georgia, 1098
13. James Hemmila, Illinois, 1095
14. Teghan Moore, Wisconsin, 1090
15. Shamus Regan, Tennessee, 1073

106 pounds
1. Lincoln Sledzianowski, Pennsylvania, 1307
2. Bruno Cassioppi, Illinois, 1225
3. Rocco Cassioppi, Illinois, 1222
4. Zaiyahn Ornelas, Nebraska, 1186
5. Carter Kendrick, South Dakota, 1138
6. Caleb Schaefer, Indiana, 1105
7. Matthew Dailey, Pennsylvania, 1084
8. Max Francisco, Alaska, 1083
9. Gavin Heverly, Pennsylvania, 1081
10. Che Jenkins, Arizona, 1075
11. Eric Casula, Oklahoma, 1075
12. Joel Friederichs, Minnesota, 1072
13. Austin Brown, Missouri, 1042
14. William Atkinson, Alabama, 1040
15. Taegan Gilmore, Ohio, 1039

113 pounds
1. Domenic Munaretto, Illinois, 1236
2. Will Detar, Pennsylvania, 1234
3. Dawson Youngblut, Iowa, 1217
4. Titan Friederichs, Minnesota, 1197
5. Boden Banta, Idaho, 1161
6. Dominic Way, West Virginia, 1149
7. Nicholas Sorrow, Michigan, 1147
8. Johnny Leck, Kansas, 1142
9. Dominic Deputy, Pennsylvania, 1126
10. Kaleb Blackner, Utah, 1124
11. Dominic Thomas, Washington, 1115
12. Easton Mull, Pennsylvania, 1111
13. Rider Seguine, Idaho, 1095
14. Brady Baker, Michigan, 1092
15. William Phillips, Tennessee, 1092

120 pounds
1. Ladd Holman, Utah, 1192
2. Josiah Boyden, Georgia, 1172
3. Michael Romero, California, 1171
4. Legend Ellis, Oklahoma, 1158
5. Tyler Dekraker, Virginia, 1158
6. Tas Storer, California, 1149
7. Dale Corbin, Wisconsin, 1141
8. Mason Carlson, Utah, 1138
9. Jayden Raney, Kentucky, 1136
10. Evan Sanati, Virginia, 1128
11. Geronimo Rivera, Utah, 1124
12. Deven Casey, Illinois, 1114
13. Jayden Rinken, Iowa, 1108
14. Chase Mills, Minnesota, 1097
15. Jet Brown, Missouri, 1096

126 pounds
1. Declan Koch, Wisconsin, 1245
2. Ned Kauffman, Pennsylvania, 1211
3. Austin Ellis, Utah, 1189
4. Isaiah Jones, Oklahoma, 1182
5. Zayn Navarrete, Texas, 1173
6. Gavin Weichelt, Colorado, 1157
7. Maximus Riggins, Iowa, 1139
8. Timothy Koester, Iowa, 1132
9. Gavin Rangel, Oregon, 1130
10. Parker Zutter, Minnesota, 1124
11. Zev Koransky, Illinois, 1106
12. Elijah Brosius, Pennsylvania, 1101
13. Matthew Orbeta, California, 1099
14. McKaden Speece, Pennsylvania, 1092
15. Seach Hibler, New Jersey, 1078

132 pounds
1. Thomas Verrette, Colorado, 1329
2. Derek Barrows, Colorado, 1235
3. Manuel Saldate, Nevada, 1203
4. Jacob Herm, Wisconsin, 1199
5. Blake Fox, Iowa, 1171
6. Luke Burgar, Texas, 1150
7. Wyatt Medlin, Illinois, 1135
8. Quinten Cassiday, Michigan, 1131
9. Chris Lalonde, Colorado, 1116
10. Joshua Requena, California, 1109
11. Jake Miller, Oklahoma, 1109
12. Tristan North, Wisconsin, 1095
13. Sammy Spaulding, New Jersey, 1092
14. Anthony Delgado, Nevada, 1087
15. Dominic Wilson, Texas, 1086

138 pounds
1. Mason Petersen, Nebraska, 1170
2. Blue Stiffler, Georgia, 1157
3. Israel Acosta, Washington, 1146
4. Easton Dircks, Minnesota, 1143
5. Cael Gilmore, Ohio, 1105
6. Tre Haines, Washington, 1104
7. Mason Breeggemann, Minnesota, 1096
8. Austin Gyorkos, Michigan, 1095
9. David Gleason, Missouri, 1095
10. Joseph Knackstedt, Illinois, 1092
11. Arment Waltenbaugh, Pennsylvania, 1092
12. Mario Carini, California, 1085
13. Dominick Spadaro, Connecticut, 1080
14. Tyler Harrill, Nebraska, 1076
15. Noah Bull, Utah, 1076

145 pounds
1. Brody Sendele, Illinois, 1189
2. Nolan Fellers, Iowa, 1188
3. Brodie Bedford, Texas, 1183
4. Colton Weiler, Wisconsin, 1182
5. Nathaniel Askew, Georgia, 1170
6. Sullivan Ramos, Wisconsin, 1164
7. Dylan Granger, Michigan, 1127
8. Boden White, Iowa, 1121
9. Thomas Gibbs, Indiana, 1117
10. Owen McMullen, Pennsylvania, 1117
11. Gavin Regis, Utah, 1097
12. Liam Fox, Wyoming, 1097
13. Isaac Padilla, California, 1090
14. Gabriel Logan, New Jersey, 1089
15. Jack Davis, Indiana, 1079

152 pounds
1. Kyler Knaack, Iowa, 1180
2. Cooper Rowe, Minnesota, 1177
3. Michael Craft, New Jersey, 1157
4. Tucker Roybal, Utah, 1115
5. Jimmy Mastny, Illinois, 1113
6. Jaxon Miller, Iowa, 1108
7. Jarrett Wadsen, Minnesota, 1098
8. JayDen Williams, Michigan, 1090
9. Gage Losiewicz, Wisconsin, 1082
10. Jacob Gandy, Washington, 1064
11. Cole Bartlein, Wisconsin, 1061
12. Colby Gray, Missouri, 1058
13. Christopher Acuna, Montana, 1057
14. Cash Morrell, Pennsylvania, 1054
15. Gabriel Dorman, Pennsylvania, 1051

160 pounds
1. Aaron Stewart, Illinois, 1250
2. Emmitt Sherlock, Maryland, 1187
3. Bradley Rodriguez-Little, Minnesota, 1165
4. Eli Esguerra, Ohio, 1145
5. Jared Remington, Texas, 1133
6. Griffin Van Tichelt, Indiana, 1132
7. Zach White Jr., Indiana, 1103
8. Vristol Short, Minnesota, 1089
9. Maximus Norman, Tennessee, 1088
10. Jean-luc Guerra, Idaho, 1077
11. Zane Willobee, Michigan, 1072
12. Kale Baumann, Montana, 1062
13. Achilles Evans, Colorado, 1056
14. Brandon Dean, New Jersey, 1053
15. Mavrik Gregory, Ohio, 1051

170 pounds
1. Terrell McFarland, Pennsylvania, 1320
2. Gavin Craner, Michigan, 1112
3. Broedy Collins Hendricks, Iowa, 1088
4. Carter Temple, Missouri, 1072
5. Xander Dossett, Georgia, 1069
6. Luke Hoag, Minnesota, 1069
7. Anthony Gutierrez, Illinois, 1066
8. Shawn Rounsaville, Jr, Oklahoma, 1064
9. Xavier Smith, Indiana, 1063
10. Dominic Dotson, California, 1057
11. Jonathan Sims, Ohio, 1052
12. Breyson Kelley, Wisconsin, 1052
13. Lucas Ricketts, Kentucky, 1049
14. Jackson Winkey, Iowa, 1033
15. Kaleb Jackson, New Jersey, 1032

182 pounds
1. Jackson Rotterman, Missouri, 1124
2. John Murphy, Minnesota, 1110
3. Anthony Kroninger, Ohio, 1105
4. Evan Perez, Colorado, 1104
5. Miguel Rojas, Indiana, 1097
6. Junior Bumanglag, California, 1092
7. Andy Franke, Iowa, 1092
8. Nicholas Ronchetti, Illinois, 1091
9. Hunter Eastin, Illinois, 1083
10. Bryce Williams, Iowa, 1078
11. Cooper Reves, Kansas, 1075
12. Ty Carman, Utah, 1073
13. Cain Tigges, Iowa, 1068
14. Brayden Koester, Iowa, 1067
15. Matt King, Washington, 1053

195 pounds
1. Dreshaun Ross , Iowa, 1276
2. David Calkins, California, 1207
3. Jaxon Penovich, Illinois, 1187
4. Danny Zmorowski, Ohio, 1130
5. Denarii Mickel, Iowa, 1120
6. Jake Conroy, Pennsylvania, 1101
7. Layne O'Neil, Michigan, 1096
8. Isaac Ward, Missouri, 1057
9. Austin Reading, Indiana, 1045
10. Gary Kiselka, Pennsylvania, 1032
11. Jacob Duitsman, Minnesota, 1031
12. Robert McCoy, Georgia, 1028
13. Josh Hoffer, Illinois, 1027
14. Standford Thompson, Tennessee, 1027
15. Isaac McGee, Utah, 1023

220 pounds
1. Alex Taylor, Ohio, 1152
2. Michael Mocco, Florida, 1150
3. Garett Kawczynski, Wisconsin, 1144
4. James Bechter, Ohio, 1115
5. Kai Calcutt, Illinois, 1107
6. Samuel Winkels, Minnesota, 1062
7. Caleb Kurtti, Minnesota, 1060
8. Sam Tanner, Utah, 1048
9. Cael Leisgang, Wisconsin, 1042
10. Asher Sheldon, Illinois, 1041
11. Jackson Phillips, Ohio, 1037
12. Logan Tollison, Michigan, 1032
13. Mason Koehler, Iowa, 1031
14. Hayden Smith, Indiana, 1028
15. Dean Bechtold, Pennsylvania, 1025

285 pounds
1. Hunter Vander Heiden, Wisconsin, 1109
2. Cooper Martinson, Iowa, 1090
3. Brayden Hill, Kansas, 1083
4. Hayden Skillings, Minnesota, 1081
5. Christopher Belmonte, New York, 1053
6. Jacob Levy, Georgia, 1045
7. Trayvn Boger, Utah, 1045
8. Micah Hach, South Dakota, 1038
9. Milan Colvin, Kansas, 1032
10. James Hartleroad, Indiana, 1023
11. Jonathan Rulo, Illinois, 1021
12. Hung Vo, California, 1016
13. Michael Sisk, Illinois, 1016
14. Zayne Candelaria, Arizona, 1008
15. Payton Vigna, Illinois, 1008
ABOUT THE USA WRESTLING PIN
• The USA Wrestling Performance Index (PIN) measures consistency over time and rates the probability of a person winning against an opponent based on their bodies of work.
• A person with a higher PIN is considered more likely to beat someone with a lower PIN and the closer the PINs are between athletes, the closer the probability gets to 50/50 chances.
• This does not reward the one-time win or head-to-head over an opponent. What it does is reward an athlete's consistency over time. If you consistently beat people with higher PINs, you will gain PIN points to surpass them in the index, given that you do not lose to lesser competition along the way.
• The more you wrestle, the more opportunity you have to change your PIN.
• The baseline number for a person's PIN is 1,000 points. The more points your PIN has above 1,000 reflects positive success against your opponents.
• An athlete's PIN, will constantly be updated based upon a member's results against their specific opponents.