News
USA Wrestling
College
USAW
No. 24 Pitt stuns No. 7 Virginia Tech, 26-12, in Blacksburg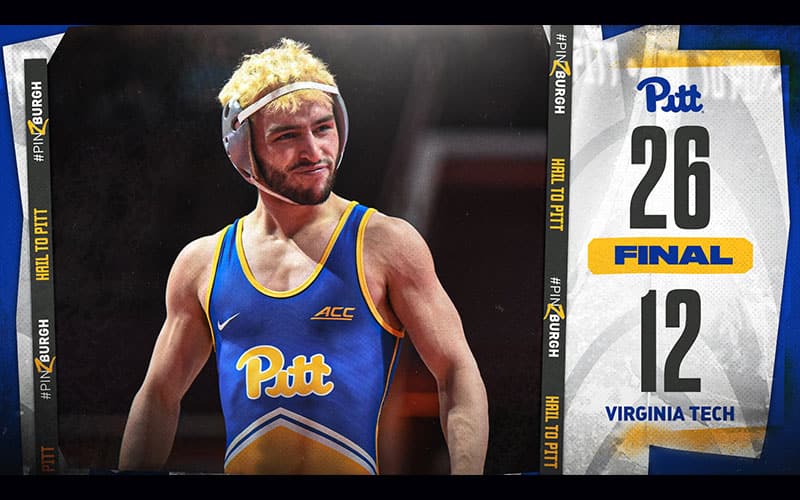 BLACKSBURG, Va.—The Pitt wrestling team didn't just upset No. 7 Virginia Tech on Friday night in Blacksburg in front of a national television audience on the ACC Network; it won decisively.
Pitt took seven bouts from the hosting Hokies and won 26-12, leaving no doubt about the better team on the night and securing first place in the ACC dual standings after two weeks of conference action.
"We went out tonight and were aggressive," Pitt head coach Keith Gavin said. "That's a huge win for the program. I'm super proud of these guys. It was a total team effort. We showed tremendous skills but also a lot of fight. Now we need to continue to be consistent and build on this moving forward."
The Panthers (8-2, 2-0 ACC) made the perfect start, with Colton Camacho quieting the Cassell Coliseum crowd by pinning Cooper Flynn in 44 seconds at 125 pounds.
At 133 pounds, No. 7 Micky Phillippi survived an absolute battle with No. 5 Sam Latona, fighting off several single-leg attacks and winning by a 9-second difference in riding time in the tiebreakers.
"Colton gave us a perfect start and we were able to use that momentum," Gavin added. "He's been wrestling great, went for the kill and it paid off big time. And Micky had a lot of fight in his match. He was in some challenging positions and showed really impressive toughness. That won it for him."
No. 3 Cole Matthews then built Pitt's lead to 12-0 with a comfortable 6-2 decision over No. 12 Tom Crook at 141 pounds, securing takedowns in each of the final two periods and nearly working a fall.
The Hokies (7-3, 1-1 ACC) responded, however, with bonus-point wins at 149 and 157 pounds.
No. 23 Holden Heller momentarily snapped that momentum with a crucial victory at 165 pounds, defeating No. 25 Connor Brady via 2-0 decision by riding out the entire third period.
After a win by VT's Mekhi Lewis at 174 pounds, Pitt's No. 19 Reece Heller provided another pin for the Panthers by sticking No. 7 Hunter Bolen on his back at 184 and silencing the crowd once again. Heller threw his headgear after the match and was assessed a penalty point, but Pitt still led 20-12.
Then No. 2 Nino Bonaccorsi sealed the dual victory with a win for the visitors at 197 pounds, earning a 3-1 decision over No. 22 Andy Smith and clinching first place in the ACC for the Panthers.
No. 5 Dayton Pitzer made the final score even more lopsided with a 5-3 sudden-victory takedown over No. 23 Hunter Catka that made Pitt's first win in Blacksburg since 2004 a statement result.
The Panthers return home for a weekend doubleheader next Friday and Saturday.
Pitt hosts North Carolina at the Petersen Events Center for the ACC Network's Friday Night Dual before welcoming No. 4 Iowa State to the Fitzgerald Field House on Saturday. Both matches will start at 7 p.m.
#24 Pitt 26, #7 Virginia Tech 12
125: Colton Camacho (Pitt) pins Cooper Flynn (VT), 0:44 (Pitt leads, 6-0)
133: No. 7 Micky Phillippi (Pitt) dec. No. 5 Sam Latona (VT), 3-2 TB (Pitt leads, 9-0)
141: No. 3 Cole Matthews (Pitt) dec. No. 12 Tom Crook (VT), 6-2 (Pitt leads, 12-0)
149: No. 9 Caleb Henson (VT) maj. dec. No. 29 Tyler Badgett (Pitt), 14-2 (Pitt leads, 12-4)
157: No. 5 Bryce Andonian (VT) maj. dec. No. 33 Dazjon Casto (Pitt), 14-1 (Pitt leads, 12-8)
165: No. 23 Holden Heller (Pitt) dec. No. 25 Connor Brady (VT), 2-0 (Pitt leads, 15-8)
174: No. 3 Mekhi Lewis (VT) maj. dec. Luca Augustine (Pitt), 14-4 (Pitt leads, 15-12)
184: No. 19 Reece Heller (Pitt) pins No. 7 Hunter Bolen (VT), 4:32 (Pitt leads, 20-12 – penalty point)
197: No. 2 Nino Bonaccorsi (Pitt) dec. No. 22 Andy Smith (VT), 3-1 (Pitt leads, 23-12)
HWT: No. 5 Dayton Pitzer (Pitt) dec. No. 23 Hunter Catka (VT), 5-3 (Pitt wins, 26-12)