News
USA Wrestling
College
USAW
No. 5 Ohio State won seven bouts to defeat No. 7 Michigan, 23-15 in Ann Arbor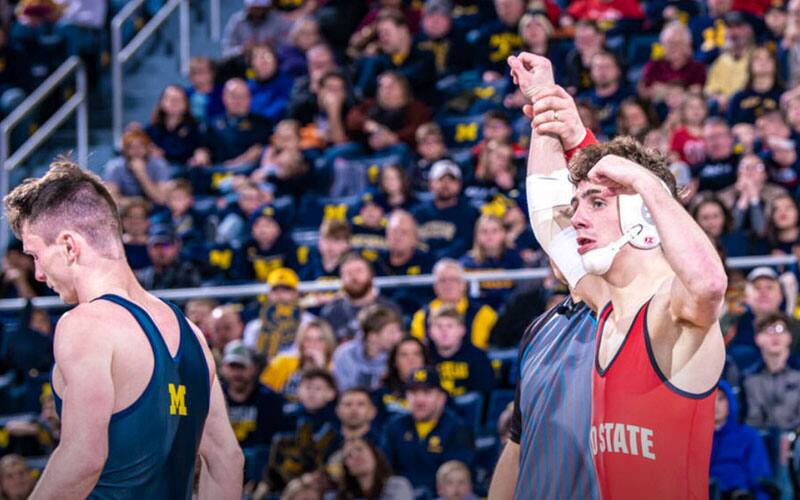 Image courtesy of Ohio State Athletics
.
No. 5 Ohio State (10-1, 4-0) won seven of 10 matches and defeated No. 7 Michigan (8-2, 3-2) 23-15 at the Crisler Center Friday in Ann Arbor.
The win was the Buckeyes' first in Ann Arbor in nearly five years, since February 11, 2018. It also ended a three-match losing streak against the maze and blue.
Ohio State earned the win thanks to a handful of closely-contested matches, especially early in the dual. At 125, 133 and 141 lbs., the Buckeyes scored late in matches and coupled with a technical fall by Sammy Sasso at 149, built a 14-0 lead that they wouldn't relinquish.
How it Happened
125 | No. 10 Malik Heinselman (OSU) def. No. 20 Jack Medley (UM) | Dec., 4-3
After a scoreless first period and Medley escape to start the second, Heinselman scored the opening takedown of the match with under 40 seconds remaining in the period. Tied at 2-2 when the third period began, Heinselman's reversal gave him a 4-2 advantage. He'd hold off Medley for the remainder of the period to earn the 4-3 decision. It was his 17th win of the season.
133 | No. 9 Jesse Mendez (OSU) def. No. 12 Dylan Ragusin (UM) | Dec., 3-1 (SV-1)
Mendez earned a key momentum-swinging early dual victory at 133 by taking 12th-ranked Dylan Ragusin down early in the first overtime period for a 3-1 decision. It was the true freshmen's 10th win of the year, as he improved to 10-1 and gave Ohio State a 6-0 advantage in the team score.
141 | No. 18 Dylan D'Emilio (OSU) def. No. 23 Cole Mattin (UM) | Dec., 7-5
Just like at 133, the 141 bout came down to a late takedown. D'Emilio finished off on an attack with seven seconds remaining in the third period to finish off a 7-5 decision. His five other points came on a takedown and three escapes.
149 | No. 3 Sammy Sasso (OSU) def. Fidel Mayora (UM) | TF, 20-5
Sasso scored early and often in his technical fall that earned the Buckeyes key bonus points in the team score. His two first-period takedowns gave him a 4-1 lead and two more plus a four-point nearfall in the second period opened up the match. With a riding time bonus point added on, Sasso won 20-5 to give Ohio State a 14-0 lead in the dual.
157 | No. 10 Will Lewan (UM) def. No. 23 Paddy Gallagher (OSU) | Dec. 6-4 (SV-1)
Michigan picked up its first team points of the night from Will Lewan, who took down Paddy Gallagher early in the sudden victory overtime period for a 7-5 decision. Gallagher scored the first points of the bout early in the first period on a takedown.
165 | No. 6 Cameron Amine (UM) def. No. 9 Carson Kharchla (OSU) | Fall, 8:21
In the first of two bouts in the dual that featured top-10 ranked wrestlers, Cameron Amine fought off a takedown attempt in the first sudden victory overtime period and then answered with a fall in the opening seconds of the second extra stanza to cut the Buckeye lead to 14-9.
174 | No. 8 Ethan Smith (OSU) def. Max Maylor (UM) | Dec., 11-6
Smith was able to swing the momentum back in Ohio State's favor with a 11-6 decision, his 14th win of the season, that gave the Buckeyes a 17-9 advantage in the team score. Smith was aggressive early, building a 6-4 lead in the first period while scoring two more takedowns in the second and third periods, respectively.
184 | No. 5 Kaleb Romero (OSU) def. No. 8 Matt Finesilver (UM) | Dec., 7-4
The second match of the dual with top-10 wrestlers went to the Buckeyes, as fifth-ranked Kaleb Romero won his 18th match of the season by scoring two third-period takedowns to pull away from No. 8 Matt Finesilver for a 7-4 decision.
197 | No. 21 Gavin Hoffman (OSU) def. Rylan Rogers (UM) | Dec., 5-3
Hoffman clinched the dual for Ohio State with a 5-3 decision at 197 pounds. He finished off a key takedown in the second period that game him a 4-2 lead. Ahead 4-3 in the third period, his escape point made the score 5-3.
HWT | Hogan Swenski (OSU) def. No. 1 Mason Parris (UM) | 6:07
Paris, the top-ranked heavyweight in the country, finished off the dual by getting off to a 12-3 lead after two period on the strength of five takedowns and finished off the fall with 53 seconds remaining in the match.
No. 5 Ohio State 23, No. 7 Michigan 15
125 | No. 10 Malik Heinselman (OSU) dec. over No. 20 Jack Medley (UM) 4-3 // OSU 3, UM 0
133 | No. 9 Jesse Mendez (OSU) dec. over No. 12 Dylan Ragusin (UM) 3-1 (SV-1) // OSU 6, UM 0
141 | No. 18 Dylan D'Emilio (OSU) dec. over No. 23 Cole Mattin (UM) 7-5 // OSU 9, UM 0
149 | No. 3 Sammy Sasso (OSU) tech fall over Fidel Mayora (UM) 20-5 // OSU 14, UM 0
157 | No. 10 Will Lewan dec. over No. 23 Paddy Gallagher (OSU) 6-4 (SV-1) // OSU 14, UM 3
165 | No. 6 Cameron Amine (UM) fall over No. 9 Carson Kharchla (OSU) 8:21 // OSU 14, UM 9
174 | No. 8 Ethan Smith (OSU) dec. over Max Maylor (UM) 11-6 // OSU 17, UM 9
184 | No. 5 Kaleb Romero (OSU) dec. over No. 8 Matt Finesilver (UM) 7-4 // OSU 20, UM 9
197 | No. 21 Gavin Hoffman (OSU) dec. over Rylan Rogers (UM) 5-3 // OSU 23, UM 9
HWT | No. 1 Mason Parris (UM) fall over Hogan Swenski (OSU) 6:07 // OSU 23, UM 15