News
USA Wrestling
High School & Youth
Women
USAW
No. 1 Wyoming Seminary (Pa.) and No. 2 Toppenish (Wash.) remain on top in January National Girls High School team rankings
by USA Wrestling, National Wrestling Hall of Fame, FloWrestling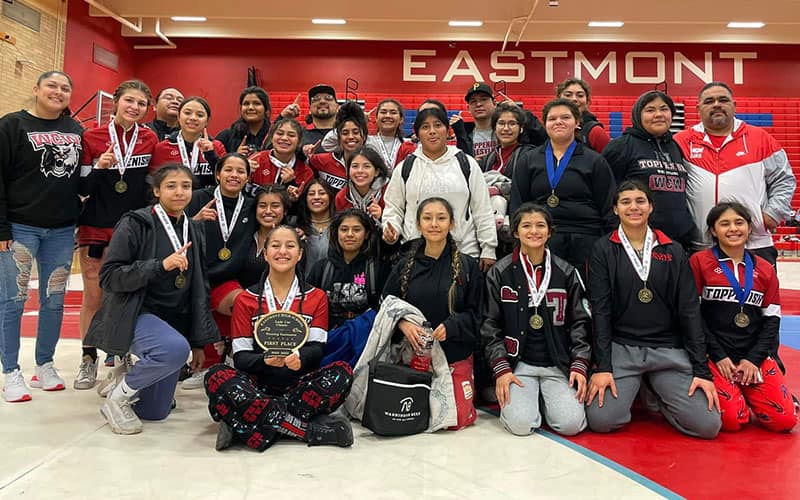 No. 2 Toppenish High School (Wash.) girls wrestling team. Photo courtesy of Toppenish Wrestling Facebook
.
The committee which selects the National Girls High School Rankings for individual athletes, which includes representation from USA Wrestling, FloWrestling and the National Wrestling Hall of Fame and Museum, has posted its second
high school team ranking
for the 2022-23 season on January 27.
This ranking includes public and private schools at the high school level from all states, including states with official girls state championship events as well as those with unofficial girls state championships.
Nine of the top 10 teams from the preseason team rankings have remained in the top 10, although there have been considerable adjustments among these squads. The top two teams have remained the same, with No. 1
Wyoming Seminary
(Pa.) and No. 2
Toppenish
(Wash.) holding down their rankings.
Moving up within the top 10 are No. 3
Lebanon
(Mo.), which moved up four spots, No. 4
Liberty
(Ariz.) moving up five spots, No. 5
Marina
(Calif.) jumping three spots and No. 6
Harrison
(Ohio), which climbed four spots.
The new member of the top 10 is No. 7
Chatfield
(Colo.), which moved up from No. 13.
New teams in the top 30 include No. 14 Dumas (Texas), No. 15 Euless Trinity (Texas), No. 20 Cumberland Valley (Pa.), No. 21 Sparkman (Ala.), No. 22 Bear River (Utah), No. 24 Lewis Central (Iowa), No. 25 Bemidji (Minn.) and No. 28 Rossview (Tenn.).
The committee has chosen 25 additional programs for
Honorable Mention
status. There will not be a set number of Honorable Mention teams in each ranking, which is based upon programs the committee would like to recognize for exceptional achievement.
So far, three states have had their girls wrestling state championships: Alaska, Indiana and Alabama. There have been state-level dual meet events in Georgia, Texas and Utah. Within the next month, a majority of states will conduct their state championships, although a number are scheduled for March.
With your help, the committee will have two more team rankings this year in late February and the final rankings in March.
In order to achieve this, we need more input from coaches, parents, administrators, journalists and fans to have the strongest and most accurate rankings possible.
If there is a team which should be considered for a national ranking and is not on this list, send us the following information.
1) Contact information for the head coach of the girls team
2) The team's projected starting lineup, with result information on the expected starters and their year in school (senior, junior, sophomore, freshman, etc.)
3) The team's schedule for the year
4) Updates on the team throughout the season
Please send all information via email to girlsrankings@usawrestling.org
The long-term goal of the committee and others involved is to strengthen the existing multi-state competitions and develop more large multi-state competitions during the season, where nationally ranked teams and other strong programs can come together to challenge each other.
NATIONAL GIRLS HIGH SCHOOL TEAM RANKINGS
Published January 26, 2023
(with previous ranking
)
1. Wyoming Seminary (Pa.) (1)
2. Toppenish High School (Wash.) (2)
3. Lebanon High School (Mo.) (7)
4. Liberty High School (Ariz.) (9)
5. Marina High School (Calif.) (8)
6. Harrison High School (Ohio) (10)
7. Chatfield High School (Colo.) (13)
8. SLAM Academy (Nev.) (5)
9. Westlake High School (Utah) (3)
10. Allen High School (Texas) (4)
11. Lathrop High School (Alaska) (11)
12. Northview High School (Calif.) (12)
13. Penn High School (Ind.) (6)
14. Dumas High School (Texas) (unranked)
15. Euless Trinity High School (Texas) (unranked)
16. Orlando Freedom High School (Fla.) (15)
17. Olentangy Orange High School (Ohio) (17)
18. Moanalua High School (Hawaii) (18)
19. Dodge City High School (Kansas) (19)
20. Cumberland Valley High School (Pa.) (unranked)
21. Sparkman High School (Ala.) (unranked)
22. Bear River High School (Utah) (unranked)
23. South Sioux City High School (Neb.) (23)
24. Lewis Central High School (Iowa) (unranked)
25. Bemidji High School (Minn.) (unranked)
26. Jackson Memorial High School (N.J.) (22)
27. Cleveland High School (Tenn.) (21)
28. Rossview High School (Tenn.) (unranked)
29. Eagle High School (Idaho) (25)
30. Bixby High School (Okla.) (29)
Honorable Mention, alphabetical (with previous rank)
Azle High School (Texas) (16)
Aurora East High School (Ill.) (unranked)
Baldwin High School (Kansas) (unranked)
Batavia High School (Ill.) (unranked)
Bishop McCourt High School (Pa.) (unranked)
Broken Arrow High School (Okla.) (unranked)
Butte High School (Montana) (unranked)
Carrollton High School (Ga.) (unranked)
Clarksville High School (Tenn.) (unranked)
Daphne High School (Ala.) (20)
Holmen High School (Wis.) (unranked)
Kamehameha Kapalama High School (Hawaii) (24)
Liberty High School (Mo.) (unranked)
Matanzas High School (Fla.) (unranked)
Moore High School (Okla.) (unranked)
Montgomery Central High School (Tenn.) (unranked)
Nixa High School (Mo.) (unranked)
Papillion-LaVista High School (Neb.) (unranked)
Reed High School (Nev.) (unranked)
San Dimas High School (Calif.) (unranked)
Sylvan Hills High School (Ark.) (unranked)
Union High School (Okla.) (unranked)
Valiant College Prep (Ariz.) (14)
Washburn Rural High School (Kansas) (unranked)
Waverly-Shell Rock High School (Iowa) (27)