News
USA Wrestling
High School & Youth
Women
USAW
Girls High School Roundup: Sparkman wins Alabama states, dual meet states held in Texas, Georgia & Utah, No. 8 Marina wins Ayala Invite (CA)
by Gary Abbott, USA Wrestling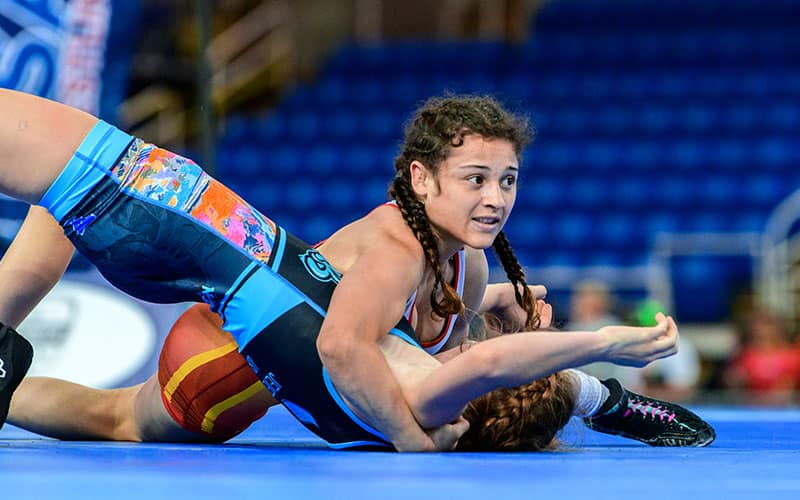 Katey Valdez of Doherty High School (CO) competing in Fargo in 2022. Valdez became the first two-time girls champion at the Colorado Springs Metro Championships. Photo by Tony Rotundo, Wrestlers Are Warriors.
Throughout the rest of the scholastic season, we will review some of the biggest events and activities in the high school girls wrestling season across the nation. Hopefully, as more information is shared, we will help promote and grow girls high school wrestling.
Sparkman edges No. 20 Daphne to win Alabama States; Eight champions finish year unbeaten

Sparkman scored 191 points, to finish 11 points ahead of No. 20 Daphne to win the Alabama girls state championships. Sparkman was led by champions Akerah Artis (145) and Reagan Grant (152), plus third-place Aliza Wix-Amaya (235). State champions for Daphne were Alanah Girard (100) and Kalyse Hill (132), plus a runner-up and two third-place finishers. Sparkman displayed more depth, scoring more points from their team members who did not place in the top four.
National No. 24 Evelyn Holmes-Smith of Enterprise won the 120-pound title, going unbeaten. Eight of the individual champions had no losses: Holmes-Smith, Hill, Artis plus Juliana Eldridge of Wetumpka (107), Lena Johnanson of Weaver (138), Mackenzie Schultz of Enterprise (165), Aniyah Griffin of Pinson Valley (185) and Tamara Reed of Baldwin County (235).
Texas THSWCA Duals shake up rankings: Dumas wins 5A title and Euless Trinity claims 6A honors

Texas has great depth in its high school girls wrestling program, which was displayed in the results in the THSWCA Girls Duals held in North Richmond Hills. Coming into the event, there were two nationally ranked teams who were also ranked No. 1 in the state by Wrestling Texas in their division: National No. 4 Allen in 6A and national No. 16 Azle in 5A. Neither made the state dual meet finals.
Dumas, which was No. 2 in 5A state rankings, won the 5A dual rankings, dominating Richmond Foster, 54-14 in the championship dual. Dumas won 10 bouts against Richmond Foster, including eight by pin. Dumas beat Lubbock 54-14 and Azle 48-21 on the way to the finals.
Euless Trinity, No. 3 in 5A state rankings, defeated Southlake Carroll 48-24 in the dual finals. Euless Trinity is led by national No. 19 Jatoia Coats, scored four falls in the finals dual against Southlake Carroll. Euless Trinity beat Richardson, 60-12, Allen 48-24 and Prosper Rock Hill 54-18 to reach the finals.
Inaugural Georgia Girls State Duals won by Carrolton, with finals win over Jordan

Georgia held its first official Girls State Duals this past weekend at Buford High School. In the championship dual meet, Carrollton defeated Jordan, 48-36. Every match in the finals dual meet ended with a fall. Carrollton had eight falls, while Jordan had five falls and one forfeit. Greenbrier placed third, defeating Chestatee 48-36. One of the tightest dual meets came in the semifinals, when Carrollton defeated Chestatee, 41-40. Carrollton scored six falls and a technical fall, with the final fall by Amazing Ackey at 155 pounds clinching the semifinals victory for Carrollton. Eight teams made the "Elite Eight" for this state dual meet championships through qualifying events the week before. Georgia also held its state duals for boys the same weekend.
No. 3 Westlake takes Utah Girls State Duals, edging Uintah in the finals, 42-42 by tiebreaker

National No. 3 Westlake was pushed to the limit in the finals of the Utah Girls Dual State Championships, held on their home mats in Saratoga Springs. The final dual meet against Uintah ended with a 42-42 tie, which went to Westlake by tiebreaker. Uintah won five of the first six matches in the finals dual, but Westlake battled back. Pins in the last two weight classes by O'dessa Laititi (190) and national No. 12 Keilikki Nau Rarick (235) tied up the match. In this 12-team tournament, Juab placed third, defeating Northridge 48-35 in the finals.
No. 8 Marina wins Ayala Girls Invitational in California, with No. 5 SLAM Academy in second
A huge 80-team girls tournament, the Ayala Invitational in Chino Hills, Calif., featured many strong teams and individuals. National No. 8 Marina, the defending California state champions, won the tournament with 196 points, edging national No. 5 SLAM Academy by just three points. Third-place went to San Dimas High School. Marina was led by individual champions national No. 7 Carissa Qureshi (126), No. 9 Saiheron Preciado-Meza (189) and Destiny Marquez (235). SLAM Academy champions were Noelani Lutz (106) and national No. 7 Emma Albanese (111). San Dimas champions were Juliana Marquez (160) and national No. 18 Kaley Rice (170).
At 111, No. 7 Emma Albanese defeated No. 19 BK Martinez of Ayala, 4-0 at 111. Along with Albanese, Qureshi, Rice and Preciado-Meza, another nationally ranked winner at Ayala was No. 11 Alejandra Valdiviezo of Poway (121). Due to some circumstances, the tournament only hosted gold-medal championship matches and no other medal matches, giving two third places, two fifth places and two seventh places.
No. 2 Toppenish wins Lady Huskie Invite (WA), 11 nationally ranked wrestlers win titles
National No. 2 Toppenish (WA) won the rugged Lady Huskie Invitational in Othello, beating host Othello by an impressive 139.5 points. Three nationally ranked Toppenish stars were champions, No. 9 Mia Zuniga (100), No. 17 Sophia Torrez (105) and No. 9 Ruby Rodriguez-Rios (155). An impressive 11 champions in Othello are nationally ranked, also including No. 23 Alexxus Ramos of Sunnyside (110), No 10 Skyla Zimmerman of Moscow-ID (120), No. 20 Karianne Baldwin of Glacier Peak (125), No. 15 Alanna Haney of Chiawana (140), No. 14 Alondra Morales of Royal (145), No. 17 Emma Villa of Royal (155), No. 12 Isabella Phillips of Bellingham (190) and No. 26 Faith Tarrant of Prairie (235). Two of the finals had both athletes with national rankings. Ramos beat No. 26 Marjorie McDaniel of Orting by fall in 3:57. Phillips beat No. 27 Makayla Torres of Toppenish by fall in 5:44.
Discovery Canyon wins Colorado Springs Metro (CO), with first two repeat champions in event history
In 2001, USA Wrestling's national staff, as a service to the local wrestling community, created the Colorado Springs Metro Wrestling Championships, which invited all of the high school boys teams from the city and surrounding Pikes Peak Region. In 2022, a girls division was added, which was won by host Doherty High School. This year, a larger event saw the first pair of two-time COS Metro girls champions, No. 8 nationally Katey Valdez of Doherty (100) and Naomi Kidd (125) of Doherty. Discovery Canyon won the team title, led by champions No. 20 nationally Victoria Guinard (155), plus Mia Thorne (110) and Adrianna Lopez (130). Runner-up Vista Ridge winners were Kaydence Bonewell (140) and Alison Evans (170).