News
USA Wrestling
International
Women
High School & Youth
USAW
Jimenez wins silver at Henri Deglane for first Senior-level medal, while Molinari claims a bronze
by Lara Lay Hinojosa, Special to TheMat.com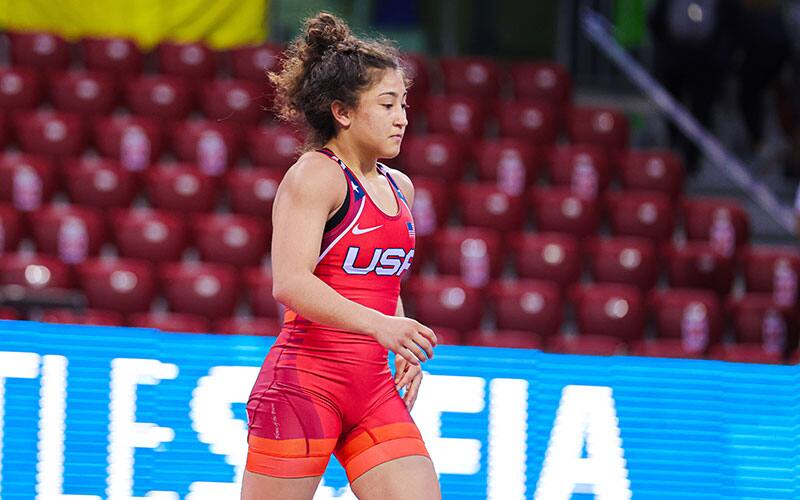 Audrey Jimenez (USA). Photo by Kadir Caliskan, United World Wrestling
NICE, France - Day one at the Henri Deglane Challenge featured women's freestyle, and the five-athlete U.S. contingent came home with a pair of medals.
2022 Junior World silver medalist
Audrey Jimenez
of the Sunkist Kids won her first Senior-level international medal with a silver at 50 kg. 2021 Senior World bronze medalist
Forrest Molinari
of the Sunkist Kids added a bronze medal at 68 kg.
While Molinari won a Henri Deglane silver medal in 2021, this was the first time for Jimenez, Emily Shilson of the Titan Mercury WC, Savannah Cosme of the Sunkist Kids and Kennedy Blades of the Sunkist Kids competing at the Henri Deglane Challenge.
Jimenez showed dominant performances in her matches against Juliette Lescure of France, Canada's Katie Dutchak and Poland's Natalia Walczak, outscoring the opponents 34-4. She met Nigeria's Christianah Ogunsanya in the finals and lost 7-2.
Molinari opened with a win in the quarterfinals over Germany's Eyleen Sewina 11-1. After falling to France's Pauline LeCarpentier in the semifinals, she came back and won the bronze in Forrest fashion, 11-1, over Sofiya Hristova Georgieva of Bulgaria
Cosme was pinned early on and fell to France in repechage.
Shilson, who has won three age-group World titles, lost to a French opponent in her opening match, 6-2. She went on to win in Repechage 1 over Svenja Jungo of Switzerland but forfeited the repechage 2 match.
Blades, a 2021 U20 World champion, started out with a bang pinning Taylor Follensbee of Canada in the first period. She was then pinned by 2016 Olympic bronze medalist Elmira Syzdykova from Kazakhstan after leading the match 8-0. Blades forfeited her third round-robin match against Germany.
Henri Deglane marks the first international showing for the U.S. this year, coming just ahead of the UWW Ranking Series event, the Zagreb Open, in February. It served as a great opportunity for this young, talented group to gain experience on the Senior and international level.
Stay tuned for Day 2 featuring 25 men's freestyle athletes starting early tomorrow morning. On Sunday, there will be one U.S. Greco-Roman entry. Nice is six hours ahead of U.S. Eastern time zone. Action begins at 4:30 EST / 3:30 CST.
Streaming live on Sportall.
HENRI DEGLANE CHALLENGE
At Nice, France, January 20

U.S. Women's freestyle Results
50kg Audrey Jimenez (Sunkist Kids) – Silver
• WIN Juliette Lescure (FRA), 10-0
• WIN Katie Dutchak (CAN), 11-2
• WIN Natalia Walczak (POL), 13-2
• LOSS Christianah Ogunsanya (NGR), 7-2
50kg Emily Shilson (TMWC), 9th place
• LOSS Julie Sabatie (FRA), 6-2
• WIN Svenja Jungo (SUI), 6-0
• LOSS Augusta Eve (CAN), Forfeit
57kg Savannah Cosme (Sunkist Kids) – DNP/17th
• LOSS Anna Michalcova (CZE), PIN
• LOSS Celeste Sion (FRA), 3-2
68kg Forrest Molinari (Sunkist Kids) – Bronze
• WIN Eyleen Sewina (GER), 11-1
• LOSS Pauline LeCarpentier (FRA), 5-3
• WIN Sofiya Hristova Georgieva (BUL), 11-1
76kg Kennedy Blades (Sunkist Kids) – DNP
• WIN Taylor Follensbee (CAN), PIN, 1:29
• LOSS Elmira Syzdykova (KAZ), PIN, 1:52
• LOSS Laura Kuehn (GER), Forfeit
Women's Freestyle Medalists
50 Kg
Gold - Christianah Tolulope Ogunsanya (Nigeria)
Silver - Audrey Rae Jimenez (USA)
Bronze - Julie Sabatie (France)
Bronze - Natalia Edyta Walczak (Poland)
53 Kg
Gold – Anastasia Blayvas (Germany)
Silver - Karla Lorena Godinez Gonzalez (Canada)
Bronze - Annika Wendle (Germany)
Bronze – Nina Hemmer (Germany)
57 Kg
Gold – Elena Heike Brugger (Germany)
Silver - Luisa Elizabeth Valverde Melendres (Ecuador)
Bronze - Sandra Paruszewski (Germany)
Bronze – Tianna Grace Kennett (Canada)
62 Kg
Gold – Ana Paula Godinez Gonzalez (Canada)
Silver - Mimi Nikolova Hristova (Bulgaria)
Bronze - Esther Omolayo Kolawole (Nigeria)
Bronze – Lais Nunes De Oliveira (Brazil)
65 Kg
Gold – Taybe Mustafa Yusein (Bulgaria)
Silver - Gerda Barth (Germany)
Bronze - Chiara Julie Hirt (Germany)
Bronze – Nerea Pampin Blanco (Spain)
68 Kg
Gold – Koumba Larroque (France)
Silver - Pauline Lecarpentier (France)
Bronze - Forrest Ann Molinari (USA)
Bronze – Eyleen Sewina (Germany)
72 Kg
Gold – Lilly Schneider (Germany)
Silver - Jennifer Roesler (Germany)
Bronze – Cassidy Richter (Germany)
76 Kg
Gold – Elmira Syzdykova (Kazakhstan)
Silver - Justina Renay Di Stasio (Canada)
Bronze - Taylor Ann Follensbee (Canada)
Bronze – Francy Raedelt (Germany)
Remaining Henri Deglane Challenge Schedule(6 hours before U.S. Eastern time zone)
Saturday, January 21
Men's Freestyle: 57 kg, 61 kg, 65 kg, 70 kg, 74 kg, 79 kg, 86 kg, 92 kg, 97 kg, 125 kg
10:30 a.m. – conclusion – Women's Freestyle Qualification rounds and finals
Sunday, January 22
Greco-Roman: 55 kg, 60 kg, 63 kg, 67 kg, 72 kg, 77 kg, 82 kg, 87 kg, 97 kg, 130 kg
10:30 a.m. – conclusion – Women's Freestyle Qualification rounds and finals