News
USA Wrestling
International
Women
High School & Youth
USAW
Johnson reaches Klippan Lady Open finals; Moore and Kelly into semifinals; six others in wrestlebacks
by Gary Abbott, USA Wrestling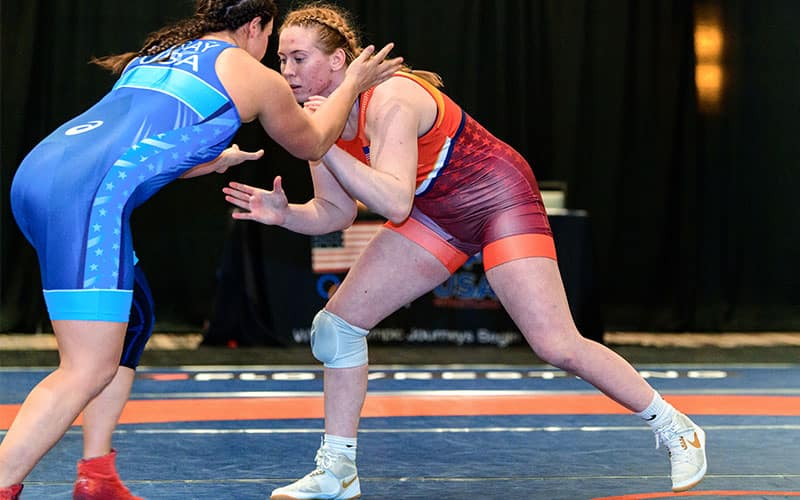 U20 World bronze medalist Tristan Kelly (shown at 2021 Captains Cup) has reached the Klippan Lady Open semifinals. Photo by Tony Rotundo, Wrestlers Are Warriors)
KLIPPAN, Sweden –
Elleni Johnson,
a high school senior from Utah, has reached the gold-medal finals in the Senior 65 kg division at the Klippan Lady Open on Saturday.
Johnson won her first two matches, pinning Elma Zeidiere of Latvia in 4:42 in the quarterfinals, then shutting out 2022 U17 World champion Anju Sato of Japan in the semifinals, 4-0.
She will battle Nerea Pampin Blanco of Spain in the finals, who was seventh in the 2022 U23 World Championships.
The United States brought a team of U20-eligible young stars to compete in this traditionally strong Senior-level event.
Two other U.S. wrestlers, who competed in weight classes split into pools, have qualified for the semifinals, high school star
Shelby Moore
of Washington at 55 kg and U.S. Army WCAP star
Tristan Kelly
at 76 kg.
Moore, an EAP athlete training at the U.S. Olympic & Paralympic Training Center, won Pool B with a pin over Sille Buch in 2:25 and an 8-0 win over Felicitas Domajeva of Norway), 8-0. She will battle Pool A runner-up Laura Stanelyte of Lithuania in the semifinals. Stanelyte was ninth in the 2022 European Senior Championships.
Kelly, a 2022 U20 World bronze medalist, placed second in Pool A with a 2-1 record. Her wins were over Taylor Follensbee of Canada, 6-2, and Kamile Gaucaite of Lithuania, 2-0. Her loss came to 2016 Olympic champion Erica Wiebe of Canada.
Kelly will battle Nanaha Takasu of Japan in the semifinals.
The Klippan Lady Open uses a modified wrestleback system, and six other U.S. wrestlers who suffered losses on Saturday will still have a chance to compete on Sunday with a bronze-medal still a possibility.
KLIPPAN LADY OPEN

At Klippan, Sweden, February 18


U.S. Senior women's freestyle result
s
50 kg - Genesis Cejudo, Phoenix, Colo.
LOSS Svenja Jungo (Switzerland), pin 1:10
Wrestleback – Vs. Juliette Lescure (France)
53 kg - Elena Ivaldi, Newcastle, Calif.
LOSS Jonna Malmgren (Sweden), pin 1:28
Wrestleback – Amber Wiebe (Canada)
53 kg - Estrella Dorado Marin. Colorado Springs, Colo.
WIN Roberta Luostarinen (Finland), 10-5
LOSS Samantha Stewart (Canada), pin 1:27
Wrestleback – Ellen Ostman (Sweden)
55 kg - Shelby Moore, Buckley, Wash.
WIN Sille Buch (Denmark), pin 2:25
WIN Felicitas Domajeva (Norway), 8-0
Semifinals - Vs. Laura Stanelyte (Lithuania)
62 kg - Skylar Hattendorf, Hookset, N.H.
LOSS Johanna Lindborg (Sweden), pin 1:21
Wrestleback – Mathilde Guedon (France)
62 kg - Ella Schmit, Bettandorf, Iowa
WIN Mathilde Guedon (France), 3:32
LOSS Suzu Sasaki (Japan), pin 0:51
Wrestleback – Vs. winner of Hedda Forare Berg (Sweden) and Lydia Perez Tourino (Spain)
65 kg - Elleni Johnson, West Jordan, Utah
WIN Elma Zeidiere (Latvia), pin 4:42
WIN Anju Sato (Japan), 4-0
Gold Medal Finals – Nerea Pampin Blanco (Spain)
68 kg - Chloe Ogden, Geneva, Fla.
WIN Lilly Pfau (Team Sachsen/Germany), tech. fall 10-0 1:12
LOSS Olivia DiBacco (Canada), tech. fall 10-0, 0:53
Wrestleback – Vs. winner of Tyra Lindeblad (Vasby/Sweden) and Alice Bertdahl (Klippan BK/Sweden)
76 kg - Tristan Kelly, Colorado Springs, Colo.
WIN Taylor Follensbee (Canada), 6-2
LOSS Erica Wiebe (Canada), tech. fall 10-0 2:36
WIN Kamile Gaucaite (Lithuania), 2-0
Semifinals – Nanaha Takasu (Japan)