News
USA Wrestling
College
Women
USAW
NCAA Women's Rankings updated: North Central No. 1 for tournament, King is No. 1 for dual meet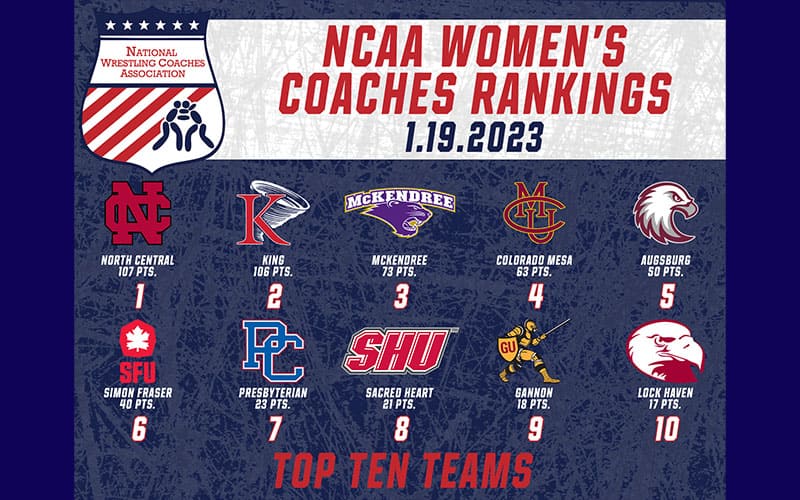 MANHEIM, PA – The latest set of National Wrestling Coaches Association (NWCA) NCAA Women's Wrestling rankings saw a change at the top of the tournament rankings.
North Central
College edged King University by one point to regain the top spot.
King
stayed atop the dual rankings following their NWCA National Duals championship earlier this month.
North Central takes over the top spot with 107 points while King isn't far behind at 106. King and North Central are the only teams with at least 10 individuals ranked as the Tornado lead the way with 14 and North Central has 13. McKendree University jumped Colorado Mesa University into the third spot with 73 points while Colorado Mesa has 63 points. McKendree has eight individuals ranked while the Mavericks have seven. Augsburg University held steady at fifth with 50 points and five ranked individuals.
INDIVIDUAL RANKINGS
Simon Fraser University has six ranked individuals and stayed sixth with 40 points while Presbyterian College remains at seventh with 23 points and three ranked individuals. Sacred Heart University jumped into the top 10 at eighth with 21 points and three ranked individuals while Gannon University and Lock Haven University round out the top 10. Gannon is ranked ninth with four individuals ranked while Lock Haven has two individuals ranked and jumped from tied for 18th to 10th with 17 points.
There are three four individuals ranked No. 1, starting with King's Jessica Corredor at 101 pounds. McKendree's Payton Stroud takes over the top spot at 116 pounds. Ashlynn Ortega of King took over the top spot at 143 pounds from her teammate and North Central's Tiera Jimerson moved up to the top line at 155 pounds.
The University of the Ozarks makes an appearance in the poll for the first time in program history as Rewa Chababo is the first Eagle to crack the rankings. She is ranked eighth at 191 pounds.
King and McKendree each have three individuals ranked No. 1 while North Central has a pair of top-ranked wrestlers.
In the third dual rankings, King remains in the top spot following a national duals title and 5-0 record. North Central finished runner-up and is ranked second while McKendree comes in third. Augsburg is ranked fourth while Colorado Mesa rounds out the top five at fifth. Presbyterian is ranked sixth while Sacred Heart comes in seventh. Gannon, Lock Haven and Adrian College round out the top 10.