News
USA Wrestling
College
USAW
NCAA releases first coaches' ranking for 2023 Division I wrestling championships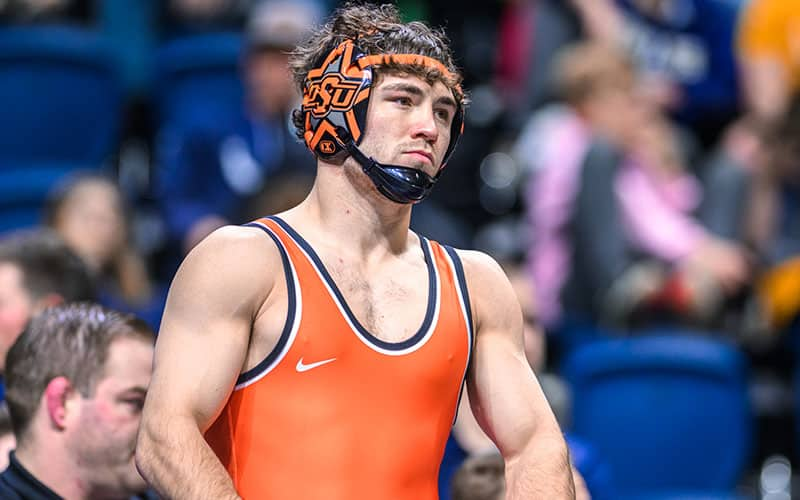 Daton Fix (Oklahoma State) at the Southern Scuffle. Photo by Tony Rotundo, Wrestlers Are Warriors
INDIANAPOLIS — The NCAA has announced the first coaches' ranking for the 2023 NCAA Division I Wrestling Championships.
The coaches' rankings are determined by a vote of 14 coaches in each weight class with two head coaches from each of the seven conferences. For ranking purposes, coaches may only consider a wrestler that has been designated as a starter at a respective weight class. Wrestlers must have eight Division I matches in the weight class to be considered with at least one within the last 30 days.
Of the 10 weight classes, six are led by members of the Big Ten Conference and no school has two individuals in the top spot.
A pair of national champions sit atop the 165-pound and 174-pound weight classes with Missouri's Keegan O'Toole and Penn State's Carter Starocci.
Minnesota's Patrick McKee sits atop 125 pounds, while Oklahoma State's Daton Fix leads at 133 pounds. Andrew Alirez of Northern Colorado boasts the top spot at 141 pounds, while Austin Gomez of Wisconsin leads 149 pounds.
At 157 pounds, Nebraska's Peyton Robb was ranked first by the coaches, while Parker Keckeisen of Northern Iowa sits atop 184 pounds.
Pittsburgh's Nino Bonaccorsi debuts atop 197-pounds, while Michigan's Mason Parris is the top ranked heavyweight.
The coaches' ranking is one of several criteria that will be evaluated by the NCAA Division I Wrestling Committee during the at-large selection and seeding process along with head-to-head competition, quality wins, Ratings Percentage Index (RPI), conference tournament placement, results versus common opponents and win percentage.
A full description of the entire selection process for the 2023 Division I Wrestling Championships is available at ncaa.org.
The 2023 NCAA Division I Wrestling Championships take place March 16-18 at BOK Center in Tulsa as the event returns to Oklahoma for the first time since being held in Oklahoma City in 2014.
NCAA Division I wrestling coaches rank — Through matches of Jan. 15
125 POUNDS

1 Patrick McKee Minnesota Big Ten
2 Eric Barnett Wisconsin Big Ten
3 Malik Heinselman Ohio St. Big Ten
4 Matt Ramos Purdue Big Ten
5 Dean Peterson Rutgers Big Ten
6 Anthony Noto Lock Haven MAC
7 Noah Surtin Missouri Big 12
8 Brett Ungar Cornell EIWA
9 Brandon Kaylor Oregon St. Pac-12
10 Stevo Poulin Northern Colo. Big 12
11 Caleb Smith App State SoCon
12 Braxton Brown Maryland Big Ten
13 Trevor Mastrogiovanni Oklahoma St. Big 12
14 Joey Prata Oklahoma Big 12
15 Jack Medley Michigan Big Ten
16 Eddie Ventresca Virginia Tech ACC
17 Tristan Lujan Michigan St. Big Ten
18 Jake Ferri Kent St. MAC
19 Jore Volk Wyoming Big 12
20 Jack Wagner North Carolina ACC
21 Tanner Jordan South Dakota St. Big 12
21 Ethan Berginc Army West Point EIWA
21 Nico Provo Stanford Pac-12
24 Ryan Miller Penn EIWA
25 Anthony Molton Campbell SoCon
26 Nick Babin Columbia EIWA
27 Jarrett Trombley NC State ACC
28 Antonio Lorenzo Cal Poly Pac-12
29 Tucker Owens Air Force Big 12
30 Carter Bailey Lehigh EIWA
30 Colton Camacho Pittsburgh ACC
32 Maximilian Leete American EIWA
33 Jacob Moran Indiana Big Ten
133 POUNDS

1 Daton Fix Oklahoma St. Big 12
2 Vito Arujau Cornell EIWA
3 Michael McGee Arizona St. Pac-12
4 Sam Latona Virginia Tech ACC
5 Connor McGonagle Lehigh EIWA
6 Micky Phillippi Pittsburgh ACC
7 Michael Colaiocco Penn EIWA
8 Lucas Byrd Illinois Big Ten
9 Jesse Mendez Ohio St. Big Ten
10 Dylan Ragusin Michigan Big Ten
11 Kyle Biscoglia UNI Big 12
12 Chris Cannon Northwestern Big Ten
13 Brayden Palmer Chattanooga SoCon
14 RayVon Foley Michigan St. Big Ten
15 Joe Heilmann Rutgers Big Ten
16 Aaron Nagao Minnesota Big Ten
17 Jason Shaner Oregon St. Pac-12
18 Chance Rich CSU Bakersfield Pac-12
19 Cody Phippen Air Force Big 12
20 Kai Orine NC State ACC
21 Kurtis Phipps Bucknell EIWA
22 Zach Redding Iowa St. Big 12
23 Sean Carter App St. SoCon
24 Cullan Schriever Iowa Big Ten
25 Taylor Lamont Wisconsin Big Ten
26 Angelo Rini Columbia EIWA
27 Connor Brown Missouri Big 12
28 Wyatt Henson Oklahoma Big 12
29 Domenic Zaccone Campbell SoCon
30 Garrett Grice Virginia ACC
31 Henry Porter Indiana Big Ten
32 Boo Dryden Nebraska Big Ten
33 Gable Strickland Lock Haven MAC
141 POUNDS

1 Andrew Alirez Northern Colo. Big 12
2 Cole Matthews Pittsburgh ACC
3 Beau Bartlett Penn St. Big Ten
4 Brock Hardy Nebraska Big Ten
5 Ryan Jack NC State ACC
6 Allan Hart Missouri Big 12
7 Cael Happel UNI Big 12
8 Clay Carlson South Dakota St. Big 12
9 Jakob Bergeland Minnesota Big Ten
10 Tom Crook Virginia Tech ACC
11 Vince Cornella Cornell EIWA
12 Lachlan McNeil North Carolina ACC
13 Parker Filius Purdue Big Ten
14 Darren Miller Bucknell EIWA
15 Dylan D`Emilio Ohio St. Big Ten
16 Jesse Vasquez Arizona St. Pac-12
17 Cole Mattin Michigan Big Ten
18 Joe Olivieri Rutgers Big Ten
19 Cleveland Belton Oregon St. Pac-12
20 Josh Koderhandt Navy EIWA
21 Danny Pucino Illinois Big Ten
22 Dylan Droegemueller North Dakota St. Big 12
23 Mosha Schwartz Oklahoma Big 12
24 Matt Kazimir Columbia EIWA
25 Angelo Martinoni CSU Bakersfield Pac-12
26 McKenzie Bell Rider MAC
27 Carter Young Oklahoma St. Big 12
28 Jordan Titus West Virginia Big 12
29 Joseph Zargo Wisconsin Big Ten
30 Dylan Layton Cleveland St. MAC
31 Malyke Hines Lehigh EIWA
32 Shannon Hanna Campbell SoCon
33 Kal Miller Maryland Big Ten
149 POUNDS

1 Austin Gomez Wisconsin Big Ten
2 Sammy Sasso Ohio St. Big Ten
3 Yahya Thomas Northwestern Big Ten
4 Kyle Parco Arizona St. Pac-12
5 Paniro Johnson Iowa St. Big 12
6 Brock Mauller Missouri Big 12
7 Caleb Henson Virginia Tech ACC
8 Max Murin Iowa Big Ten
9 Jonathan Millner App St. SoCon
10 Doug Zapf Penn EIWA
11 Colin Realbuto UNI Big 12
11 Shayne Van Ness Penn St. Big Ten
13 Jaden Abas Stanford Pac-12
14 Jackson Arrington NC State ACC
15 Michael Blockhus Minnesota Big Ten
16 Chance Lamer Michigan Big Ten
17 Kellyn March North Dakota St. Big 12
18 Mitch Moore Oklahoma Big 12
19 Dom Demas Cal Poly Pac-12
20 Ethen Miller Maryland Big Ten
21 Caleb Tyus SIUE MAC
22 Quinn Kinner Rider MAC
23 Victor Voinovich Oklahoma St. Big 12
24 Graham Rooks Indiana Big Ten
25 Sam Hillegas West Virginia Big 12
26 Alec Hagan Ohio MAC
27 Jarod Verkleeren Virginia ACC
28 Tyler Badgett Pittsburgh ACC
29 Max Brignola Lehigh EIWA
30 Dylan Martinez Air Force Big 12
31 Tony White Rutgers Big Ten
32 Ryan Burgos Edinboro MAC
33 Luke Nichter Drexel EIWA
33 Kyle Schickel Clarion MAC
157 POUNDS

1 Peyton Robb Nebraska Big Ten
2 Jared Franek North Dakota St. Big 12
3 Kendall Coleman Purdue Big Ten
4 Austin O`Connor North Carolina ACC
5 Josh Humphreys Lehigh EIWA
6 Ed Scott NC State ACC
7 Will Lewan Michigan Big Ten
8 Jarrett Jacques Missouri Big 12
9 Trevor Chumbley Northwestern Big Ten
10 Kaden Gfeller Oklahoma St. Big 12
11 Jacob Wright Wyoming Big 12
12 Anthony Artalona Penn EIWA
13 Chase Saldate Michigan St. Big Ten
14 Brayton Lee Minnesota Big Ten
15 Derek Gilcher Indiana Big Ten
16 Garrett Model Wisconsin Big Ten
17 Cael Swensen South Dakota St. Big 12
18 Charlie Darracott Stanford Pac-12
19 Paddy Gallagher Ohio St. Big Ten
20 Derek Holschlag UNI Big 12
21 Cesar Alvan Columbia EIWA
22 Peyten Kellar Ohio MAC
23 Andrew Clark Rutgers Big Ten
24 Michael North Maryland Big Ten
25 Alex Hornfeck West Virginia Big 12
26 Corbyn Munson Central Mich. MAC
27 Jason Kraisser Iowa St. Big 12
28 Tommy Askey App St. SoCon
29 Andrew Cerniglia Navy EIWA
30 Vinny Zerban Northern Colo. Big 12
31 Jacob Butler Oklahoma Big 12
32 Peter Pappas George Mason MAC
33 Marcus Robinson Cleveland St. MAC
165 POUNDS
1 Keegan O`Toole Missouri Big 12
2 David Carr Iowa St. Big 12
3 Quincy Monday Princeton EIWA
4 Shane Griffith Stanford Pac-12
5 Cameron Amine Michigan Big Ten
6 Dean Hamiti Wisconsin Big Ten
7 Julian Ramirez Cornell EIWA
8 Peyton Hall West Virginia Big 12
8 Michael Caliendo III North Dakota St. Big 12
8 Patrick Kennedy Iowa Big Ten
11 Dan Braunagel Illinois Big Ten
12 Austin Yant UNI Big 12
13 Izzak Olejnik NIU MAC
14 Justin McCoy Virginia ACC
14 Tanner Cook South Dakota St. Big 12
16 Alex Facundo Penn St. Big Ten
17 Joshua Ogunsanya Columbia EIWA
18 Gerrit Nijenhuis Oklahoma Big 12
19 Matthew Olguin Oregon St. Pac-12
20 Connor Brady Virginia Tech ACC
21 Wyatt Sheets Oklahoma St. Big 12
22 Maxx Mayfield Northwestern Big Ten
23 Evan Barczak Drexel EIWA
24 Rodrick Mosley Gardner-Webb SoCon
25 Caleb Fish Michigan St. Big Ten
26 Will Formato App St. SoCon
27 Enrique Munguia Kent St. MAC
28 Andrew Sparks Minnesota Big Ten
29 Holden Heller Pittsburgh ACC
30 Bubba Wilson Nebraska Big Ten
31 Giano Petrucelli Air Force Big 12
32 Lucas Revano Penn EIWA
33 Avery Bassett Lock Haven MAC
174 POUNDS
1 Carter Starocci Penn St. Big Ten
2 Mikey Labriola Nebraska Big Ten
3 Mekhi Lewis Virginia Tech ACC
4 Chris Foca Cornell EIWA
5 Mickey O`Malley Drexel EIWA
6 Dustin Plott Oklahoma St. Big 12
7 Ethan Smith Ohio St. Big Ten
8 Demetrius Romero Utah Valley Big 12
9 Edmond Ruth Illinois Big Ten
10 Peyton Mocco Missouri Big 12
11 Rocky Jordan Chattanooga SoCon
12 Bailee O`Reilly Minnesota Big Ten
13 Cade DeVos South Dakota St. Big 12
14 Donnell Washington Indiana Big Ten
15 Troy Fisher Northwestern Big Ten
16 Nick Incontrera Penn EIWA
17 Aaron Olmos Oregon St. Pac-12
18 Tyler Eischens Stanford Pac-12
18 Benjamin Pasiuk Army West Point EIWA
20 Darrien Roberts Oklahoma Big 12
21 Triston Wills Little Rock Pac-12
22 Jared McGill Edinboro MAC
23 Julien Broderson Iowa St. Big 12
24 Sal Perrine Ohio MAC
25 Andrew Berreyesa Northern Colo. Big 12
26 Lennox Wolak Columbia EIWA
27 Will Miller App St. SoCon
28 Hayden Hastings Wyoming Big 12
29 Alex Faison NC State ACC
30 Gaven Sax North Dakota St. Big 12
31 Alex Cramer Central Mich. MAC
32 Luca Augustine Pittsburgh ACC
33 Dominic Solis Maryland Big Ten
184 POUNDS
1 Parker Keckeisen UNI Big 12
2 Trent Hidlay NC State ACC
3 Marcus Coleman Iowa St. Big 12
4 Kaleb Romero Ohio St. Big Ten
5 Hunter Bolen Virginia Tech ACC
6 Abe Assad Iowa Big Ten
7 Matt Finesilver Michigan Big Ten
8 Trey Munoz Oregon St. PAC 12
9 Isaiah Salazar Minnesota Big Ten
10 Travis Wittlake Oklahoma St. Big 12
11 Brian Soldano Rutgers Big Ten
11 Lenny Pinto Nebraska Big Ten
13 Layne Malczewski Michigan St. Big Ten
14 Gavin Kane North Carolina ACC
15 Reece Heller Pittsburgh ACC
16 Cade King South Dakota St. Big 12
16 Neil Antrassian Virginia ACC
18 Tate Samuelson Lehigh EIWA
19 Jacob Nolan Binghamton EIWA
20 Giuseppe Hoose Buffalo MAC
21 Jacob Ferreira Hofstra EIWA
22 Dylan Connell Illinois Big Ten
23 Brian Bonino Drexel EIWA
24 Anthony Montalvo Arizona St. Pac-12
25 Anthony Carman West Virginia Big 12
26 Matthew Waddell Chattanooga SoCon
27 Colton Hawks Missouri Big 12
28 Caleb Hopkins Campbell SoCon
29 Deanthony Parker Jr North Dakota St. Big 12
30 Will Feldkamp Clarion MAC
31 David Key Navy EIWA
32 Nate Dugan Princeton EIWA
33 Noah Blake Air Force Big 12
197 POUNDS
1 Nino Bonaccorsi Pittsburgh ACC
2 Max Dean Penn St. Big Ten
3 Michael Beard Lehigh EIWA
4 Yonger Bastida Iowa St. Big 12
5 Isaac Trumble NC State ACC
6 Bernie Truax Cal Poly Pac-12
7 Ethan Laird Rider MAC
8 Zac Braunagel Illinois Big Ten
8 Jacob Warner Iowa Big Ten
10 Tanner Sloan South Dakota St. Big 12
11 Owen Pentz North Dakota St. Big 12
12 Cameron Caffey Michigan St. Big Ten
12 Braxton Amos Wisconsin Big Ten
14 Jaxon Smith Maryland Big Ten
15 Silas Allred Nebraska Big Ten
16 Tanner Harvey Oregon St. Pac-12
17 Luke Stout Princeton EIWA
18 Gavin Hoffman Ohio St. Big Ten
19 Luke Surber Oklahoma St. Big 12
20 Evan Bockman Utah Valley Big 12
21 Michael Battista Virginia ACC
22 Andy Smith Virginia Tech ACC
23 Nick Stemmet Stanford Pac-12
24 Michial Foy Minnesota Big Ten
25 Jacob Koser Navy EIWA
26 Andrew Davison Northwestern Big Ten
27 Trey Rogers Hofstra EIWA
28 Austin Cooley West Virginia Big 12
29 Levi Hopkins Campbell SoCon
30 Cole Urbas Penn EIWA
31 Max Shaw North Carolina ACC
32 John Crawford Franklin & Marshall EIWA
33 Nick Willham Indiana Big Ten
HEAVYWEIGHT
1 Mason Parris Michigan Big Ten
2 Tony Cassioppi Iowa Big Ten
3 Lucas Davison Northwestern Big Ten
4 Cohlton Schultz Arizona St. Pac-12
5 Wyatt Hendrickson Air Force Big 12
6 Zach Elam Missouri Big 12
7 Yaraslau Slavikouski Harvard EIWA
8 Sam Schuyler Iowa St. Big 12
9 Trent Hillger Wisconsin Big Ten
10 Owen Trephan NC State ACC
11 Tyrell Gordon UNI Big 12
12 AJ Nevills South Dakota St. Big 12
13 Taye Ghadiali Campbell SoCon
14 Tate Orndorff Ohio St. Big Ten
15 Colton McKiernan SIU Edwardsville MAC
16 Josh Heindselman Oklahoma Big 12
17 Grady Griess Navy EIWA
18 Cory Day Binghamton EIWA
19 Hunter Catka Virginia Tech ACC
20 Jonah Niesenbaum Duke ACC
21 Konner Doucet Oklahoma St. Big 12
22 Jacob Bullock Indiana Big Ten
23 Michael Wolfgram West Virginia Big 12
24 Boone Mcdermott Rutgers Big Ten
25 Jaron Smith Maryland Big Ten
26 Juan Mora North Dakota St. Big 12
27 Garrett Joles Minnesota Big Ten
28 Nathan Taylor Lehigh EIWA
29 Ben Goldin Penn EIWA
30 Dorian Crosby Bucknell EIWA
31 David Szuba Rider MAC
32 josiah hill Little Rock Pac-12
33 Travis Stefanik Princeton EIWA