News
USA Wrestling
College
Women
USAW
NCAA Div. III Maine Maritime Academy to elevate club wrestling to varsity and will compete in both men's and women's wrestling
by Maine Maritime Athletics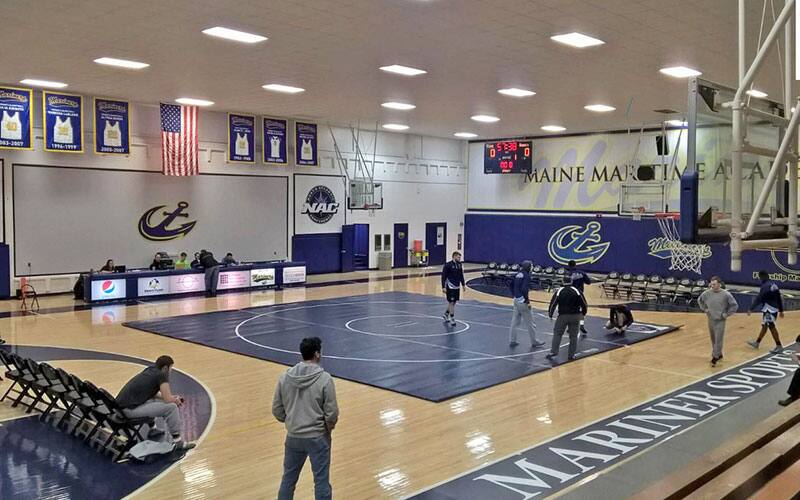 CASTINE, Maine –
Maine Maritime Academy
announced the addition of men's and women's wrestling to its roster of varsity sport offerings. The move was announced by Maine Maritime President Jerry Paul '89 on Tuesday morning.
Men's and women's wrestling is currently a club sport at the Academy, competing in the National Collegiate Wrestling Association (NCWA). The program will continue in the NCWA for one more year before moving to NCAA competition in the 2024-2025 season.
Last season, the club fielded 18 wrestlers, including the Academy's first female wrestler, Jenna Willard. In the 2021-2022 campaign, the team competed in five regular season Invitationals before qualifying for the NCWA Northeast Conference Championship. At the tournament, six wrestlers qualified for the NCWA National Championship held in Texas, and Willard was named the Most Outstanding Wrestler in the Women's Division.
Wrestling is part of the sports tradition at the Academy. Maine Maritime fielded a men's wrestling team from 1967 to 1979. The Academy has five Hall of Fame members that were associated with wrestling, including William J. Mottola, who the Mariners Athletics Hall of Fame is named after. The Mariners restarted wrestling as a club program for the 2018-2019 season.
Maine Maritime will look to hire a coach for each team this spring with a planned start date in July to continue to expand the rosters as the programs transition into varsity sports.
What They're Saying
Jerry Paul, President, Maine Maritime Academy
"As a long-time former wrestler I know the unique aspects of this sport and the special athletes who call it their own. We are particularly proud to restore this varsity tradition for young men at the Academy while becoming the first institution in the state to offer a women's wrestling program, creating opportunities for the athletes competing in America's fastest growing sport. MMA is a perfect platform for the success of all committed wrestlers to make their mark at the college level while earning a world-class degree and building for a prosperous professional career"
Mike Moyer, Executive Director, National Wrestling Coaches Association
"I know I can speak for our NWCA Board of Directors when I congratulate athletic director, Steve Peed and the Maine Maritime Academy administration for their pioneering efforts to expand intercollegiate wrestling opportunities in Maine. For the FIRST time ever, we now have a women's intercollegiate wrestling team in Maine along with our second intercollegiate men's team in the state. These programs are the first intercollegiate teams established in Maine since 1997. Anytime we increase opportunities for young men and women in the sport of wrestling it is cause for celebration."
Steve Peed, Director of Athletics, Maine Maritime Academy
"This is a great day for Maine Maritime Athletics as we not only restore, but expand upon one of the Academy's old athletic traditions with the world's oldest sport. Wrestling has always been a natural fit with our student body and the sport celebrates the no excuses, just get it done mentality that has defined Maine Maritime graduates for more than eight decades. I am incredibly grateful to Don McCann and Peter Stewart for growing and maintaining the club and interest in the sport over the past several years. I look forward to finding the first coaches that will lead our athletes into NCAA competition."
Tricia Carver, Associate Director of Athletics / Senior Woman Administrator, Maine Maritime Academy
"I couldn't be more excited to add another opportunity for women to compete in collegiate athletics, specifically here at MMA. To announce the addition of wrestling- women's AND men's- in 2023 as we celebrate the 50th anniversary of Title IX is perhaps the greatest honor we can give the piece of legislation that changed everything for women in sports. In 1972, the intention was to create opportunity, never to take it away. With this announcement, we do just that. Both the men's and women's program will begin on the same financial footing with the equal access to high-quality coaching, competition, gear, practice & game facilities, strength-building opportunities, and more. We will build full programs, working together and supporting one another, with Mariner Pride. I can't wait to watch the power, the grit, and the love for wrestling our women and men bring to the mat."
Don McCann, Club Wrestling Coach / Professor of Engineering, Maine Maritime Academy
"I am extremely happy that we will be moving our club wrestling program to the varsity level. When Peter Stewart and I started the team in 2018 it was always our goal to have wrestling become a varsity sport at Maine Maritime. We have received tremendous support from the Maine Maritime administration, in particular Athletic Director, Steve Peed and President, Jerry Paul. I have thoroughly enjoyed coaching our wrestlers at Maine Maritime, both past and present, and I look forward to seeing our program move to the next level."