News
USA Wrestling
College
Women
USAW
NCAA, NAIA men and women divisions set for semifinals at USMC/NWCA Multi-Division National Dual Meet Championships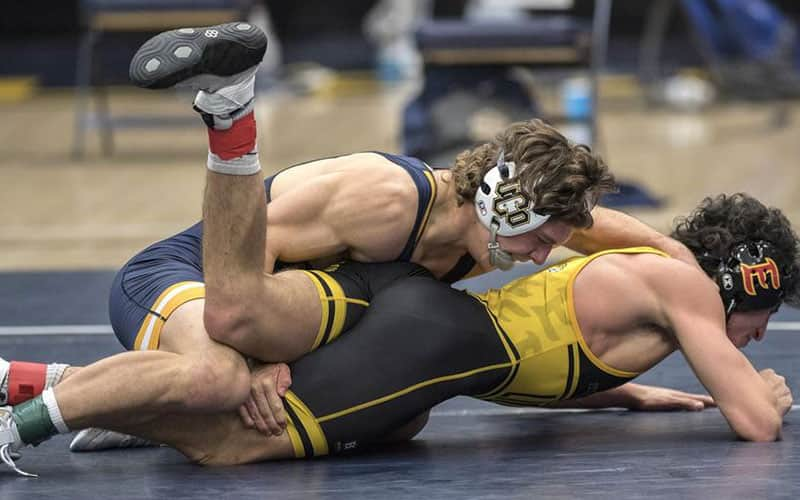 Action image by courtesy of Central Oklahoma Athletics, photo by Nate Keim
Louisville, Kentucky – Five of the six divisions in action at the Kentucky Exposition Center have reached the semifinals and in all five, the returning champions are in the mix to repeat, while there's a party crasher or two in the mix.
Central Oklahoma, UW-La Crosse, Grand View, King University
and
Life
each pushed through winning in early-round competition on Friday at the
2022 U.S. Marine Corps NWCA Multi-Division National Dual Meet Championships
. The NCWA men's division wrestles its quarterfinals on Saturday morning.
WHAT:
U.S. Marine Corps NWCA Multi-Division National Dual Meet Championships
WHERE
: Kentucky Expo Center, Louisville, Kentucky
WHEN:
January 6-7, 2023
WATCH:
Flowrestling (Subscription Required)
RESULTS
via Trackwrestling.com
Division II Men
Top-seeded Central Oklahoma won both its duals on Friday, but it wasn't exactly easy for the returning National Duals champion Bronchos. Winning six of the 10 bouts against Augustana (S.D.) in the opening round, a couple of high-profile upsets soured what might have been a stellar day for coach Todd Steidley's squad.
The win over Augustana wasn't cemented until a 6-1 win at 197-pounds by top-ranked and returning Division II champion Dalton Abney and second-ranked Shawn Streck's major decision at 285 pounds. The win got them a matchup with No. 8 Indianapolis, which needed a fall at 285 to knock-off upset-minded Gannon 21-19 in the opening round. Trailing by four in the dual, UIndy's Cale Gray pinned Gannon's Gehrig Hutchison in 24 seconds to propel the Greyhounds into the quarterfinals.
In the quarters, UCO won seven of the 10 bouts, but UIndy's wins came over three top-four wrestlers, including 197-pounder Derek Blubaugh avenging last year's national championship loss to Abney with a 7-1 win in sudden victory.
UCO will face fourth-seeded West Liberty in the semifinals. The Hilltoppers also needed late heroics from its heavyweight to fight off an opening-round upset. Seventh-ranked Francesco Borsellino earned an 8-0 major decision to give West Liberty a crucial bonus point to garner a 20-19 win over Colorado Mesa. Borsellino was again put into a key position in the quarterfinals, needing at least a decision to keep West Liberty's championship hopes alive against fifth-seeded Lander. Borselllino got the 6-3 decision to force a 16-16 tie and West Liberty prevailed on the third criteria, most match points, which the Hilltoppers held 43-38.
Seventh-seeded Mary pushed past second-seeded Nebraska-Kearney to earn a semifinal test against third-seeded St. Cloud State. Mary opened with resounding 37-8 win over Ashland before winning six of 10 against the Lopers to pick up the 21-12 win. Key victories for the Marauders came at 174 pounds, where third-ranked Max Bruss edged second-ranked Austin Eldridge and at 197 pounds, where 12th-ranked Matt Kaylor won by injury default over sixth-ranked Hayden Prince. Kaylor led 5-4 at the time of the default.
St. Cloud State had little trouble in two opening day victories – a 32-9 win over Mercyhurst and a 28-7 win over No. 6 Upper Iowa, also from the Northern Sun Intercollegiate Conference. Despite the lopsided spread, there were several notable individual bouts contested, including No. 8 Alyeus Craig of St. Cloud State topping fifth-ranked Tate Murty 7-1 at 141 pounds. Both of Upper Iowa's wins came against ranked opponents. At 165, No. 2 Chase Luensman of Upper Iowa used the riding time point to get past No. 10 Anthony Herrera 5-4 and at 197, No. 9 Dalton Hahn dominated the neutral battle with six takedowns in a 15-7 win over No. 4 Dominic Murphy.
NCAA Women
Top-seeded King University breezed into the semifinals, winning eight bouts to defeat eighth-seeded Gannon 34-12. King wrestlers won two of the ranked head-to-head matchups in the dual, but a big one went Gannon's way at 109 pounds. Gannon's fourth-ranked Julianne Moccia pinned top-ranked Sage Mortimer late in the bout after the two were embroiled in a wild back-and-forth scrap. Moccia earned the fall after hitting a four-point fireman's carry to rally from down 12-10. At 136, sixth-ranked Viktorya Torres pinned eighth-ranked Lana Perez in a bout that was back-and-forth until Torres earned the fall. At 170, second-ranked Chey Bowman earned a 10-0 technical superiority victory over No. 6 Jewel Gonzalez. The Tornado will face fourth-seeded McKendree, which needed criteria to get past fifth-seeded Augsburg 24-23.
McKendree opened with a 34-12 win over Lock Haven, while Augsburg dispensed with Limestone 30-10. McKendree's top-ranked and three-time national champion Sydnee Kimber earned a fall at 191 pounds to force a 23-23 tie with the Auggies and the tie-breaking criteria, most match points, favored the Bearcats 24-18.
In the bottom half of the bracket, third-seeded Colorado Mesa extended its win streak to 20 duals in a row after beating Lindenwood 30-16 and unseeded Presbyterian 29-14. Presbyterian reached the quarters after upending sixth-seeded Adrian 27-22.
Leading 15-14 with three bouts to go, Colorado Mesa's second-ranked Dalia Garibay teched Isabella Badon 10-0 at 155 to lock up the lead. Two forfeits followed to secure the Mavericks quarterfinal victory. Individually, Colorado Mesa started the dual off with a notable head-to-head ranked win as third-ranked Jennesis Martinez topped fifth-ranked Samantha Miller 4-0 at 101 pounds.
Colorado Mesa will take on second-seeded North Central College of Naperville, Illinois. The Cardinals cruised past Tiffin 45-2 and then knocked off seventh-ranked Sacred Heart 38-7 in the quarterfinals. The only ranked head-to-head bout went North Central's way as sixth-ranked Madison Avila defeated Aaliyah Payne-Parris 5-2 at 101 pounds.
Division III Men
The usual suspects made their way into the semifinals after a pair of wins on Friday. Those usual suspects are top-seeded Wartburg, second-seeded Augsburg, returning champion and third-seeded UW-La Crosse and fourth-seeded Johnson & Wales (R.I.). The largest of the six divisions with 24 teams, Division III had eight preliminary bouts to feed into the draw. Top-seeded Wartburg shut out Millikin 45-0 and then got past unseeded Baldwin Wallace 24-15 to take its place in the semifinals. The Knights are 12-time winners of the Division III National Duals title.
Despite Wartburg taking seven of the 10 bouts, the Yellow Jackets won three of the four matches between ranked wrestlers or returning All-Americans. At 125, returning national champion Jacob Decatur beat fifth-ranked James Levy of Wartburg 7-2, while fifth-ranked Jaden Hinton pinned third-ranked Joe Pins of Wartburg early in the second period. At 149, top-ranked Michael Petrella cradled up returning All-American Kristian Rumph of Wartburg and got the fall at 5:50. The 197-pound bout did go Wartburg's way as second-ranked Massoma Endene beat third-ranked Doug Byrne 11-7. Wartburg faces fourth-seeded Johnson & Wales, which edged fifth-seeded North Central (Ill.) 22-18.
Johnson & Wales heavyweight Liridon Leka earned a 5-4 win in the dual's final bout over returning All-American Robby Bates to seal the deal for the Wildcats. JWU rallied from an 18-6 deficit to win the final four bouts – two of them by a point. The big swing bout came at 149 pounds where Johnson & Wales' Hayden Brown, ranked fifth up at 157 pounds, picked off fifth-ranked Javen Estrada 8-3. It was a crucial win after North Central's Bradley Rosen beat eighth-ranked Gabe Leo at 141 pounds.
Third-seeded UW-La Crosse became the first 'Burg not to win the title last year and the Eagles show no signs of wanting to relinquish the title. Coach Dave Malecek's Eagles won 14 of 20 bouts on the day to reach the semis. UWL first topped Castleton 27-10 before knocking off sixth-seeded Wabash 30-13 in a rematch of last year's final. UW-La Crosse won two of the three matches with ranked wrestlers going head-to-head: Nolan Hertel 13-3 over Tim Smith at 157 and Seth Brossard by fall over Raymond Arebalo at 174 pounds. Second-ranked Jack Heldt of Wabash pinned 11th-ranked Mike Douglas in the second period at 285. UW-La Crosse will take on second-seeded Augsburg in the semifinals.
The Auggies opened up with a 29-12 win over Luther and then a 24-12 win over Loras to go 2-0 against American Rivers Conference schools on Friday. Despite losing two of the three head-to-head bouts with ranked wrestlers, Augsburg got falls from Derek Steele at 125 and Parker Venz at 197 to give them enough of a cushion to fend off any upset attempt. The one notable upset did come at Augsburg's expense as sixth-ranked Zeke Smith upended returning All-American and second-ranked Tyler Shilson at 157 pounds 4-1.
NAIA Women
Three of the top four seeds moved into the semifinals with a pair of wins on Friday, while fifth-seeded Menlo raised some eyebrows with two dominant wins. Top-seeded Southern Oregon scored five falls in a 43-6 win over Ottawa in the opening round and then the Raiders set the tone early in a 32-10 win over unseeded Texas Wesleyan.
Southern Oregon beat four straight ranked opponents to open the dual to jump out to a 15-2 lead. Southern Oregon's Natalie Reyna-Rodriguez, ranked fifth at 116, dropped to 109 and beat fifth-ranked Jasmine Sands 2-2 on criteria. Another big SOU win came at 116 where eighth-ranked Glory Konecny knocked off fourth-ranked Camille Fournier 4-4 on criteria in a matchup between past All-Americans.
Menlo won nine of 10 bouts to fly past Brewton-Parker in the opening round and then repeated the feat, taking nine of 10 in a 38-8 win over fourth-seeded Campbellsville. At 130, Menlo's Alana Vivas bumped up from 123 pounds to pin fourth-ranked Angele Vitiritti. The Oaks wouldn't stop with the upsets as 19th-ranked Desiree Jones topped third-ranked Emma Walker, the returning NAIA runner-up, 10-8 at 143 pounds. Menlo followed that up with 13th-ranked Shannon Workinger pinning fourth-ranked Kendra Thompson at 155 pounds.
Life University beat Baker and sixth-seeded Providence (Mont.) to reach the semifinals in the Running Eagles' quest to repeat as NAIA women's champions. Providence's depth at 101 provided options as Argos had the first and second-ranked wrestlers in the nation. Second-ranked Erin Hikiji gave Providence a quick lead with a technical superiority at 101 pounds, moving top-ranked Ivy Navarro to 109 to face Life's Peyton Prussin, the No. 1 at 109 and two-time NAIA champion. Prussin dominated, scoring 10-0 win, which then set the stage for unranked but returning All-American Kory Phillips to give Life a huge win at 116, beating top-ranked Ashley Gooman with a fall in 64 seconds. Life's Sarah Savidge kept the upset parade rolling, knocking off second-ranked Paige Respicio 17-7. Life will face Grand View, which defeated Oklahoma City 32-13 before knocking off seventh-seeded Indiana Tech 26-17.
The Vikings trailed 17-9 before reeling off four straight wins, including two falls, to pull out the team victory. Top-ranked Alexis Gomez of Grand View started the run with a fall in 3:48 over eighth-ranked Samantha Snow at 143 pounds. That followed with ninth-ranked 143-pounder Madison Diaz bumping up to defeat 18th-ranked Grace Doering of Indiana Tech 10-0. Leading 18-17, Grand View's fourth-ranked Abby McIntyre put things out of reach with a fall in just under a minute at 170 pounds over Catherine McNulty.
NAIA Men
The top two seeds in the NAIA Men's Division seem to be destined to meet for a fourth straight year. Grand View ran its NAIA win streak to 147 in a row after smashing Lourdes 43-9 and shutting out No. 8 Reinhardt 46-0. Grand View's sweep over Reinhardt included eight head-to-head wins in matches involving ranked wrestlers. Grand View also showed its depth, wrestling 19 different wrestlers in 20 bouts. Only 141-pounder Ben Murphy wrestled twice, winning by fall in the opening match and then knocking off 14th-ranked Dawson Bates of Reinhardt 5-1.
The Vikings, winners of 10 straight NAIA Men's National Duals titles, will face fourth-seeded Doane, which has another notable streak on going.
Doane 141-pounder Baterdene "Baagi" Boldmaa won two bouts on Friday, helping lift the Tigers into the semifinals with wins over Oklahoma City 39-6 and No. 5 Indiana Tech 19-13. Boldmaa beat returning All-Americans Cade Manion of OCU and Kyle Kantola of Indianan Tech to run his individual win streak to 88, the longest active streak in college wrestling. The streak is tied with Division I heavyweights Nick Gwiazdowski and Kerry McCoy for the 14th longest in collegiate wrestling history. The dual came down to heavyweight and it was Doane's ninth-ranked Brandon Antesberger getting the 3-1 victory over 14th-ranked Braydon Erb to push the Tigers into the semifinals for the second year in a row.
Third-seeded Southeastern (Fla.) assured itself of the highest finish in school history after reaching the semifinals with victories over the University of the Cumberlands and sixth-seeded Marian. The Fire, competing in their fourth National Duals, finished fifth in 2019. Trailing 16-14 heading into 197 pounds, Southeastern's Trillyon Fils-Aime and returning NAIA champ Gage Braun picked up back-to-back bonus wins to secure the victory. Against Marian, it was again the upper weights who powered the Fire through as Fils-Aime and Gabe Jacobs picked up the wins to help complete the rally for the 21-13 victory.
Southeastern will face Life, which ran through its first two opponents by a combined score of 78-6 and won 19 of 20 matches on the day. Third-ranked heavyweight Austin Harris of Life pinned fourth-ranked Hunter DeJong of Morningside late in the first period in a matchup of highly ranked big men. Fifth-ranked Tyree Johnson of Life edged eighth-ranked Taylor Vasquez 10-9. Like Grand View, Life wrestled 19 different wrestlers in 20 bouts with only returning NAIA champion Zane Lanham coming to the mat twice. Lanham pinned Cornerstone's Jackson Turner and accepted a forfeit against Morningside.
NCWA Men
Wrestling at the National Duals for the first time since 2008, the eight-team National Collegiate Wrestling Association has its pool winners set and ready for quarterfinal matchups on Saturday. Liberty University and Bellarmine each went 3-0 on Friday and will be the top seeds opposite one another in the Saturday bracket. Liberty will face Emory & Henry, a school transitioning from Division III to Division II, while Bellarmine will open with Central Florida.
Bellarmine and Queens are in their transitional years from NCAA Division II to Division I and are ineligible for the postseason, so they are competing with the NCWA during their transitional seasons. Queens will face Toledo's club program in the bottom half with the winner facing either Bellarmine or Central Florida. Up top, two longtime NCWA rivals will meet as Grand Valley State will take on the Apprentice School. Grand Valley State will be relaunching its varsity Division II program next season, while Apprentice, one of the oldest programs in the Southeast, is a trade school in Newport News, Virginia.
Liberty won the A Pool with a 40-14 win over Grand Valley State, a 55-3 win over Central Florida and a 41-9 win over Toledo. In the B Pool, Bellarmine swept Queens 42-9, Emory & Henry 58-6 and Apprentice School 46-6. Bellarmine's top-ranked 165-pounder Cole Nance leads all wrestlers with three falls.
Other notables individually were: Third-ranked Jack Parker of Bellarmine took out second-ranked Bruno Alves of Apprentice 17-10 at 125 pounds. At 133, second-ranked Michael Schiffhauer of Bellarmine majored fourth-ranked Dillon Messick of Apprentice 14-2. Top-ranked 184-pounder Seth Konynenbelt of Grand Valley State bumped to 197 pounds and majored second-ranked Matthew Abraham of Toledo 11-0. Three-time NCWA champion Jeffrey Allen of Liberty went 2-0 with a fall and a major decision at 235 pounds, the extra weight class the NCWA pioneered for college wrestling. Top-ranked 285-pounder Rick Weaver of Liberty was prolific with his points, earning two technical falls and a fall on his 3-0 day.
Saturday Pairings
Division II Men
Semifinals
#1 Central Oklahoma vs. #4 West Liberty
#3 St. Cloud State vs. #7 Mary
Division III Men
Semifinals
#1 Warburg vs. #4 Johnson & Wales (R.I.)
#3 UW-La Crosse vs. #2 Augsburg
NCAA Women
Semifinals
#1 King vs. #4 McKendree
#3 Colorado Mesa vs. #2 North Central
NAIA Men
Semifinals
#1 Grand View vs. #4 Doane
#3 Southeastern (Fla.) vs. #2 Life
NAIA Women
Semifinals
#1 Southern Oregon vs. #5 Menlo
#3 Life vs. #2 Grand View
NCWA Men
Quarterfinals
Liberty vs. Emory & Henry
Grand Valley State vs. Apprentice School
Toledo vs. Queens
Central Florida vs. Bellarmine