News
USA Wrestling
College
USAW
Missouri leads Southern Scuffle after day one with Oklahoma State, Minnesota, close behind
by Adam Engel, Special to TheMat.com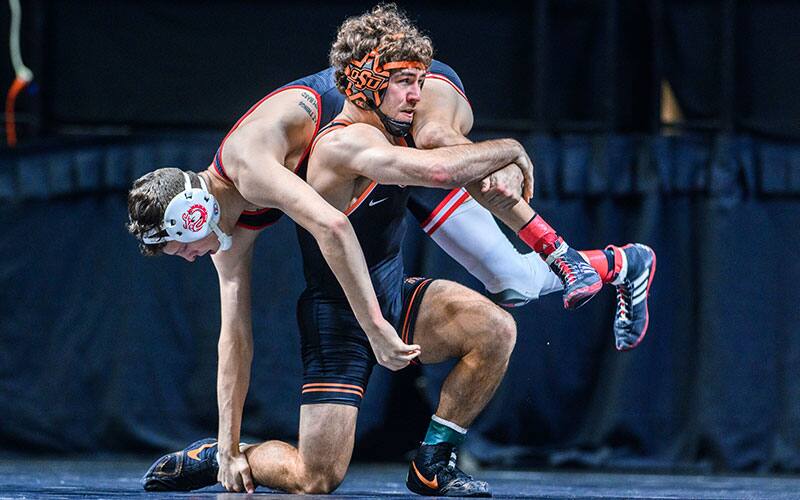 Three-time NCAA finalist Daton Fix (Oklahoma State) competing at 133 pounds at the 2023 Southern Scuffle. Photo by Tony Rotundo, Wrestlers Are Warriors.
Bonus points proved worthy Saturday.
No. 10
Missouri l
eads the Southern Scuffle team race with 79.5 points and five semifinalists.
Oklahoma State
followed at second with 74 points while
Minnesota
checked in at third with 70.
Although Minnesota led all teams with seven semifinalists, several bonus point wins carried the Tigers. Missouri's five semifinalists combined for five pins, three major decisions, three tech falls and four decisions.
Noah Surtin (125), Allan Hart (141), Jarrett Jacques (157), Peyton Mocco (174) and Zach Elam (heavyweight) look to find the finals Monday.
Hart outscored opponents 42-4 in four matches.
Daton Fix, Oklahoma State's three-time NCAA finalist, led the Cowboys with six semifinalists. He rolled to the semifinals with two bonus point wins and a decision. He's on track to become a two-time Southern Scuffle champion. Cal State Bakersfield's Chance Rich will challenge Fix on Monday in the semifinals.
At 125, Trevor Mastrogiovanni scored a late takedown over Stanford's Nico Provo to advance to the semifinals. That sets up a Big 12 battle between Mastrogiovanni and Missouri's Noah Surtin.
OSU's Victor Voinovich will scrap with Virginia's Michael Gioffre in a 149-pound semifinal. Gioffre became the only wrestler to send a top seed to the consolation bracket Sunday. He beat Stanford's Jaden Abas, 3-1, in the round of 32.
OSU's other top seeds, Dustin Plott (174) and Travis Wittlake (184) made the semifinals. The Cowboys at 184 face a similar situation to four Golden Gophers.
Two Golden Gophers, Cael Carlson and Andrew Sparks are represented on separate ends of the 165-pound bracket. At 174, it's the same deal with Gophers Jared Krattiger and Bailee O'Reilly. U23 World Team member Aaron Nagao (133), Jake Bergeland (141) and Garrett Joles (285) are the other Minnesota semifinalists.
OSU's Gavin Stika sits on the opposite end to Wittlake at 184.
Stanford
's Shane Griffith, the tournament's only national champion, gets Minnesota's Cael Carlson in a 165-pound semifinal.
The action resumes Monday at 11 a.m. ET with consolation bouts. The finals and medal matches begin at 7 p.m. ET. The event is broadcast live on FloWrestling.
SOUTHERN SCUFFLE
At Chattanooga, Tenn.

Semifinal pairings (with seeds)
125 pounds
No. 1 Matt Ramos (Purdue) vs No. 4 Stevo Poulin (Northern Colorado)
No. 3 Noah Surtin (Missouri) vs No. 2 Trevor Mastrogiovanni (Oklahoma State)
133 pounds
No. 1 Daton Fix (Oklahoma State) vs No. 4 Chance Rich (Cal State Bakersfield)
No. 3 Aaron Nagao (Minnesota) vs Brayden Palmer (Chattanooga)
141 pounds
No. 1 Andrew Alirez (Northern Colorado) vs No. 5 Darren Miller (Bucknell)
No. 3 Jake Bergeland (Minnesota) vs No. 2 Allan Hart (Missouri)
149 pounds
Michael Gioffre (Virginia) vs No. 4 Victor Voinovich (Oklahoma State)
No. 6 Kellyn March (North Dakota State) vs No. 2 Quinn Kinner (Rider)
157 pounds
No. 1 Kendall Coleman (Purdue) vs No. 4 Jarrett Jacques (Missouri)
Charles Darracott (Stanford) vs No. 2 Jared Franek (North Dakota State)
165 pounds
No. 1 Shane Griffith (Stanford) vs No. 5 Clay Carlson (Minnesota)
No. 3 Andrew Sparks (Minnesota) vs No. 2 Michael Caliendo III (North Dakota State)
174 pounds
No. 1 Dustin Plott (Oklahoma State) vs Jared Krattiger (Minnesota)
No. 3 Bailee O'Reilly (Minnesota) vs No. 2 Peyton Mocco (Missouri)
184 pounds
No. 1 Travis Wittlake (Oklahoma State) vs No. 5 Jacob Ferreira (Hofstra)
No. 6 Gavin Stika (Oklahoma State) vs Deanthony Parker Jr. (North Dakota State)
197 pounds
No. 1 Ethan Laird (Rider) vs No. 4 Owen Pentz (North Dakota State)
No. 3 Jaxon Smith (Maryland) vs No. 2 Lou Deprez (Binghamton)
Heavyweight
No. 1 Zach Elam (Missouri) vs No. 4 Garrett Joles (Minnesota)
No. 3 Jonah Niesenbaum (Duke) vs Cory Day (Binghamton)
Quarterfinal results (with seeds)
125 pounds
No. 1 Matt Ramos (Purdue) fall Cooper Flynn (Virginia Tech), 7:25
No. 4 Stevo Poulin (N. Colorado) dec. No. 5 Caleb Smith (Appalachian State), 6-5
No. 3 Noah Surtin (Missouri) fall Troy Spratley (Minnesota), 6:22
No. 2 Trevor Mastrogiovanni (Oklahoma State) dec. Nico Provo (Stanford), 3-1
133 pounds
No. 1 Daton Fix (Oklahoma State) dec. Zach Redding (Iowa State), 5-2
No. 4 Chance Rich (Cal State-Bakersfield) dec. No. 5 Sean Carter (Appalachian State), 6-1
No. 3 Aaron Nagao (Minnesota) dec. No. 6 Connor Brown (Missouri), 6-3
Brayden Palmer (Chattanooga) dec. No. 2 Ramazan Attasauov (Iowa State), 7-4
141 pounds
No. 1 Andrew Alirez (Northern Colorado) maj. dec. Collin Gerardi (Virginia Tech), 18-5
No. 2 Allan Hart (Missouri) tech fall Dylan Cedeno (Virginia), 15-0 5:37
No. 3 Jake Bergeland (Minnesota) dec. No. 6 Carter Young (Oklahoma State), 2-0
No. 5 Darren Miller (Bucknell) dec. No. 4 Dylan Droegemueller (North Dakota State), 4-2
149 pounds
Michael Gioffre (Virginia) dec. Mike Zarif (Binghamton), 2-1
No. 4 Victor Voinovich (Oklahoma State) dec. Nate Pulliam (Missouri), 5-2
No. 6 Kellyn March (ND State) dec. Jordan Williams (Oklahoma State), 10-9
No. 2 Quinn Kinner (Rider) maj. dec. Benji Alanis (Northern Colorado), 10-0
157 pounds
No. 1 Kendall Coleman (Purdue) dec. Tommy Askey (Appalachian State), 7-2
No. 4 Jarrett Jacques (Missouri) dec. No. 5 Daniel Cardenas (Stanford), 8-5
Charles Darracott (Stanford) dec. No. 3 Kaden Gfeller (Oklahoma State), 3-2 second tiebreaker
No. 2 Jared Franek (North Dakota State) dec. Vinny Zerban (Northern Colorado), 4-1
165 pounds
No. 1 Shane Griffith (Stanford) maj. dec. Grant Stotts (Iowa State), 13-4
No. 5 Cael Carlson (Minnesota) dec. No. 4 Wyatt Sheets (Oklahoma State), 9-4
No. 3 Andrew Sparks (Minnesota) dec. No. 6 Will Formato (Appalachian State), 3-1
No. 2 Michael Caliendo III (ND State) dec Hunter Garvin (Stanford), 7-4
174 pounds
No. 1 Dustin Plott (Oklahoma State) dec. Andrew Berreyesa (Northern Colorado), 10-4
Jared Krattiger (Minnesota) dec. No. 4 Tyler Eischens (Stanford), 3-2
No. 3 Bailee O'reilly (Minnesota) dec. Triston Wills (Little Rock), 3-2
No. 2 Peyton Mocco (Missouri) dec. Gaven Sax (North Dakota State), 7-4
184 pounds
No. 1 Travis Wittlake (Oklahoma State) dec. Colton Hawks (Missouri), 2-0
No. 5 Jacob Ferreira (Hofstra) dec. Kyle Haas (Oklahoma State), 7-5 sudden victory
No. 6 Gavin Stika (Oklahoma State) dec. No. 3 Jacob Nolan (Binghamton), 2-2 second tiebreaker
Deanthony Parker Jr. (ND State) dec. No. 2 Sean Harman (Missouri), 2-1
197 pounds
No. 1 Ethan Laird (Rider) dec. Stephen Little (Little Rock), 6-4
No. 4 Owen Pentz (ND State) dec. No. 5 Michial Foy (Minnesota), 5-3 sudden victory
No. 3 Jaxon Smith (Maryland) dec. No. 6 Luke Surber (Oklahoma State), 3-2
No. 2 Lou Deprez (Binghamton) dec. Nikolas Stemmet (Stanford), 8-2
Heavyweight
No. 1 Zach Elam (Missouri) fall Josiah Hill (Little Rock), 0:22
No. 4 Garrett Joles (Minnesota) dec.Juan Mora (North Dakota State), 5-4
No. 3 Jonah Niesenbaum (Duke) dec. No. 6 Konner Doucet (Oklahoma State), 3-2
Cory Day (Binghamton) fall Peter Ming (Stanford), 2:19
Top 15 teams after day one
1 Missouri 79.5
2 Oklahoma State 74
3 Minnesota 70.5
4 ND State 69
5 Stanford 47
6 Binghamton 46
7 N. Colorado 40
8 Maryland 38
9 Purdue 37.5
10 Rider 36
11 Appalachian State
12 Little Rock 25
13 Bucknell 23.5
14 Chattanooga 21
15 CSU-Bakersfield 20
15 Iowa State 20
Adam Engel, Special to
TheMat.com