News
USA Wrestling
College
Women
USAW
Texas Wesleyan women edge Missouri Baptist to win Sooner Athletic Conference title
by Gary Abbott, USA Wrestling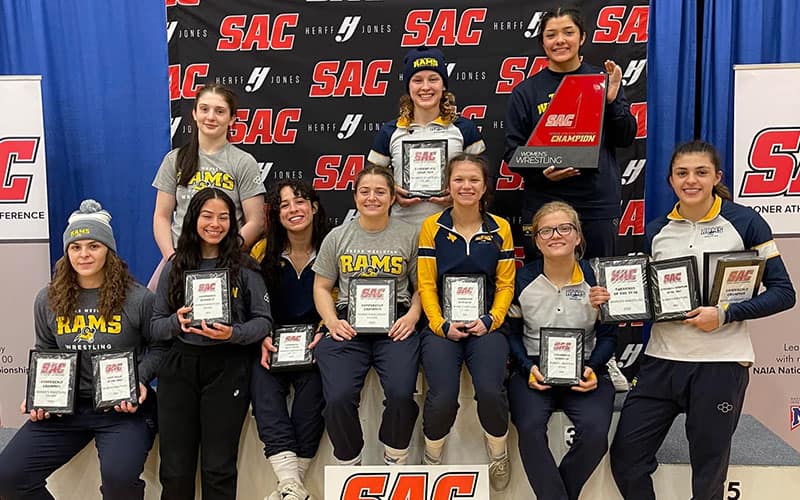 Texas Wesleyan, 2023 SAC women's wrestling champions. Photo courtesy of Texas Wesleyan Athletics.
FORT WORTH, Texas – No. 6
Texas Wesleyan
won the Sooner Athletic Conference women's wrestling title, outscoring runner-up No. 13
Missouri Baptist
, 108.5 points to 103 points. No. 17
Oklahoma City
was third with 101 points. It was the second straight year Texas Wesleyan was conference champion.
Texas Wesleyan had three individual champions and qualified seven athletes for the NAIA Nationals. Champions were
Jasmine Sands (
109), 2022 NAIA national champion
Lexie Basham
(130) and
Mea Mohler
(136). Basham was the only repeat SAC champion this year.
Missouri Baptist had four SAC champions, with six national qualifiers. Champions were
Alyssa Quezaire
(101),
Juliana Diaz
(116),
Karoline Ortiz
(123) and
Josette Partney (
143).
Oklahoma City did not have any champions, but pushed five qualifiers to the NAIA Nationals.
Wayland Baptist had two champions,
Alexandria Hernandez
(155) and
Morgan Senior
(170). The other SAC champion was
Samyra Thomas
of Jarvis Christian (191).
The Sooner Athletic Conference had a total of 23 automatic qualifiers for the nationals.
SOONER ATHLETIC CONFERENCE CHAMPIONSHIPS
At Fort Worth, Texas, Feb. 25

Women's freestyle results
101 (2 qualifiers)
1st Place - Alyssa Quezaire of Missouri Baptist University
2nd Place - Jolie Lucas of Texas Wesleyan
3rd Place - Malarie Dominguez of Wayland Baptist University
4th Place - Maya Conde of Wayland Baptist University
Jolie Lucas (Texas Wesleyan) 17-8, Jr. over Maya Conde (Wayland Baptist University) 2-11, So. (Fall 0:28)
Alyssa Quezaire (Missouri Baptist University) 3-0, Fr. over Malarie Dominguez (Wayland Baptist University) 10-7, So. (Fall 5:34)
Alyssa Quezaire (Missouri Baptist University) 3-0, Fr. over Maya Conde (Wayland Baptist University) 2-11, So. (Fall 0:44)
Jolie Lucas (Texas Wesleyan) 17-8, Jr. over Malarie Dominguez (Wayland Baptist University) 10-7, So. (Dec 13-6)
Malarie Dominguez (Wayland Baptist University) 10-7, So. over Maya Conde (Wayland Baptist University) 2-11, So. (TF-1.5 3:20 (10-0))
Alyssa Quezaire (Missouri Baptist University) 3-0, Fr. over Jolie Lucas (Texas Wesleyan) 17-8, Jr. (Dec 12-4)
109 (2 qualifiers)
1st Place Match - Jasmine Sands (Texas Wesleyan) 19-3, RS Fr. over Kaycie Tanimoto (Texas Wesleyan) 13-2, RS Fr. (For.)
2nd Place Match - Kaycie Tanimoto (Texas Wesleyan) 13-2, RS Fr. over Alana Garcia (Oklahoma City University) 6-3, Fr. (NC)
3rd Place Match - Alana Garcia (Oklahoma City University) 6-3, Fr. over Leah Ford (Wayland Baptist University) 6-12, Fr. (Dec 10-3)
5th Place Match - Alyssa Sequeira (Central Christian College) 1-2, Sr. over Nadia Alejandres (Oklahoma City University) 6-15, So. (TF-1.5 2:20 (10-0))
116 (4 qualifiers)
1st Place Match - Juliana Diaz (Missouri Baptist University) 3-0, Fr. over Camille Fournier (Texas Wesleyan) 19-9, So. (Dec 10-8)
2nd Place Match - Camille Fournier (Texas Wesleyan) 19-9, So. over Avery Ashley (Oklahoma City University) 25-5, Fr. (NC)
3rd Place Match - Avery Ashley (Oklahoma City University) 25-5, Fr. over Iby Garcia (Oklahoma City University) 18-7, Fr. (Inj. 0:00)
5th Place Match - Mia Arceneaux (Wayland Baptist University) 17-14, Jr. over Riley White (Missouri Baptist University) 0-3, RS Fr. (Dec 4-4)
123 (3 qualifiers)
1st Place Match - Karoline Ortiz (Missouri Baptist University) 3-0, RS Jr. over Sophia Smith (Oklahoma City University) 20-5, Jr. (Dec 7-7)
2nd Place Match - Sophia Smith (Oklahoma City University) 20-5, Jr. over Tess Barnett (Wayland Baptist University) 19-12, So. (Fall 1:17)
3rd Place Match - Tess Barnett (Wayland Baptist University) 19-12, So. over Taryn Johnson (Missouri Baptist University) 2-2, Fr. (Fall 0:41)
5th Place Match - Danyl Pippin (Wayland Baptist University) 13-16, Fr. over Emma De Brum (Lyon College) 2-4, RS Sr. (Dec 8-6)
130 (2 qualifiers)
1st Place Match - Lexie Basham (Texas Wesleyan) 14-0, So. over Bryce White (Oklahoma City University) 22-9, Fr. (For.)
2nd Place Match - Bryce White (Oklahoma City University) 22-9, Fr. over Cassidy Anderson (Central Christian College) 2-1, Jr. (NC)
3rd Place Match - Cassidy Anderson (Central Christian College) 2-1, Jr. over Addison Cronk (Wayland Baptist University) 12-13, Fr. (TF-1.5 3:00 (18-6))
5th Place Match - Erron Grimes (Wayland Baptist University) 6-16, So. over Abigail Mattson (Missouri Baptist University) 0-3, Fr. (Fall 1:22)
136 (3 qualifiers)
1st Place - Mea Mohler of Texas Wesleyan
2nd Place - Eunique Davis of Missouri Baptist University
3rd Place - Maryellen Lafferty of Texas Wesleyan
4th Place - Morgan Mackey of Oklahoma City University
Mea Mohler (Texas Wesleyan) 23-7, So. over Morgan Mackey (Oklahoma City University) 1-10, So. (TF-1.5 1:52 (10-0))
Eunique Davis (Missouri Baptist University) 2-1, RS Jr. over Maryellen Lafferty (Texas Wesleyan) 18-7, So. (Dec 9-2)
Mea Mohler (Texas Wesleyan) 23-7, So. over Eunique Davis (Missouri Baptist University) 2-1, RS Jr. (Dec 4-4)
Maryellen Lafferty (Texas Wesleyan) 18-7, So. over Morgan Mackey (Oklahoma City University) 1-10, So. (TF-1.5 5:07 (11-0))
Mea Mohler (Texas Wesleyan) 23-7, So. over Maryellen Lafferty (Texas Wesleyan) 18-7, So. (For.)
Eunique Davis (Missouri Baptist University) 2-1, RS Jr. over Morgan Mackey (Oklahoma City University) 1-10, So. (TF-1.5 4:18 (10-0))
143 (2 qualifiers)
1st Place - Josette Partney of Missouri Baptist University
2nd Place - Rebekah Garcia of Lyon College
3rd Place - Kylee Sabella of Lyon College
4th Place - Dymeria Guillory of Missouri Baptist University
5th Place - Chloe Buchanan of Jarvis Christian
Rebekah Garcia (Lyon College) 9-7, RS Sr. over Dymeria Guillory (Missouri Baptist University) 1-3, Jr. (Fall 1:25)
Kylee Sabella (Lyon College) 6-4, So. over Chloe Buchanan (Jarvis Christian) 0-7, Jr. (TF-1.5 0:34 (10-0))
Josette Partney (Missouri Baptist University) 4-0, So. over Chloe Buchanan (Jarvis Christian) 0-7, Jr. (Fall 0:30)
Kylee Sabella (Lyon College) 6-4, So. over Dymeria Guillory (Missouri Baptist University) 1-3, Jr. (Fall 5:41)
Josette Partney (Missouri Baptist University) 4-0, So. over Kylee Sabella (Lyon College) 6-4, So. (TF-1.5 0:55 (10-0))
Rebekah Garcia (Lyon College) 9-7, RS Sr. over Chloe Buchanan (Jarvis Christian) 0-7, Jr. (TF-1.5 2:44 (13-0))
Josette Partney (Missouri Baptist University) 4-0, So. over Rebekah Garcia (Lyon College) 9-7, RS Sr. (TF-1.5 6:00 (11-0))
Dymeria Guillory (Missouri Baptist University) 1-3, Jr. over Chloe Buchanan (Jarvis Christian) 0-7, Jr. (Fall 2:04)
Josette Partney (Missouri Baptist University) 4-0, So. over Dymeria Guillory (Missouri Baptist University) 1-3, Jr. (Fall 0:46)
Rebekah Garcia (Lyon College) 9-7, RS Sr. over Kylee Sabella (Lyon College) 6-4, So. (Inj. 0:00)
155 (2 qualifiers)
1st Place - Alexandria Hernandez of Wayland Baptist University
2nd Place - Anastasia Hardin of Missouri Baptist University
3rd Place - Leilani Hernandez of Texas Wesleyan
4th Place - Lydia Monedero of Jarvis Christian
Anastasia Hardin (Missouri Baptist University) 2-1, RS So. over Lydia Monedero (Jarvis Christian) 12-17, Fr. (TF-1.5 2:44 (11-0))
Alexandria Hernandez (Wayland Baptist University) 19-10, So. over Leilani Hernandez (Texas Wesleyan) 11-10, So. (Fall 1:21)
Alexandria Hernandez (Wayland Baptist University) 19-10, So. over Anastasia Hardin (Missouri Baptist University) 2-1, RS So. (Dec 8-6)
Leilani Hernandez (Texas Wesleyan) 11-10, So. over Lydia Monedero (Jarvis Christian) 12-17, Fr. (Fall 1:47)
Anastasia Hardin (Missouri Baptist University) 2-1, RS So. over Leilani Hernandez (Texas Wesleyan) 11-10, So. (Fall 0:59)
Alexandria Hernandez (Wayland Baptist University) 19-10, So. over Lydia Monedero (Jarvis Christian) 12-17, Fr. (Fall 1:17)
170 (1 qualifiers)
1st Place - Morgan Senior of Wayland Baptist University
2nd Place - Aalyah Villarreal of Texas Wesleyan
3rd Place - Natalie Bryant of Jarvis Christian
4th Place - Sierra Alfonso of Lyon College
5th Place - Philomena Imoka of Jarvis Christian
Aalyah Villarreal (Texas Wesleyan) 15-11, So. over Natalie Bryant (Jarvis Christian) 15-12, Fr. (TF-1.5 1:23 (10-0))
Sierra Alfonso (Lyon College) 3-5, RS Sr. over Philomena Imoka (Jarvis Christian) 0-4, Fr. (TF-1.5 2:33 (10-0))
Morgan Senior (Wayland Baptist University) 14-10, Fr. over Philomena Imoka (Jarvis Christian) 0-4, Fr. (TF-1.5 3:24 (12-1))
Aalyah Villarreal (Texas Wesleyan) 15-11, So. over Sierra Alfonso (Lyon College) 3-5, RS Sr. (TF-1.5 3:28 (12-2))
Morgan Senior (Wayland Baptist University) 14-10, Fr. over Sierra Alfonso (Lyon College) 3-5, RS Sr. (TF-1.5 4:22 (11-0))
Natalie Bryant (Jarvis Christian) 15-12, Fr. over Philomena Imoka (Jarvis Christian) 0-4, Fr. (Inj. 2:10)
Morgan Senior (Wayland Baptist University) 14-10, Fr. over Natalie Bryant (Jarvis Christian) 15-12, Fr. (Dec 7-0)
Aalyah Villarreal (Texas Wesleyan) 15-11, So. over Philomena Imoka (Jarvis Christian) 0-4, Fr. (Inj. 0:00)
Morgan Senior (Wayland Baptist University) 14-10, Fr. over Aalyah Villarreal (Texas Wesleyan) 15-11, So. (Dec 5-5)
Natalie Bryant (Jarvis Christian) 15-12, Fr. over Sierra Alfonso (Lyon College) 3-5, RS Sr. (Fall 1:27)
191 (2 qualifiers)
1st Place Match - Samyra Thomas (Jarvis Christian) 19-2, Fr. over Eseta Sepeni (Oklahoma City University) 15-5, Fr. (Fall 1:07)
2nd Place Match - Ryann Rumsey (Oklahoma City University) 5-5, Jr. over Eseta Sepeni (Oklahoma City University) 15-5, Fr. (Inj. 0:00)
3rd Place Match - Ryann Rumsey (Oklahoma City University) 5-5, Jr. over Lily Myers (Central Christian College) 1-2, Fr. (TF-1.5 3:10 (11-0))
5th Place Match - Anai Santiago (Wayland Baptist University) 11-18, Fr. over Shawna Daniels (Jarvis Christian) 2-5, Sr. (Fall 1:38)
Team Standings
1 Texas Wesleyan, 108.5
2 Missouri Baptist University, 103.0
3 Oklahoma City University, 101.0
4 Wayland Baptist University, 98.0
5 Jarvis Christian, 29.0
6 Central Christian College, 28.0
7 Lyon College, 25.0
NAIA NATIONALS QUALIFIERS
Texas Wesleyan (7 qualifiers)
Jolie Lucas (2nd at 101, Sooner AC)
Jasmine Sands (1st at 109, Sooner AC)
Kaycie Tanimoto (True 2nd at 109, Sooner AC)
Camille Fournier (True 2nd at 116, Sooner AC)
Lexie Basham (1st at 130, Sooner AC)
Mea Mohler (1st at 136, Sooner AC)
Maryellen Lafferty (3rd at 136, Sooner AC)
Missouri Baptist (6 qualifiers)
Alyssa Quezaire (1st at 101, Sooner AC)
Juliana Diaz (1st at 116, Sooner AC)
Karoline Ortiz (1st at 123, Sooner AC)
Eunique Davis (2nd at 136, Sooner AC)
Josette Partney (1st at 143, Sooner AC)
Anastasia Hardin (2nd at 155, Sooner AC)
Oklahoma City (5 qualifiers
)
Avery Ashley (3rd at 116, Sooner AC)
Iby Garcia (4th at 116, Sooner AC)
Sophia Smith (True 2nd at 123, Sooner AC)
Bryce White (2nd at 130, Sooner AC)
Ryann Rumsey (True 2nd at 191, Sooner AC)
Wayland Baptist (3 qualifiers)
Tess Barnett (3rd at 123, Sooner AC)
Alexandria Hernandez (1st at 155, Sooner AC)
Morgan Senior (1st at 170, Sooner AC)
Lyon College (1 qualifier)
Rebekah Garcia (2nd at 143, Sooner AC)
Jarvis Christian (1 qualifier)
Samyra Thomas (1st at 190, Sooner AC)