News
USA Wrestling
College
Women
USAW
Hastings women win their first KCAC team title, ahead of Midland and Ottawa
by Gary Abbott, USA Wrestling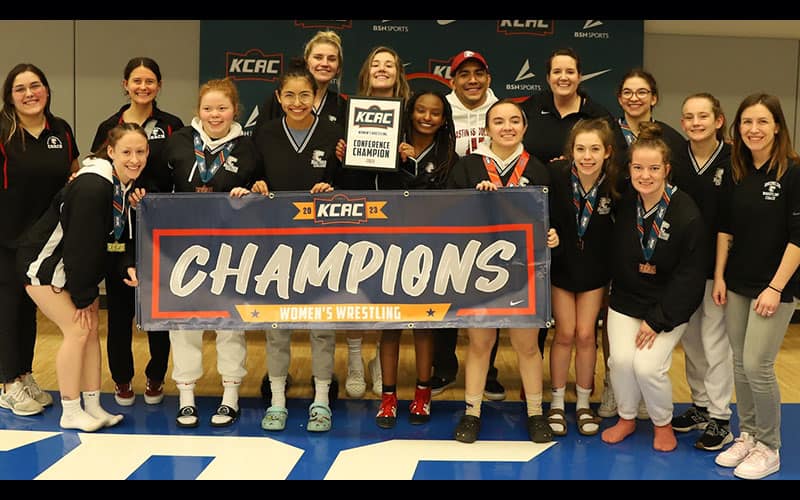 The 2024 KCAC women's wrestling team champions – Hastings College. Photo courtesy of Hastings Athletics
.
No. 16 Hastings, led by two individual champions and four national qualifiers, won its first ever Kansas Collegiate Athletic Conference title, scoring 156 points, ahead of No. 18 Midland in second with 144.5 points and Ottawa in third with 136 points.
Hastings' individual champions were
Tabitha Wood
(136) and
Kaydince Turner
(143). Turner repeated as KCAC champion.
Midland also had two individual champions in
Esther Walker
(101) and
Kacey Lee Pua
(170). Walker repeated as KCAC champion.
Jamestown also came home with two KCAC individual champions,
Josie Bartishofski
(116) and
Arianna Marrufo
(123). Both Bartishofski and Marrufo repeated as conference champions.
Four other teams secured one individual conference champion:
Markayla Lottie
of Avila (109),
Cristelle Rodriguez
of No. 20 Doane (130),
Randie Scoon
of Ottawa (155) and
Gracie Goldsmith-Ding
of York College (191). Avila was a repeat conference champion.
The KCAC was awarded 19 automatic NAIA Nationals qualifiers.
KANSAS COLLEGIATE ATHLETIC CONFERENCE CHAMPIONSHIPS
At York, Neb., Feb. 25

Women's freestyle results
101 (3 qualifiers)
1st Place Match - Esther Walker (Midland University) 24-5, Sr. over Karina Vang (Doane) 14-6, Fr. (Fall 1:52)
3rd Place Match - Zoe Omura (Midland University) 15-4, So. over Alyssa Cordova (University of Saint Mary) 17-18, So. (Fall 1:42)
5th Place Match - Bemnet Tesfa (Hastings) 7-15, So. over Graciela Reyes (York College) 10-12, So. (Fall 0:15)
7th Place Match - Ella Whitaker (York College)
109 (1 qualifiers)
1st Place Match - Markayla Lottie (Avila) 18-12, So. over Jenna Gerhardt (University of Jamestown) 18-4, Fr. (Fall 3:56)
3rd Place Match - Candice Brickell (Hastings) 17-10, Fr. over Angie Rediger (University of Saint Mary) 10-12, So. (Fall 3:47)
5th Place Match - Evelin Geronimo (Ottawa University) 2-4, Fr. over Angelique Martinez (Ottawa University) 2-13, So. (Fall 0:25)
7th Place Match - Alexis LaFountain (University of Jamestown) 1-5, Fr. over Lexis Vasquez (York College) 0-9, Sr. (Fall 3:38)
116 (1 qualifiers)
1st Place Match - Josie Bartishofski (University of Jamestown) 20-5, Sr. over Dakota Darby (Ottawa University) 7-5, So. (TF-1.5 1:06 (12-1))
3rd Place Match - Brooke Cox (Doane) 9-14, Fr. over Samantha Weeks (University of Jamestown) 6-14, RS Fr. (Fall 4:59)
5th Place Match - Allison Doppenberg (York College) 16-11, Jr. over Olivia O`Donnell (Ottawa University) 7-16, So. (Fall 0:09)
7th Place Match - Lily Gomez (Hastings) 1-9, Fr. over Salem Scobee (Midland University) 1-17, Jr. (Fall 3:58)
123 (2 qualifiers)
1st Place Match - Arianna Marrufo (University of Jamestown) 17-5, RS Fr. over Larissa Kaz (Hastings) 28-8, Fr. (Fall 1:48)
3rd Place Match - Alisha Van Scoy (University of Saint Mary) 21-11, So. over Carysa Corrado (Friends University) 4-14, Fr. (Fall 0:28)
5th Place Match - Katy Figueroa (York College) 8-7, Jr. over Prethy Enriquez (Midland University) 5-10, Jr. (For.)
130 (2 qualifiers)
1st Place Match - Cristelle Rodriguez (Doane) 23-1, Fr. over Emily Paulino (Midland University) 18-11, So. (TF-1.5 1:40 (10-0))
3rd Place Match - Alexandra Baudhuin (University of Jamestown) 19-9, Sr. over Araya Boday (University of Saint Mary) 25-14, RS Jr. (TF-1.5 0:54 (10-0))
5th Place Match - Celeste Tellez (York College) 27-18, Jr. over Mylie Seigla (Friends University) 13-15, Fr. (Dec 4-4)
7th Place Match - Autumn Ortiz (York College) 5-16, Sr. over Mikinlee Smith (Ottawa University) 3-18, So. (Fall 0:45)
136 (3 qualifiers)
1st Place Match - Tabitha Wood (Hastings) 17-2, So. over Gianna Moreno (Friends University) 21-9, So. (Dec 11-2)
3rd Place Match - Ashlee Palimo`o (Midland University) 19-17, Jr. over Byanca Cook (Avila) 23-11, Fr. (Dec 7-0)
5th Place Match - Madelynn Griffin (Ottawa University) 16-15, Fr. over Derriane Morrison (Ottawa University) 9-11, Jr. (Fall 2:49)
7th Place Match - Kaylee Narlock (University of Jamestown) 3-16, Jr. over Elizza Easley (Friends University) 5-13, Fr. (For.)
143 (3 qualifiers)
1st Place Match - Kaydince Turner (Hastings) 17-2, So. over Aevri Ciha (Doane) 18-7, Fr. (Dec 8-1)
3rd Place Match - Lisa Hoeflich (Hastings) 10-5, Fr. over Abigail Sebesta (Ottawa University) 16-16, Fr. (Fall 1:03)
5th Place Match - Livia Swift (Ottawa University) 17-13, Fr. over Alondra Guzman-Turango (Friends University) 7-17, Fr. (Fall 3:46)
7th Place Match - Tayler Hayase (Midland University) 2-6, Sr. over Sam Segura Veliz (Midland University) 4-15, Jr. (TF-1.5 2:03 (10-0))
155 (1 qualifier)
1st Place Match - Randie Scoon (Ottawa University) 10-1, RS Jr. over Bailee Hawks (Friends University) 23-5, Fr. (TF-1.5 5:17 (16-6))
3rd Place Match - Kimberly Pollak (Hastings) 4-15, Jr. over Hannah Crowson (University of Saint Mary) 3-12, So. (Fall 1:53)
5th Place Match - Tyeisha Takamori (Midland University) 8-5, So. over Rebekah Koolstra (University of Saint Mary) 9-20, So. (Fall 0:56)
7th Place Match - Marissa Gaylor (York College)
170 (2 qualifiers)
1st Place Match - Kacey Lee Pua (Midland University) 9-10, Fr. over Avery Ackerman (University of Saint Mary) 7-7, RS Fr. (Fall 3:52)
3rd Place Match - Lamia Benn (Doane) 12-11, Fr. over Taylor Rickley (Hastings) 10-11, Fr. (Fall 2:09)
5th Place Match - Ingrid Beltran-Gonzaga (Ottawa University) 7-17, So. over Makiaya De La Cruz (Doane) 1-14, Fr. (Fall 1:44)
191 (1 qualifier)
1st Place Match - Gracie Goldsmith-Ding (York College) 11-5, Jr. over Lessly Sandoval (University of Saint Mary) 26-8, So. (Fall 1:13)
3rd Place Match - Jasmin Ballesteros (Midland University) 5-2, Jr. over Christina Page (Friends University) 13-17, Fr. (Fall 0:54)
5th Place Match - Sydney Bentley (University of Jamestown) 5-10, Fr. over Abby Beeck (Hastings) 3-14, So. (Fall 0:49)
7th Place Match = Grace Todhunter (University of Jamestown) 8-11, So. over Victoria Hernandez (Doane) 1-17, Fr. (Fall 0:45)
Team Standings
1 Hastings 156.5
2 Midland University 144.5
3 Ottawa University 136.0
4 University of Jamestown 127.5
5 University of Saint Mary 122.0
6 Doane 102.0
7 Friends University 89.5
8 York College 85.5
9 Avila 40.0