News
USA Wrestling
International
Women
USAW
Winchester wins gold at Ibrahim Moustafa Ranking Event, Bruntil earns silver, Lampe secures bronze
by Adam Engel, Special to TheMat.com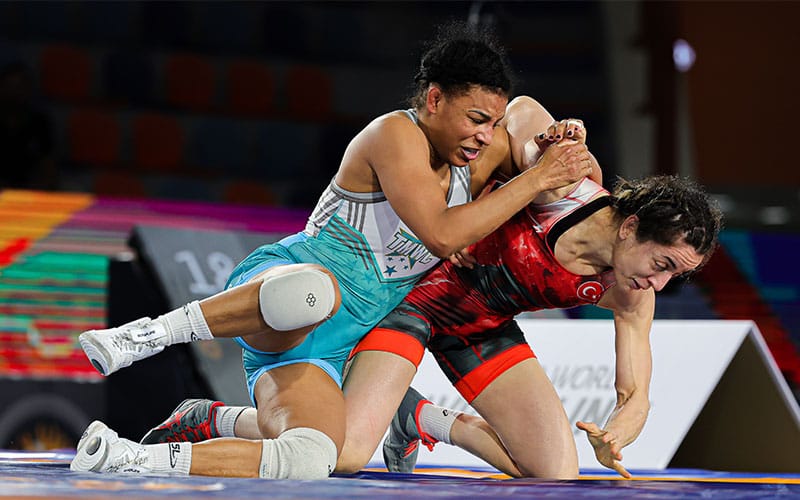 Jacarra Winchester (USA) controls Turkey's Bediha Gun in the Ibrahim Moustafa Ranking Event finals. Photo by Kadir Caliskan, United World Wrestling
ALEXANDRIA, Egypt — The United States closed out the women's freestyle portion of the Ibrahim Moustafa Ranking Event on Saturday with three more medals.
2019 World champion
Jacarra Winchester
(TMWC) secured gold at 55 kg, while
Emma Bruntil
(TMWC) earned silver at 65 kg and
Alyssa Lampe
(Sunkist Kids) won bronze at 50 kg.
Winchester, a 2020 Olympian, rolled to the finals with a technical fall and decision on Saturday morning. She controlled Turkey's Bediha Gun, 9-0, in the finals.
Winchester forced the pressure early as she earned a point from Gun's passivity. Winchester shot toward Gun several times in the first but couldn't convert. She led 1-0 at the break before she scored two takedowns and a four-point move to blow open the bout in the second period.
Lampe, a two-time World bronze medalist, claimed her silver medal via medical forfeit from Canada's Madison Parks at 50 kg.
At 65 kg, Bruntil (TMWC) won silver after she went 3-1 in her four-athlete round robin. Bruntil earned two pins in the first session before she teched Tunisia's Khadija Jlassi, 12-1 in her final match on Saturday night.
U.S. earned five medals in women's freestyle competition. U.S. women's freestyle athletes won two golds on Friday, Forrest Molinari (68 kg) and Kennedy Blades (76 kg).
Ukraine won the women's freestyle team race with 138 points. China finished runner-up at 130 and U.S. claimed third with 120.
On the men's freestyle side, two-time World bronze medalist Nick Gwiazdowski (TMWC/SCRTC) lost his 125 kg bronze bout, 11-0 to Kazakhstan's Yusup Batirmurzaev to finish fifth.
U.S. men's freestylers sit tied for ninth in the team standings with 10 points.
The tournament concludes Saturday with the rest of men's freestyle at 10 a.m. local time (2 a.m. ET). Sixteen Americans will vie for medals. Each bout will be streamed on FloWrestling.
IBRAHIM MOUSTAFA RANKING EVENT
At Alexandria, Egypt, Feb. 24

WOMEN'S FREESTYLE RESULTS
50 kg
GOLD – Ziqi Feng (China)
SILVER – Meng Fan (China)
BRONZE – Alyssa Lampe (Sunkist Kids)
BRONZE – Jiang Zhu (China)
53 kg
GOLD – Lucía Yépez (Ecuador)
SILVER – Li Deng (China)
BRONZE – Stalvira Orshush (Hungary)
BRONZE – Andreea Beatrice Ana (Romania)
55 kg
GOLD – Jacarra Winchester (TMWC)
SILVER – Bediha Gun (Turkey)
BRONZE – Mengyu Xie (China)
BRONZE – Marina Sedneva (Kazakhstan)
65 kg
GOLD – Tetiana Sova Rizhko (Ukraine)
SILVER – Emma Bruntil (TMWC)
BRONZE – Khadija Jlassi (Tunisia)
BRONZE – Ayatalla Magdy Mohamed Sadek Ahmed (Egypt)
MEN'S FREESTYLE RESULTS
97 kg
GOLD - Batyrbek Tcakulov (Slovakia)
SILVER – Zbigniew Baranowski (Poland)
BRONZE – Vladislav Baitcaev (Hungary)
BRONZE – Amirhossein Biglar Firouzpourbandpei (Iran)
125 kg
GOLD - Taha Akgul (Turkey)
SILVER – Kamil Tomasz Kosciolek (Poland)
BRONZE – Khasanboy Rakihmov (Uzbekistan)
BRONZE – Yusup Batirmurzaev (Kazakhstan)
U.S. WOMEN'S FREESTYLE PERFORMANCES
50 kg: Alyssa Lampe (Sunkist Kids), BRONZE MEDAL
WIN Jasmina Immaeva (Uzbekistan), fall, 2:04
WIN Sarra Hamdi (Tunisia), fall, 2:46
LOSS Meng Fan (China), 11-0, 4:48
WIN Madison Parks (Canada), medical forfeit
53 kg: Dominique Parrish (Sunkist Kids), DNP/11th
LOSS Emma Malmgren (Sweden), 4-2
55 kg: Jacarra Winchester (TMWC), GOLD MEDAL
WIN Tatiana Debien (France), 10-0, 3:32
WIN Mengyu Xie (China), 4-0
WIN Bediha Gun (Turkey), 9-0
55 kg: Alex Hedrick (TMWC), DNP/6th
LOSS Marina Sedneva (Kazakhstan), 6-2
65 kg: Emma Bruntil (TMWC), SILVER MEDAL
LOSS Tetiana Sova Rizhko (Ukraine), 6-2
WIN Bhateri Bhateri (India), fall, 2:13
WIN Ayatalla Magdy Mohamed Sadek Ahmed (Egypt), 0:33
WIN Khadija Jlassi (Tunisia), 12-1, 3:16
Women's freestyle final team standings
1 Ukraine 138
2 China 130
3 United States 120
4 Kyrgyzstan 55
5 India 51
(of 30 nations)
U.S. MEN'S FREESTYLE PERFORMANCE
97 kg: Morgan Smith (LVWC), DNP/19th
LOSS Benjamin Honis (Italy), 10-0, 0:37
125 kg: Nick Gwiazdowski (TMWC/SCRTC), 5th place
WIN Daniel Ligeti (Hungary), 8-2
WIN Robert Baran (Poland), 8-4
LOSS Yusup Batirmurzaev (Kazakhstan), 11-0, 1:59
125 kg: Jordan Wood (NYAC), 10th
LOSS Robert Baran (Poland), 3-2