News
USA Wrestling
International
Women
USAW
Winchester to wrestle for gold at Ibrahim Moustafa Ranking Event; Lampe, Gwiazdowski in bronze-medal bouts
by Adam Engel, Special to TheMat.com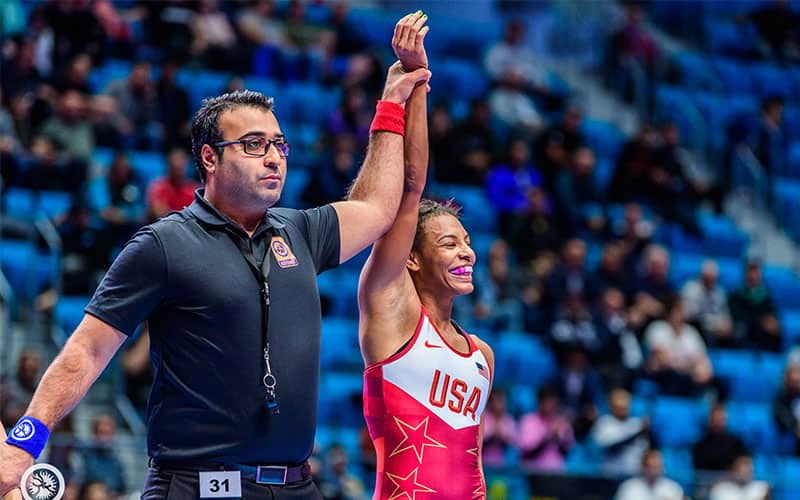 Jacarra Winchester (USA) image by Tony Rotundo, United World Wrestling.
ALEXANDRIA, Egypt — 2019 World champion
Jacarra Winchester
(TMWC) will wrestle for gold while World medalists
Alyssa Lampe
(Sunkist Kids) and Nick
Gwiazdowski
(TMWC/SCRTC) will compete for bronze at the Ibrahim Moustafa Ranking Event on Saturday.
Winchester reached the women's freestyle finals with a technical fall and a decision at 55 kg.
She opened with a 10-0 technical fall over France's Tatiana Debien. In the semifinals, Winchester shut out World bronze medalist Mengyu Xie, 4-0. Winchester meets Turkey's Bediha Gün, a four-time European Championships medalist, in the final.
Lampe (Sunkist Kids) cruised to the 50 kg women's freestyle semifinals with two first-period pins, stopping Jasmina Immaeva of Uzbekistan in 2:04 and Sarra Hamdi of Tunisia in 2:46.
China's Meng Fan limited Lampe's offense and won 11-0 via tech fall. Lampe will see Canada's Madison Parks in a bronze-medal bout. Lampe is a two-time World bronze medalist.
At 65 kg,
Emma Bruntil
(TMWC) competed in a round robin bracket. She went 2-1 with two pins and wrestles Khadija Jlassi of Tunisia in her final bout to determine what medal she will win.
Also in women's freestyle, Alex Hedrick (TMWC) was eliminated at 55 kg after Kazakhstan's Marina Sedneva lost in the semifinals. Sedneva beat Hedrick 6-2. 2022 World champion Dom Parrish also didn't make repechage as Sweden's Emma Malmgren, who beat Parrish 4-2, lost in the semifinals.
Men's freestyle opened competition with 97 and 125 kg on Saturday.
Gwiazdowski, a two-time World bronze medalist, rumbled to the semifinals with two wins at 125 kg. His quarterfinal win over Poland's Robert Baran eliminated Jordan Wood (NYAC), who lost to Baran in his opening bout
In the semifinals, Gwiazdowski ran into Turkey's Taha Akgül, an Olympic and three-time world champion. Akgül won 7-2.
Gwiazdowski will clash for bronze against Yusup Batirmurzaev of Kazakhstan, an Asian Championships gold medalist.
Morgan Smith (LVWC) was also eliminated in his first bout at 97 kg. Italy's Benjamin Honis beat Smith by technical fall in 37 seconds. Honis, a 2022 Italian World Team member, wrestled at Cornell.
U.S. women's freestyle athletes earned two gold medals on Friday, from
Forrest Molinari
(68 kg) and
Kennedy Blades
(76 kg). The U.S. was in first place in women's freestyle after the first four weight classes.
Finals for these weights are set for 6 p.m. local time (11 a.m. EST). Each bout can be viewed on
FloWrestling
.
IBRAHIM MOUSTAFA RANKING EVENT

At Alexandria, Egypt, Feb. 24


U.S. WOMEN'S FREESTYLE PERFORMANCES
50 kg: Alyssa Lampe (Sunkist Kids), in bronze-medal bout
WIN Jasmina Immaeva (Uzbekistan), fall, 2:04
WIN Sarra Hamdi (Tunisia), fall, 2:46
LOSS Meng Fan (China), 11-0, 4:48
Bronze bout – Vs. Madison Parks (Canada)
53 kg: Dominique Parrish (Sunkist Kids), eliminated
LOSS Emma Malmgren (Sweden), 4-2
55 kg: Jacarra Winchester (TMWC), in gold-medal finals
WIN Tatiana Debien (France), 10-0, 3:32
WIN Mengyu Xie (China), 4-0
Gold medal bout - Bediha Gün (Turkey)
55 kg: Alex Hedrick (TMWC), eliminated
LOSS Marina Sedneva (Kazakhstan), 6-2
65 kg: Emma Bruntil (TMWC), in round robin
LOSS Tetiana Sova Rizhko (Ukraine), 6-2
WIN Bhateri Bhateri (India), fall, 2:13
WIN Ayatalla Magdy Mohamed Sadek Ahmed (Egypt), 0:33
Vs. Khadija Jlassi (Tunisia)
U.S. MEN'S FREESTYLE PERFORMANCES
97 kg: Morgan Smith (LVWC), eliminated
LOSS Benjamin Honis (Italy), 10-0, 0:37
125 kg: Nick Gwiazdowski (TMWC/SCRTC), in bronze bout
WIN Daniel Ligeti (Hungary), 8-2
WIN Robert Baran (Poland), 8-4
LOSS Taha Akgül (Turkey), 7-2
Bronze bout - Yusup Batirmurzaev (Kazakhstan)
125 kg: Jordan Wood (NYAC), eliminated
LOSS Robert Baran (Poland), 3-2