News
USA Wrestling
International
Women
USAW
Vote for wrestler Amit Elor, who won three World wrestling titles in 2022, in voting for AAU James E. Sullivan Award
by Gary Abbott, USA Wrestling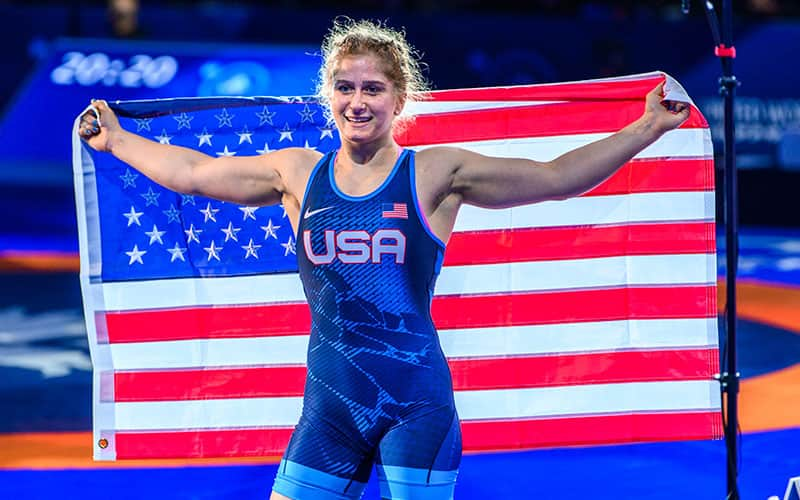 Amit Elor with the U.S. flag after winning the 2022 Senior World title in Belgrade, Serbia. Photo by Tony Rotundo, Wrestlers Are Warriors
.
Amit Elor
, the 2022 Senior World champion in women's freestyle wrestling, and the winner of three age-group World titles in the same year, has been named as one of 25 semifinalists for 93rd AAU James E. Sullivan Award.
The AAU James E. Sullivan Award
has been presented annually since 1930 to the most outstanding athlete at the collegiate or Olympic level in the United States.
In addition to athletic excellence, the AAU Sullivan Award aims to recognize the qualities of leadership, citizenship, character, and sportsmanship on and off the field.
The one-week voting period to determine the six finalists has opened.
VOTE FOR AMIT ELOR
The public can vote once a day for their choice, up until the voting closes, so please vote for Amit Elor every day this week.
Wrestlers who are past winners of the award include
Bruce Baumgartner
,
Rulon Gardner
,
John Smith
,
Kyle Snyder
and
Spencer Lee
.
Elor had a record-setting 2022 season, winning the 2022 Senior World Championships in Belgrade, Serbia, the 2022 U23 World Championships in Pontevedra, Spain and the 2022 U20 World Championships in Sofia, Bulgaria, all at 72 kg. She became the first U.S. wrestler (and only second wrestler in the world) to win three UWW World titles in the same year. She was the youngest U.S. Senior World champion in history in any Olympic discipline at age 18.
Elor's amazing 2022 began at the USA Wrestling Women's Nationals in Fort Worth, Texas in May, where she won two age-group national tournaments, the U20 Nationals and the U23 Nationals. In the best-of-three finals at the U20 Nationals, she beat Latifa McBryde in two straight matches. She also defeated Marlynne Deede in two straight in the U23 finals.
She earned her spot in Final X at the World Team Trials Challenge Tournament in Coralville, Iowa later in May, when she won her semifinals match over Marlynne Deede. She qualified for the U.S. Senior World Team at Final X – New York, defeating Skylar Grote in two straight matches.
Her World Championships gold-medal run began at the U20 Worlds in August, where she won four matches, including a technical fall over Anastassiya Panassovich of Kazakhstan in the finals. Next was the Senior World Championships. Next up was the Senior Worlds in September, where she again won four straight bouts, stopping Zhamila Bakbergenova of Kazakhstan by technical fall in the finals. She completed her domination with her final World gold medal at the U23 World Championships in October, winning all three matches including a technical fall in the finals over Wiktoria Choluj of Poland.
She also represented the USA at the 2022 World Cup in Coralville, Iowa in December, where she defeated Qiandegenchagan of China, 5-0 in the dual meet against China.
For her amazing 2022 season, Elor was named 2022 USA Wrestling Women's Wrestler of the Year.
In 2021, Elor won two World titles, a U20 World title and a U17 World title. Her sixth career UWW World title came at the 2019 U17 Beach World Championships. Elor was third in the 2019 U17 World Championships. She was also a 2015 U15 Pan American champion. A native of Walnut Creek, Calif., she won a 2019 California state title for College Park High School as a freshman, and since then has focused exclusively on freestyle wrestling.
This year's group of semifinalists also includes:
• Anastasija Zolotic, Taekwondo, USA Taekwondo
• Angel Reese, Basketball, LSU
• Aria Fischer, Water Polo, USA Water Polo / Stanford
• Brock Bowers, Football, University of Georgia
• Caitlin Clark, Basketball, University of Iowa
• Caleb Williams, Football, University of Southern California
• Devon Witherspoon, Football, University of Illinois
• Dylan Crews, Baseball, USA Baseball / LSU
• Gordon Sargent, Golf, Vanderbilt University
• Jessie Diggins, Cross-Country Skiing, U.S. Ski and Snowboard
• Jordan Chiles, Gymnastics, USA Gymnastics / UCLA
• Jordan Crooks, Swimming, University of Tennessee
• Jordan Stolz, Speed Skating, U.S. Speed Skating
• Kate Douglass, Swimming, USA Swimming / University of Virginia
• Logan Eggleston, Volleyball, University of Texas
• Madison Chock and Evan Bates, Figure Skating, U.S. Figure Skating
• Maya Brady, Softball, UCLA
• Mykolas Alekna, Track and Field, University of California, Berkeley
• Rose Zhang, Golf, Stanford
• Sakura Kokumai, Karate, USA Karate
• Sydney McLaughlin-Levrone, Track and Field, USA Track and Field
• Ta'Niya Latson, Basketball, Florida State University
• Zach Edey, Basketball, Purdue University
"We're excited to have such a diverse group of athletes and sports represented this year," said Jo Mirza, AAU President. "Each of our semi-finalists deserves to move on to the next round and we're proud to include them in the AAU Sullivan Award's storied history."
This year's winner will be announced at an awards ceremony on Tuesday, September 19 at the historic New York Athletic Club (NYAC) – the birthplace of the AAU.
The winner of the 93rd AAU Sullivan Award will join a renowned list of recipients. Last year, Olympian Carissa Moore won, becoming the first surfer to take home the honor. Other prior winners include Michael Phelps (swimming), Michelle Kwan (figure skating), Carl Lewis (track & field), Shawn Johnson (gymnastics), Peyton Manning (football), and Breanna Stewart (basketball).
Voting closes at 11:59 p.m. ET on Wednesday, July 19.
VOTE FOR AMIT ELOR