News
USA Wrestling
College
Women
USAW
2022-23 NAIA Women's Wrestling National Championships allocations announced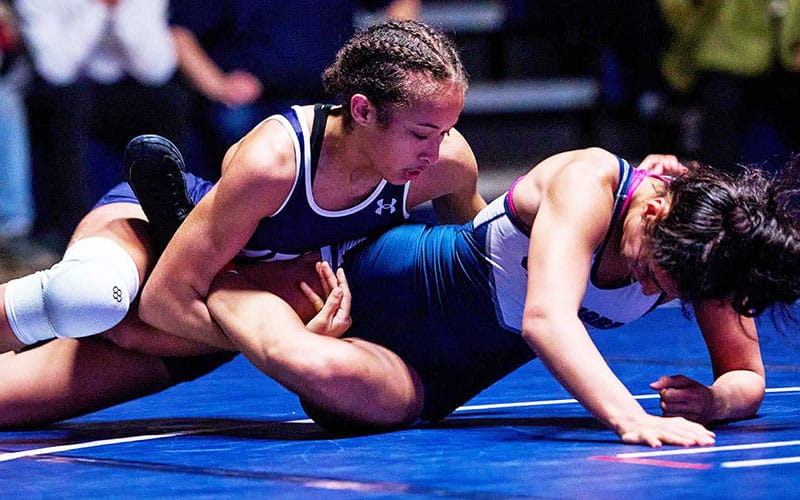 Photo courtesy of the NAIA
KANSAS CITY, Mo. — The National Association of Intercollegiate Athletics (NAIA) has announced the allocations for the inaugural NAIA Women's Wrestling National Championships, held March 10th and 11th at Harold Newman Arena in Jamestown, North Dakota.
Each conference tournament awards automatic bids per weight class based on the final regular-season poll, which can be seen HERE. Each conference is awarded automatic berths based on the amount of wrestlers ranked in each weight class. Each conference is awarded a minimum of one automatic bid per weight class, which will go to the tournament champions, even if the conference did not have any wrestlers ranked in the final regular-season poll. If a conference does not have an individual ranked in the final top 16 an allocation will be granted to ensure each conference is represented at each weight class at the National Championships.
Click here to see allocations by conference and weight class
Editor's Note: Conference Allocation Totals
Cascade Collegiate Conference - 36 qualifiers
Heart of American Athletic Conferece - 43 qualifiers
Kansas Collegiate Athletice Conference - 19 qualifiers
Mid-South Conference - 41 qualifiers
Sooner Athletic Conference - 23 qualifiers
A total of 162 automatic qualifiers will move forward after the conference tournaments. Additionally, 40 at-large selections will be made across all weight classes, with each conference selecting the eight contestants most worthy of a bid. The remaining national bids will be selected by the National Rating Committee via individual vote using the current at-large criteria until 210 wrestlers have been selected
After the conference tournaments have concluded, a 10-member committee consisting of conference raters and oversight members will meet to select the remaining at-large qualifiers, which will be released Tuesday, February 28th by 5 p.m. (CST). The seeding and preliminary brackets will be announced on NAIA.org by 5 p.m. (CST) on Friday, March 3rd.
The NAIA coaches' poll is voted upon by a panel of head coaches representing each of the five conferences. The top 20 individuals in each weight class is based on how each individual rater casts votes for the best individuals.