News
USA Wrestling
Women
International
USAW
Blades, Molinari reach Ibrahim Moustafa Ranking Event finals in Egypt, Miracle, Glaude to go for bronze
by Adam Engel, Special to TheMat.com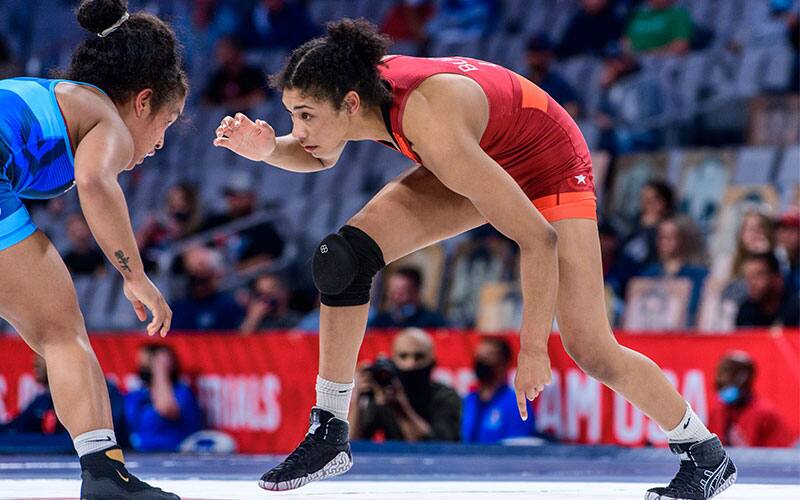 Kennedy Blades, shown at the 2020 Olympic Trials, is going for 76 kg gold at the Ibrahim Moustafa Ranking Event in Egypt. Photo by Tony Rotundo, Wrestlers Are Warriors.
ALEXANDRIA, Egypt. — Two American women's freestylers worked toward a finals appearance in the Ibrahim Moustafa Ranking Event while two other U.S. stars also seek bronze medals.
Kennedy Blades
(Sunkist Kids) meets China's Juan Wang in the 76 kg final. Blades is a past U20 World champion.
Blades advanced to her first senior level ranking series final with three wins. She cruised over China's Qian Zhou, 11-2, before a 4-4 win via criteria over Genesis Reasco Valdez of Ecuador.
Blades beat Aiperi Medet Kyzy of Kyrgyzstan, 12-1, in the semifinal. Blades scored the first points within 20 seconds and methodically attacked Kyzy, a 2021 World bronze medalist.
Forrest Molinari
(Sunkist Kids) advanced to the finals at 68 kg. She collected three pins in four bouts and sees France's Koumba Larroque, a three-time World medalist, in the gold medal bout. Molinari was a 2021 World bronze medalist.
Molinari also scored a 6-3 decision over Krygyztan's Olympic medalist Meerim Zhumanazarova.
Molinari met fellow American
Alex Glaude
(TMWC/BDRTC) in the semifinals and won via pin. Glaude looks for a bronze against Zhumanazarova.
At 62 kg, two-time World silver medalist
Kayla Miracle
(Sunkist Kids) will also scrap for bronze against Ukraine's Iryna Koliadenko.
Kyrgyzstan's past World champion Aisuluu Tynybekova beat Miracle, 2-0, but advanced to the finals which sent Miracle to repechage. There, Miracle defeated France's Ameline Douarre, 10-6 to advance to the bronze-medal bout.
Skylar Grote (TMWC/BDRTC) and Amanda Martinez (TMWC/CWC) were eliminated when the opponents they lost to failed to make the finals.
Marilyn Garcia (California) made repechage at 68 kg but lost 12-0 to Meerim Zhumanazarova of Kyrgyzstan.
The finals for these weights are set for 6:00 p.m. local time (11 a.m. EST). Competition will be live streamed on FloWrestling.
IBRAHIM MOUSTAFA RANKING EVENT

At Alexandria, Egypt, Feb. 24


U.S. WOMEN'S FREESTYLE GOLD MEDAL MATCHUPS
68 kg: Forrest Molinari vs Koumba Larroque (France)
76 kg: Kennedy Blades vs Juan Wang (China)
U.S. WOMEN'S FREESTYLE BRONZE MEDAL MATCHUPS
62 kg: Kayla Miracle vs Iryna Koliadenko (Ukraine)
68 kg: Alex Glaude vs Meerim Zhumanazarova (Krygyztan)
U.S. WOMEN'S FREESTYLE RESULTS
57 kg: Amanda Martinez (TMWC/CWC)
LOSS Qi Zhang (China), 11-1, 5:34
62 kg: Kayla Miracle (Sunkist)
WIN Ilona Prokopevniuk (Ukraine), 5-4
LOSS Aisuluu Tynybekova (Kyrgyzstan), 10-0, 3:09
WIN Ameline Douarre (France), 10-6
62 kg: Jennifer Page (TMWC/NLWC)
LOSS Grace Bullen (Norway), 11-11 criteria
68 kg: Forrest Molinari (Sunkist Kids)
WIN Saidy Chavez Figueroa (Honduras), fall, 1:34
WIN Marilyn Garcia (USA), fall, 2:45
WIN Meerim Zhumanazarova (Krygyztan), 6-3
WIN Alex Glaude (USA), fall, 3:28
68 kg: Alex Glaude (TMWC/BDRTC)
WIN Alexandra Anghel (Romania), fall, 1:43
WIN Soleymi Caraballo (Venezuela), 4-3
LOSS Forrest Molinari (USA, fall, 3:28
68 kg: Marilyn Garcia (California)
LOSS Forrest Molinari (USA), fall, 2:45
WIN Saidy Chavez Figueroa (Honduras), 4-2
LOSS Meerim Zhumanazarova (Kyrgyzstan), 12-0, 5:58
76 kg: Skylar Grote (TMWC/BDRTC)
LOSS Anastasiia Osniach (Ukraine), fall, 4:19
76 kg: Kennedy Blades (Sunkist)
WIN Qian Zhou (China), 11-2
WIN Genesis Reasco Valdez (Ecuador), 4-4
WIN April Medet Kyzy (Kyrgyzstan), 12-1