News
USA Wrestling
International
Women
USAW
U.S. women's freestylers receive first round draws for Ibrahim Moustafa Ranking Event in Egypt
by Gary Abbott, USA Wrestling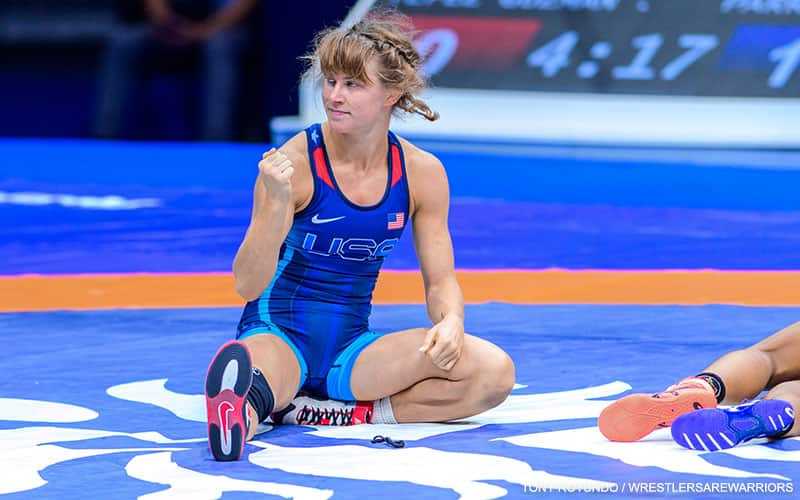 2022 World champion Dom Parrish, celebrating a win at the 2022 World Championships, will be competing in Egypt this week. Photo by Tony Rotundo, Wrestlers are Warriors
.
ALEXANDRIA, Egypt – The 13 U.S. women freestyle wrestlers who have entered the Ibrahim Moustafa Ranking Event.
Women's freestyle competes on Friday, February 24 and Saturday, February 25.
The four weight classes contested on Friday are 57 kg, 62 kg, 68 kg and 76 kg. The six weight classes contested on Saturday are 50 kg, 53 kg, 55 kg, 59 lg, 65 kg and 72 kg.
Among the U.S. women competing are 2022 World champion
Dom Parrish
(53 kg), 2019 World champion
Jacarra Winchester
(55 kg), two-time World silver medalist
Kayla Miracle
(62 kg), two-time World bronze medalist
Alyssa Lampe
(50 kg) and 2021 World bronze medalist
Forrest Molinari
(65 kg).
This article will be updated later today with information on each of the USA athletes' opponents.
To follow brackets,
visit UWW Arena
.
Alexandria is nine hours ahead of U.S. Eastern time zone and the schedule is below. This event is being broadcast
live on FloWrestling
.
IBRAHIM MOUSTAFA RANKING EVENT

At Alexandria, Egypt,


U.S. Women's Freestyle first round draws
50 kg: Alyssa Lampe (Sunkist)
Vs. Jasmina Immaeva (Uzbekistan), 8th in 2022 Senior Worlds, 2021 Asian silver medalist, 2023 Asian bronze medalist
53 kg: Dominique Parrish (Sunkist)
Vs. Emma Malmgren (Sweden). 5th in 2022 Senior Worlds, 2022 European champion, 2021 U20 World champion
55 kg: Jacarra Winchester (TMWC)
Vs. Tatiana Debien (France), 5th in 2017 Senior Worlds, 3rd in 2022 Mediterranean Games, 5th in 2019 European Championships
55 kg: Alex Hedrick (TMWC)
Vs. Marina Sedneva (Kazakhstan), 2018 and 2019 U23 World bronze medalist, 5th 2019 Senior Worlds,
57 kg: Amanda Martinez (TMWC/CWC)
Qi Zhang (China), 5th in 2018 and 2022 Senior Worlds, 2018 U20 World silver medalist, 2017 U23 World silver medalist
62 kg: Kayla Miracle (Sunkist)
Vs. winner of Nathalie Griman Herrera (Venezuela) and Ilona Prokopevniuk (Ukraine)
Griman – 2017 and 2019 Pan American bronze medalist, 4th in 2020 Pan Am Championships,
Prokopeyniuk – 2022 World bronze medalist, 2019 U23 World bronze medalist, 2017 and 2018 U23 World silver medalist
62 kg: Jennifer Page (TMWC/NLWC)
Vs. Grace Bullen (Norway), 2022 World silver medalist, 2020 European champion, 2018 U23 World champion
65 kg: Emma Bruntil (TMWC)
Five athlete roundrobin against
Tatiana Sova Rizhko (Ukraine)
Bhateri (India)
Ayatallay Sadek Ahmed (Egypt)
Khadija Jlassi (Tunisia)
68 kg: Forrest Molinari (Sunkist Kids)
Vs. Saidy Chavez Figueroa (Honduras), 4th 2022 Pan Am Championships, 5th 2016 Pan Am Championships
68 kg: Alex Glaude (TMWC/BDRTC)
Alexandra Anghel (Romania), 2022 World bronze medalist, 2018 U23 World silver medalist
68 kg: Marilyn Garcia (California)
Winner of Forrest Molinari (USA) and Saidy Chavez Figueroa (Honduras)
Figueroa - 4th 2022 Pan Am Championships, 5th 2016 Pan Am Championships
Molinari – 2021 World bronze medalist
76 kg: Skylar Grote (TMWC/BDRTC)
Vs. Anastasiia Osniach (Ukraine), 5th 2021 Senior Worlds, 2018 European U23 champion, 2013 U17 World champion
76 kg: Kennedy Blades (Sunkist)
Qian Zhou (China), 2020 Olympic bronze medalist, 2014 World silver medalist, 2014 World bronze medalist
Event Schedule

Local time seven hours ahead of U.S. Eastern time zone. Weight is in kilograms)
Friday, February 24
10:30 a.m. – Qualification and repechage (GR 72, 77, 82, WFS 57, 62, 68, 76)
6:00 p.m. – Finals (GR 72, 77, 82, WFS 57, 62, 68, 76)
Saturday, February 25
10:30 a.m. – Qualification and repechage (WFS 50, 53, 55, 59, 65, 72 MFS 97, 125)
6:00 p.m. – Finals (WFS 50, 53, 55, 59, 65, 72 MFS 97, 125)
Sunday, February 26
10:30 a.m. – Qualification and repechage (MFS 57, 61, 65, 70, 74, 79, 86, 92)
6:00 p.m. – Finals (MFS 57, 61, 65, 70, 74, 79, 86, 92)