News
USA Wrestling
College
Women
USAW
King is No. 1, North Central No. 2 in final NCAA women's poll leading into NCWWC Nationals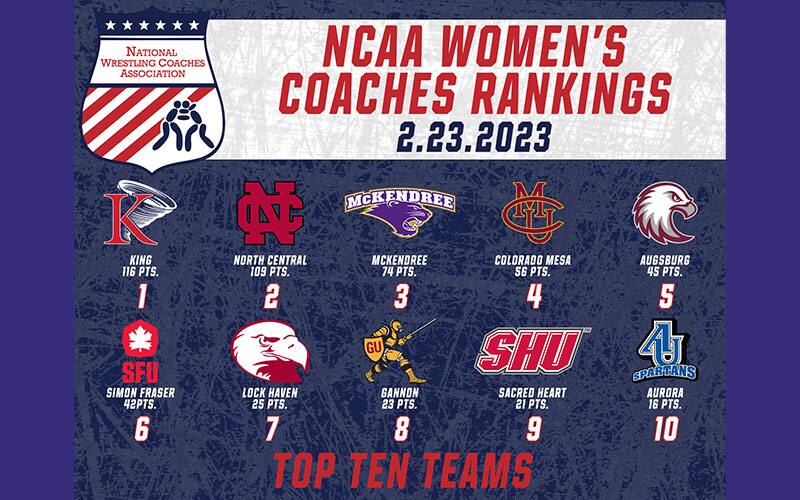 MANHEIM, PA – The final set of National Wrestling Coaches Association (NWCA) NCAA Women's Wrestling rankings there was a change atop the rankings as King University jumped North Central College to reclaim the top spot. The remainder of the top five stayed the same with McKendree University, Colorado Mesa University and Augsburg University.
King regains the top spot with 116 points while North Central has 109 in second. King and North Central are the only teams with at least 10 individuals ranked as the Tornado lead the way with 15 and North Central has 14. McKendree University stayed at third with 74 points while Colorado Mesa is fourth and Augsburg are tied for fifth with 56 and 45 points, respectively. McKendree has seven individuals ranked while Colorado Mesa has six and Augsburg has four, respectively.
INDIVIDUAL RANKINGS
Simon Fraser University has six ranked individuals and stayed sixth with 42 points while Lock Haven University is ranked seventh with 25 points and three individuals ranked. Gannon University has five individuals ranked and are ranked eighth with 23 points. Sacred Heart University and Aurora University round out the top 10 with 21 and 16 points, respectively. Sacred Heart has six individuals ranked while Aurora has one.
There are four new No. 1-ranked wrestlers this week as Emily Shilson of McKendree takes over the top spot at 109 pounds. Simon Fraser's Victoria Seal also takes over the top spot at 116 pounds while Aurora's Alexis Janiak regained the top spot at 130 pounds. At 136 pounds, Ana Luciano of King moved up one spot to take the No. 1 ranking.
King and McKendree are the only two schools with multiple individuals ranked No. 1 one as the Tornado have three at the top spot and McKendree has two.
The rankings will also be the top eight seeds at the upcoming National Collegiate Women's Wrestling Coalition (NCWWC) National Championships. The NCWWC National Championships will take place at the Alliant Energy PowerHouse in Cedar Rapids, Iowa on Friday and Saturday.