News
USA Wrestling
International
USAW
Armed Forces Wrestling Championships return at Naval Base Kitsap in Bremerton, Wash., Feb. 25-26
by Gary Abbott, USA Wrestling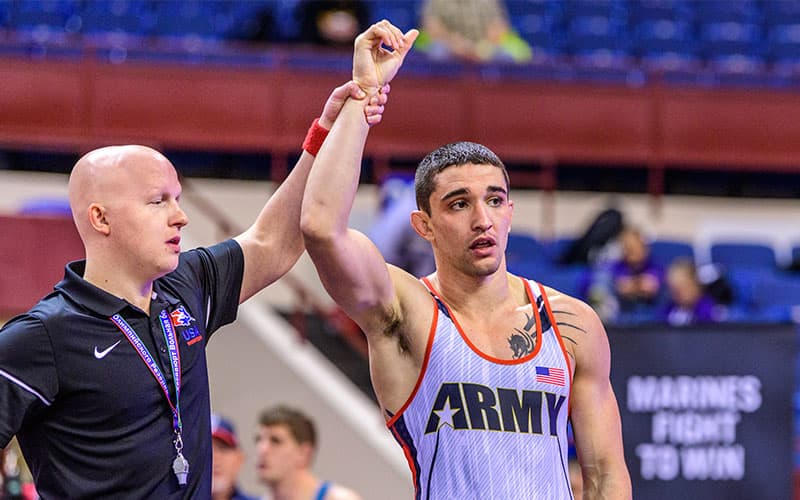 2020 Olympian SPC Alejandro Sancho of the Army are among the stars who will compete at the Armed Forces Championships at Naval Base Kitsap this weekend. Photo by Tony Rotundo, Wrestlers Are Warriors.
One of wrestling's traditionally classic events return with the
2023 Armed Forces Wrestling Championships
, which will be held at Naval Base Kitsap in Bremerton, Wash., Feb. 25-26.
The competition will feature dual meet competition in freestyle wrestling and Greco-Roman between branches of the Armed Forces, under the management of Armed Forces Sports. The last Armed Forces Wrestling Championships was held in February 2020, also at Naval Base Kitsap. Due to challenges during the pandemic, this competition was not held in 2021 and 2022.
This year, teams from the
U.S. Army,
the
U.S. Air Force
and the
U.S. Navy
will compete. In past years, there was also a U.S. Marine Corps team, which will not enter this year. However, the U.S. Navy team will have some athletes from either the U.S. Marine Corps or the Coast Guard.
The competition features dual meets, where the three military teams compete against each other. The results of these dual meets determine the final team standings. Individual medalists are also recognized in each weight class, based upon the results at that weight class in the dual meets.
The champions in Greco-Roman at the last Armed Forces Championships in 2020 were the U.S. Marine Corps, while the U.S. Army was the freestyle champions.
While many of the competitors in this year's event are competing in their first Armed Forces Championships, there are a number of athletes in the competition who have been previous medal winners at the event.
The U.S. Army Greco-Roman team boasts a pair of past Greco-Roman Olympians, 2016 Olympian
SPC Jesse Thielke
at 67 kg and
SPC Alejandro Sancho
at 72 kg. Sancho was a Greco-Roman champion at the 2020 Armed Forces Championships. Thielke, who was a Div. I wrestler for Wisconsin before joining the Army, will compete in both Greco-Roman and freestyle.
SGT Leslie Fuenffinger
, who was a 2020 Armed Forces Freestyle champion, will compete in Greco-Roman for the U.S. Army this year. Another U.S. Army Greco-Roman athlete,
SPC Dalton Roberts
at 63 kg, is a past U.S. Senior World Team member.
The Greco-Roman competition will be held on Saturday, February 25 and the men's freestyle will be held on Sunday, February 26.
All three teams have brought women's freestyle wrestlers, who will be paired off for competition. Information on when these women's freestyle matches will be held will be announced when available.
Additional information on the live stream for this competition will be announced when available on USA Wrestling's social media platforms.
2023 ARMED FORCES WRESTLING CHAMPIONSHIPS
At Naval Base Kitsap, Wash.

U.S. Army Roster
Greco-Roman
55kg/121.2 lbs. – SPC Jacob Coachran (Fort Carson, CO)
60kg/132.2 lbs. – SGT Leslie Fuenffinger (Fort Carson, CO)
63kg/138.8 lbs. – SPC Dalton Roberts (Fort Carson, CO)
67kg/147.7 lbs. – SPC Jesse Thielke (Fort Carson, CO)
72kg/158.7 lbs. – SPC Alejandro Sancho (Fort Carson, CO)
77kg/169.7 lbs. – CPT Michael Hooker (Fort Carson, CO)
82kg/180.7 lbs. – SPC Britton Holmes (Fort Carson, CO)
87kg/191.8 lbs. – SPC Spencer Woods (Fort Carson, CO)
97kg/213.8 lbs. – CPT Samson Imonode (Fort Carson, CO)
130kg/286.6 lbs. – PFC James Hustoles (Fort Carson, CO)
Men's Freestyle
57kg/125.6 lbs. – PV2 William Sullivan (Fort Carson, CO)
61kg/134.4 lbs. – SPC Dalton Duffield (Fort Carson, CO)
65kg/143.3 lbs. – SPC Jesse Thielke (Fort Carson, CO)
70kg/154.3 lbs. – SPC Justus Scott (Fort Carson, CO)
74kg/163.1 lbs. – SPC Britton Holmes (Fort Carson, CO)
79kg/174.1 lbs. – CPT Michael Hooker (Fort Carson, CO)
86kg/189.5 lbs. – SGT Isaac Dukes (Fort Carson, CO)
92kg/202.8 lbs. – SPC Spencer Woods (Fort Carson, CO)
97kg/213.8 lbs. – CPT Samson Imonode (Fort Carson, CO)
125kg/275.5 lbs. – PFC James Hustoles (Fort Carson, CO)
Women's Freestyle
50 kg/110 lbs. – SPC Aleeah Gould (Fort Carson, CO)
53 kg/116.5 lbs./55 kg/121 lbs. – SPC Estrella Dorado Marin (Fort Carson, CO)
62 kg/136.5 lbs – SPC Brenda Reyna (Fort Carson, CO)
Delegation
Greco-Roman Coach – NAF-4 Shon Lewis (Fort Carson, CO)
Greco-Roman Asst. Coach – SFC Spenser Mango (Fort Carson, CO)
Freestyle Coach/Women's Coach – Bruce Robinson (Fort Carson, CO)
Medical – Kyle Eckert (Fort Carson, CO)
Service Rep. – Sarah Galon (JBSA Fort Sam Houston, SA)
U.S. Air Force roster
Greco-Roman
60kg/132.2 lbs. – AIC Mitch Brown (USAFA)
63kg/138.8 lbs. – 2LT Sidney Flores (LA AFB)
67kg/147.7 lbs. – TSgt Evan Rudisill (Osan AFB)
72kg/158.7 lbs. – A1C Brenner Vogan (Vandenberg AFB)
77kg/169.7 lbs. – 2Lt Alex Saylor (LA AFB)
82kg/180.7 lbs. – A1C Sam Adams (Ellsworth AFB)
87kg/191.8 lbs. – A1C Lamont Espino (Hill AFB)
97kg/213.8 lbs. – SrA Eric Santos (Seymour AFB)
130kg/286.6 lbs. – MSgt Donald Degarmo (Seymour AFB)
Men's Freestyle
57kg/125.6 lbs. – A1C Mitch Brown (USAFA)
61kg/134.4 lbs. – 2LT Sidney Flores (LA AFB)
65kg/143.3 lbs. – TSgt Evan Rudisill (Osan AFB)
70kg/154.3 lbs. – A1C Brenner Vogan (Vandenberg AFB)
74kg/163.1 lbs. – 2Lt Alex Saylor (LA AFB)
79kg/174.1 lbs. – A1C Sam Adams (Ellsworth AFB)
92kg/202.8 lbs. – A1C Lamont Espino (Hill AFB)
97kg/213.8 lbs. – SrA Eric Santos (Seymour AFB)
125kg/275.5 lbs. – MSgt Donald Degarmo (Seymour AFB)
Women's Freestyle
53 kg/116.5 lbs. – SRA Mariah Anderson (Sheppard AFB)
53 kg/116.5 lbs./55 kg/121 lbs. – SRA Haley Franich (Little Rock AFB)
Delegation
Greco-Roman/Freestyle Coach – Scott Boykin (USAFA)
Service Rep. – TSgt Dante Tillman (Lackland AFB)
U.S. Navy roster
Greco-Roman
55kg/121.2 lbs. –
60kg/132.2 lbs. – PO3 Colton Davis (Naval Station Rota, Spain)
63kg/138.8 lbs. – PO3 Sheldon Ealy (Naval Air Station, Whidbey Island, WA)
67kg/147.7 lbs. – PO3 Leandro Rodriguez-Rodriguez (Buckley Space Force Base, CO)
72kg/158.7 lbs. – Capt. Colton Rasche (MCB Camp Pendleton, CA/Marine Corps)**
77kg/169.7 lbs. – PO2 Timothy Worthen (USCG Station, Marathon, FL/Coast Guard)*
82kg/180.7 lbs. – PO3 Anthony Edson (Naval Base San Diego)
87kg/191.8 lbs. – PO2 Austin Craig (Seattle, WA)
97kg/213.8 lbs. – PO1 Shaun Heist (Yokosuka, Japan)
130kg/286.6 lbs. – 1stLt Courtney Freeman (Camp Lejuene, NC/Marine Corps)**
Men's Freestyle
57kg/125.6 lbs. –
61kg/134.4 lbs. – PO3 Colton Davis (Naval Station Rota, Spain)
65kg/143.3 lbs. – PO3 Sheldon Ealy (Naval Air Station, Whidbey Island, WA)
70kg/154.3 lbs. – PO3 Leandro Rodriguez-Rodriguez (Buckley Space Force Base, CO)
74kg/163.1 lbs. – PO2 Timothy Worthen (USCG Station, Marathon, FL/Coast Guard)*
86kg/189.5 lbs. – 1stLt Jared Fekete (MCB Camp Pendleton, CA/Marine Corps)**
92kg/202.8 lbs. – PO2 Austin Craig (Seattle, WA)
97kg/213.8 lbs. – PO1 Shaun Heist (Yokosuka, Japan)
125kg/275.5 lbs. – 1stLt Courtney Freeman (Camp Lejuene, NC/Marine Corps)**
Women's Freestyle
55 kg/121 lbs. – PO3 Joanalicia Ramirez (USCG Base Portsmouth VA/Coast Guard)*
59 kg/130 lbs. – PO2 Genisis Ramirez (NRC, Norfolk, VA)
*- Indicates Coast Guard personnel
**- Indicates Marine Corps personnel
Delegation
Greco-Roman/Freestyle Coach – CSPO Alejandro Delapena (NUWC Division, Keyport WA)
Medical – LT James Brewer (Naval base Kitsap, WA)
Service Rep. – Morris Michael (Washington Navy Yard, DC)
Event Schedule
Saturday, Feb. 25
10:00 a.m. – Opening Ceremonies
11:00 a.m. – Greco-Roman Bout 1: U.S. Air Force vs. U.S. Navy
30 min. after first session – Greco-Roman Bout 2: U.S. Army vs. loser of Bout 1
3:00 p.m. – Greco-Roman Bout 3: U.S. Army vs. winner of Bout 1
Sunday, Feb. 26
11:00 a.m. – Freestyle Bout 1: U.S. Air Force vs. U.S. Navy
30 min. after first session – Freestyle Bout 2: U.S. Army vs. loser of Bout 1
3:00 p.m. – Freestyle Bout 3: U.S. Army vs. loser of Bout 1
Note: women's freestyle will also be held at time TBA
2020 Armed Forces Greco-Roman champions
55kg/121.2 lbs.- SSG Max Nowry (U.S. Army)
60kg/132.2 lbs.- SPC Ildar Hafizov (U.S. Army)
63kg/138.8 lbs.- Sgt Xavier Johnson (U.S. Marine Corps)
67kg/147.7 lbs.- PVT Alejandro Sancho (U.S. Army)
72kg/158.7 lbs. - Sgt. Raymond Bunker (U.S. Marine Corps)
77kg/169.7 lbs.- Capt. Payton Walsh (U.S. Marine Corps)
82kg/180.7 lbs.- SSgt. John Stefanowicz (U.S. Marine Corps)
87kg/191.8 lbs. - 1stLt Terrence Zaleski (U.S. Marine Corps)
97kg/213.8 lbs.- SGT Lucas Sheridan (U.S. Army)
130kg/286.6 lbs.- Capt. Daniel Miller (U.S. Marine Corps)
2020 Armed Forces Men's Freestyle champions
57kg/125.6 lbs.- PFC Lillashawn Coleman (U.S. Army)
61kg/134.4 lbs.- SPC Leslie Fuenffinger (U.S. Army)
65kg/143.3 lbs.- SPC Ivan Lopouchanski (U.S. Army)
70kg/154.3 lbs.- SGT Isaac Dukes (U.S. Army)
74kg/163.1 lbs. - 2d Lt Alex Mossing (U.S. Air Force)
79kg/174.1 lbs.- Capt. Payton Walsh (U.S. Marine Corps)
86kg/189.5 lbs.- SSgt. John Stefanowicz (U.S. Marine Corps)
92kg/202.8 lbs. - 1stLt Terrence Zaleski (U.S. Marine Corps)
97kg/213.8 lbs.- SGT Lucas Sheridan (U.S. Army)
125kg/275.5 lbs.- SPC Jacob Mitchell (U.S. Army)
2020 Armed Forces Women's Freestyle champions
50 kg/110 lbs. – SSG Whitney Conder (U.S. Army)
53 kg/116.5 lbs.– SPC Samantha Klingel (U.S. Army)
76 kg/167.5 lbs. - SPC Randyll Beltz (U.S. Army)