News
USA Wrestling
International
College
USAW
NCAA Awards Standings Update: Hendrickson returns as Div. I most dominant wrestler leader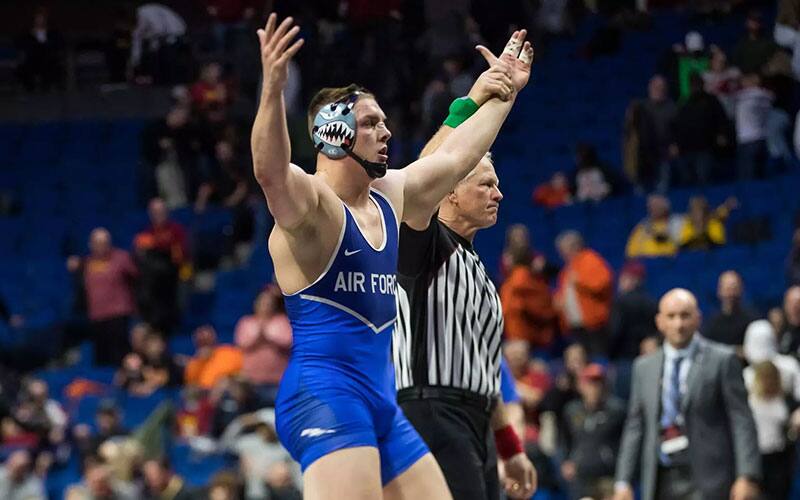 Air Force star Wyatt Hendrickson. Photo by Brett Rojo/For the Big 12 Conference


INDIANAPOLIS — The NCAA has released updated standings for the 2023 NCAA Wrestling Awards that will be awarded in March at the respective Division I, II and III Wrestling Championships.


The inaugural NCAA Wrestling Awards were presented at the 2012 wrestling championships. The three awards, given in each division, honor the Most Dominant Wrestler as well as the student-athletes that have accumulated the most falls and the most technical falls throughout the course of the regular and postseasons.


For results to be counted for the awards they must come against opponents in the same division (i.e. Division II vs. Division II). Ties in the falls and tech falls categories are broken based on the aggregate time.


This week features the third standings of the Most Dominant Wrestler award, which features a 17-match minimum to qualify for the standings.


The Most Dominant Wrestler standings are calculated by adding the total number of team points awarded through match results and dividing that number by the total number of matches wrestled. Points per match are awarded as follows.


In Division I, Air Force heavyweight Wyatt Hendrickson reclaimed the top spot with an average of 4.75 points per game. Last weeks leader Mason Parris of Michigan dropped to second with 4.64 points per match.


Division II remains a tight race with the top three wrestlers separated by only 0.04 points. Jared Campbell of Glenville State remains in first at 4.74 points per match followed by Christian Small of Lake Erie at 4.71 and Jacob Ealy of Pittsburgh-Johnstown at 4.70.


In Division III Jack Heldt of Wabash sits at 5.61 points per match while Xavier Pena of Centenary (NJ) is closed behind at 5.59 points per match.

THE LIST: Click or tap here to view the full tech falls and falls leaderboard in each division
Wyatt Hendrickson also leads Division I in fall this season with 14 in an aggregate time of 33:00. Lock Haven's Tyler Stoltzfus trails him by one.

Three wrestlers in Division II have 12 falls on the season led by UIndy's Logan Bailey with an aggregate time of 12:25. Glenville State's Jared Campbell and Lake Erie's Christian Small also sit at 12.

A pair of Springfield wrestlers remains stop Division III. Myles Leonard sets the pace with 23 falls followed by teammate Jake Deguire at 21.

For the sixth consecutive week, Division I tech falls are led by Franklin & Marshall's Mason Leiphart with nine. He is trailed by nine wrestlers that each have six.

In Division II, Glenville State's Cole Houser picked up one tech fall last week to reach 12 on the season. He is trailed by Austin Eldredge of Nebraska-Kearney with nine.

Division III saw no movement in the top two spots as Jared Kuhns of York (Pennsylvania) stayed idle at 11 followed by Tyler Fleetwood of Wisconsin-Eau Claire with 10.