News
USA Wrestling
High School & Youth
USAW
UWW Futures freestyle champions crowned, with seven states represented at the top of the podium
by Gary Abbott, USA Wrestling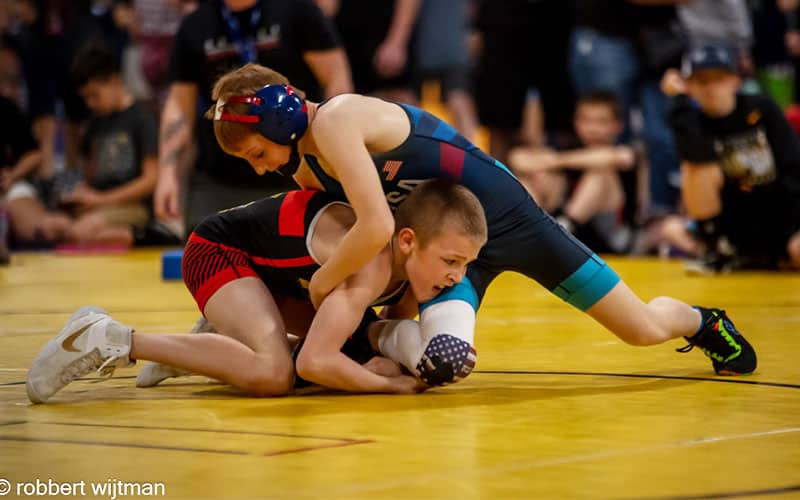 Action from the UWW Futures Freestyle event: Mick Dobbs vs. Calvin Averitt at 38 kg. Dobbs went on to win the gold medal. Photo by Robbert Wijtman
.
This year's UWW Futures championships started with freestyle on Friday, and young athletes competed at eight international weight classes.
Champions came from seven different states, showing that wrestling talent is spread across our great nation.
Individual champions in freestyle included
Matthew Campos
of Red Wave Wrestling – CA (28 kg),
Chase Smith
of Higher Calling WC – TN (31 kg),
Cade Ruckle
of Gold Rush Wrestling – NV (33 kg),
Jaxon Sanchez
of California (35 kg),
Mick Dobbs
of Interior Grappling Academy – AK (38 kg),
Rocky Thompson
of Open Mats WC - MO (41 kg),
Maximus Pearch
of nWo Wrestling Club – IL (45 kg) and
Henry Scott McDoniel
of Threestyle Wrestling of Oklahoma – OK (51 kg).
The UWW Futures finishes up on Saturday with Greco-Roman. Many of Friday's champions will be trying to win a double title by also getting a Greco-Roman gold.
UWW Futures Freestyle

At Las Vegas, Nev., April 28


Final results
28 kg
1st — Matthew Campos CA (Red Wave Wrestling) dec. Isaac Hierro AZ (Grindhouse Wrestling Club), 6-5
3rd — Carmine Crisman MT (North Montana Wrestling Club) dec. Greyson Goodwin IL (The Wrestling Academy), 15-8
5th — Gwen Briggs CA (California Grapplers) tech fall Noah Arreola CA (Rough House Wrestling), 14-4 3:34
7th — Mason Betterman CO (Betterman Elite Wrestling) dec. Dante Lewis OR (Lewis Academy Wrestling), 12-6
31 kg
1st — Chase Smith TN (Higher Calling Wrestling Club) tech fall Ryder Ascherl PA (Pennsylvania), 11-1 3:30
3rd — Crew Musselman PA (Pennsylvania) tech fall Colton Strange NE (Nebraska), 12-0 1:59
5th — Beaudin Murphy MT (Billings Wrestling Club) fall Xander Edstrom ID (Upper Valley Aces Wresstling), 12-4 3:45
7th — Caleb Delfin CA (Lion of Judah Wrestling Academy) fall Khasen Srimoukda ID (All In Wrestling Academy), 8-6 4:00
33 kg
1st — Cade Ruckle NV (Gold Rush Wrestling) dec. Haedyn Cochran IN (Contenders Wrestling Academy), 7-5
3rd — Colton Bryce VA (Legacy Wrestling) dec. Elijah Pagonis OK (BullTrained Wrestling), 12-8
5th — Trenton Warren AZ (Thorobred Wrestling Club) injury default Cole Martin MO (Greater Heights Wrestling), 0-0 0:00
7th — Eli Sandoval NV (Gold Rush Wrestling) tech fall Kanoa Saferite VA (NOVA Wrestling Club), 10-0 0:30
35 kg
1st — Jaxon Sanchez CA (California) tech fall Antonio Aguilar CA (Red Wave Wrestling), 10-0 1:08
3rd — Jacob Saunders MO (Xtreme Training) tech fall Elias Faith IN (Maurer Coughlin Wrestling Club), 12-2 2:09
5th — Manny Novelli AK (Avalanche Wrestling Association) tech fall Kellen Eva NV (Aniciete Training Club), 10-0 1:04
7th — David Lopez CO (Montrose Elite Wrestling) tech fall Titus Slaughter AL (Ironclad Wrestling Club), 13-2 2:22
38 kg
1st — Mick Dobbs AK (Interior Grappling Academy) tech fall Ashur Whitmer IA (Big Game Wrestling Club), 10-0 0:53
3rd — Sam Dagel MN (Legends of Gold) fall Cody Sieminski OR (Sweet Home Mat Club), 2-0 0:35
5th — Sanchir Edington PA (Pennsylvania) tech fall Julian Smith NJ (New Jersey), 12-1 3:17
7th — Jarron Beltran jr AZ (Sunnyside Wrestling Club) dec. Israel Roybal NV (Pride Wrestling), 15-12
41 kg
1st — Rocky Thompson MO (Open Mats Wrestling Club) dec. Apollo Cardenas NE (The Best Wrestler), 10-4
3rd — Elijah Bushy OH (Ohio) dec. Marco Hutcherson PA (Young Guns Wrestling Club), 11-4
5th — Jaxson Konopka CT (Connecticut) tech fall Chance Shirley WA (COBRA ALL-STARS / Cobra Wrestling Systems LLC), 12-2 2:31
7th — Parker Humphrey NJ (Princeton Wrestling Club) dec. Max Mannino NV (Gold Rush Wrestling), 8-8
45 kg
1st — Maximus Pearch IL (nWo Wrestling Club) dec. Jax Mescher ID (All In Wrestling Academy), 10-2
3rd — Jeremiah Hayes IL (Warrior Wrestling) tech fall Xander Fronhofer CA (Beat The Streets - Los Angeles), 12-2 0:46
5th — Gabriel Beyer WI (Freedom Wrestling Club) tech fall Alina Bardoni NV (Gold Rush Wrestling Academy Northwest), 10-0 1:52
7th — Mateo Hernandez CO (Montrose Elite Wrestling) VSU Owen Parry WY (Star Valley Wrestling Club), 10-0 3:24
51 kg
1st — Henry Scott McDoniel (Threestyle Wrestling of Oklahoma)
2nd — Jett Birchak (Torotech Wrestling)