News
USA Wrestling
College
USAW
Iowa sets DI Wrestling attendance record; leads nation for 16th straight year
by James Allen, University of Iowa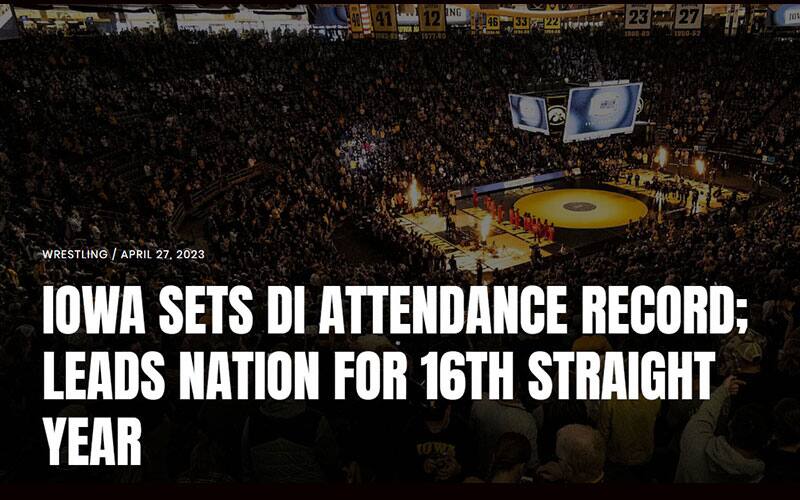 IOWA CITY, Iowa – The
University of Iowa wrestling
program's 118,870 fans set the Division I attendance record and the Hawkeyes led the nation in attendance for the 16th straight year, it was announced Thursday by the National Wrestling Media Association.
The Hawkeyes drew an average of 14,858 fans per home date during the 2022-23 season with more than 118,000 fans entering the doors of Carver-Hawkeye Arena. Iowa drew capacity crowds of 14,905 in six of their eight home duals. (Attendance records began being recorded in 2002.)
Along with having the top home attendance figures, Iowa was the top draw for six opponents in 2022-23 – Penn State (15,998), Minnesota (5,250), Wisconsin (5,256), Army (1,903), Chattanooga (2,743) and Purdue (1,956).
The team's 118,870 fans broke Iowa's previous record of 97,325, which was set in the 2015-16 season. That included an NCAA-record 42,287 fans at Kinnick Stadium for the Grapple on the Gridiron against Oklahoma State.
The 14,858 average is the second-highest average attendance in college wrestling history, second only to the Hawkeyes' 14,905 average last season.
Iowa has led the nation in attendance in each season of head coach Tom Brands' tenure (attendance totals weren't tracked during the 2020-21 season due to most venues having no-spectators due to the COVID-19 pandemic). This was the 14th straight year the Hawkeyes have averaged more than 8,000 fans.
Iowa has led the nation in home attendance in 20 of the 21 seasons it has been tracked. Penn State was second (64,577/9,225 avg.) in 2022-23, while Iowa State (37,012/5,287 avg.) ranked third.
2022-23 Division I attendance rankings:
https://bit.ly/3LeUGFw